This vitamin-packed refreshing green juice is loaded with nutrients, and naturally dairy-free, vegan and gluten-free. A great energy boost to start your day at the best!
I love starting the day with a delicious homemade smoothie or juice.
If you ask me, this green juice is the rock star of all the juices.
This drink is nutrient-dense and has an impressive list of health benefits. It's also naturally gluten-free and vegan.
All you need to make this energizing juice is 6 ingredients: celery, spinach, cucumber, green apple, mint leaves and a tiny bit of fresh ginger.
You don't need to be super strict with the ingredients!
Also read: How to make fennel tea taste better
I often throw in a bunch of kale, or romaine if I have them at hand. Carrots are also great add-ons!
Preparation and storage tips
Packed with oh-so-good-for-you ingredients, it takes 5 minutes to make this nutritious drink.
Here are some favourite tips to ensure you make the best green juice ever:
I like to keep the skin on the green apple and cucumber, but feel free to peel it away if you're not a fan.
Core the apples and cut off the ends of the cucumber and they're ready to be used.
Give all the ingredients a nice wash under cool running water before use.
If you have time, soak them in a bowl with water and vinegar or baking soda, then wash them and pat them dry with a clean towel.
*I do buy all these ingredients organic, but I still wash them before use.*
If you're in a hurry, you can prepare this homemade juice the night before. It keeps well in the fridge for 24-48 hours.
Don't' forget that the longer the juice sits around for, the more the juice nutrients will be oxidised and damaged.
Better To Use a Blender or a Juicer?
You can use a high-powerful blender or a juicer.
I use both appliances interchangeably and the results are almost identical.
A juicer will eliminate all the fiber, making this juice super easy to digest.
Also read: how to make v8 juice in a ninja
A blender, on the other hand, will minimize waste and will give you a more full-filling drink.
So, it's really up to you to choose your favourite method.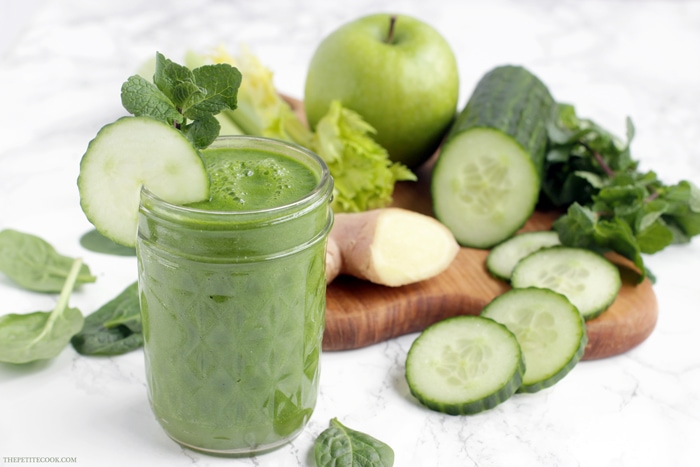 I'm sure you know by now that we need to get at least 5 portions of fruit and vegetables every day for a healthier life.
Juicing/blending fruit and veggies is an easy way to guarantee that you get your daily income.
I like to drink this green juice first thing in the morning.
Also read: How to make hair bleach at home with baking soda
However, feel free to drink it any time you fancy it or whenever you feel the need for a little energy boost.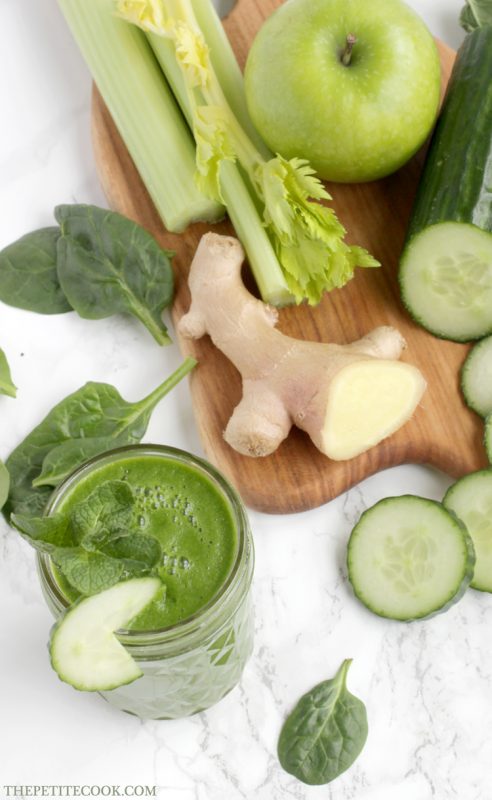 This nutrient-packed drink is the perfect combo of tangy & sweet flavours.
And not only it tastes good, but it's also loaded with vitamins, antioxidants, fiber and other good-for-you nutrients.
All the good reasons to give it a try!
*This post was originally posted in January 2016 and updated with an improved recipe and more info*