Spiced chicken, peppers, pineapple, onions and bacon are skewered, basted with bbq sauce, and grilled to perfection! Best chicken kabobs ever!
This Grilled BBQ Chicken Kabob recipe is one of those that we love to make since it's so customize-able. We also love easy summer recipes like my Classic Pasta Salad and Easy Baked Beans. This is one of my Summer recipes I know you'll want to keep on hand!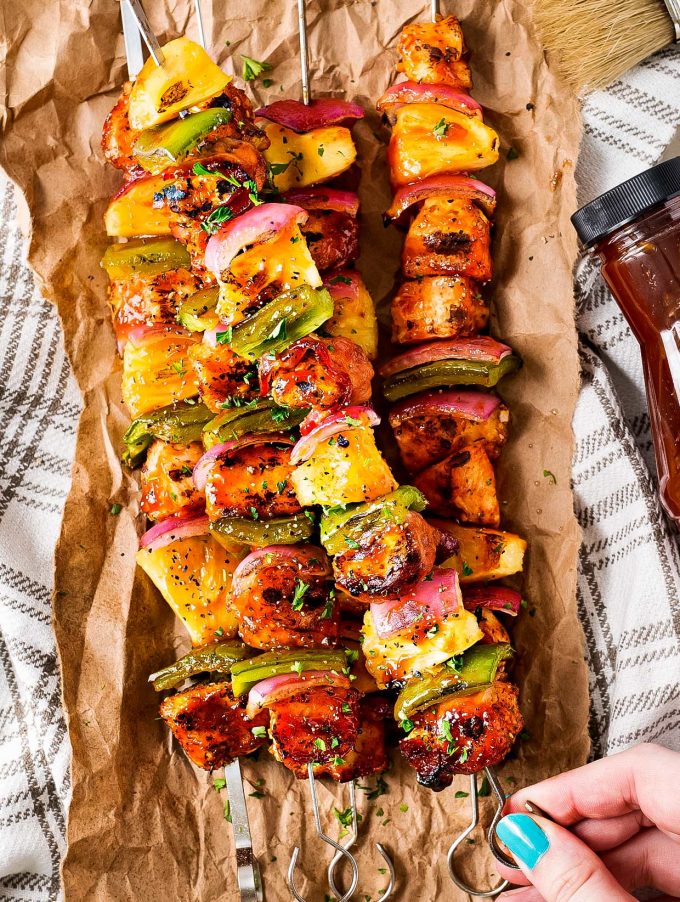 CHICKEN KABOB RECIPE
If you think chicken kabobs are dry and tasteless, then you need to give these a try first. The spice rub on the chicken and veggies is tantalizing, then they're basted with your favorite bbq sauce.
Plus I share my tip for how to keep bacon on the kabobs, and tips for how to cook kabobs when grilling isn't an option!
Grilling season is amazing, because there are endless options for what you can have for dinner. I've always loved a great kabob, because it's fun to eat meat off sticks, and you truly get a little bit of everything on one skewer!
Not much makes my mouth water more than juicy grilled chicken with a little fabulous char on it, slathered in bbq sauce! Plus that crispy bacon, seared pineapple and crisp red onion? Perfect with some corn on the cob and potato salad.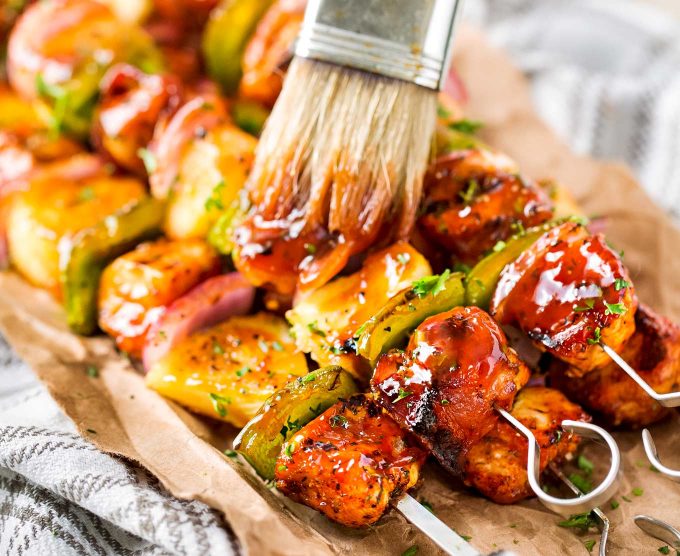 HOW TO MAKE
Make rub. Just combine all the spices in a small bowl and stir with a fork to mix.
Season the meats. Add chicken, bacon, and drizzle of oil to a bowl and add 2/3 of your rub mixture. Use your hands to massage the spices into the meats.
Season the veggies/fruit. Add pepper, onion and pineapple to another bowl and toss with remaining 1/3 of the rub mixture.
Assemble skewers. Wrap the bacon pieces around the chicken, then thread bacon-wrapped chicken, pepper, onion and pineapple onto skewers.
Prepare grill. Lightly oil grill grates and heat over MED HIGH heat.
Grill. Grill kabobs 8-11 minutes, turning every few minutes until cooked through and lightly charred on all sides.
Baste. Brush with bbq sauce on all sides and cook an additional minute or two to caramelize.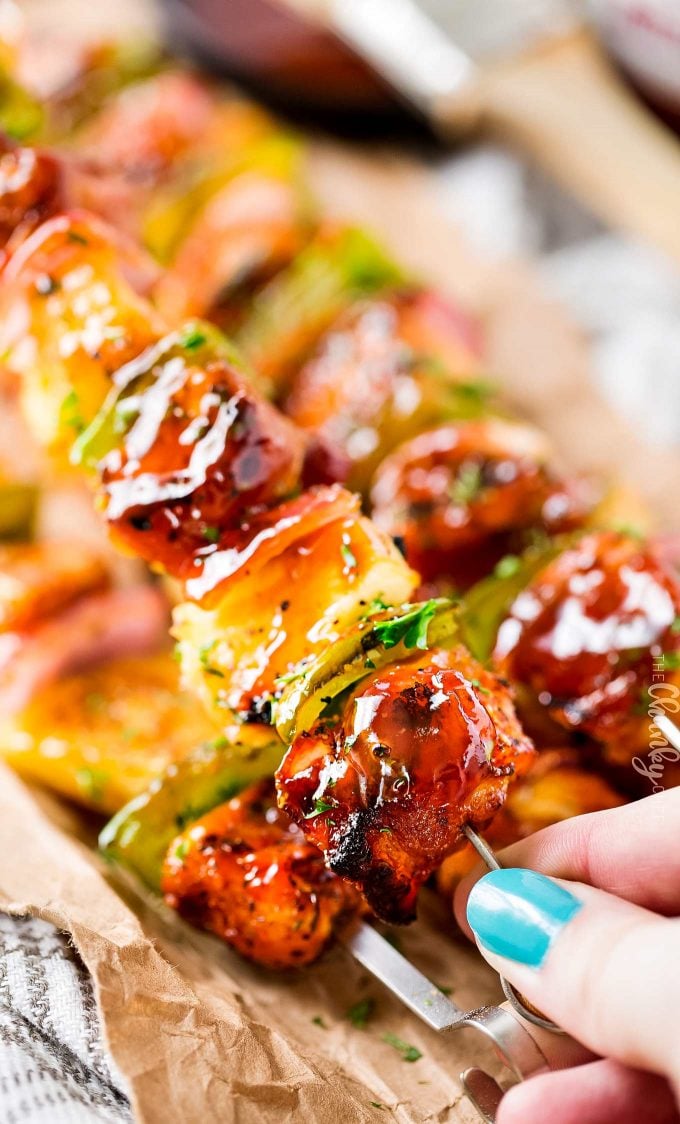 ADDITIONAL COOKING TIPS
SKEWERING BACON
I've been struggling with how to skewer bacon for a LONG time, and I've finally got it. The trick is to not try to skewer just the bacon. If you wrap it around something, like the chicken, it stays in place and cooks beautifully! I use center cut bacon, but you can use whatever your favorite kind is. Cut the bacon into thirds, which should fit around a bite-sized piece of chicken. The bacon will form a "C" shape, with the chicken being in the middle.
COOKING KABOBS WITHOUT A GRILL
We've all been there. You plan a great grilling recipe, and the clouds roll in and rain starts to fall. Or maybe you're out of gas or charcoal. Or just plain don't have an outdoor grill. We've got ya covered! There are two great options here:
First, you can use a stove-top grill pan and grill as the recipe states. If you do this though, you may want to open some windows and turn on a fan, because it can get pretty smoky.
Secondly, you can use your broiler. This is my preferred indoor cooking method because it's way less smoky, and so easy. Broiling these kabobs take about 10-15 minutes, plus a minute or two to caramelize the BBQ sauce. I have all the details in the recipe towards the bottom of the page!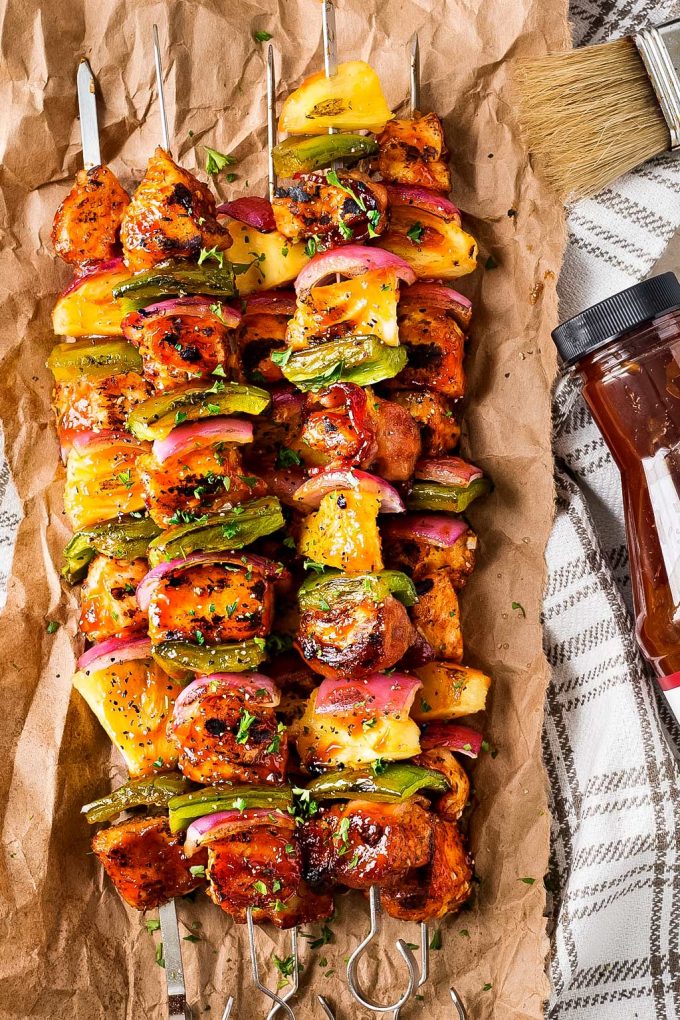 VARIATIONS OF THIS RECIPE
SPICY – if you like a little more heat, add some cayenne pepper to the rub and/or use a spicy bbq sauce!
OTHER MEAT – I've used chicken breasts here because my kids prefer white meat, but boneless chicken thighs would be amazing, and even juicier! Cubed pork tenderloin would be another amazing option, as would shrimp!
OTHER VEGGIES – the sky is the limit on what veggies you can add. Peppers and onions are a pretty common variety, but zucchini, yellow squash, tomatoes, etc are also delicious! Mango would also be amazing used in place of the pineapple.
SEPARATE MEAT AND VEGGIES – while it's pretty to have the alternating chicken, fruit and veggies, it can be a little tricky to make sure the meat is fully cooked and the veggies and fruit aren't burnt. If you're new to grilling, or simply want this meal to be even easier, do separate skewers of chicken/bacon, and veggies/fruit.
STORE-BOUGHT RUB – there are so many great pre-made rubs out there nowadays, and you can certainly use one of those if you'd rather not make your own.
HOMEMADE BBQ SAUCE – if you'd rather use a homemade bbq sauce, you can absolutely go for it! I really love my Bourbon BBQ sauce on these kabobs.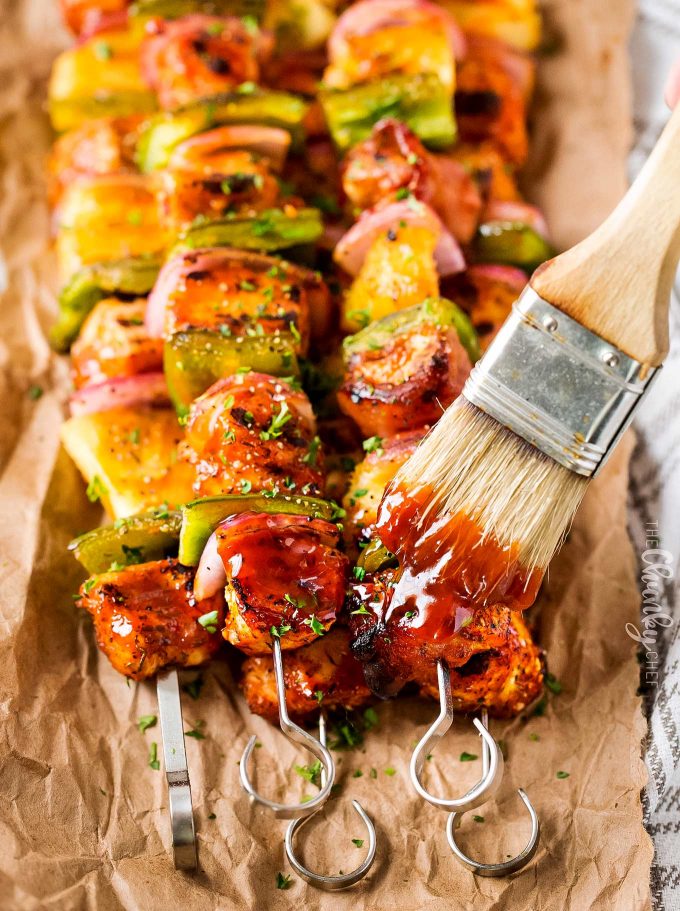 MAKING CHICKEN KABOBS AHEAD OF TIME
Good news! While I don't recommend grilling them ahead of time then reheating to serve (I just think grilled foods taste best fresh), you can assemble these kabobs ahead of time.
Go ahead and proceed through step 5 of the recipe, then cover tightly with plastic wrap/foil/airtight container and refrigerate for 1-2 days.
STORAGE
Leftovers should be stored in an airtight container and consumed within 4 days for best flavor.
SPECIAL EQUIPMENT FOR THIS RECIPE
Basting Brush – this is the brush used in these photos, but I'm partial to this silicon version that have detachable heads for easier cleaning!
Metal Skewers – I prefer to use metal skewers since they're reusable and don't require soaking.

BE SURE TO SCROLL DOWN TO CHECK OUT OTHER READERS' COMMENTS FOR TIPS AND REVIEWS.
AND DON'T FORGET, IF YOU'VE MADE THIS RECIPE, LEAVE A COMMENT AND PLEASE GIVE IT A STAR RATING LETTING ME KNOW HOW YOU ENJOYED IT!
This post was originally sponsored by Head Country Bar-B-Q Sauce, and posted in 2017. It has been updated in 2020 with additional information, but the recipe remains the same.
For more information, please see more information about Recipe for kabobs on grill
Detail: 🔗