Fork-tender BBQ Spare Ribs coated in a Cajun dry rub and grilled to perfection with crispy outer edges. Ready to get outdoors and light up that grill?
Today, I'm bringing you a delicious BBQ spare ribs recipe that calls for firing up that outdoor charcoal grill. While you're out grilling, make it worth your time and throw some other meat on the grill. Your family and friends will love this.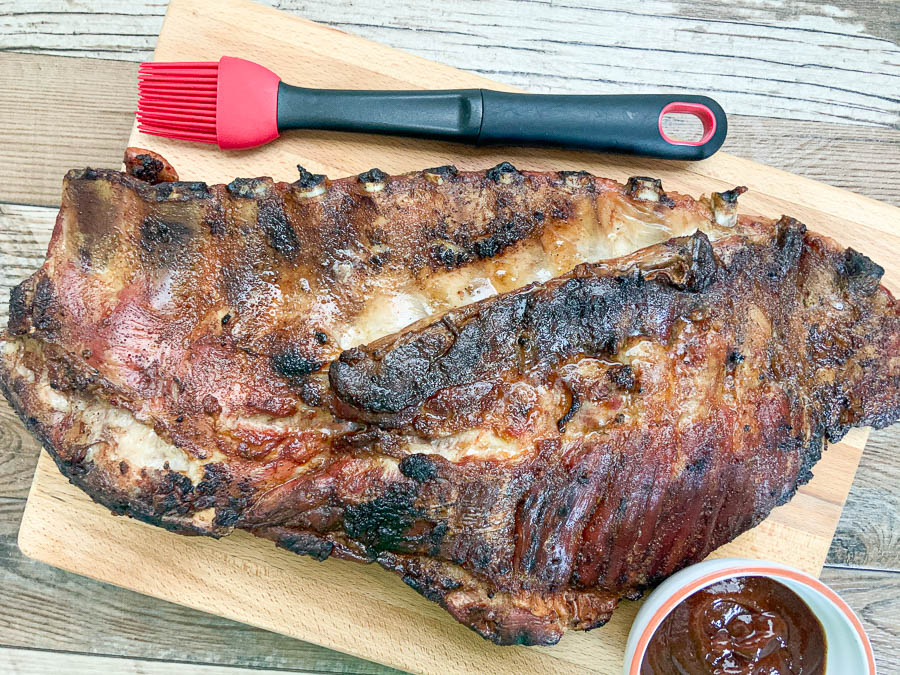 Jump to:
Pair with these other meats
Recipe Notes
How do you prepare spare ribs
How to start a charcoal grill
How to cook spare ribs on the grill
How long does it take to cook pork spare ribs on the grill
Recipe Tips
More grilling recipes
Did you make this recipe?
Best side dishes
📖 Recipe
Pair with these other meats
Make it a family affair and pair those spare ribs with these Grilled Flanken Short Ribs or if you're looking to add a slight twist, this Grilled Teriyaki Pork Ribs Recipe is definitely worth mentioning. You will never go wrong with our Grilled Chicken Wings or Grilled Boneless Chicken Thighs.
However, if you're a meat-eater and love pork, I'm positive that you'll love this recipe. These smoked flavored ribs are beautifully caramelized and tender with the most robust flavor.
Recipe Notes
To create the dry rub, combine all the ingredients in a small bowl and stir until all ingredients are combined. Do not add salt to the dry rub. Our favorite dry rub has garlic powder, onion powder, smoked paprika, red pepper flakes, black pepper, cayenne, cumin, and we also like to include dried herbs.
How do you prepare spare ribs
Spare ribs are so easy to prepare.
Wash the spare ribs in cold water then pat dry with paper towels. Some people remove the membrane from the back of the ribs, but I find that even if you don't you are still left with delicious tender ribs.
Season the spare ribs with kosher salt and a generous amount of dry rub on both sides.
Place the ribs in a roasting pan or baking sheet and cover with plastic wrap.
Marinate the ribs for at least 1 hour up to 24 hours in the fridge.
Remove them from the fridge, place them on the countertop and allow them to come to room temperature before you start grilling.
How to start a charcoal grill
Remove the grates and open any vents
Pile in the charcoals and arrange across the barrel
Carefully squirt lighter fluid all over the unlit charcoal and let it sit for 10 minutes or so (Please follow directions on the can before applying lighter fluid if you've never used lighter fluid)
Light the charcoals with a match and when the flame dies down put the grill grates back on
Adjust the vents to reach a temperature of 250°F (the target temperature is 250°F; however, the temperature will fluctuate with the opening and closing of the lid, so a temperature between 240°F and 250°F is good)
How to cook spare ribs on the grill
Preheat your charcoal grill (following the steps above)
Position the slab of ribs onto the grill grates and close the lid. After 30 minutes, turn the slab of ribs over to grill the other side for 30 to 45 minutes. By this time, the ribs should be a beautiful brown color and no longer pink.
Remove the ribs from the grill and place onto a clean roasting pan or baking sheet.
Slather on your favorite BBQ sauce if you'd like and place in a preheated 330 degree oven.
Bake for 20 to 25 minutes to tenderize the BBQ pork spare ribs even more.
How long does it take to cook pork spare ribs on the grill
It takes anywhere from 1 hr to 1 hr 15 minutes to cook pork spare ribs on a charcoal grill. Then, place the ribs uncovered in the oven and cook at a low temperature for 20 to 25 minutes to further tenderize the ribs.
Recipe Tips
Do not skimp on the dry rub as this adds such an incredible depth of flavor and helps form the crispy outer coating on the ribs.
Do not add salt to your dry rub blend (this will allow you to control the amount of salt without having to second guess if you've added to much or too little).
If you're adding BBQ sauce, slather your favorite sauce on at the end.
More grilling recipes
If so, let me know how it went. Leave a 'Star Rating' within the recipe card down below and/or TAG @cookingwithbliss on Instagram. I can't wait to see how it turned out.
Best side dishes
Let's also get into what to serve with BBQ ribs. We've rounded up more than 15 of the best sides to pair with BBQ ribs.
📖 Recipe
Through this article, we hope to help you understand Bbq ribs on the grill
Detail: 🔗