Grilled Boneless Pork Chops are one of our favorite dinners on the grill! This pork chop recipe starts with a brine to make the pork super juicy, not dry!
Looking for more grilling favorites? We love using Our Favorite Steak Marinade on steak, obviously, but it's also delicious chicken or pork! Ever grilled a cocktail? Check out this Grilled Dirty Martini for one of our favorite drinks to make while grilling out!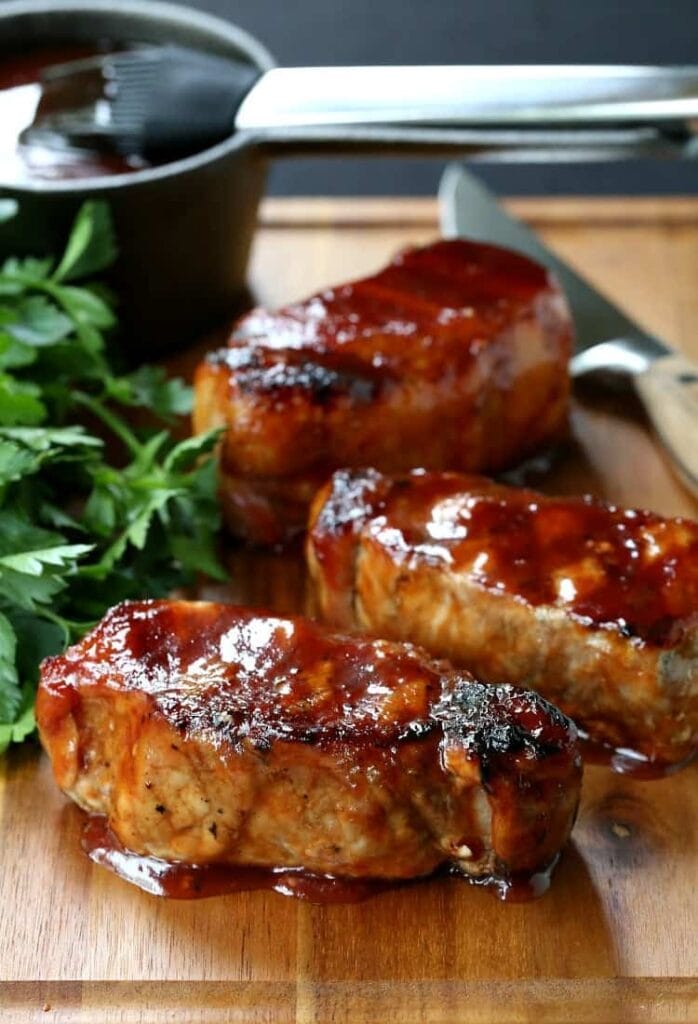 Brined Pork Chops For The Ultimate, Juicy Pork Chop
What do I love about summer? Lots of things…warm weather, staying outside as much as possible, sipping an ice cold beer on the deck after yard work or hanging with some friends…but food.
It's all about the food like these Grilled Boneless Pork Chops. Simple easy dinner recipes that everyone loves.
We love grilling steak, all kinds of steak, chicken is a go to almost every couple of days and I've even taking a liking to making salmon on the grill! Pork chops on the grill used to be my least favorite until I learned about brining.
What Is A Brine?
A brine is a salt water solution that can be enhanced with flavor like herbs, vinegar and juices like we have here. Brining your meat before cooking will tenderize the meat and make it very juicy and full of flavor.
Meats and poultry like these pork chops or a boneless, skinless chicken breast and even a turkey that don't have a lot of flavor to begin with are very good example of what to brine.
How Do You Make These Juicy BBQ Pork Chops?
To make the pork chop brine, start by adding apple cider, (or apple juice) apple cider vinegar, brown sugar and salt to a pot. Bring that mixture to a boil and let it simmer for a few minutes, then take off the heat and let cool.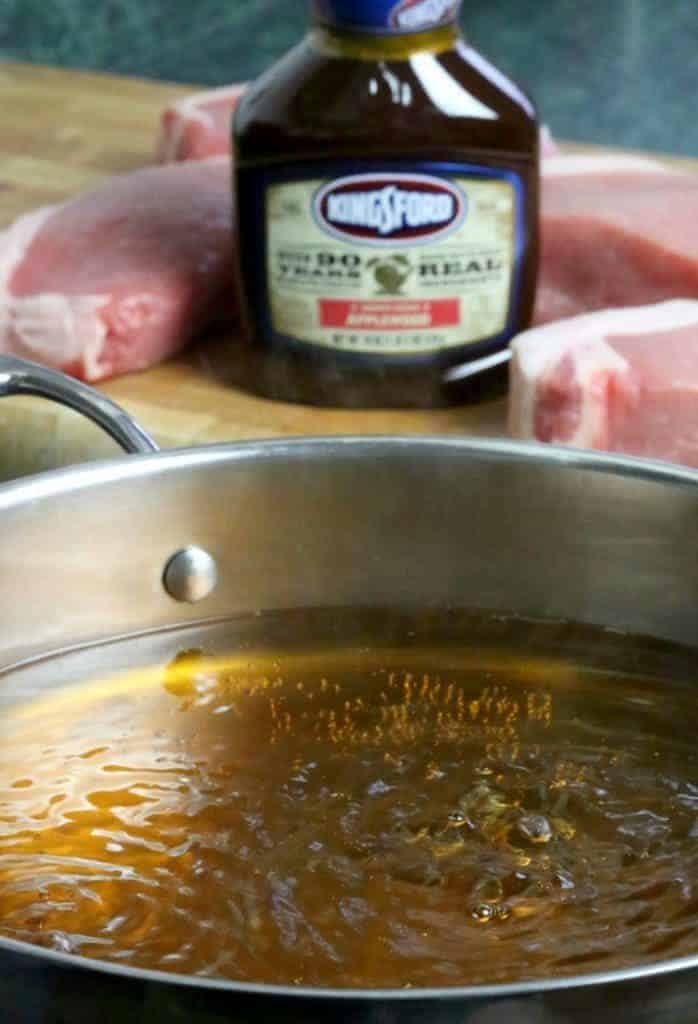 Pour the brine into a large bowl and add 2 cups of ice. Once the ice has melted, pour the brine into a resealable bag or a dish that's large enough to hold all of the brine. Add the pork chops to the brine and refrigerate for 8 hours or up to overnight.
Remove the pork chops from the brine and pat dry with some paper towels. You want to get a good sear when you put these chops on the grill and that won't happen if they're still wet with the brine.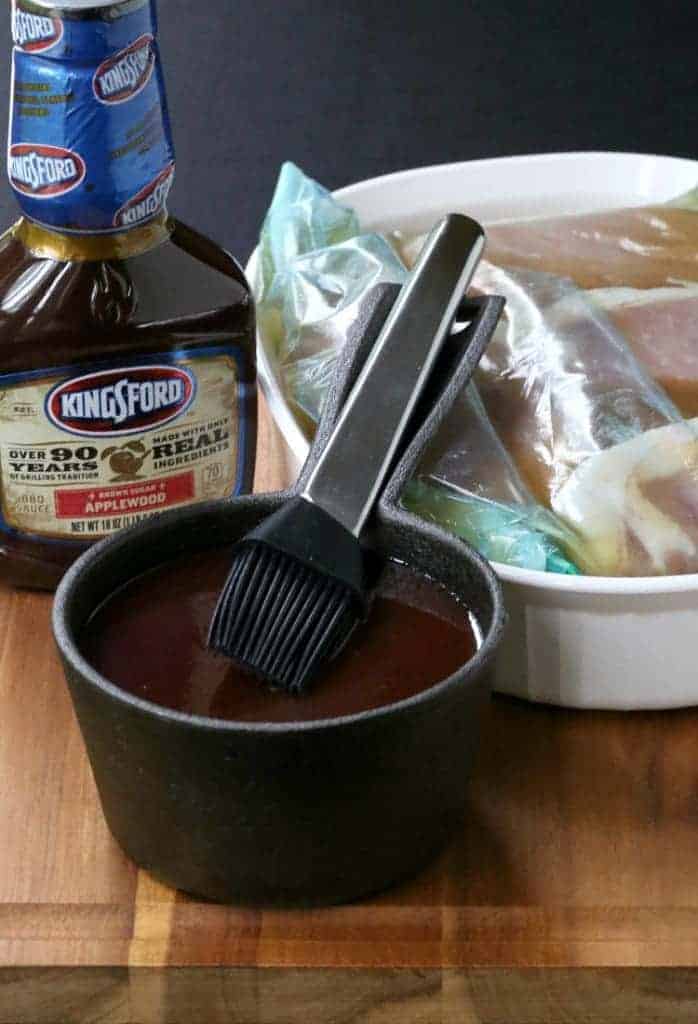 How Do I Know When Pork Is Done?
The thickness of your pork chops will depend on how long you need to cook them. For a pork chop that's about 1 inch thick, you'll need to grill them for about 5 minutes on each side.
Use a thermometer and check to make sure the internal temperature is 145 degrees and you're all set. If your pork chops are thicker like mine, add a few more minutes on each side and keep checking the temperature so you don't overcook them.
Because there's nothing worse than overcooked pork chops!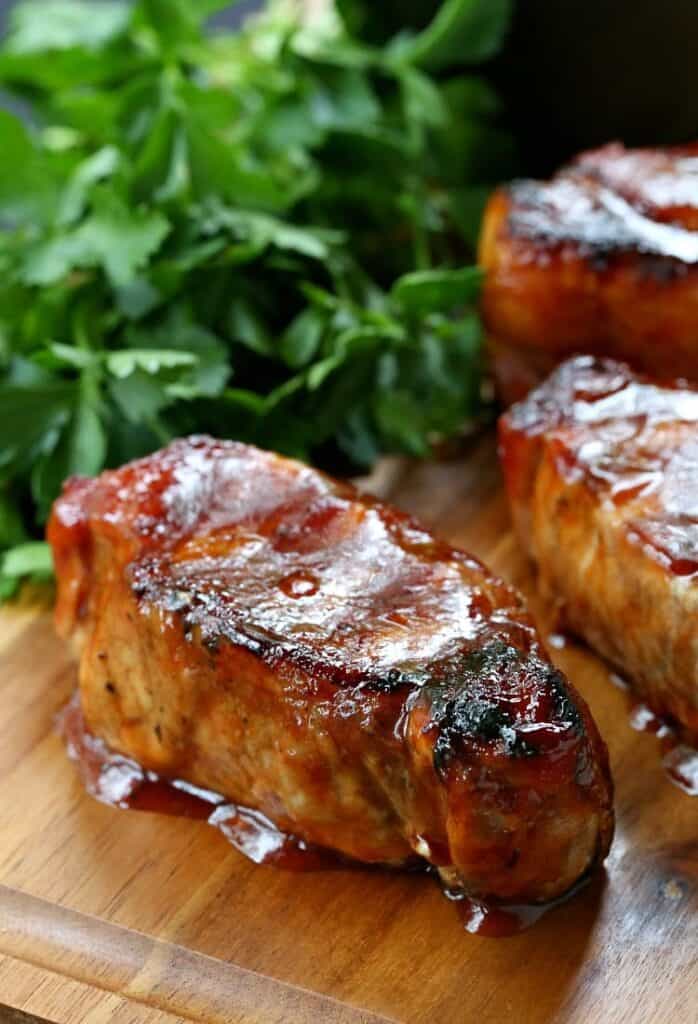 During the last minute or so of grilling you can start to baste the pork chops with some of the barbecue Sauce. Don't add the barbecue sauce when you first put the pork chop on the grill because it will burn.
Remove the pork chops from the grill to a platter and let them rest for 5 minutes before serving. Letting the pork rest also helps lock in the juices from the meat so don't skip this step!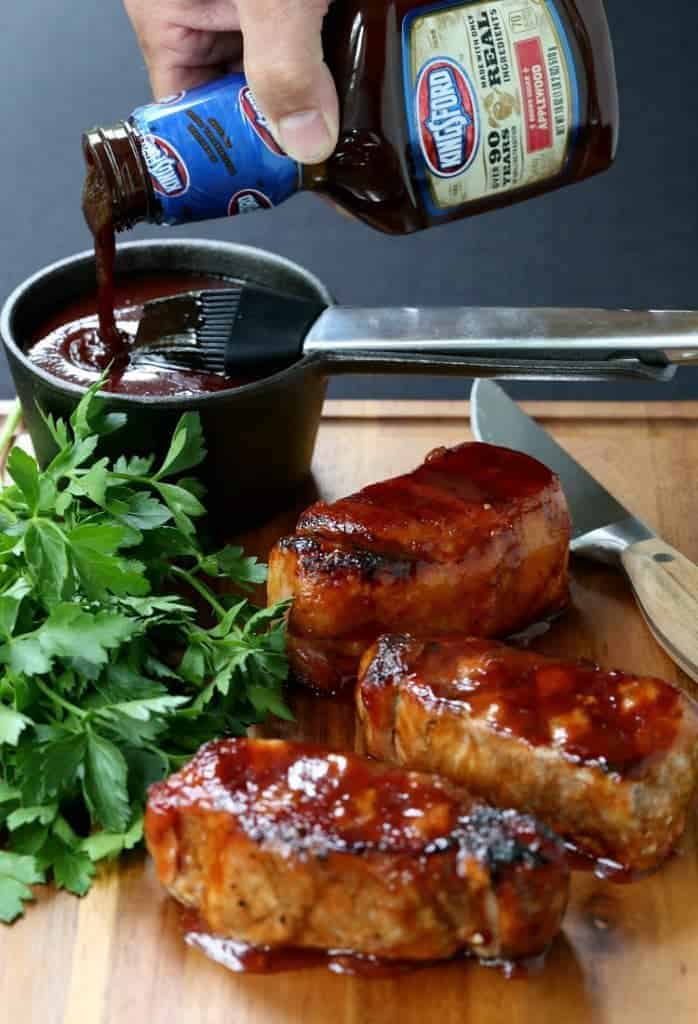 We like to heat up extra BBQ sauce and serve it on the side of this pork chop recipe. Because the more sauce, the better am I right? Even if you think you aren't a grill master (which I certainly am not) you should really try this easy pork chop recipe.
These bbq pork chops have definitely become one of our favorite dinner recipes! Bonus is that after brining they only take 10 minutes on the grill and dinner is done.
What Can I Serve With This Pork Chop Recipe?
The sides can totally make the meal, so let's go through a few of our favorites here but also head to our recipes menu and scroll down to SIDE DISHES for many more ideas!
Oven Roasted Corn on the Cob
Classic Potato Salad with Hard Boiled Eggs
Slow Cooker Loaded Baked Beans
Mustard Roasted Potatoes
Super Creamy Coleslaw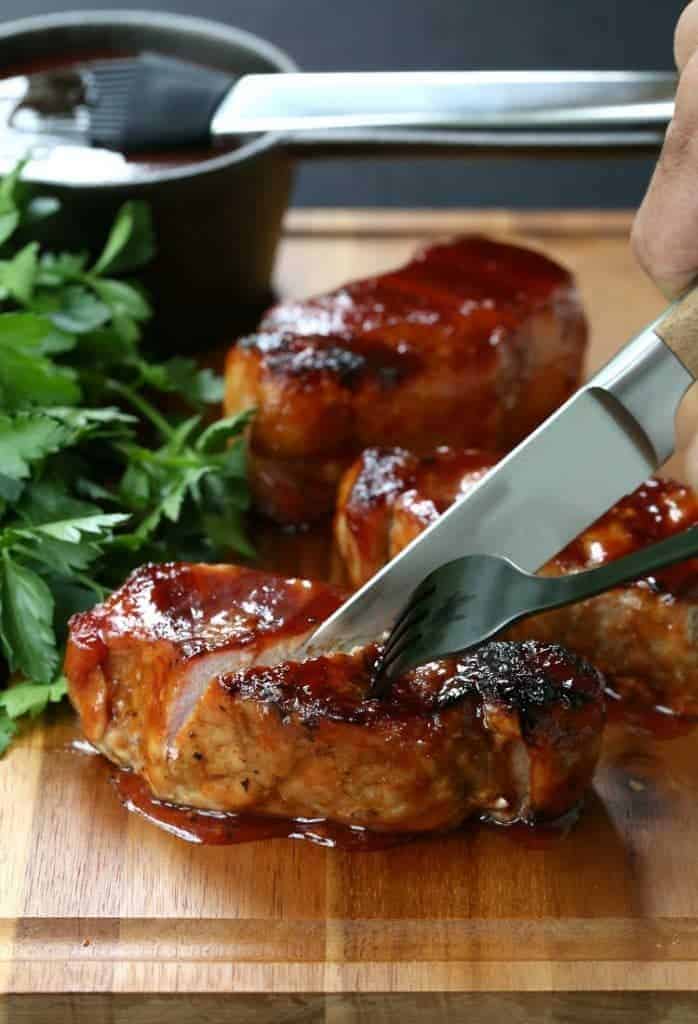 Looking For More Pork Recipes?
Cheesy BBQ Pulled Pork
Crock Pot Applesauce Pork Roast
Hibachi Pork Fried Rice
Slow Cooker Nutty Asian Pork
Print
This is a sponsored conversation written by me on behalf of Kingsford. The opinions and text are all mine.
Through this article, we hope to help you understand Brined pork chops on the grill
Detail: 🔗