This Grilled Chicken Cobb Salad recipe is easy to put together, very filling, tasty and perfect for lunch or dinner. Topped with homemade ranch dressing and loaded with goodness.
What's your ideal salad recipe? Everyone must have a favorite salad they prefer over the other. Honestly, I love all kinds of salads and I try to mix things up and try different foods and meals. But this Chicken Cobb Salad Recipe was a huge winner at my house. The reason I say that is because the kids LOVED it. It's loaded with proteins and just perfectly perfect! CAN I even say that? We don't consume bacon but if you are a bacon fan you can go ahead and add some!
If you're looking for other delicious salad recipes, why not also try my Healthy Steak Salad Recipe or my Shrimp Avocado Salad!
why you'll love this chicken cobb salad
A mouthwatering homemade ranch dressing. This chicken cobb salad is anointed with the lushest healthy ranch dressing, made with Greek yogurt, garlic, and chives, it's perfect over vegetables, chicken, eggs – everything really!
A hearty salad. Loaded with protein and vibrant veggies, this delicious cobb salad is a balanced and super filling meal.
An easy cobb salad recipe. This satisfying salad comes together easily, great for lunch or dinner.
ingredients you'll need
Chicken Tenders
Olive Oil
Hard-Boiled Eggs
Veggies: Cherry tomatoes, avocado, onion, cucumber, and lettuce.
Blue Cheese
Homemade Ranch Dressing: Yogurt, chives, garlic, olive oil, salt, and pepper.
how to make this chicken cobb salad
Cook the chicken – Grill the seasoned chicken for 3-4 mins each side, then slice.
Make the dressing – In a small bowl add all dressing ingredients and whisk to combine.
Assemble the salad – In a bowl, add the lettuce first, then arrange chicken, eggs, tomatoes, cucumber, avocado, and onions in a row.
Garnish, serve, and enjoy!
recipe notes and tips
Boil your eggs in advance to speed things up.
Leave out the chicken for a vegetarian option, it's still really hearty and delicious!
To make this recipe even quicker use rotisserie chicken.
Try swapping hard-boiled eggs for poached eggs – it's delicious and gives the salad a brunch vibe!
Chop your veggies into medium/small pieces. You want to be sure they aren't so big that they're difficult to fit in your mouth.
You can swap in your favorite veggies and cheese, great for veggies languishing in the fridge.
If you have a small jar with a tight-fitting lid, it's the perfect container for making salad dressing. This is such a delicious dressing, you can make extra and store what you don't use in the jar in the fridge, making life even easier for the next salad!
If you have any leftover chicken, serve it with some grilled veggies the next night.
If you consume bacon, by all means, add some!
faq's
What is the Cobb in a Cobb salad
Where the name Cobb in a Cobb salad came from is quite the debate. Some say that it originated at a restaurant called Hollywood Brown Derby Restaurant in 1937 and it was named after the owner Robert Howard Cobb. It isn't known for sure whether Cobb actually invented the salad himself or his chef did.
what's the best cheese for a cobb salad?
The traditional cheese for the original Cobb Salad is blue cheese. You can also use Gorgonzola blue cheese, a Roquefort, or other blue cheese. If you not a fan of blue cheese, a crumbled feta or shredded cheddar would work here too.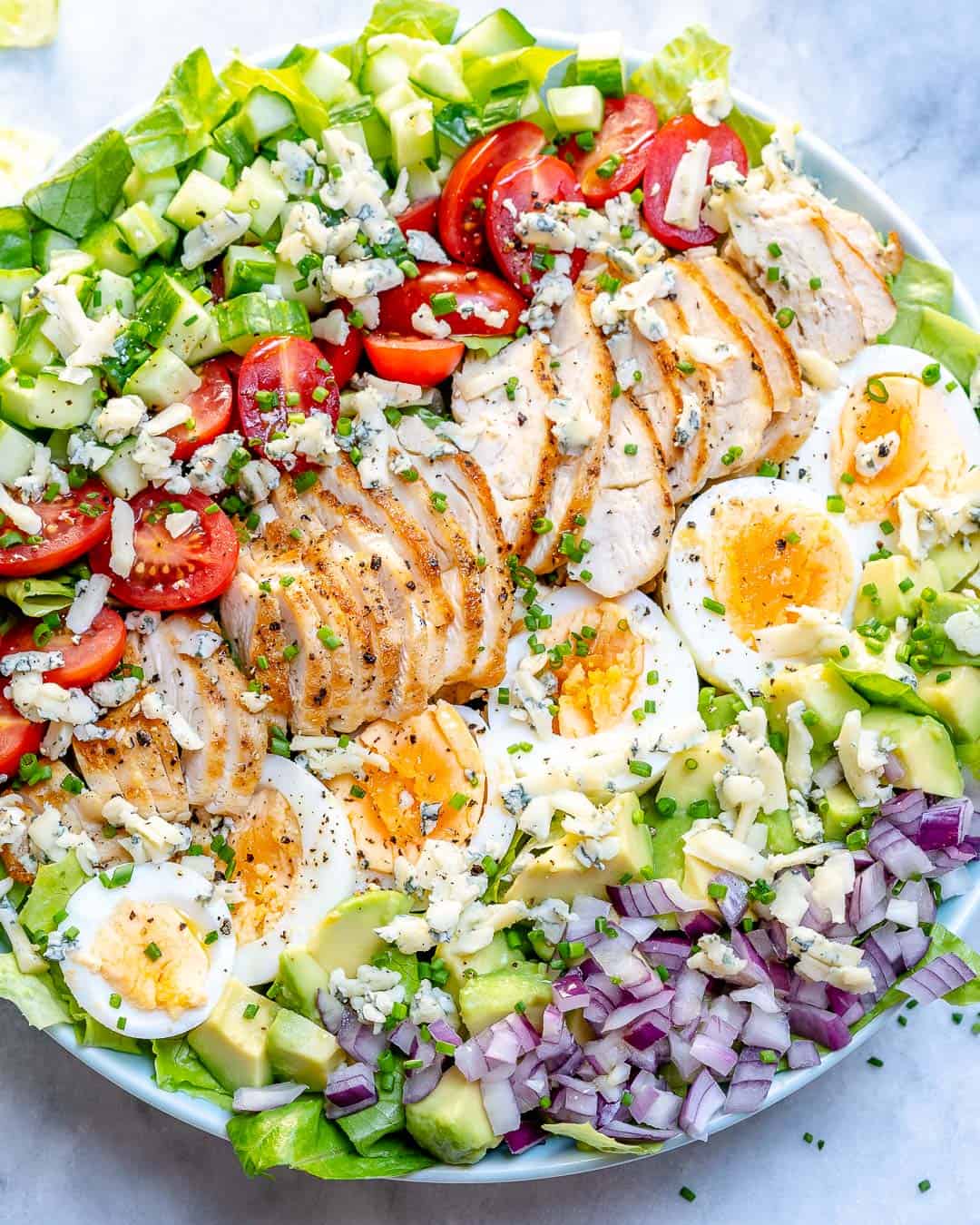 can i make this chicken cobb salad AHEAD of time?
You can certainly rinse the veggies, cook the chicken and boil the eggs ahead of time. The same goes for the homemade ranch dressing. It's best to add the avocado just before serving, so it doesn't brown.
What type of Greens do you use in Cobb Salad
Traditional Cobb Salad recipe is prepared using four varieties of greens: iceberg lettuce, watercress, endive, and romaine lettuce. Either one you go with will taste great. I love using either Iceberg or romaine.
More awesome recipes for you to try out:
Pomegranate Chicken Salad Recipe
Lemon Chicken Skewers Recipe
Healthy Pasta Primavera Recipe
Easy Lemon Asparagus Shrimp Recipe
Shrimp Taco Bowls
Also, remember to subscribe to my NEWSLETTER for free and receive all my new recipes like this Grilled Chicken Cobb Salad Recipe delivered right to your inbox!
If you try a recipe and you like it, please use my hashtag #healthyfitnessmeals on INSTAGRAM for a chance to be featured! FOLLOW Healthy Fitness Meals on FACEBOOK | INSTAGRAM | PINTEREST | TWITTER for all of my latest blog posts and recipes.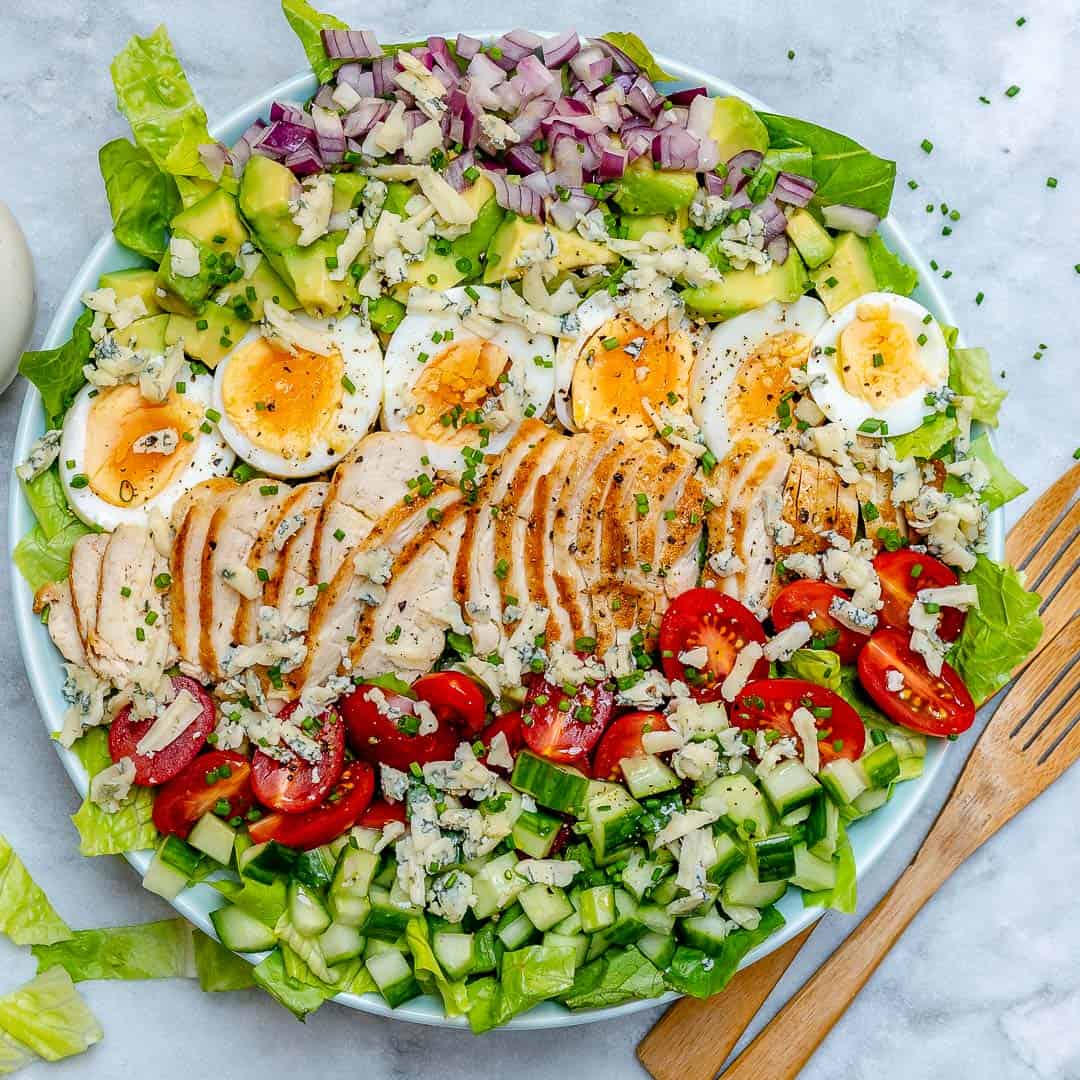 Through this article, we hope to help you understand Grilled chicken breast salad recipes
Detail: 🔗