Learn how to grill bone-in chicken thighs that are moist and tender with this quick and easy recipe. A few simple grilling tricks to control the fat flair-ups will make these juicy grilled chicken thighs a favorite family dinner.
Introduction
So what is the problem with grilling chicken thighs? Easy, it's the fat and flames that keep burning your chicken. Chicken thighs are just loaded with fat.
So here is how to solve the problem? Trim the fat, do "uneven grilling (see below)," and keep the thighs and especially the skin away from the flames of the flair-up from the melted fat.
My Rating
This is a lower 5 rating. If you're a real thigh person, then a high five would be in order.
🐓About Chicken Thighs
There are lots of things to love about chicken thighs. The meat is delicious, moist, and flavorful because the fat keeps it that way. Plus, you can have them your way; bone-in, boneless, or skinless/boneless are all easily available and economical.
But it is the fat that will have many people picking chicken breasts instead.
How much fat is there?
Since we are dealing with a natural product, there is some variability but think of a thigh having about two to three times the fat of chicken breasts.
Here are the numbers from the National Chicken Council. Cooked skin-on thigh has 15.5 grams of fat, while a skin-on split chicken breast is 7.8 grams.
Boneless or Skinless Thighs
While this recipe is for bone-in skin-on thighs, the meat is all the same and will cook with a few minor adjustments.
The bone will absorb some of the heat, so boneless thighs will cook a few minutes faster, and they always seem thinner to me. Thickness is a significant variable in cooking time, so pay attention to the internal temperature.
Skinless thighs should have a brush of oil before seasoning and do not need the uneven part of the grilling method—no skin to protect. But still alternate sides of the grill due to fat drainage and flair-ups.
👨‍🍳How to Grill Chicken Thighs on a Gas Grill
Preheat grill to about 450° surface temperature.
Trim off any trimmable fat and extra skin.
Spice as you want. We use All Purpose Seasoning – 7:2:1 and 7:2:2, which has salt, black pepper, and garlic powder.
Grill over directed heat using uneven grilling discussed below if there is skin. Also, move between areas of the grill to avoid flair-ups from the fat.
COOK TO THE INTERNAL TEMPERATURE, not by time along. The correct internal temperature for thigh meat is 180°-185°—usually about 25 minutes of total grilling time.
🧂Seasoning
We use my All Purpose Seasoning – 7:2:1 and 7:2:2. But always season to your taste. Just some Kosher salt and pepper would do. Many times I add a pinch of cayenne pepper. But use the seasoning you love.
You can also use various other spices or chicken marinade for different flavors.
♨️Grill Setup and Uneven Grilling
Grill Setup
The grill should be 450°-500° surface temperature. That is usually about medium-high heat on most gas grills.
You want a grill with a large surface area. To do this right, you need to be able to move your chicken away from any flame-ups from fat drainage. I like to use the entire grill surface and divide it in half to avoid confusion.
If you have questions about grill setup, see A Beginners Guide to Grill Temperature on a Gas Grill.
Charcoal Grill: Charcoal can be used, but you will need enough grill grate area and get the surface temperature correct.
Uneven Grilling—The Secret to Grilled Thighs
Uneven grilling is my method to avoid both flare-ups from draining fat and burnt skin.
There are two parts to this method:1) The skin side of the thighs can burn easily so should have less time facing the flames. So with skin-on thighs, start with skin up for the first period and grill for about 5-6 minutes. Flip to skin side down for 4 minutes. Continue to go back and forth using the same timing.2) Alternate sides of the grill surface with each flip. You will get fat drainage flare-ups. Moving the chicken to the other side of the grill at the flips will allow hot spots from fat drainage to burn out.
For skinless thighs, you can skip the uneven grilling times—you have no chicken skin you are trying to protect. But you will still need a large surface area to move around and avoid flare-ups from the fat drainage.
⏰Grilled Chicken Thigh Cooking Time
A good estimate for bone-in chicken thigh cooking time is 25 minutes, but the exact grill temperature, the thickness of the thighs, and their temperature at the start of grilling will make the exact time variable.
Boneless thighs will be about 5 minutes less and tend to be thinner, so watch your internal temperature starting at 15 minutes.
Always cook to a final internal temperature. Please, never by time alone.
🌡️Final Internal Temperature
180°-185° is the best final internal temperature for chicken thighs. This is where thighs are moist and tender since the fibrous tissue is melted. They are safe at 165° but are still tough and stringy. Please use an instant-read or meat thermometer to get the correct internal temperature.
Some recipes call for cooking "until juices run clear" or "no pink at the bone." How are you supposed to do that? Also, I suspect it may even be below the safe minimum temperature since the pinkness disappears at about 155°F.
❓FAQs
🍽️Serving and Storage
Serving suggestions
Serve with a fresh green garden salad and potatoes of some type like Grilled Baby Potatoes or potato salad. Grill vegetables or Brown Sugar Cinnamon Glazed Grilled Pineapple are also great side dishes.
Storing leftovers
Store in an airtight container refrigerated for 3-4 days. They will freeze if sealed well; they should be fine for 3-4 months. Reheat by thawing first, then reheat in an oven.
📖Related Recipes
Oven Baked Chicken Legs – The Art of Drummies
Crispy Oven Baked Chicken Thighs
Grilled Chicken Drumsticks – The Art of Drummies
Chicken for a Hundred -The father of all of them.
This recipe is listed in these categories. See them for more similar recipes.
🖼️Step-by-Step Photo Instructions
Start the skin-on bone-in chicken thighs and seasoning of your choice.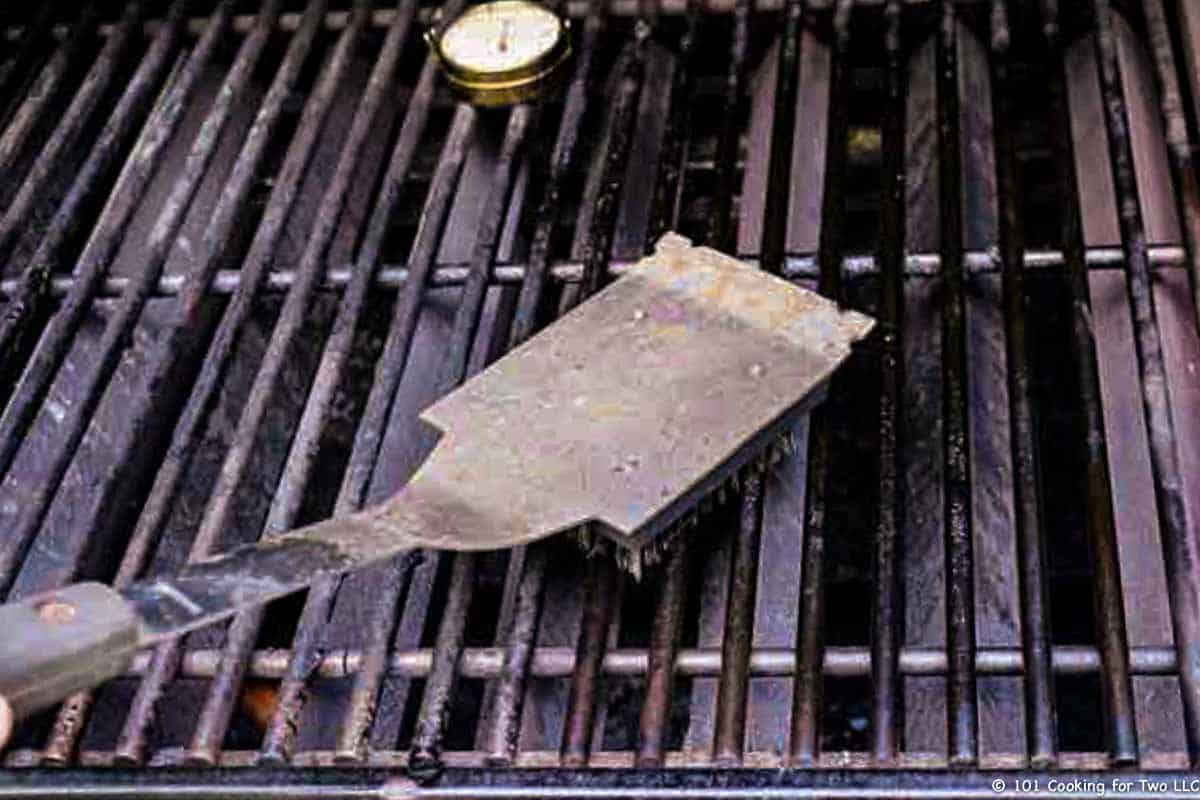 Preheat grill to 450° surface temperature. That is medium to medium-high heat on most grills. Use the entire grill surface. Clean and oil grill grate well.
While the grill is preheating, trim the thighs of any trim-able fat and extra skin and allow them to rest at room temperature until the grill is ready.
Before placing on the grill, give all sides a sprinkle of salt and pepper to your taste. I use my Homemade Seasoning, which is salt, pepper, and garlic powder. But season to your liking. If using skinless thighs, give them a light brushing of vegetable oil.
Using only half the grill surface, place on the grill over direct heat with skin side UP. Grill for 5-6 minutes, then flip onto the other side of the grill and skin down. Grill for about 4 minutes with the skin down. Continue to go back and forth between sides of the grill and skin up and down with the same timing. If using skinless thighs, you can grill both sides for 5 minutes until done but do alternate sides.
Allow to rest for 5 minutes before serving.
📖Recipe
Editor's Note: Originally Published August 1, 2015. Updated with expanded options, refreshed photos, and a table of contents to help navigation.
Through this article, we hope to help you understand Grilling chicken quarters on gas grill
Detail: 🔗