My perfectly grilled lamb chops are elegant,full of flavor, and best of all they only take about 20 minutes to make! An aromatic herb rub and a little olive oil are all you need to make this easy gourmet dinner!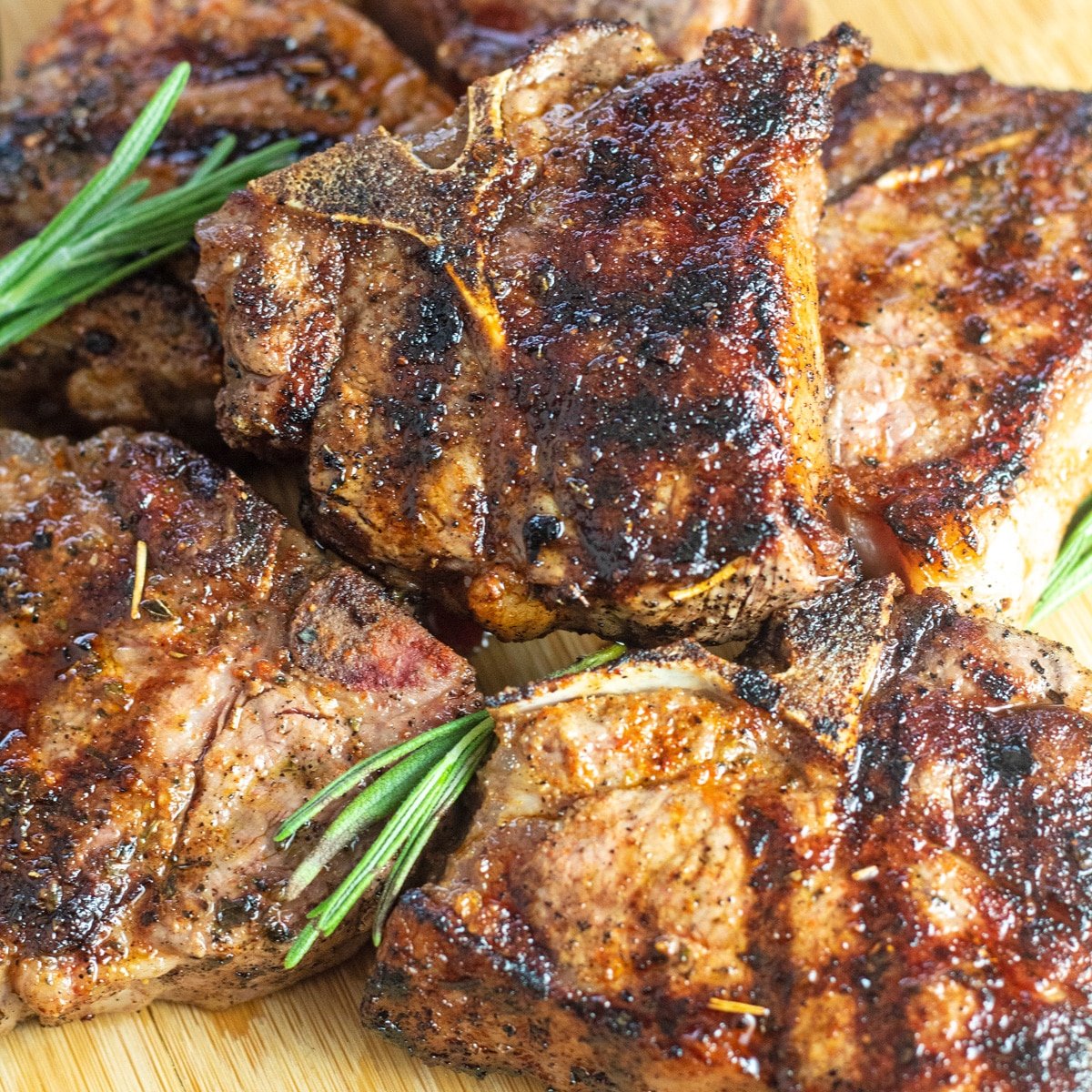 Easy marinated grilled lamb chops are perfect for formal occasions or family dinners!
Lamb chops are often considered gourmet, so until I tried my hand at cooking them I didn't realize how easy they truly are. There is no special skill involved here, just the right seasoning and a good cut of meat!
A great lamb chop doesn't need much marinating time because they are already full of flavor. Lamb does well with an herb, earthy seasoning that helps enhance the rich natural flavor of the lamb. My personal favorite lamb rub includes just a touch of dried orange peel to brighten up the dish.
Jump to:
🥩 Loin Chops VS. Rib Chops
❤️ Why You'll Love This Recipe!
🥘 Ingredients
🔪 Step-By-Step Instructions
💭 Angela's Tips & Recipe Notes
🥡 Storing & Reheating
🍽️ More Easy Grilled Recipes!
❓ FAQ
📋 Recipe
🥩 Loin Chops VS. Rib Chops
There are 2 cuts of lamb chops to choose from: rib chops, or loin chops. It's a personal preference, so use whichever you prefer. Or, try them both so you can compare which cut you enjoy more!
Lamb Loin Chops
Think of a lamb loin chop like a T-bone or porterhouse cut from cattle. The one cut of meat contains a portion of the lean yet tender loin muscle and the deliciously delicate tenderloin separated by a piece of bone.
Occasionally you may see loin chops from either side of the lamb that is left together in the middle to make a larger cut of meat. It would then be referred to as an English-style loin chop!
If you're not a fan of the gamey flavor of lamb, you're still likely to love this cut of lamb no matter how it is prepared!
Lamb Rib Chops
A lamb rib chop is cut from part of the loin muscle as well, but it is from the section that crosses from the rib to the lamb's shoulder. The rib chop is also very tender, but it is fattier than a loin chop.
A lamb rib chop typically has a protective layer of fat around the ribs. Some choose the rib chop for this reason as lamb fat has a very distinct and delicious flavor!
❤️ Why You'll Love This Recipe!
It's impressive! With this recipe, you can whip up a gourmet dinner in minutes that will have everyone complimenting the chef!
It's full of flavor! It's perfectly seared, perfectly seasoned, and mouth-watering delicious!
It's easy! Don't tell your guests how easy this lamb chop was to make, and they'll never know you only used 3 ingredients!
🥘 Ingredients
Hard to believe you can make an exceptionally grilled lamb chop with just three basic ingredients. If you don't have the lamb chops already, take a trip to the store and be sure to pick up the herbs for the rub!
2 tablespoons Olive Oil – Extra virgin olive oil helps the outside of the lamb chop get that perfect sear.
2 tablespoons Lamb Rub – You can use your own, but I swear by this easy lamb rub recipe full of herbs and a touch of citrus. (*See tips & recipe notes below)
2 pounds Lamb Chops – Whether you choose lamb loin or rib chops, you're going to want to look for ones that are at least 1″ thick. Unlike a steak, marbling isn't super important here. What you want is to see the fat evenly distributed throughout the meat.
*Be sure to see the recipe card below for ingredients, amounts & instructions!*
🔪 Step-By-Step Instructions
If you want to prep these ahead of time, you can marinade the chops and place them in the fridge the night before then all you need to do is grill! Make sure your grill pan or BBQ grill is fully heated up before adding the lamb chops.
Marinade. Combine the 2 tablespoons of olive oil and 2 tablespoons of lamb rub until it forms a paste. Use a basting brush to evenly distribute the paste onto your lamb chops. Cover the lamb chops with plastic wrap, or place them in a Ziploc bag, and refrigerate them to marinate for at least 1 hour (up to 24 hours).
Prep. Remove the chops from the refrigerator 30 minutes before cooking to allow them to come up to room temperature. Preheat your grill pan to medium-high heat, or your BBQ grill to the low end of medium-high at 375°F (190°C).
Grill and serve. For medium-rare, cook the lamb chops for 2 minutes on the first side then 3 minutes on the second side. For a medium lamb chop, cook for 2 minutes on the first side and 3.5 minutes on the second side. Set the chops aside and loosely tent them with foil. Allow them to rest for 5 minutes before serving.
Grilled lamb chops pair well with a variety of flavors. Think steakhouse sides! Anything from a light salad to heartier side dishes is perfectly acceptable.
My family always requests these easy fondant potatoes and honey and herb oven-roasted carrots when I'm grilling up some lamb chops.
No matter what you serve them with, these lamb chops are sure to be a hit! Enjoy!
💭 Angela's Tips & Recipe Notes
For a small batch of my favorite lamb seasoning to use with this recipe combine 1 teaspoon salt with ½ teaspoon of dried parsley, ¼ teaspoon of dried rosemary, ground sage, and onion powder, then ⅛ teaspoon of dried oregano, dried orange peel, paprika, and ground black pepper. Mix in a spice grinder, food processor, or mortar & pestle if desired.
If you do not have dried orange peel, you can substitute 1 teaspoon of grated orange zest from a fresh orange per dried orange peel.
Do not marinate your lamb for more than 24 hours. The citrus in the rub will begin breaking down the meat giving it a mealy texture.
Use a meat thermometer to check the internal temperature! It's much easier than eye-balling your lamb chops. Lamb chops are done when the internal temperature is 135°F (57°C).
For thick lamb chops, add 1-2 minutes overall cooking time.
If you're up for it, you can save a bit of money by purchasing a whole lamb rib roast and cutting the individual chops with a very sharp knife.
🥡 Storing & Reheating
For safety and quality, cooked lamb chops should be stored in an airtight container and kept in the fridge for no longer than 3-4 days.
Cooked lamb chops can be kept frozen, as well. Before freezing, make sure your lamb chops have cooled off.
Wrap your cooked lamb chops with two layers of plastic wrap before placing them in an airtight container. You can also vacuum seal them to prevent the cold air from causing freezer burn. Frozen lamb chops will keep for 3 months.
Reheating Your Lamb Chops
Lamb chops can dry out easily and lose their tender, juicy texture. I have found the best method to reheat lamb chops is to throw them in the oven.
Because lamb chops should not be left at room temperature for more than two hours, thaw frozen chops by leaving them in the fridge overnight.
Preheat your oven to 350°F (175°C). Place the lamb chops on a baking tray and cover the chops and tray with foil.
Place the tray on the middle rack and cook for about 10 minutes before pulling them out and flipping them over. Place the chops back in the oven for another 5 minutes before checking the internal temperature with your meat thermometer.
Once they are 135°F (57°C), your chops should be heated enough. This way they keep as tender and juicy as possible!
🍽️ More Easy Grilled Recipes!
Marinated Grilled Porkchops
Grilled Haddock
Grilled Brats
Grilled Chicken Fettuccine Alfredo
Bacon Wrapped Brussel Sprouts
❓ FAQ
Do you love a recipe you tried? Please leave a 5-star 🌟rating in the recipe card below and/or a review in the comments section further down the page. Stay in touch with me through social media @ Pinterest, Facebook, Instagram, or Twitter! Don't forget to tag me when you try one of my recipes!
📋 Recipe
For more information please see the list of Lamb chop recipes on the grill
Detail: 🔗