Grilled lamb chops seasoned with a mint salt rub, topped with parmesan pesto, and paired with juicy summertime peaches.
Years ago, a professional Chef taught a dinner class I attended on how to cut a rack of lamb into chops, season, and then grill them to the correct temperature while holding in the juices of the meat.
Get all the pro chef tips for grilling lamb lollipops at your next cookout party scented with the elegant sublime taste of peaches, parmesan, and mint…
How To Make The Best Grilled Lamb Chops
Take the lamb meat out of the fridge, and let them rest while you work on preparing the peaches, the mint salt rub, and parmesan pesto.
8 lamb chops – French trimmed (see below for detailed pro tips to cut a rack into chops!)
4 whole fresh peaches halved/pits removed
1 bunch of fresh mint leaves
seasoned mint salt rub
½ cup kosher sea salt
⅛ cup ground black pepper
15 fresh mint leaves
2 lemons zested
grilled peaches
8 peach halves
½ teaspoon sea salt
½ teaspoon fresh cracked pepper
2 tablespoons extra virgin olive oil
Make the seasoned mint salt rub; mix salt, black pepper, mint leaves, and lemon zest in a mini food processor or chop finely on board.
Rub each chop generously with the seasoned mint salt rub on both sides, andset on a platter.
To season the peaches, wash and cut peaches in half, remove pits, and place in a bowl. Sprinkle with salt, pepper, and a drizzle of olive oil, and add to the platter.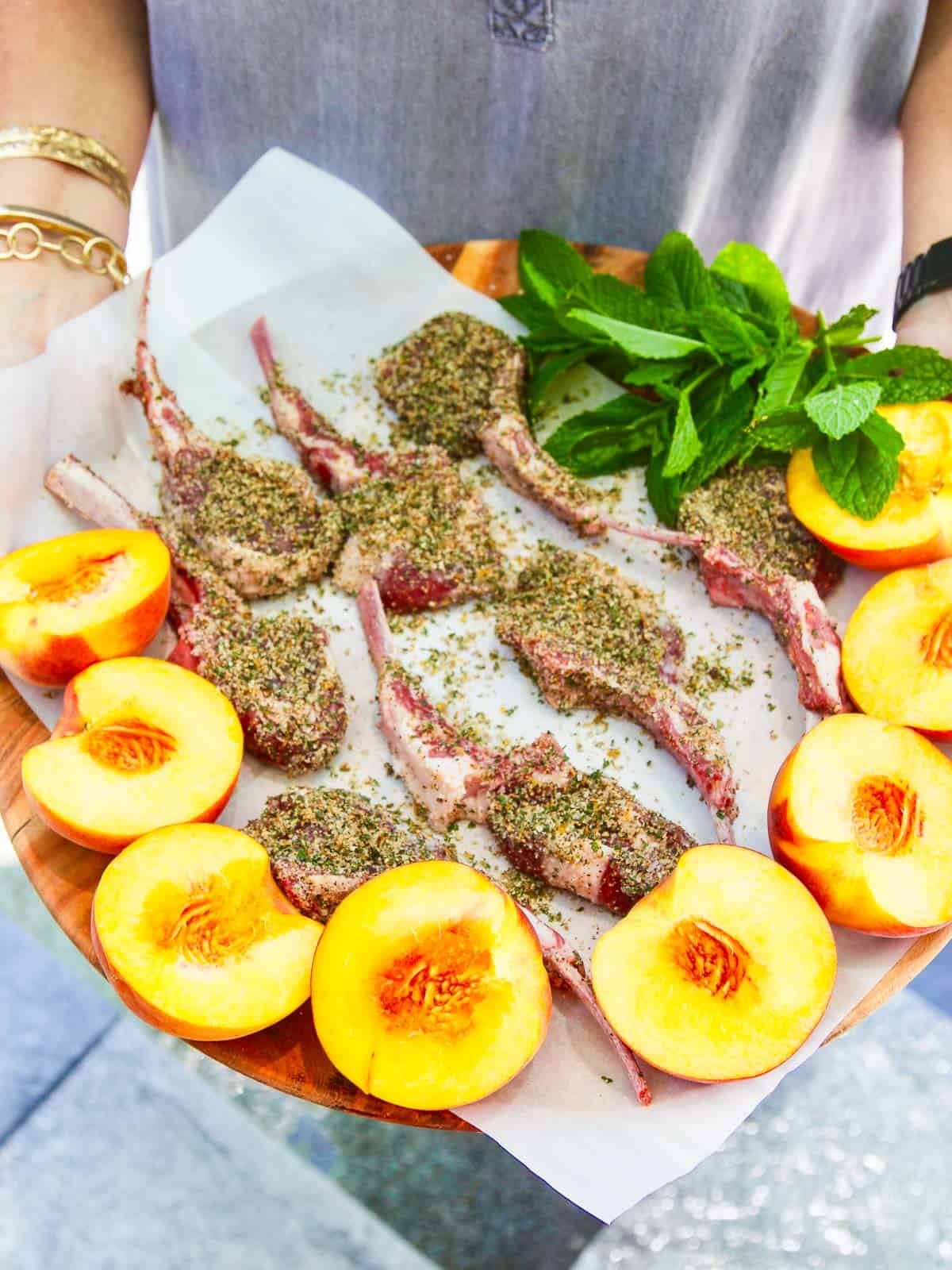 make the parmesan mint pesto
This will be a condiment on top of your grilled lamb chops, it is amazing!
20 leaves fresh mint
2 cloves garlic
¼ cup pine nuts
¼ cup parmesan cheese grated
¼ teaspoon sea salt
¼ cup olive oil
In a mini food processor blend or finely chop on a cutting board; the fresh mint, garlic cloves, pine nuts, parmesan, and a pinch of salt. You can also swap in fresh rosemary, parsley, rosemary or thyme for mint, but the mint pairs so well!
Slowly add the olive oil to the moving food processor, or mix in a small bowl if done by hand.
It should be thick and chunky like a paste, not drippy with olive oil. Set aside, this will top your grilled chops just before serving.
grill the lamb chops and peaches
Preheat your grill/gas grill to 400 degrees.
Place the lamb and peaches (cut side down) on the hot grill, and close the lid for 4-5 minutes.
Carefully open the grill lid, and flip them over. Sear for another 4-5 minutes until just golden brown.
Check the peaches, and remove them from the grill once they have nice grill marks on a platter.
Arrange the grilled meat and peaches on a platter with parmesan mint pesto over each lamb lollypop.
A serving size for one adult is 2 individual chops and goes so well with cool drinks and a salad.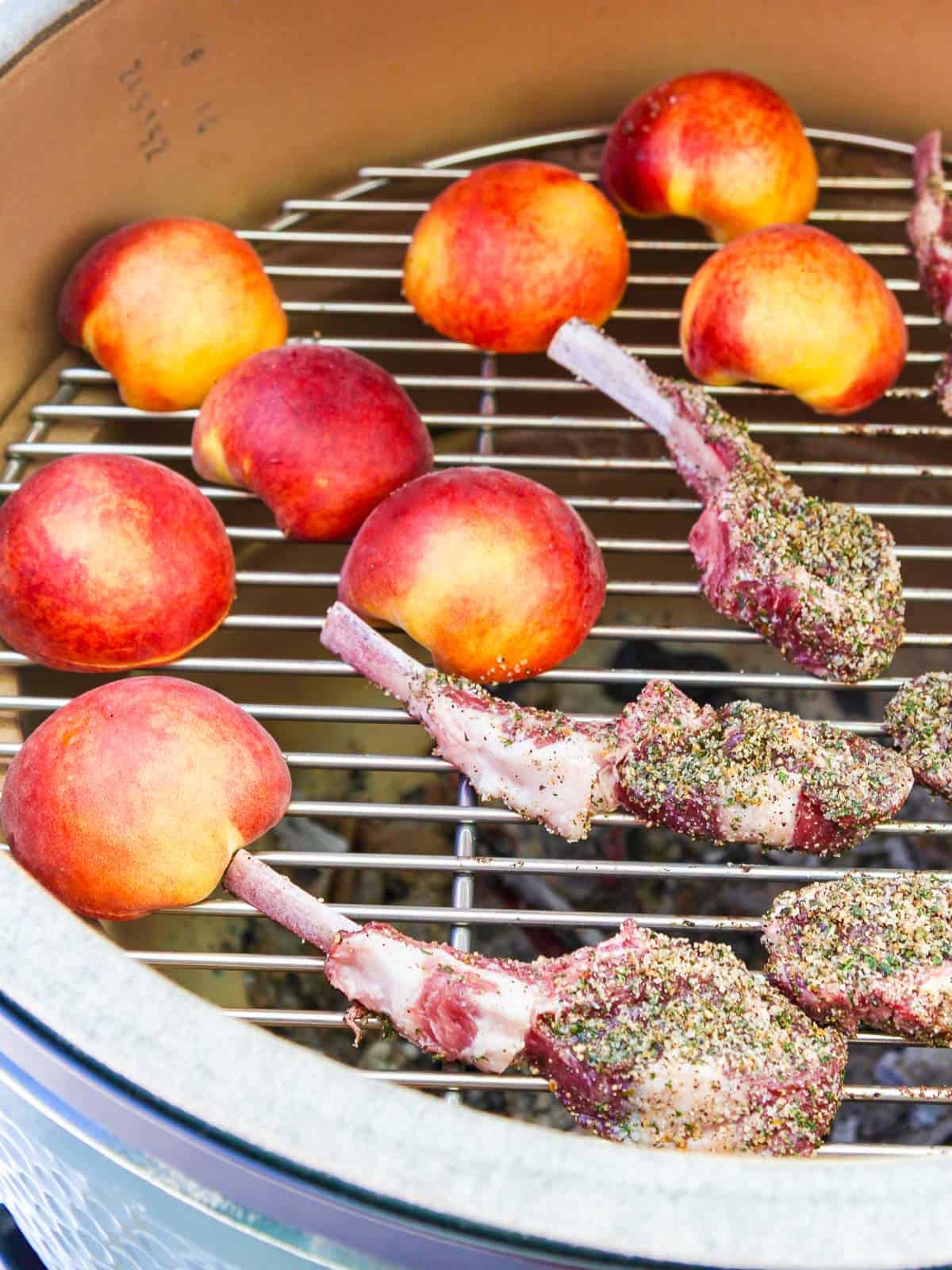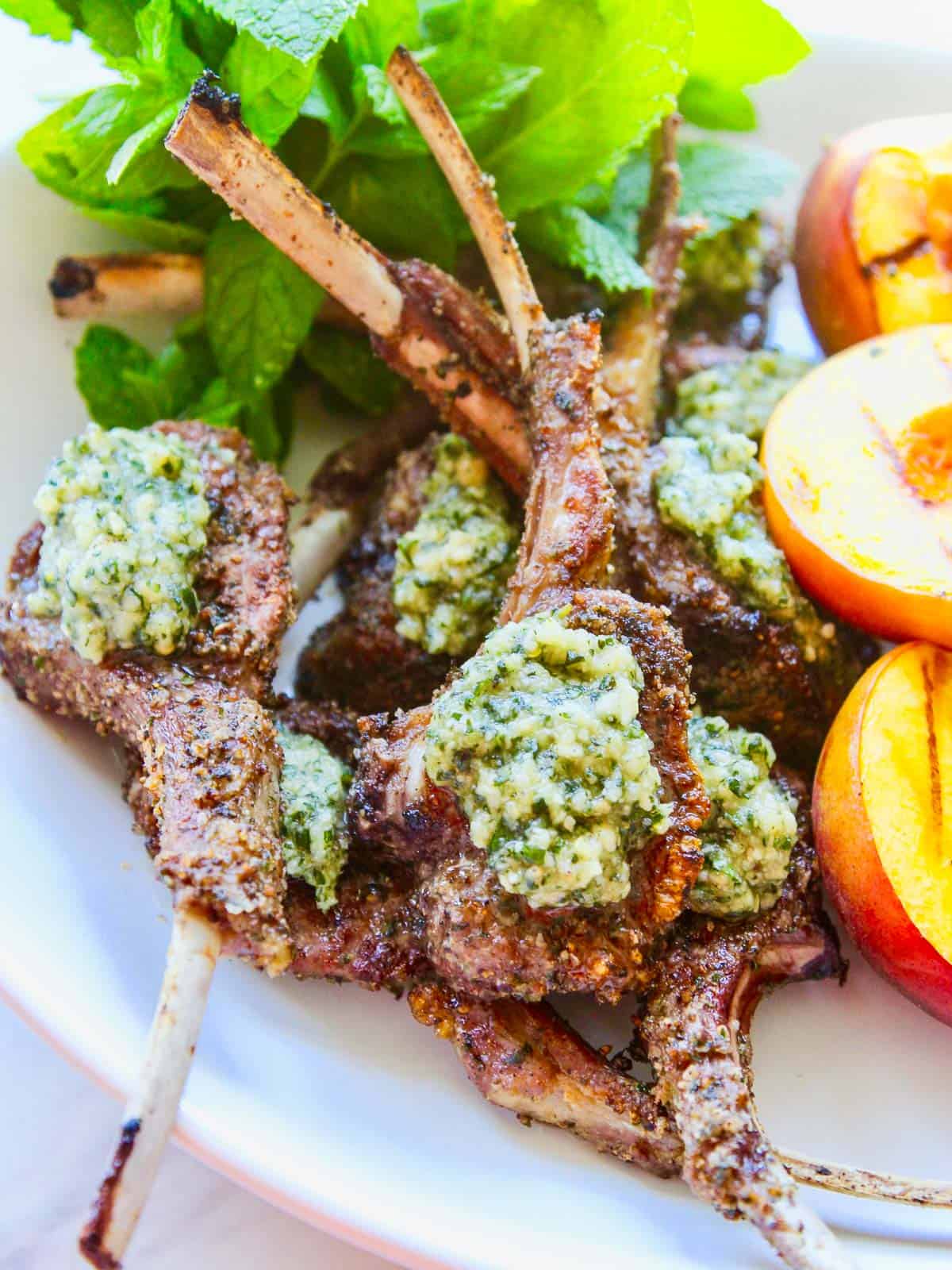 How To Buy Lamb Chops
When you head out to the grocery store or butcher shop, buy a good quality rack of lamb, preferably a wet-aged French trimmed rack. Usually, rib chops are sold partially trimmed. You will have to remove some of the white fat, the silver skin, and clean them up a tiny bit.
PRO TIP: You can ask the butcher to trim your cut of meat at the store and slice it into thick chops for you.
Slicing A Rack Of Lamb Into Chops At Home
A few years ago I was invited to attend a cooking class for professionals, and we did a deep dive all about lamb. I can still remember the delicious flavor of lunch that day and never knew tender chops could be so delicious with a unique smoky flavor from the grill! The chef showed us step-by-step how to break down racks into chops…
To prep racks yourself, carefully scrape any meat or fat off the bones with a small sharp pairing knife.
Cut equally in between the rib bones to keep them even, and cut out the extra fat.
Slice straight through the chops, and then twist that section to finish cutting off a single chop.
Remove any extra end bones if necessary to leave one bone per chop.
Well, that wasn't too hard, was it? These are photos from our class as we broke down racks into chops with the Chef coaching us…
Grilled Lamb FAQ
What To Serve With Grilled Lamb Chops?
For a special meal like Valentine's Day, hosting dinner guests, or special occasion easy dinners at home, these are the best side dishes to make for tender lamb chops.
The grilled peaches that I made with this recipe go perfectly and are so easy to throw on the grill. You could also make grilled watermelon skewers, grilled butter corn, a spinach salad, or a no-stir oven-baked parmesan risotto. Any simple salad will go so well with any of these easy recipes.
Pair these little lamb chops with a sweet potato dish. This Sweet Potato Casserole is Ruth Chris's Steakhouse copycat recipe, and is absolutely amazing! It's a simple side dish made with pecan crumble topping, vanilla extract, and a bit of maple syrup.
Or make some Smashed Potatoes served with melted herb butter is one of the most heavenly potato recipes. These crispy potatoes are a beautiful side dish for a special family dinner, romantic date nights, holidays, or a dinner party and would go so well with lamb.
Serve this mix of colorful Roasted Vegetables with grilled lollypops including sweet potato, butternut squash, rainbow carrots, and Brussel sprouts.
This ultimate guide delivers all the tips on how to cook Grilled Asparagus on the stovetop perfectly every time for tasty crisp-tender asparagus spears with bright green beautiful color.
More Grilling Recipes
Take a look at my Cookout Menu collection of over 60 recipes.
Shish Kabobs are easy to make ahead and throw on the grill.
Huli Huli Chicken Pineapple Rice Bowls are perfect for entertaining.
Greek Gyros with Tzatziki Sauce will be a hit at your grill party!
Or these elegant Cabernet Grilled Rack of Lamb and Watermelon Skewers…this recipe is ready in 45 minutes!
And, did you know you can bake on your grill? Try this amazing recipe for Grill Baked Blueberry Pie!
For more information, please see more information about Lamb chop recipes on the grill
Detail: 🔗