Glazed grilled pineapple is an easy delicious summer side dish. With a buttery caramelized brown sugar glaze, it also makes a great dessert when combined with ice cream.
Introduction
Grilled pineapple rings or spears should become one of your everyday grilled side dishes. Ultra easy to do with rave-worthy results.
Grilling any fruit will bring out all the hidden flavor and sweetness. Add in the caramelized glaze and you have a great treat.
My Rating
A very high four or low five mainly because it is not a "main event" dish, but it is an easy grilled pineapple recipe.
🍍About Pineapple
Let's talk pineapple first. You can pick up fresh whole pineapple or buy a precut cored which is much easier. I don't recommend canned pineapple since the slices are thin.
How to Pick a Fresh Pineapple
1) The pineapple's top (the crown) should be vibrant with no wilted, brown, loose, or falling out leaves.
2) Feel the fruit for firm skin with a slight give; you don't want fruit that feels spongy or has soft spots. It should also be heavy.
3) Smell the bottom of the pineapple which is the sweetest spot on the fruit and should smell fragrant,
4) The color should be vibrant with some yellow-gold color around the eyes and base of the fruit. A ripe pineapple can be totally green, but it is impossible for you to tell, so avoid totally green pineapples. There should usually be more yellow than green, with no white or brown coloring.
5) The "eyes" of the pineapple are the roundish skin segments that cover the pineapple. The larger, the better, they should be free of mold, and flatter is better. They get bigger and flatter with ripening.
How to Store a Pineapple
Generally, you will just keep a whole fresh pineapple at room temperature for a few days. You can extend that by refrigerating in a perforated plastic bag.
Once prepared, the pineapple will store well for 2-3 days.
How to Cut a Pineapple
1) Cut off the crown and bottom.2) Stand the pineapple up and cut away the peel off in strips, deep enough to remove the eyes.3) If making rings, use a corer to remove the core. For spears, you can core first or time after cutting spears.
🥣The Glaze
The glaze is just melted butter with some brown sugar and cinnamon. Melt the butter and mix the other ingredients.
If you wish, you can substitute honey for the brown sugar. While the honey may be a bit sweeter, many of the recipes I compared used a lot more sugar, so it should be fine. But generally, 2 teaspoons of honey will replace 1 tablespoon of brown sugar.
👨‍🍳How to Grill Pineapple
Preheat the grill on high, or if grilling something else, prepare an area for the pineapple. A lower temperature may be used. Be sure to clean and oil the grates well. Either gas or charcoal grill may be used.
Trim pineapple into rings or spears.
Mix the glaze and dip or brush on the pineapple slices or spears.
Grill directly on the grates flipping every 3-4 minutes until the nice color and grill marks. Usually 6 to 8 minutes total. A grill pan may be used.
❓FAQs
📖Grilling Side Dishes
Grilled Peaches
Grilled Stuffed Tomatoes: Italian Style
Grilled Carrots with Honey Glazed
Grilled Biscuits
This recipe is listed in these categories. See them for more similar recipes.
🖼️Step-by-Step Photo Instructions
I like to start with a "cored" pineapple to save time and work. But trimming a fresh whole pineapple works well.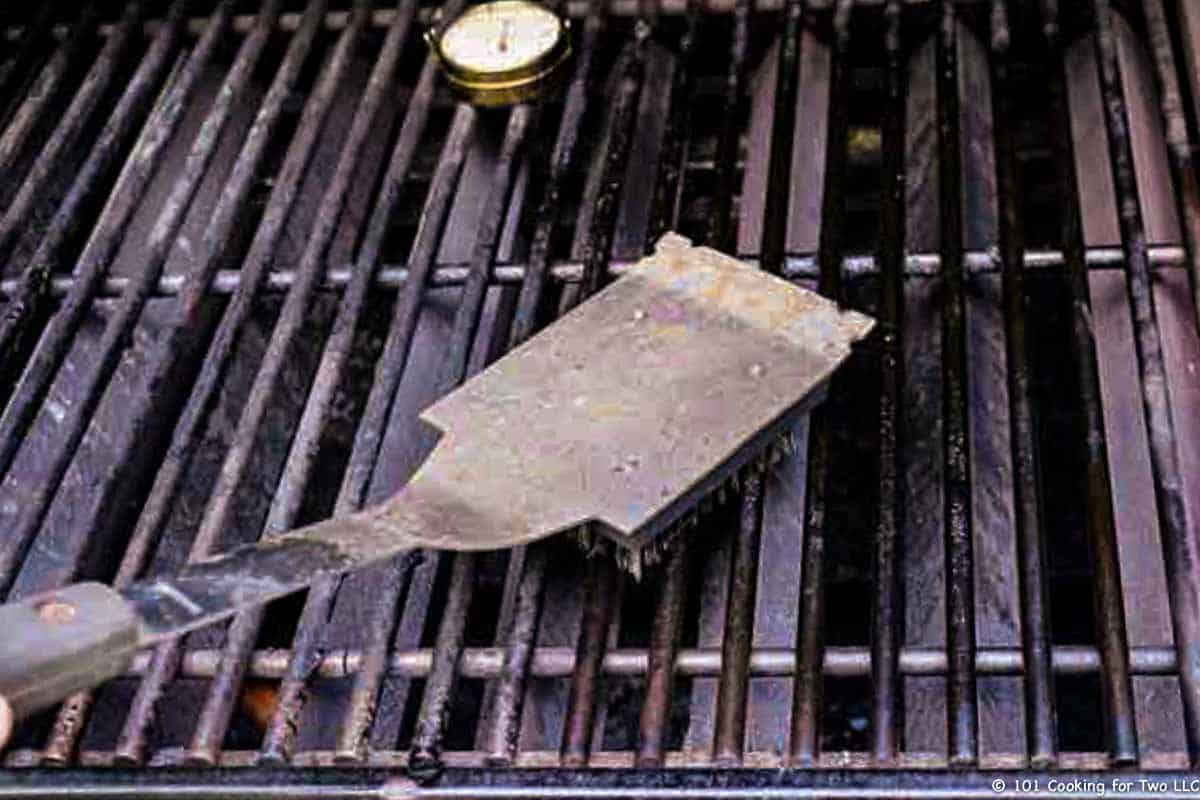 Preheat grill on high. If grilling something else, a lower temperature. Be sure to clean and oil the grill grate well. Works well on a gas or charcoal grill.
In a bowl with a relatively flat bottom, melt 4 tablespoons butter in a microwave. About 25 seconds should do it. Mix in 1 tablespoon brown sugar and 1 teaspoon cinnamon.
Cut the pineapple into rings about ¾ inches. You can use pineapple spears instead if you wish.
Dip into the glaze covering all sides and place directly on the grill.
Flip in 3-4 minutes. Total grill time 6-8 minutes.
Serve hot as a side dish or with vanilla ice cream for dessert.
📖Recipe
Originally Published July 28, 2017. Updated with expanded options, refreshed photos, and a table of contents to help navigation.
For more information, please see more information about Can you grill canned pineapple
Detail: 🔗