This is the best grilled skirt steak marinade recipe – on earth! Your beef steaks will be ready for marinating in just 5 minutes. Then, learn how to cook skirt steak on a BBQ grill or cast iron skillet. Let's get grilling!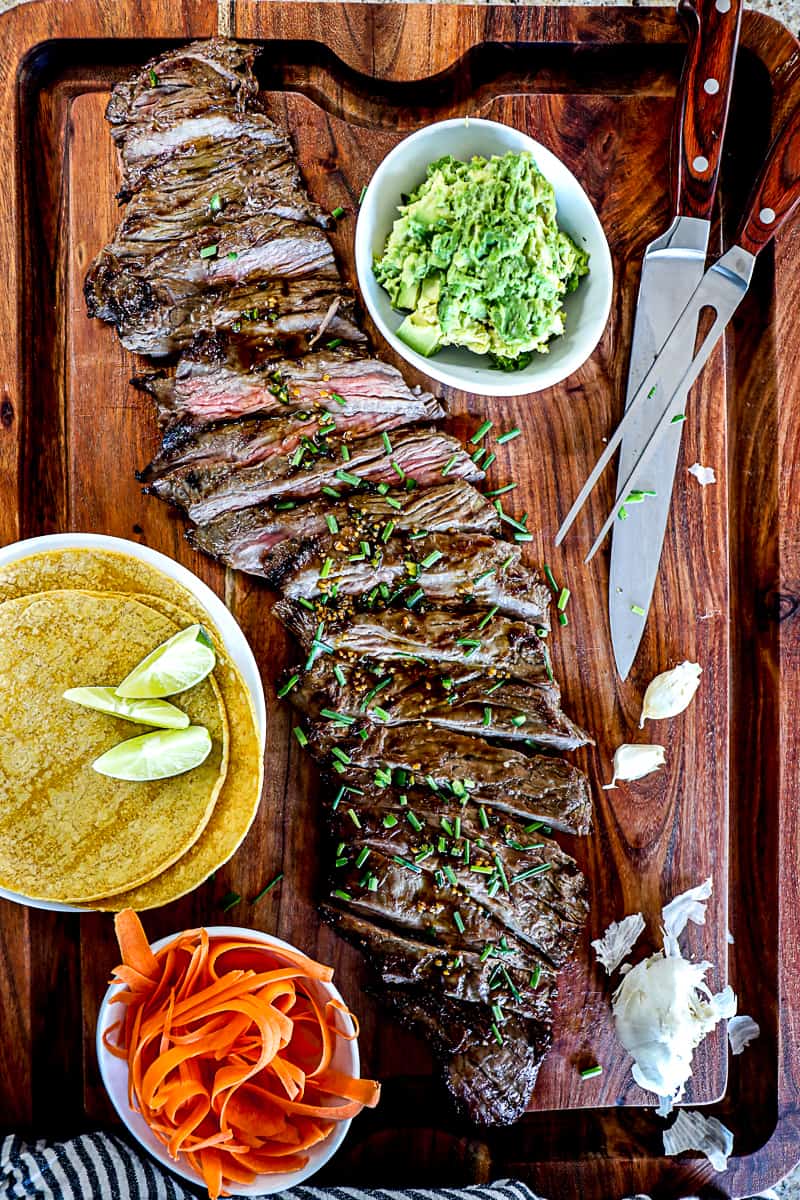 Why this is #1 for skirt steak recipes
Even if you've never cooked steak, you can with this guide!
Use any cooking method. Marinate skirt steak for grilling or searing in a pan.
Perfect for marinating taco meat.
A great fajita steak marinade. Serve with caramelized red onions.
Ingredients for this recipe
Skirt steak
If you're wondering, "what is skirt steak", you'll be happy to know it's an easy cut of meat to grill or sear – you just have to tenderize it before cooking. That's because skirt steak has thick muscle fibers which need to be broken down by the power of acid like lemon or lime juice for a period of time (ideally 2-24 hours).
It's a less expensive cut of meat, and perfect for feeding a crowd tacos or for a steak dinner.
This recipe calls for 1.5 lb skirt steak, though you can substitute flank steak or hanger steak. It's garnished with a sprinkle of fresh chopped chives.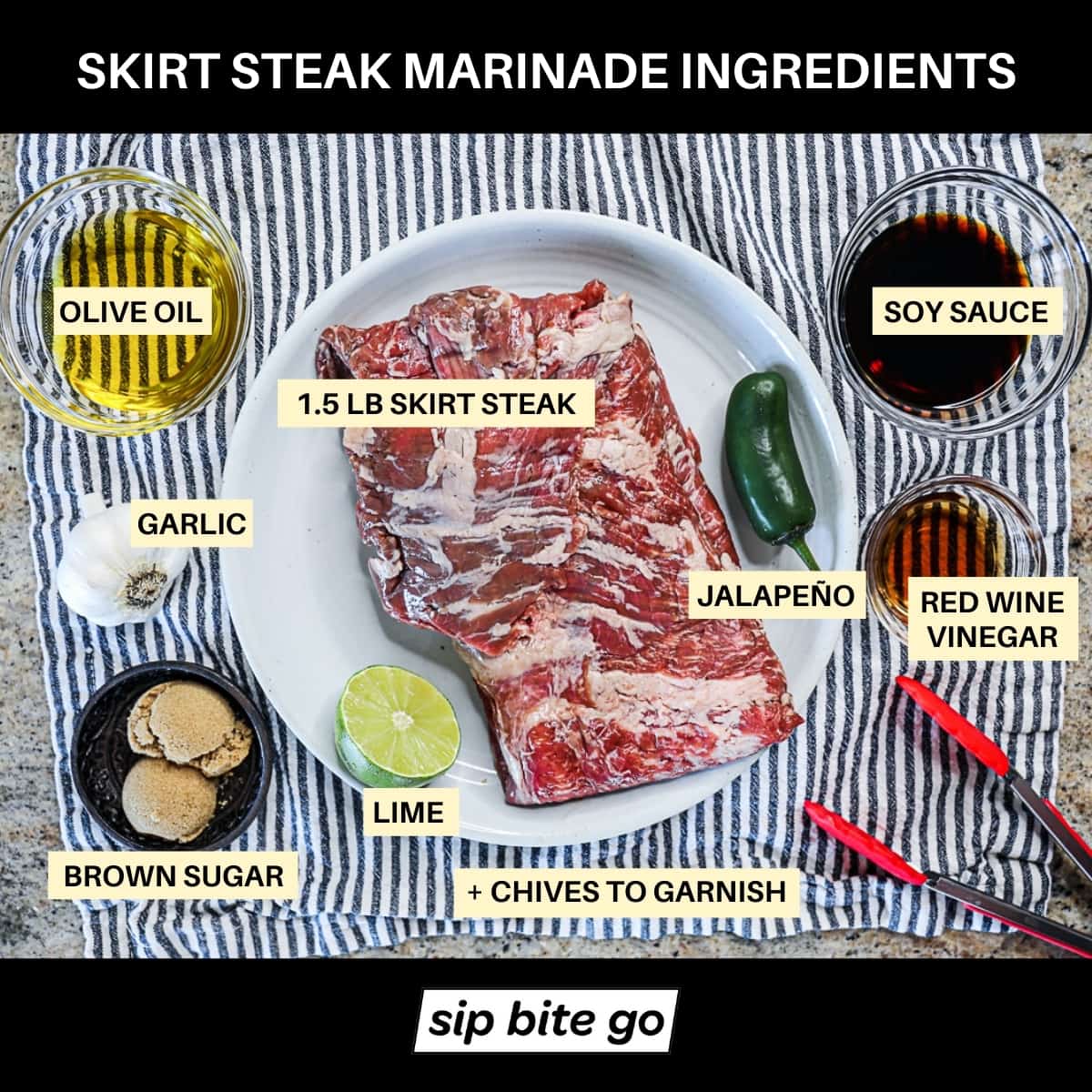 Marinade ingredients
It couldn't be any easier to make this marinade. Basically, you're going to toss a bunch of tasty flavor-packed ingredients into a large bowl or gallon ziplock bag. Here is what you need:
Extra virgin olive oil (substitute vegetable oil)
Soy sauce (substitute Worcestershire sauce)
Red wine vinegar (substitute white wine or sherry vinegar)
Lime zest and juice
Brown sugar (substitute honey)
Garlic
Jalapeno (optional)
black pepper, ground
How to make the marinade
Now I'll walk you through the 5 minute marinade recipe.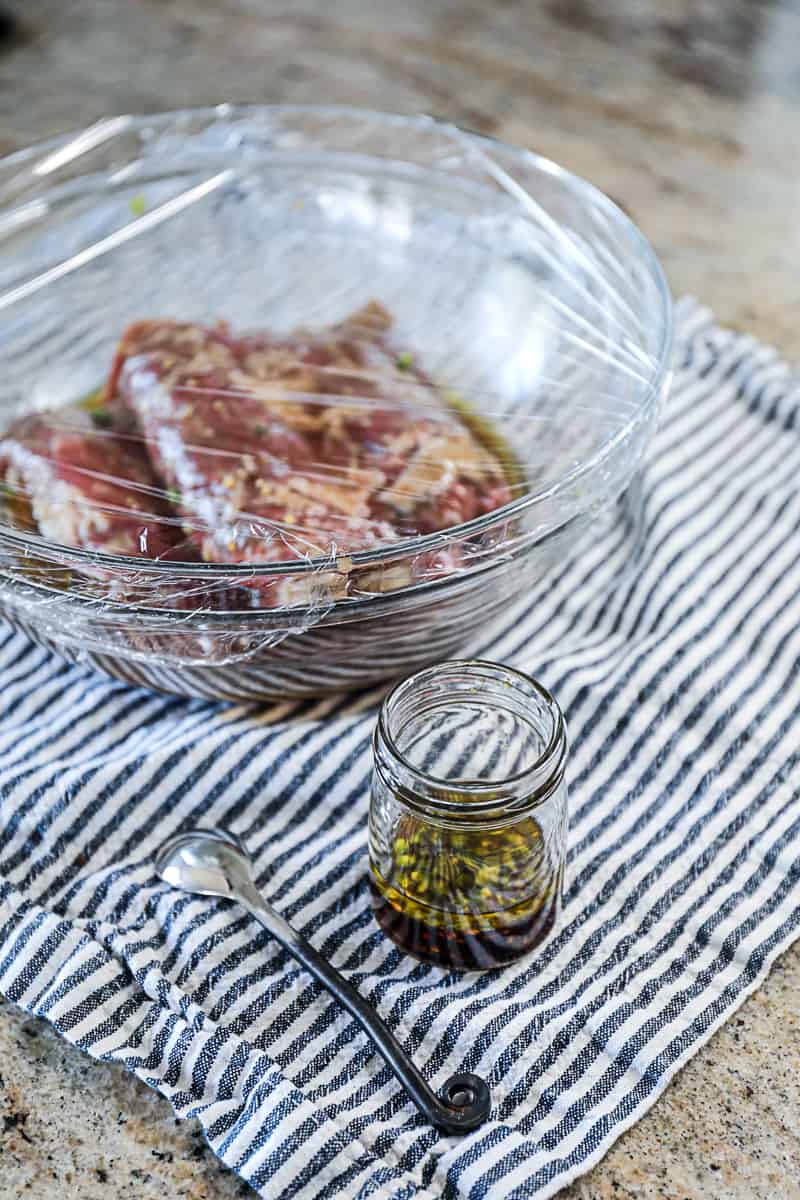 Step 1. Add skirt steak marinade ingredients to a large bowl. Whisk to combine the olive oil, soy sauce, red wine vinegar, lime zest and juice, brown sugar, minced garlic, jalapeno, and ground black pepper.
Step 2. Set aside sauce for later. Remove ¼ cup of the skirt steaks marinade for later. Make sure to take out this portion of the marinade before adding the raw steak to marinate.
Step 3. Add skirt steak to marinade for 2-24 hours. Do this in the large bowl or add marinade and beef to a large ziplock bag. Refrigerate and marinade for at least 2 hours or up to 24 hours.
Step 4. Remove steak from marinade and discard liquid.
Ways to cook skirt steak
Now you'll learn how to cook steak on the grill, in a cast iron skillet on the stove, and in the oven with the broiler.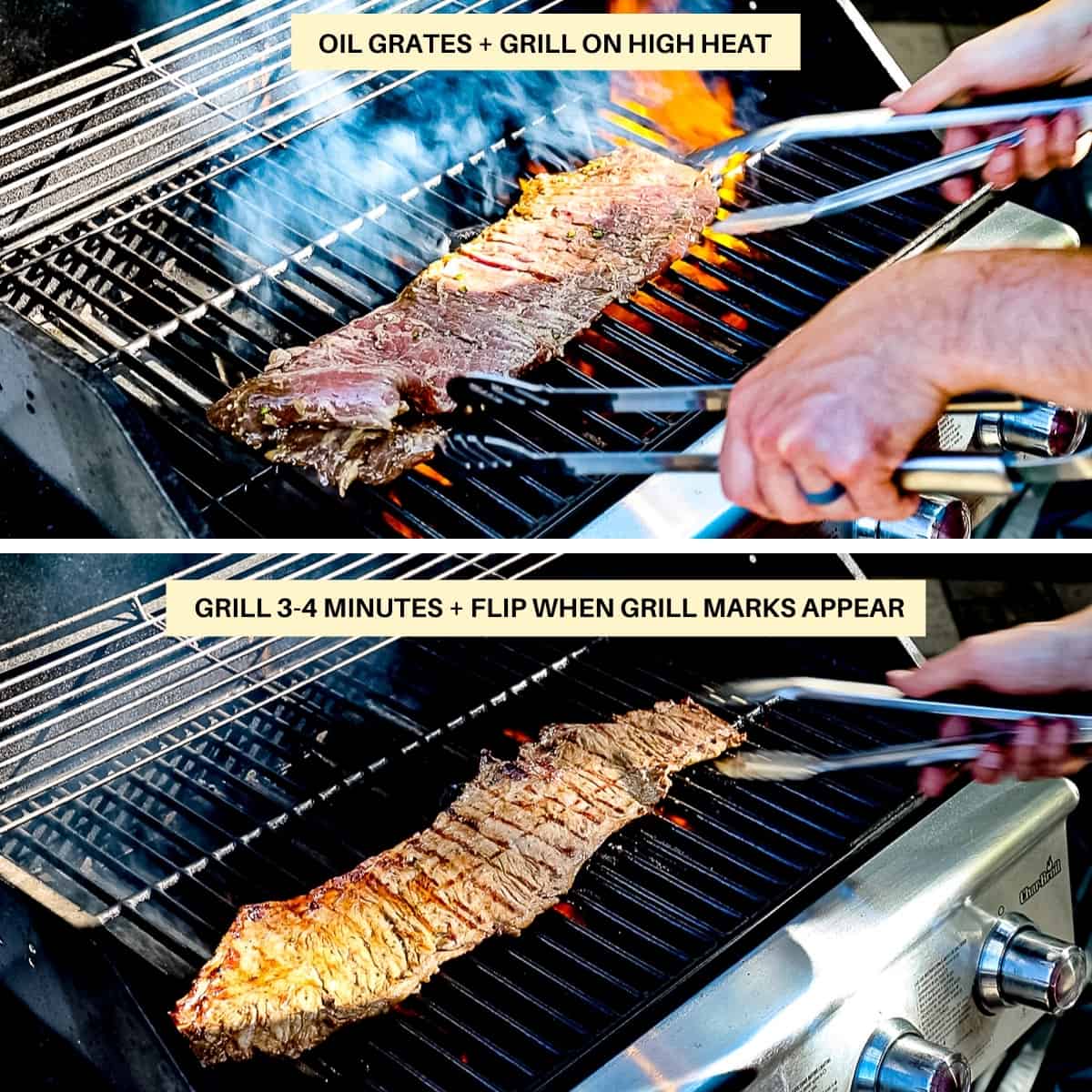 Option 1: Grill marinated skirt steak.
Brush grill grates with half the olive oil if desired to prevent the steak from sticking to the grill grates. Heat the grill to high (500°F) then add the steak.
Grill each side of the skirt steak for 3-4 minutes until grill marks form. Tip: spray cooking spray on steak or add olive oil to it before flipping, so steak doesn't stick to the grill.
Steak is done once it reaches your desired temperature as measured by a thermometer. Keep flipping steaks every 10-20 seconds until grilled skirt steak is cooked to your liking.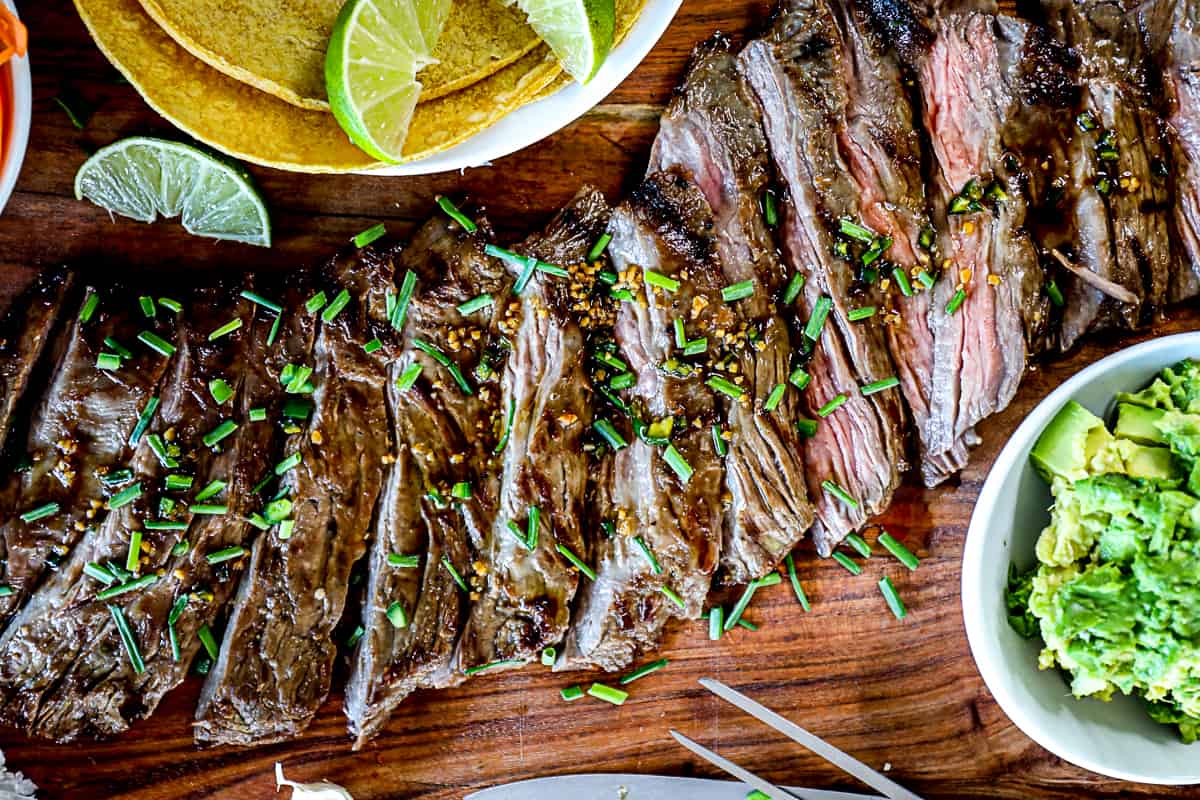 Option 2: Sear marinated skirt steak in cast iron skillet.
Heat a large cast iron skillet or grill pan on the stove to medium high / high heat. Add half the olive oil to the pan and once it's hot and beginning to smoke, add the skirt steak. Sear for 3-4 minutes on each side until the steak begins to brown. See the recipe for more details.
See how to smoke flank steak…
Option 3: Cook skirt steak in the oven broiler.
Brush 1 tsp of olive oil on a rimmed baking sheet, then add the steak to the pan. Brush the remaining olive oil on top of the steak. Broil on high for 6 minutes, then flip and broil another 4-6 minutes or until desired temperature is reached.
How to slice skirt steak
After allowing the cooked skirt steak to rest for 10 minutes, use a sharp knife to slice steak against the grain (perpendicular to the muscle fibers). Serve it with a drizzle of reserved marinade (that was not in contact with the raw beef) and fresh chopped chives and a squeeze of lime juice. Then enjoy.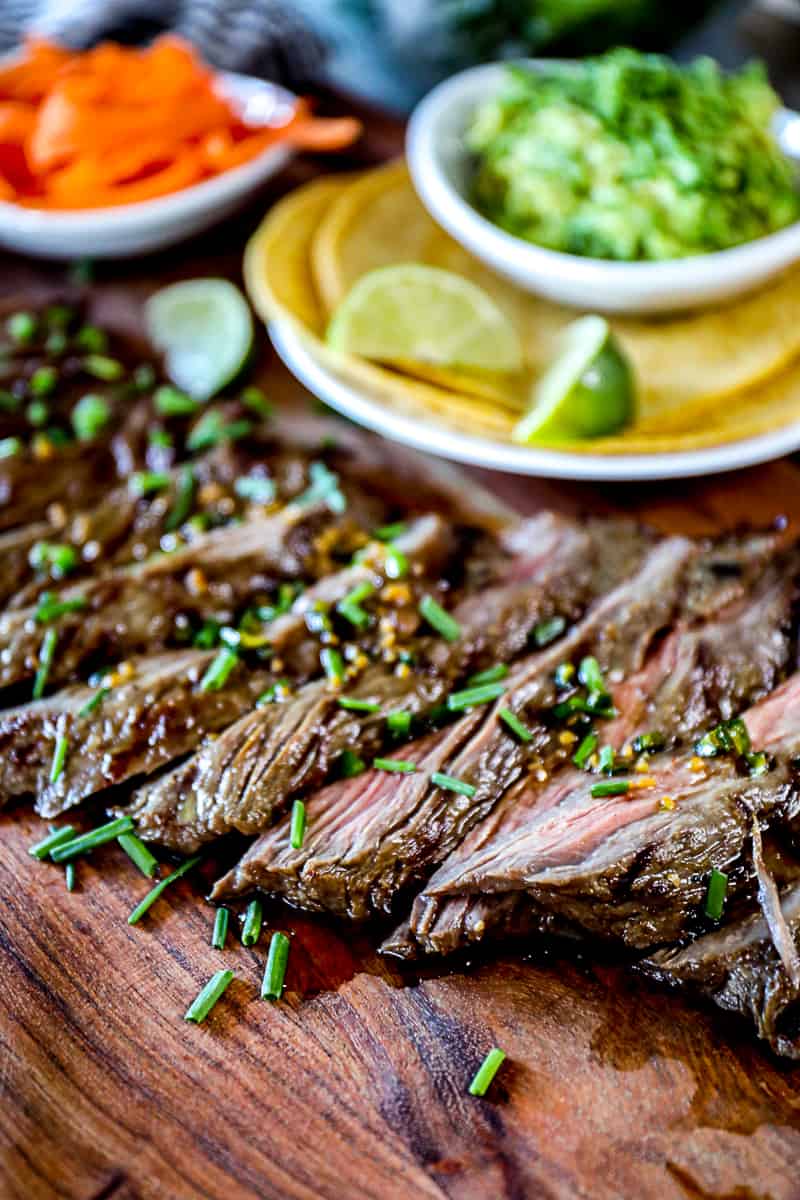 FAQs for this steak recipe
New recipes and foodie guides….
Tri tip (it's so good!)
Homemade pizza
Smoked wings
Traeger pizza
Pan grilled chicken
Potato side dishes
Pasta side dishes
Sous vide frozen steak
Cooked chicken temp guide
Jalapeno ranch sauce
Sous vide pork chops
Coulotte steak
GUIDE: How to make hamburger patties
GUIDE: Aerogarden
Best restaurants in Portland
Grill and smoker recipes…
Grilled chicken wings
Smoked pizza
Smoked chicken
Smoked tri tip
Traeger pulled pork
Smoked turkey breast
Smoked chicken wings
Smoked ham
Flank steak marinade
Skirt steak marinade
Meat thermometer recommendations
Every home chef needs a reliable meat thermometer to cook food perfectly.
On Sip Bite Go, you'll often see me using:
Meater thermometer – a fancy wireless thermometer that connects to a phone app – gifted to me from a Traeger partnership.
ThermoPro digital thermometer – which has a wire that connects the thermometer to a display box outside the oven/grill.
It's like being psychic! The great thing about either of the thermometers above is that I don't have to take the food out of the oven to know the temperature.
How to use 'em… What I do is stick the digital thermometer in steak, pork, chicken, whatever… Then put the food in the oven, on the smoker, or grill.
While the meat cooks, it reads the temperature so I know exactly what temp meat is as it's cooking. Without having to take it out and check. It's really difficult to overcook food when you know exactly what temp it is inside!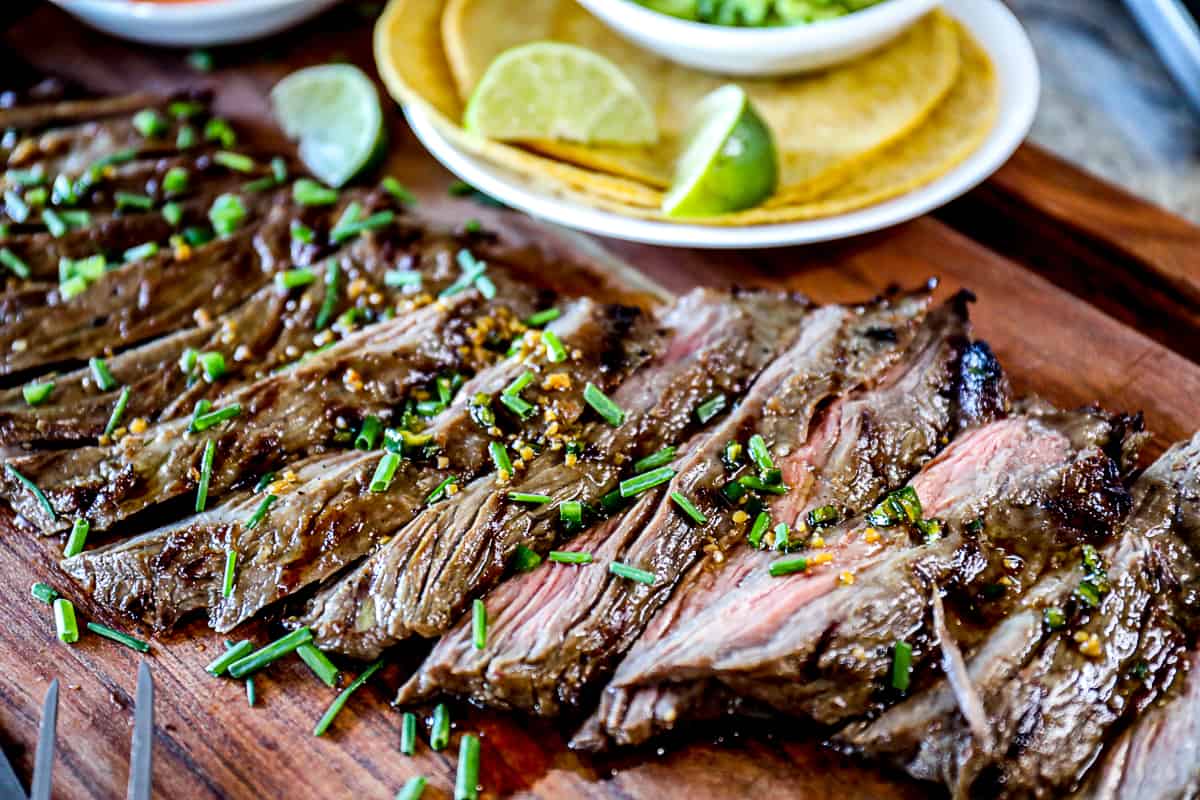 Are you a foodie, too?
Hey home chefs – I want to know what you think of this way to tenderize skirt steak – send me photos of your food! Find me on Instagram @sipbitego to tag me and connect.
Want to make restaurant-style food at home? I teach you how here on Sip Bite Go and with in-depth video guides on the Sip Bite Go channel.
For more information, please see more information about How to cook a skirt steak on the grill
Detail: 🔗