This Grilled Skirt Steak makes an easy and quick meal for any night of the week. The marinade gives it a great flavor that will keep you coming back for more.
This post has been sponsored by Honest Cooking in association with Santa Rita Wines and Badia Spices. All opinions are 100% mine.
In my house, steak is a must as far as summer meals go. It's easy, filling, and so delicious. My favorite steak is the ribeye but they're so, so expensive we rarely have them. Instead, I often buy what's on sale or even what's marked down because it needs to be cooked within a day or two.
That's how I happened to come upon today's meat – the grilled skirt steak. It's a cut of meat that I almost never get but one that I need to keep in the rotation – it's so good!
Skirt steak can be tough but it's great for marinating. I've included my absolute favorite steak marinade in the recipe today, which is one I grew up eating. Growing up, we almost always had it on London Broil; which was another steak that needed to be marinated for a long time.
I cooked the skirt steak to medium so it's still nice and red in the center. Skirt steak is best when cooked medium-rare to medium, no more! It's a very thin steak so it cooks VERY quickly on a hot grill – I'm talking 3-4 minutes per side TOPS. Yes, you read that correctly: 3-4 minutes per side for a total of 6-8 minutes. Fastest cooking dinner ever!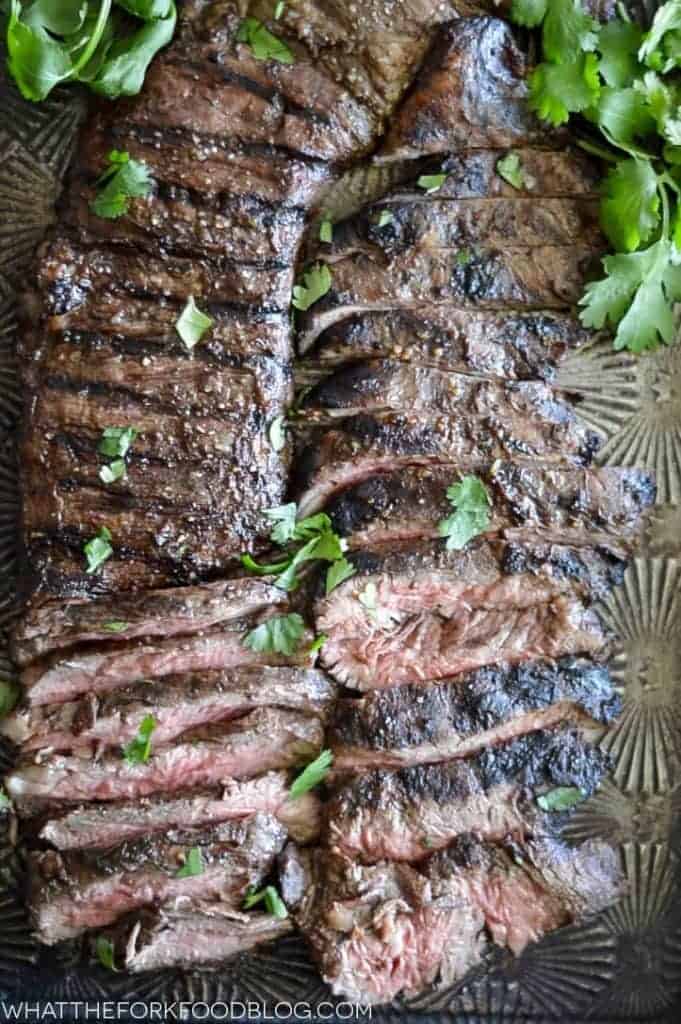 While this grilled skirt steak cooks extremely fast, you do need to marinate it for quite a while. For the ultimate flavor, I like to marinate it for 8 hours or even overnight. It needs AT LEAST 4 hours – and I'm talking bare minimum or or else you won't impart that delicious marinade flavor into the meat. I also hit my steaks up with some Badia Complete Seasoning right as I put them on the grill for an extra boost of flavor – so good!
My friend Sandi at Fearless Dining made these delicious Pizza Stuffed Hasselback Potatoes that I think would go perfectly with this steak! They are kid friendly too and even the adults will love them!
Today I paired my steak with a Hero's Blend red Santa Rita 120 wine, which is a Chilean wine that I LOVE! The red blend that I received pairs really well with grilled red meat and stewed meats and would go great with my mini bbq meatloaf, bbq short ribs, or braised Italian meatballs.
Their Sauvignon Blanc would go great with my grilled garlic shrimp, my grilled maple mustard chicken, or even my grilled bacon wrapped chicken.
Both wines are great for bbq's and any summer party you're attending. And speaking of summer parties, you might need a great summer side dish to serve with this. Cindy, from Vegetarian Mamma has a great recipe for deli style potato salad that would be perfect. Enjoy!
P.S. This steak is fabulous left over. Slice it thinly and against the grain and you'll have a perfectly tender, easy to eat steak that you can toss on top of salads.
BE SURE TO FOLLOW ME ON INSTAGRAM AND HASHTAG #WHATTHEFORKFOODBLOG OR TAG @WHATTHEFORKFOODBLOG – I LOVE SEEING WHAT YOU MAKE!
IF YOU LOVE THIS grilled skirt steak RECIPE, BE SURE TO FOLLOW ME ON SOCIAL MEDIA SO YOU NEVER MISS A POST:
| facebook | twitter | pinterest | instagram | youtube |
For more information please see the list of How to cook a skirt steak on the grill
Detail: 🔗