A simple recipe for grilled sweet potatoes with fresh thyme, salt, and pepper. They pair perfectly with just about any grilled protein, especially burgers! Vegan and gluten-free.
Grilling gives food a ton of flavor, so when the weather is nice I try to convince Isaac that we should grill just about everything! Throughout the summer months, we fire up the grill almost daily.
When it comes to grilling, we're all about the classics… lots of grilled protein like turkey burgers, grilled chicken, grilled tofu, grilled shrimp skewers and grilled bbq tempeh, but I love experimenting with grilled fruits and veggies too.
We've done grilled pineapple, grilled peaches, grilled avocado (so creamy and delicious) and loads of grilled vegetables. Name any veggie and we've probably grilled it.
Most recently, I tried my hand at grilled sweet potatoes and they were just as a delicious as I'd imagined!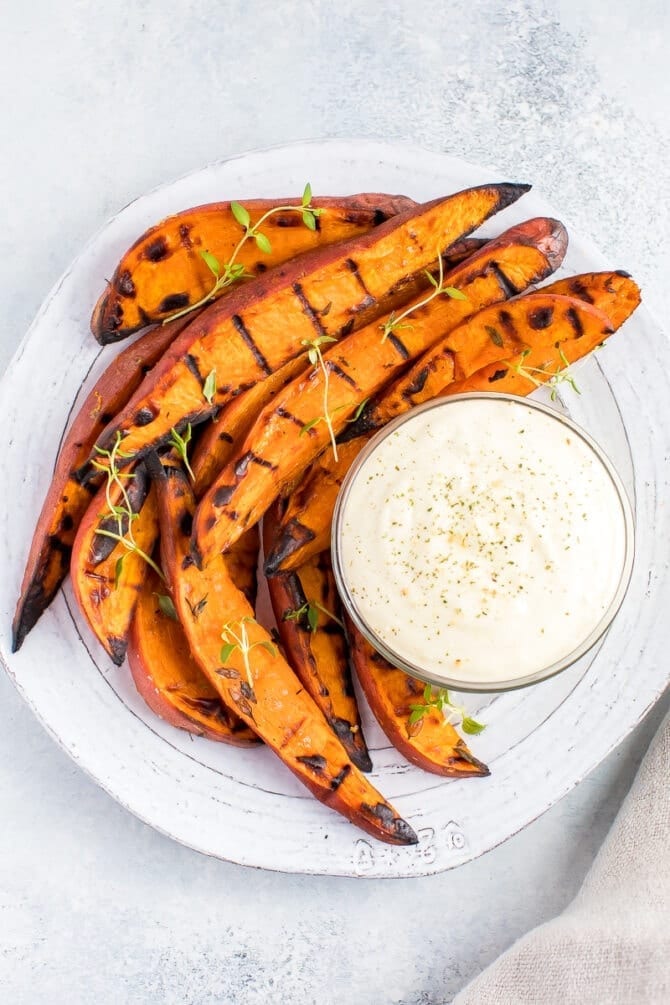 Why Eat Sweet Potatoes?
Sweet potatoes are a powerhouse vegetable! They're packed with fiber, vitamins and minerals. They're also high in antioxidants which help protect your body against free radical damage. Studies have shown that sweet potatoes positively impact gut, brain, eye and immune health. And some studies have shown that certain antioxidants in sweet potatoes may protect against certain cancers. Bottom line? They're SO good for you and so delicious! No excuses to not incorporate them into your diet. (Source)
Ingredients in Grilled Sweet Potatoes
sweet potatoes – the real MVP of this recipe!
olive oil – avocado oil will work as well.
fresh thyme – this is optional, but really helps to increase the flavor profile!
sea salt and ground pepper – to season the potatoes.
garlic aioli dipping sauce – all you need to make this simple dipping sauce is avocado oil mayo, garlic, lemon juice, sea salt, and black pepper.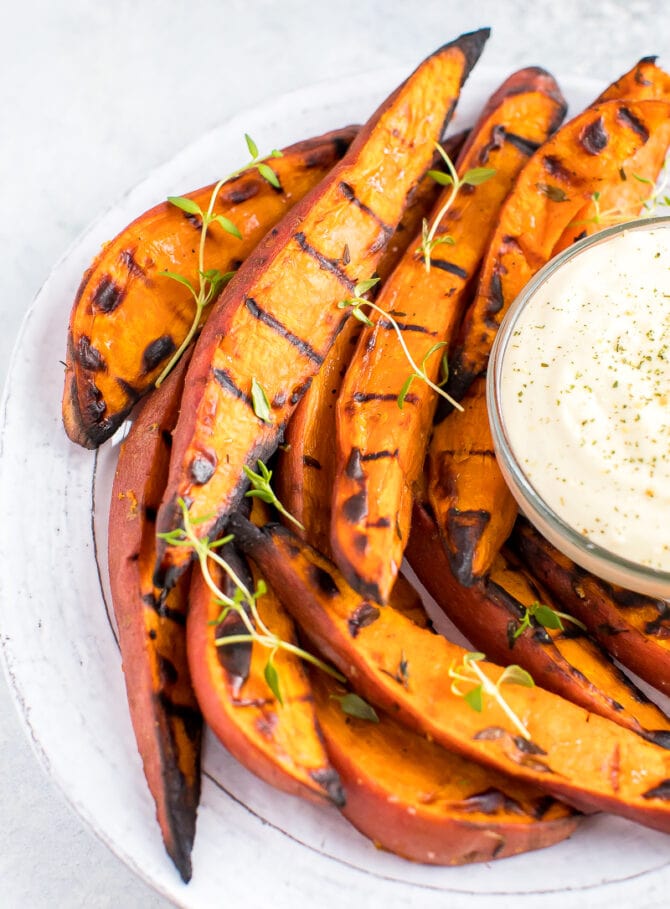 How to Grill Sweet Potatoes
When it comes to grilling quick cooking veggies (like zucchini or asparagus), the process is pretty straight-forward, but for hearty vegetables (like potatoes) there's a little prep work involved.
If you simply place a raw sweet potato on the grill, the exterior will get crisp and burnt before the sweet potato is cooked through on the inside, and it will be quite raw and crunchy. I don't know about you, but I despise undercooked sweet potatoes, so here's my advice:
Boil potatoes: For grilled sweet potatoes, I recommend partially cooking the sweet potatoes in boiling water first. Leave the potatoes whole with the skin on, otherwise they might start to fall apart on the grill. Boil the potatoes just until they are fork-tender (soft enough to slip a fork into them). This should take around 10 minutes, but it will depend on how large your sweet potatoes are. Don't overcook them or they will be too soft and fall apart on the grill.
Let cool: Once partially cooked, remove from the boiling water and let cool until the potatoes are cool enough to handle and cut into wedges.
Mix ingredients: In a small bowl, mix together your olive oil, salt, pepper, and fresh thyme. Brush the oil mixture on the sweet potatoes.
Grill: Heat grill to medium-high, lightly oil grill rack and grill potatoes until grill marks appear and potatoes are cooked through, flipping once. This should only take 7-8 minutes.
What to Pair With Grilled Sweet Potatoes
These grilled sweet potatoes are the perfect addition to any meal. Here are some recipes that would be delicious with it:
Tempeh veggie burgers or black bean sweet potato burgers – these veggie burgers would pair perfectly with these sweet potato wedges.
Spinach and feta turkey burgers – my go-to turkey burger recipe!
They're all amazing, it just depends on what you're in the mood for.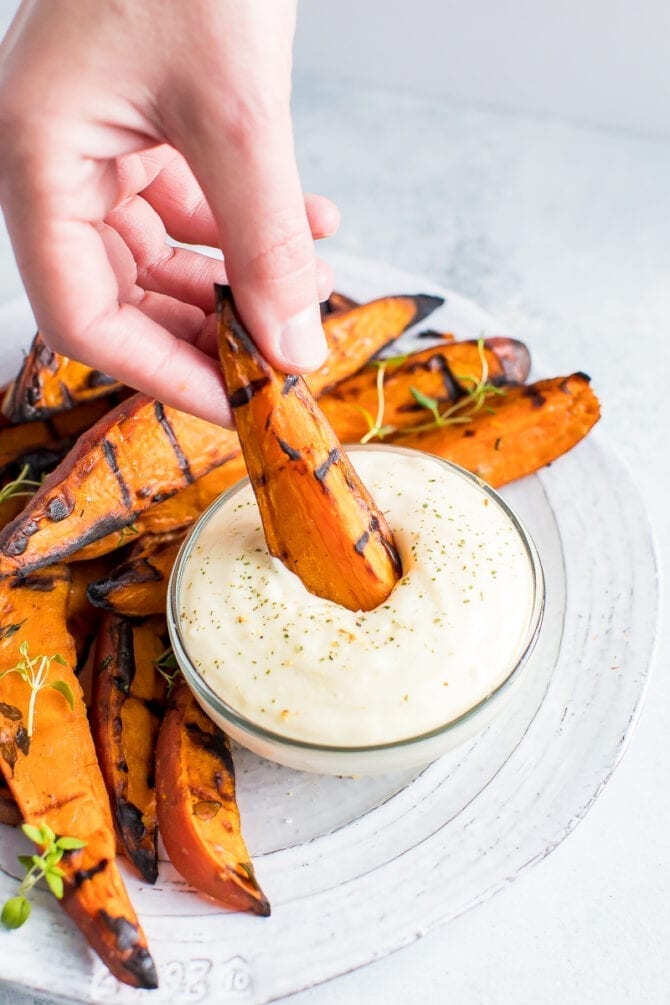 More Healthy Grilling Recipes To Try:
Tempeh Burgers
Grilled Lemon Basil Tofu
Spinach Feta Turkey Burgers
BBQ Tempeh Skewers
All My Favorite Sweet Potato Recipes:
Healthy Sweet Potato Casserole
Sweet Potato Fries
Sweet Potato Salad
Through this article, we hope to help you understand Baked sweet potatoes on the grill
Detail: 🔗