Grilled Tilapia with Cajun Butter recipe uses foil packets to make tender, juicy fish with no fuss! The unbeatable combo of Cajun seasoning, tilapia fillets, corn, onions, and peppers is a family-pleasing meal with oodles of flavor.
Cajun Butter Tilapia in Foil Packets
Looking for an easy way to incorporate more fish into your diet? Look no further! This fabulous and simple recipe for grilled tilapia is a zesty, family-friendly dinner option that comes together easily on a grill, or in the oven. Made with tilapia plus corn on the cob, it's a summery seafood dinner that's so wonderful and sure to please everyone at the table.
Reading: Tilapia recipes on the grill
Tilapia is a widely-available fish with a mild, slightly sweet flavor, similar to striped bass. It's versatile, and plays well with all kinds of flavors. Savory Cajun seasoning is definitely one of those flavors! All you need is a little bit of Cajun spice, butter, and lemon, and your tilapia will be absolutely mouthwatering. It doesn't get any simpler than this fish dinner, friends!
Read more: 9 Best Charcoal Grills in 2022 — Buying Guide and Reviews
This might be easier than my very popular Garlic Butter Oven Baked Tilapia!
What You'll Need
When it comes to making things easy, cutting down on the ingredients and prep is the way to go! This recipe does just that. With an ultra-short and wholesome list of ingredients, you'll find yourself making this again and again.
Corn: Corn on the cob gives this dish an extra-festive touch! Clean the corn, and cut into rounds.
Onion: You'll need one large yellow onion, thinly sliced. Feel free to substitute other types of onions if you prefer.
Pepper: Thinly slice one red bell pepper.
Garlic: Minced, fresh garlic cloves add a savory, aromatic touch.
Butter: Melt some of the butter, and cut the rest into small cubes.
Seasonings: To season your packets of tilapia, you'll need your favorite Cajun seasoning blend, some salt, and some pepper.
Tilapia Fillets: See the Tips section for advice on other fish fillets you can use on the grill.
Lemon: For serving.
Let's Make Grilled Tilapia with Cajun Butter!
If you've never cooked with foil packets before, you are going to love this method. It makes grilling, even delicate items like fish fillets, so simple. You don't have to worry about anything burning or falling through the grill grates.
Preheat and Prepare. To begin,preheat your grill to 400˚F. Then get four large heavy-duty foil sheets (each one about 12×12 inches square). Add 8 cups of water to a large pot, and bring it to a boil over high heat.
Boil the Corn. Add the corn rounds to the pot, and reduce the heat to a steady simmer. Cook the corn for 10 minutes. Drain. Combine the corn, sliced onions, bell peppers, and garlic in a large mixing bowl.
Make the Cajun Butter. Meanwhile, melt three tablespoons of butter in a separate bowl. Stir in ½ tablespoon cajun seasoning, ½ teaspoon salt, and ¼ teaspoon black pepper. Pour this mixture over the corn, onions, and peppers, and gently toss to combine.
Assemble the Foil Packets. Finally, rub some cajun seasoning blend onto the tilapia filets. Sprinkle them with salt and pepper. Spoon the corn mixture evenly onto the four foil sheets, and then top each one with a fish fillet. Dot the cubes of butter over the fish, and then fold the edges of the foil together to seal them closed.
Grill. Place the packets on the grill, and grill for 15 minutes, flipping them once halfway through cooking.
Garnish and Serve. Remove from the grill, and open up the packets away from your face. Garnish with lemon, and serve.
What Is a Good Alternative to Aluminum Foil?
If you want to grill your tilapia without foil, I recommend using a veggie grill tray. This will not steam the ingredients, though, so you may need to adjust the cook times in order to make sure each item is done.
Read more: Air Fryer Roasted Peanuts – Indian Veggie Delight
However, if you are baking your tilapia, parchment paper is a perfect substitute for foil. Just fold the packets right up, and bake the same as you would with foil (see the Tips section below). But, remember that parchment is not grill-safe, and poses a fire hazard! Never use parchment packets on a grill.
Helpful Tips and Tricks
Here are a few tips and tricks that can help you make the best possible grilled tilapia! I hope you enjoy trying this easy recipe. Bon appetit! 👩‍🍳
Oven Method: You can use the oven as well as the grill! To bake the tilapia, just preheat the oven to 400˚F. Place the prepared foil packets on a baking sheet, and bake for 15 minutes, or until fish flakes easily.
Fresh or Frozen: I think fresh fish is the best for this recipe, but if you don't have fresh tilapia, frozen works well too. Thaw it in the refrigerator and pat it dry before cooking. In some cases, frozen fish was frozen when it was much fresher than the fish which has been sitting behind on a fish counter for hours.
Tilapia Substitutes: If you don't have tilapia, any white fish works! Other good options include cod, flounder, red snapper, striped bass, and catfish.
Tasty Serving Suggestions
This tilapia is awesome, especially with a healthy side dish or two! Here are a few of my favorite ideas for serving Cajun butter tilapia.
Veggie Skewers: As long as you're grilling, why not make some Grilled Summer Squash Kebabs? Healthy, colorful, and appetizing, they are easy to make and oh-so-tasty.
Potato Wedges: Another favorite for grilling, these Grilled Potato Wedges are crispy to the max, with a mouthwatering blend of spices.
Biscuits: Who doesn't love Red Lobster's iconic biscuits? They go perfectly with seafood, and are so easy to make with this scrumptious recipe for Air Fryer Red Lobster Biscuits. You won't want to miss these!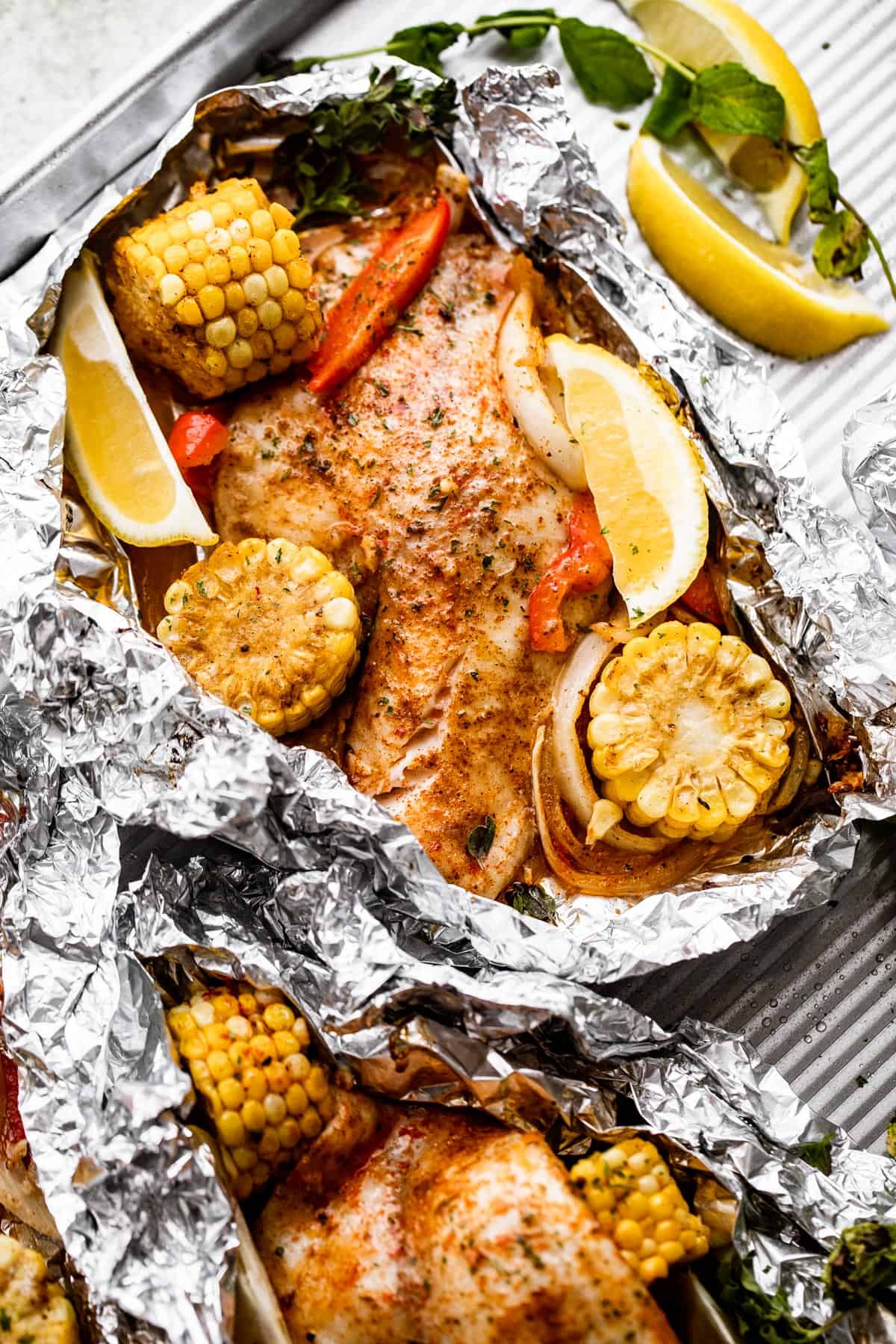 How to Store and Reheat Leftover Grilled Tilapia
Store your leftovers in food storage bags or containers in the refrigerator, for up to three days.
Reheat tilapia in the oven at 350˚F until heated through.
Can I Freeze Cooked Tilapia?
You can freeze leftover tilapia in an airtight freezer bag or container for up to 2 months.
Keep in mind that the texture may not be as good once the fish is thawed.
Reheat directly from frozen.
ENJOY!
Read more: Cast Iron Steak with Easy Marinade
More Fish Recipes
Sheet Pan Fish and Chips
Skillet Tilapia with Creamy Lemon Sauce
Baked Honey Mustard Salmon
Through this article, we hope to help you understand Tilapia recipes on the grill