Save and share!
These easy grilled steak skewers are seasoned with za'atar spice and paired with rainbow vegetables to make flavorful and kid-friendly beef kabobs the whole family will love.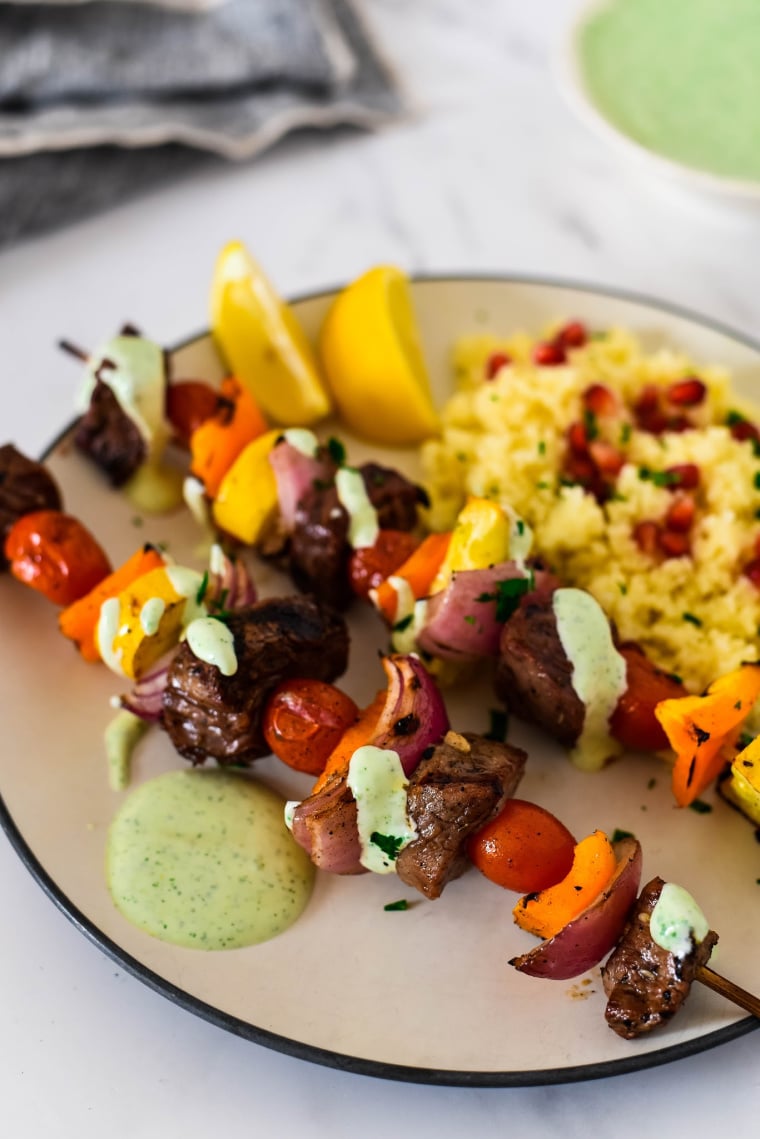 Thank you to Iowa Beef Industry Council on behalf of the Iowa State Beef Checkoff Program for sponsoring this post. And Thank You, dear reader, for supporting the brands that support me and allow me to continue to grow my site. All opinions, recipe and photographs are my own.
This easy grilling recipe is perfectly weeknight friendly. This steak skewer recipe uses Top Sirloin, which is excellent for turning into kabobs on the grill. A 3 oz portion contains 26 grams of protein (that's a whopping 56% of your daily needs!) as well as 4.8 mg of Zinc (that's 30% of your daily recommended intake!).
Packed with protein, iron, and zinc, Beef is a perfect choice when it comes to serving healthy and nutrient dense foods for your family. Iron and Zinc are necessary for proper growth and development and should be an important part of your kids diets. To learn more how beef is perfect for all ages, read this post!
When it comes to feeding kids healthy meals that fuel their little growing bodies and brains, these Top Sirloin Steak Kabobs are where it's at! Add in great flavors and beautiful colorful veggies, and you have a perfect weeknight dinner that can't be beat.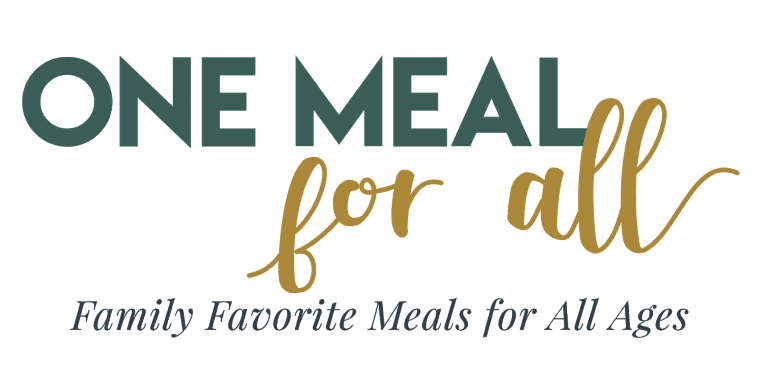 Other healthy beef recipes for families with babies:
Herbed Steak Sheet Pan is an excellent meal for the whole family – including two purees for babies just starting solids.
Chimichurri Ground Beef and Rice Bowl is perfect for those first finger-food stages.
Shredded Cuban Beef Bowl is packed with great finger food options!
Greek Meatballs with Lemon Orzo Skillet is an awesome one pan meal perfect for toddlers and children with a kid-approved favorite – meatballs!
Slow Cooker Mongolian Beef – This Slow Cooker Mongolian Beef cooks to melt-in-your-mouth tender! Studded with onions, green peppers and shredded carrots, this Asian weeknight meal takes only minutes to throw together and is a perfect healthy family recipe!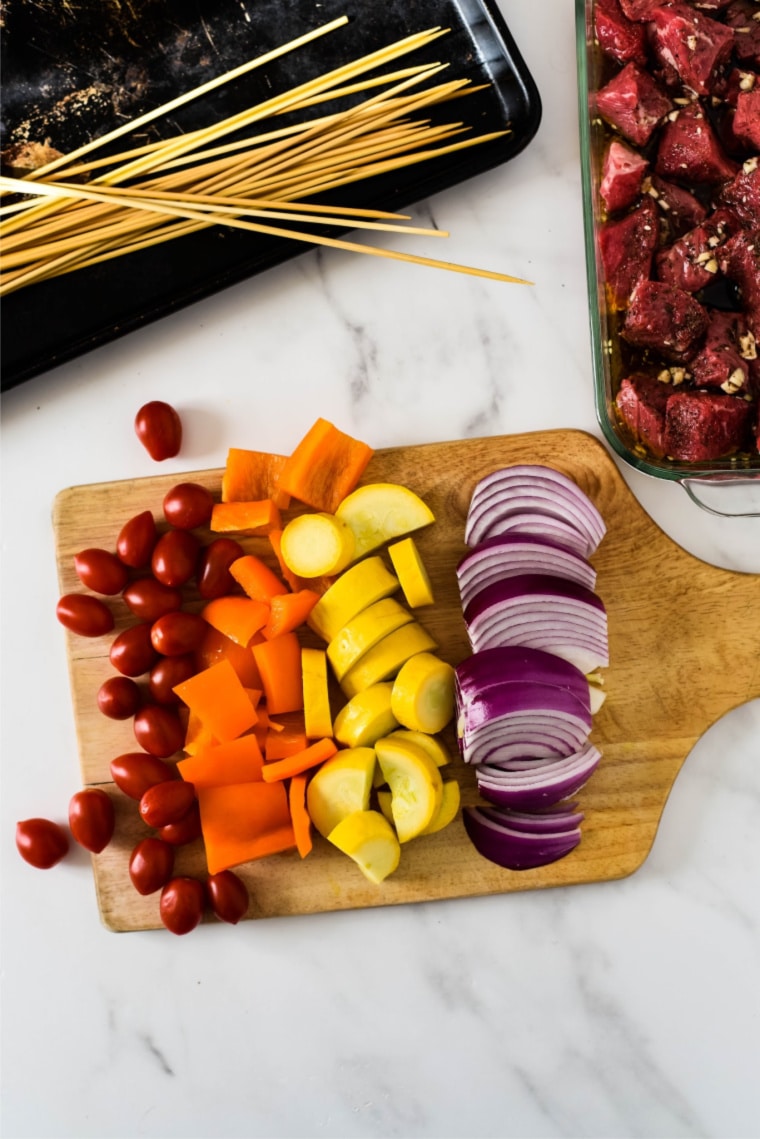 How to Grill Za'atar Beef Kabobs:
These Middle Eastern inspired steak kabobs are easy to make on a busy weeknight!
Allow your steaks come to room temperature for 30 minutes before grilling. If you are marinating them just before grilling, this is the perfect time to do that.
To cook on a charcoal grill:
Place the kabobs on the hottest part of the grill and sera for 1-2 minutes on both sides.
Then move to the medium heat area (over ash-covered coals) and continue to grill for 8 minutes, turning halfway through cooking for medium rare.
Remove to a plate, tent with foil, and allow to rest for 5 minutes.
To cook on a gas grill:
Preheat the grill to high.
Sear both sides of the kabobs fr 1-2 minutes.
Reduce the temperature to medium-high
Continue grilling for 8 minutes, turning halfway though for medium-rare.
*Note: It is important to know what "doneness" level you are going for. You will want to remove your kabobs from the grill 5 degrees less than what you are going for. The centers will continue to warm as they rest for 5 minutes before eating.
I recommend cooking steaks to in between medium and medium rare for children, as it leaves the steaks tender and easy for them to chew. If you prefer other don-ness levels to your steaks, you can cook them for less time or longer times, depending on your preferences.
Rare steaks, where the center is bright red – grill for between 8 and 11 minutes and be at an internal temperature of 125 F.
Medium-rare where the center is very pink – grill 10-12 minutes, or until the internal temperature is 135 F.
Medium steaks where the center is light pink – grill for 11-13 minutes, or until the temperature is 145 F.
Medium-well steaks, well the center is only slightly pink and the outer portion is mostly brown – grill for 12-15 minutes, or until an internal temperature is 155F.
Well done steaks, where the steak is uniformly brown throughout, grill for between 15 and 18 minutes, or until an internal temperature is 165F.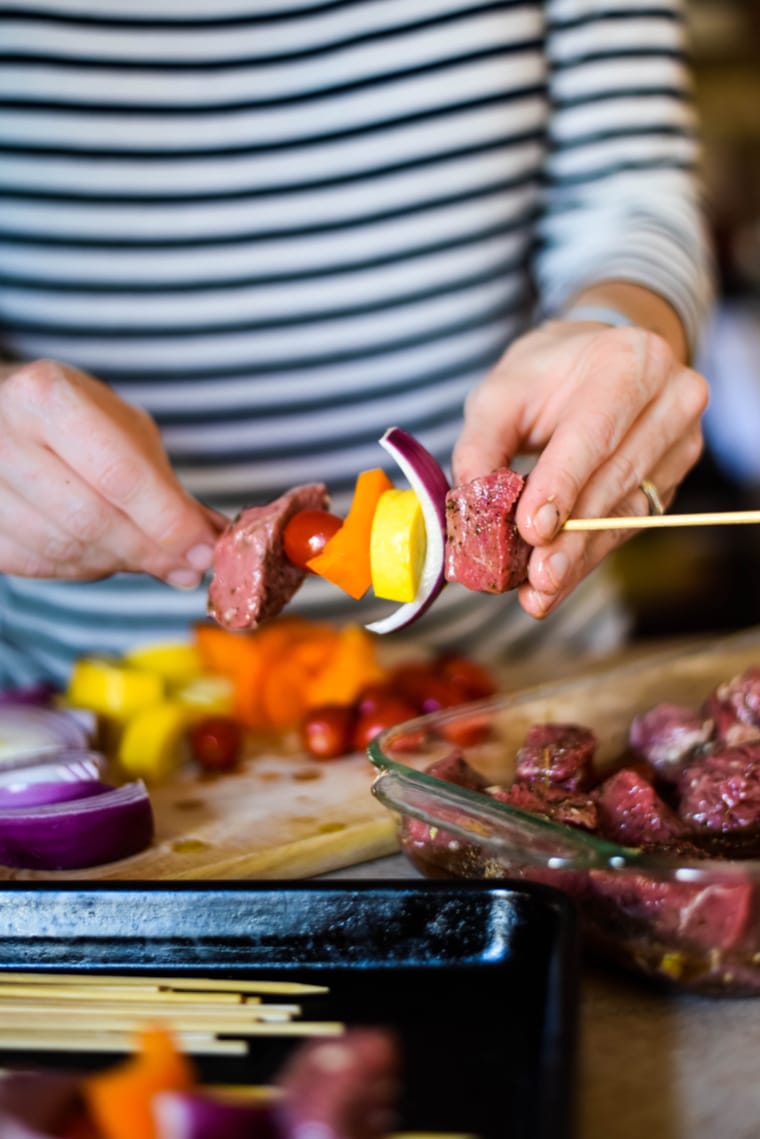 How to Meal Prep Za'atar Beef Kabobs:
These steak skewers are easy to meal prep ahead of time.
The marinade can be made up to 1 day ahead of time and stored in an airtight glass container in the refrigerator.
The steak can be cut into bite sized pieces and marinated in a glass container in the fridge for up to 8 hours. If time is a limiting factor, you can marinate it for 20 or 30 minutes only, but the flavor will be better with longer marinating time.
The mint yogurt sauce can be made up to 2 days ahead and stored in the refrigerator in a glass airtight container.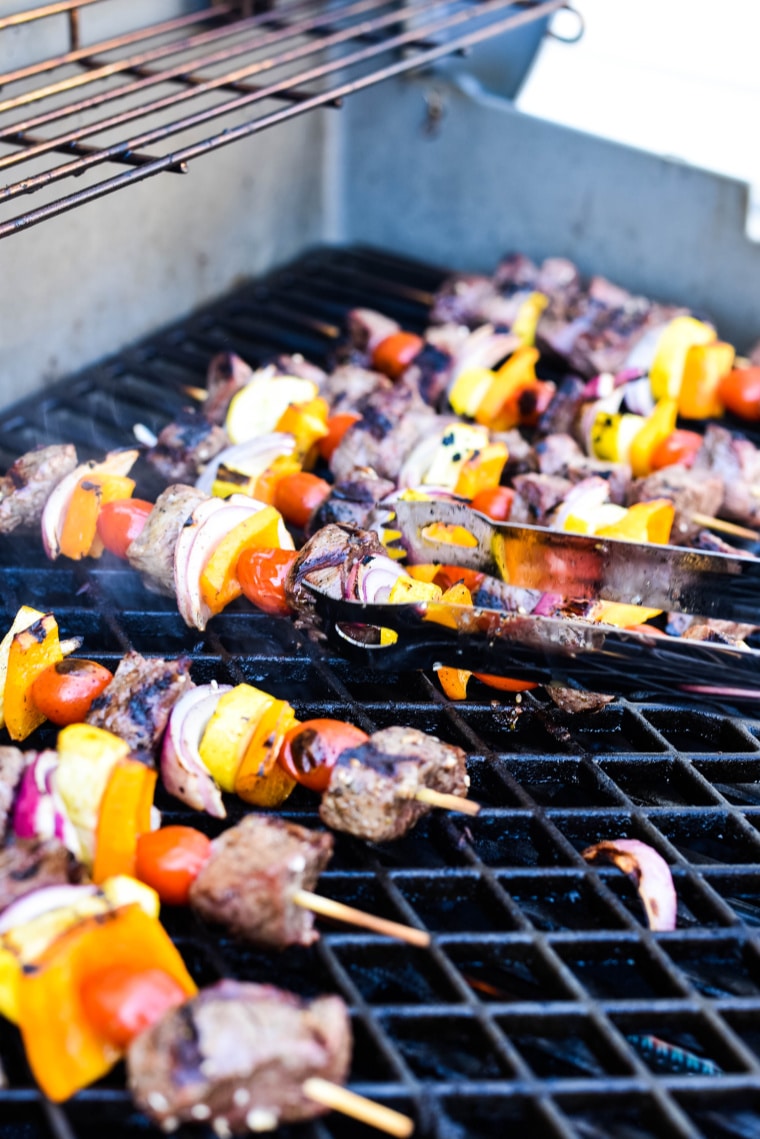 How to serve Za'atar Beef Kabobs:
This grilled beef kabob recipe is easy to serve to family members of multiple ages and feeding stages.
To Serve to Toddlers – To serve this steak skewers recipe as finger foods, simple remove the grilled veggies and beef chunks from the skewers and dice to appropriate size for your child. You can also serve some of the mint yogurt sauce on the side if you feel like it's bath night. You can also serve a small pile of couscous with a sprinkle of parsley, but leave off the pomegranate arils.
Serving Younger Children – To serve younger children, cut the steak bites into smaller pieces and serve alongside individual piles of grilled veggies. Cut the veggies into smaller pieces that are easier to eat. The couscous can be topped with pomegranate seeds and with chopped parsley, and serve with a dollop of mint yogurt sauce.
To serve to Older Children – Place the meat and veggies in separate piles on their plate. Dice smaller if you need to. Serve the couscous with pomegranate arils and chopped parsley. Serve the mint yogurt sauce on the side for dipping.
Plating for Adults – Serve the steak skewers over couscous with pomegranate seeds and parsley. If desired, you could serve the skewers and sauce wrapped in pita.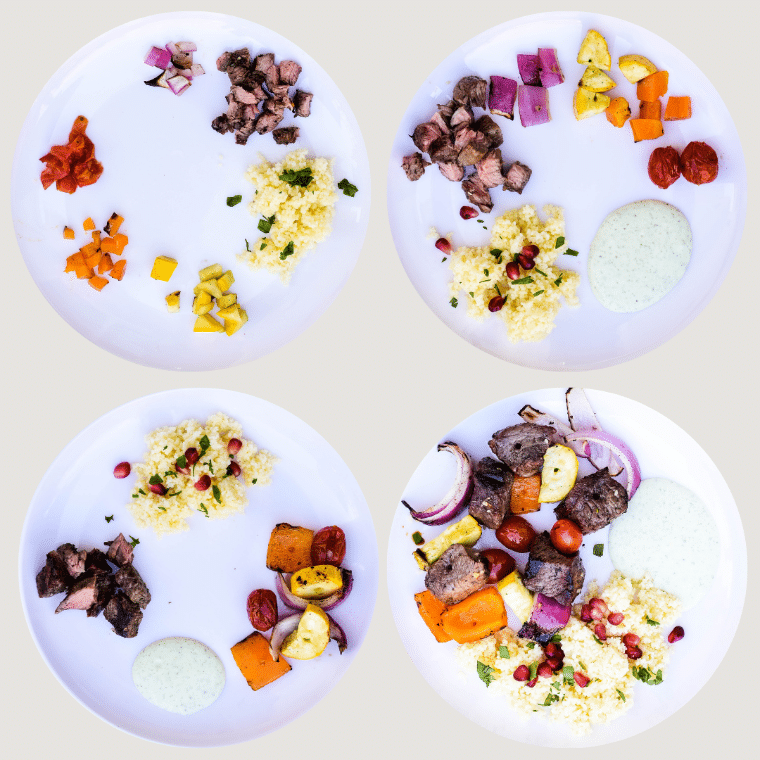 How kids can help cook Beef Kabobs
One of the best ways of getting kids interested in trying new foods is to have them help you make the meal! Here are some easy and age appropriate ways to get your kids working in the kitchen with you:
Kids aged 1 to 3 can help you wash and dry the fresh produce, measure ingredients for the marinade and dip, and help pick mint leaves off of stems.
Kids aged 4 to 6 can help do everything above, plus help you slice the squash and orange peppers, whisk the marinade together, and help make the dip.
Kids aged 7 to 10+ can help do everything above, plus help you slice the red onion (with supervision), and assemble the skewers.
*Please note that these recommendations are generalized, and to please use your personal discretion with your child's skill level. And always, always supervise! Read more about how to have your children help you in the kitchen.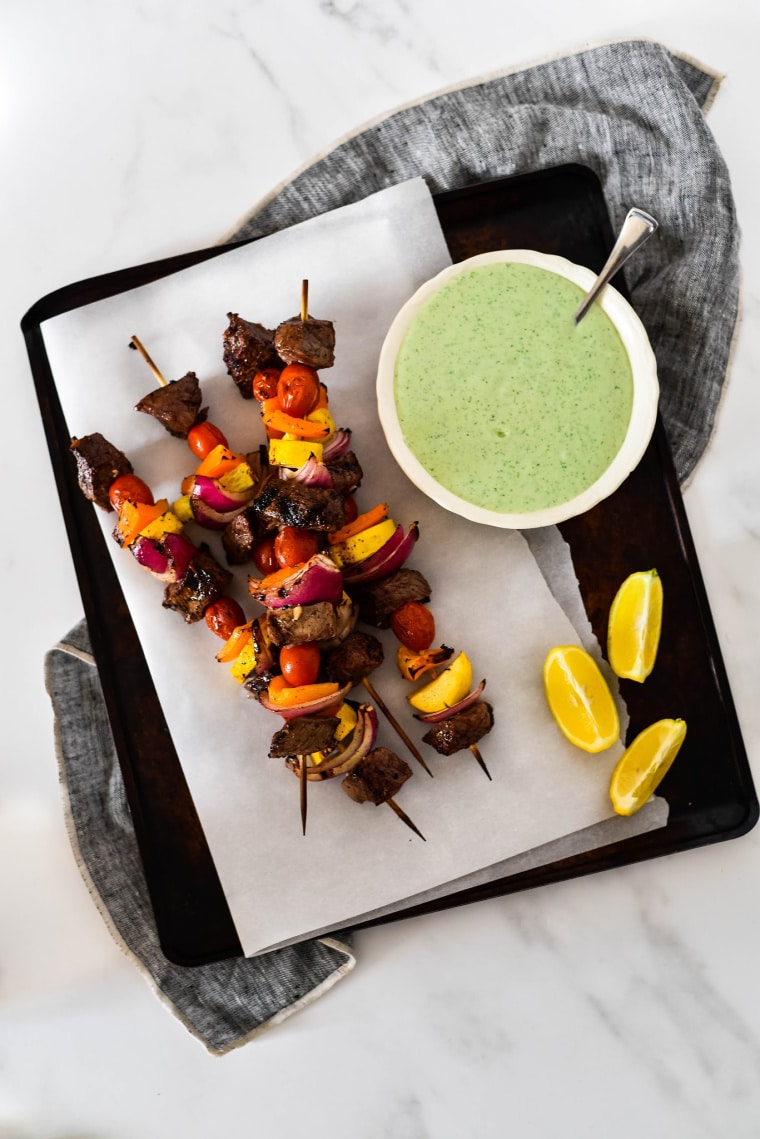 Let's be social!
There's is nothing I love more than seeing you guys make my recipes! Tag @gingeredwhisk and use the hashtag #LittleFoodieAdventures on social media when you make my recipes so that I can share them and maybe even feature you. Follow along to get the latest updates:
And don't forget to subscribe to the email list to get all the extra tips, tricks and bonuses!
Subscribe here!
Want to save this for later? PIN THIS TO GRILLING BOARD on Pinterest!
Check out the Grilled Za'atar Beef Kabobs Recipe Story.
For more information, please see more information about Grill time for beef kabobs
Detail: 🔗