Looking for an unforgettable meal that the whole family will love? Look no further than this mouthwatering Beef Ramen Stir Fry. This 30-minute dish combines juicy ground beef, tender veggies, and saucy ramen noodles to create a flavor explosion that will leave everyone asking for seconds.
Ground Beef Ramen: A Delicious Twist
While chicken, steak, and pork ramen dishes have been widely enjoyed, ground beef ramen is a hidden gem. It's hard to believe that it took so long to create a dish using this versatile ingredient. But trust me, this may just be the best version yet! Loaded with flavor, packed with texture, and incredibly simple to make, it's no wonder that my family can't get enough of it.
Shortcut Prep Ideas for Busy Days
Short on time? No problem! Here are some handy prep ideas to make your Beef Ramen Stir Fry even quicker:
Red onion: Save time by using pre-diced onions or frozen diced onions from the grocery store. Cook frozen onions until the water is evaporated.
Garlic: Opt for jarred, minced garlic to cut down on prep time.
Ginger: Speed things along with ginger paste. If you don't have fresh ginger or ginger paste, substitute with 1/2 teaspoon of ground ginger.
Red pepper: Skip the chopping and use veggies like water chestnuts, baby corn, or sliced mushrooms instead.
Matchstick carrots: Buy packaged matchstick carrots to save yourself from chopping. Plus, any leftovers can be used in other delicious recipes like Broccoli Cheddar Soup.
Make the sauce ahead of time: Whip up the sauce in advance and store it in the fridge. This will make dinner time a breeze.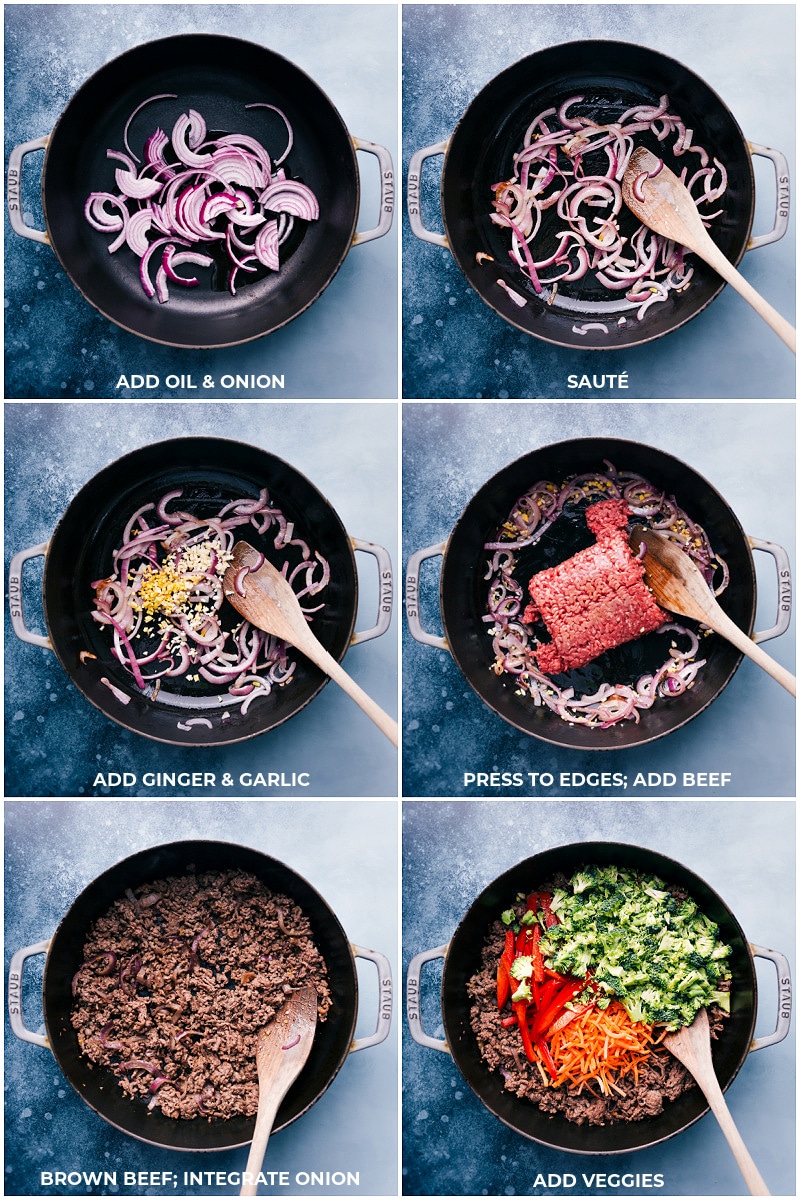 Key Ingredients for the Perfect Flavor Balance
To achieve the best taste, here are the key ingredients you'll need:
Soy sauce: Opt for reduced or low-sodium soy sauce to avoid overpowering the dish with saltiness. Remember, you can always add salt at the end, but you can't take it away.
Chicken broth or stock: Use low-sodium options to have control over the salt content. Beef stock tends to be too intense for this dish.
Corn starch: This helps thicken the sauce. If needed, here is a list of substitutes you can use.
Sesame oil: For an authentic flavor, go for sesame oil. Look for it in the Asian section of the grocery store. Toasted sesame oil adds the best flavor.
Rice vinegar: Balances the sauce and adds a subtle tang. Rice wine vinegar is the same thing, so don't worry if you see it labeled that way.
Brown sugar: Another balancing ingredient that also adds a touch of sweetness and ensures the dish isn't too spicy.
Hoisin sauce: This thick and fragrant sauce with a sweet and salty taste is the "secret" to the amazing flavor in this dish. A little goes a long way.
Ground white pepper: Gives a spicy heat with an earthy, musty flavor. Look for it among other spices in the grocery store. While black pepper works in a pinch, white pepper truly brings a restaurant-quality feel.
Oyster sauce: Adds a restaurant-quality umami flavor that takes this dish to the next level.
Sriracha® sauce: For those who love heat, Sriracha adds a spicy kick. Adjust the amount to your preference or omit it if you're not a fan. Feel free to drizzle extra Sriracha on your plate if you want an extra spicy kick!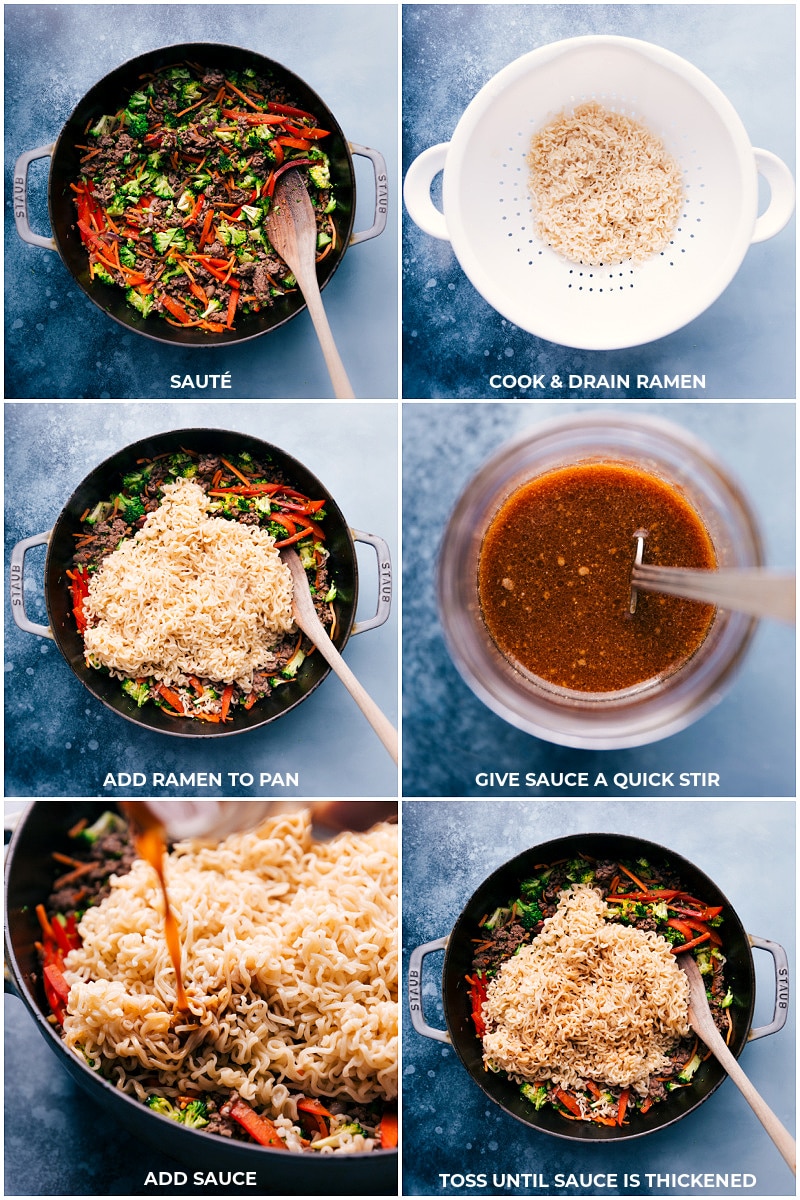 Delicious Garnishes for Extra Flavor
While this Beef Ramen Stir Fry is delicious on its own, here are some garnishes that take it to the next level. Feel free to add as many or as few as you like. Our must-have garnish is green onions!
Sesame oil: Drizzle some on top as a finishing touch for an added layer of flavor.
Sriracha® sauce: If you like extra heat, add a drizzle of Sriracha to individual plates.
Green onions: These bright, crisp, and fresh onions add a pop of color and freshness to the dish.
Toasted sesame seeds: Sprinkle these subtly sweet and nutty seeds for an extra touch of flavor.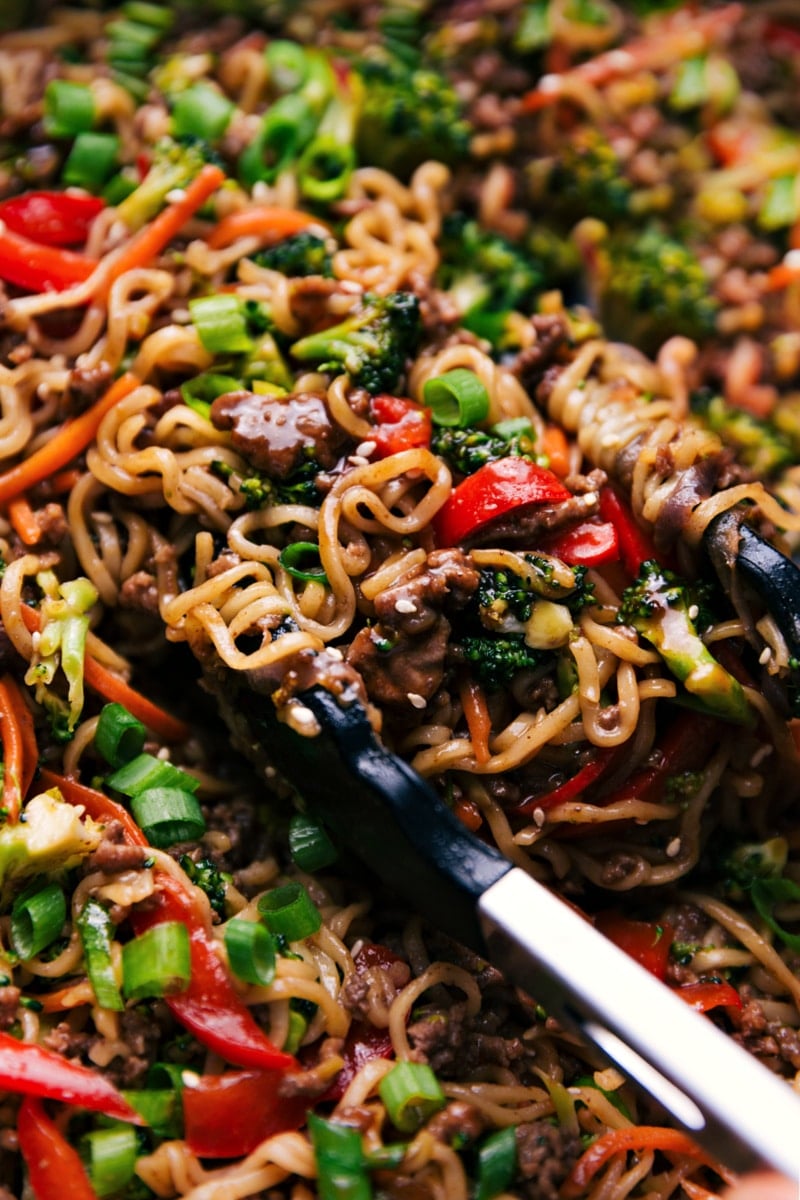 More Delicious Recipes to Explore
If you're a fan of this Beef Ramen Stir Fry, here are some similar recipes you'll love:
Garlic Beef and Veggie Ramen with flank steak
Egg Roll in a Bowl with green cabbage
Chicken Chow Mein with a simple stir-fry sauce
Asian Ground Turkey with a quick Sriracha-mayo sauce
Chicken Stir Fry with loads of veggies
Now that you have the key to a flavorful and satisfying meal, it's time to gather your ingredients and give this Beef Ramen Stir Fry a try. Your taste buds and your family will thank you!