This website may contain affiliate links and advertising so that we can provide recipes to you. Read my privacy policy.
Your family is going to love this hearty Guinness beef stew! This traditional Irish meal is filled with rich, meaty flavor, tender vegetables, and melt-in-your-mouth beef!
Stews are the best way to warm you up from the inside out. Not to mention, they taste amazing! Hungarian stew, slow cooker beef stew, and Tuscan vegetable chicken stew are a few more tasty recipes you've got to try!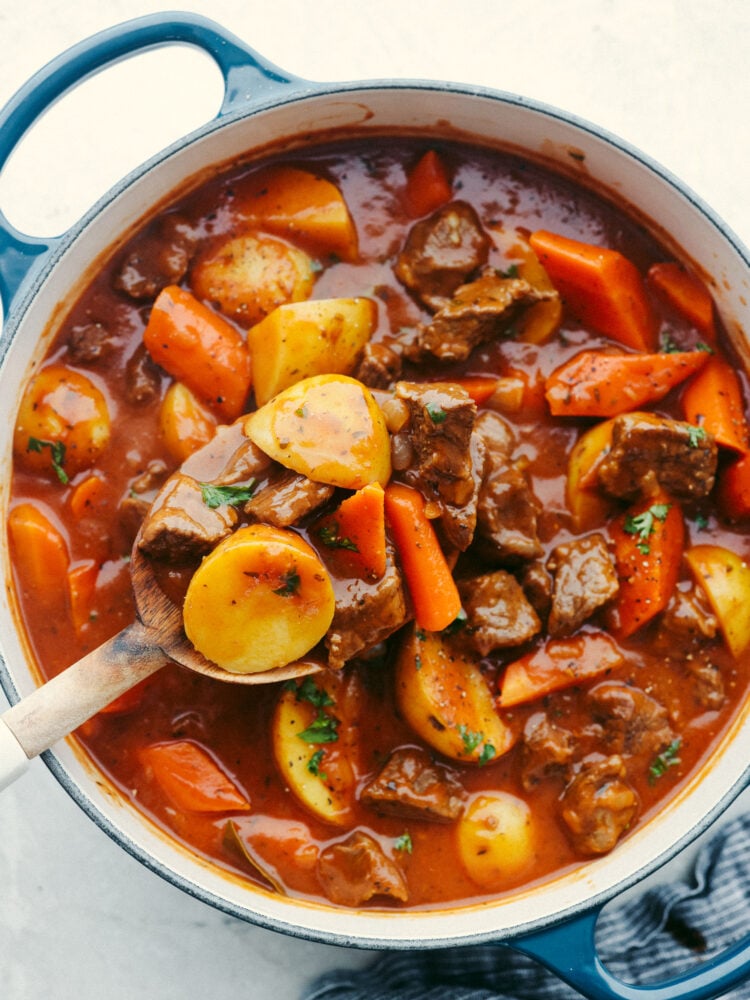 Irish Guinness Beef Stew Recipe
Just in time for St. Patrick's day, here's an amazing dish for you to try! This classic Irish meal has a lot of variations, but here's mine! It's traditionally made with lamb, but today I'm using tender pieces of chuck roast! The beef is simmered to perfection in a hearty beef broth, with, of course, Guinness beer added for a rich, deep flavor. I absolutely love how this came together! My family couldn't get enough!
The beef is SO soft and flavorful. It just falls apart in your mouth. Paired with tender carrots and potatoes, you can't go wrong! It's the perfect dish to make on cool nights while we transition to spring. You can serve it as-is or over mashed potatoes to complete the meal. Guinness stew is absolutely delicious and your family is going to love it! And if you need more homemade stew recipes in your life, find my full list here!
Everything You'll Need to Make It
Step one is to gather everything you need together! I know it may look like a lot of ingredients, but trust me, you probably already have a lot of them in your pantry! You're going to love the flavor that each of these ingredients creates. Guinness beef stew is the best! Measurements for all of the ingredients below can be found in the recipe card at the end of the post.
Olive Oil: Used to sear the beef and saute vegetables.
Boneless Chuck Roast: I love using chuck roast because it's hearty and gets so incredibly tender and flaky when simmered in broth. You can swap this out for lamb if you're wanting a more traditional version of Guinness stew!
Kosher Salt and Cracked Black Pepper: Works as your foundation of seasonings.
Stew Base
Yellow Onion: Yellow onion adds a hint of sharp flavor throughout your Guinness stew.
Minced Garlic: Minced garlic is a must to add savory flavor.
Large Carrots: I like using large carrots to create bigger chunks. The heartier the better!
Yukon Potatoes: Yukon potatoes are soft and buttery when cooked in broth. You'll love them!
Flour: Added to thicken up your broth.
Beef Broth: This is the base of your stew broth.
Guinness Beer: The star of the show! This Irish beer has a strong, deep flavor that really makes the stew shine.
Tomato Paste: Adds thickness and a caramelized flavor.
Worcestershire Sauce: I love adding Worcestershire sauce because it's sweet, savory, with a bit of tang!
Italian Seasoning: You can buy storebought Italian seasoning, but I love making it at home to customize my blend! Find my full recipe here. Nothing like fresh herbs to enhance a stew!
Bay Leaves: Adds an aromatic flavor.
Kosher Salt and Pepper: Add both to taste!
Fresh Parsley: The perfect aromatic garnish.
How to Make Irish Guinness Stew
The key to making the best Guinness stew is fresh ingredients and cooking low and slow. Follow these simple instructions and you'll have a hearty stew that the whole family will love!
Prepare Beef: First, prepare the beef by cutting it into 1 1/2-inch chunks. Pat the meat dry with a paper towel. Generously salt and pepper the beef
Sear: Heat 2 tablespoons olive oil in a large stock pot over medium high heat. Add the beef to the pot and sear on each side for about 3 minutes. There is no need to cook it through, just give it a nice golden sear. Remove the meat from the pot and set aside.
Sauté Vegetables: In the same pot, add 2 tablespoons of olive oil. Add the diced onion and sauté for 5 minutes until translucent and golden. Add garlic and sauté for 1 minute. Stir in the flour and cook for 1 minute, until a paste forms. If the paste is too dry, you can drizzle in more olive oil if needed.
Add Remaining Ingredients: Pour in the Guinness and use a whisk to scrape the brown bits from the bottom of the pan. Stir in the beef stock, carrots, potatoes, tomato paste, Worcestershire sauce, Italian seasoning, and bay leaves.
Simmer: Add in the cooked beef, cover the pot, and simmer on low for 1 ½ hours. Occasionally stir the stew, and cook until the beef is tender and the potatoes and carrots are soft.
Season and Serve: Discard the bay leaves. Season with salt, pepper, and more Italian seasoning if needed. Garnish with fresh parsley, and serve with crusty artisan bread!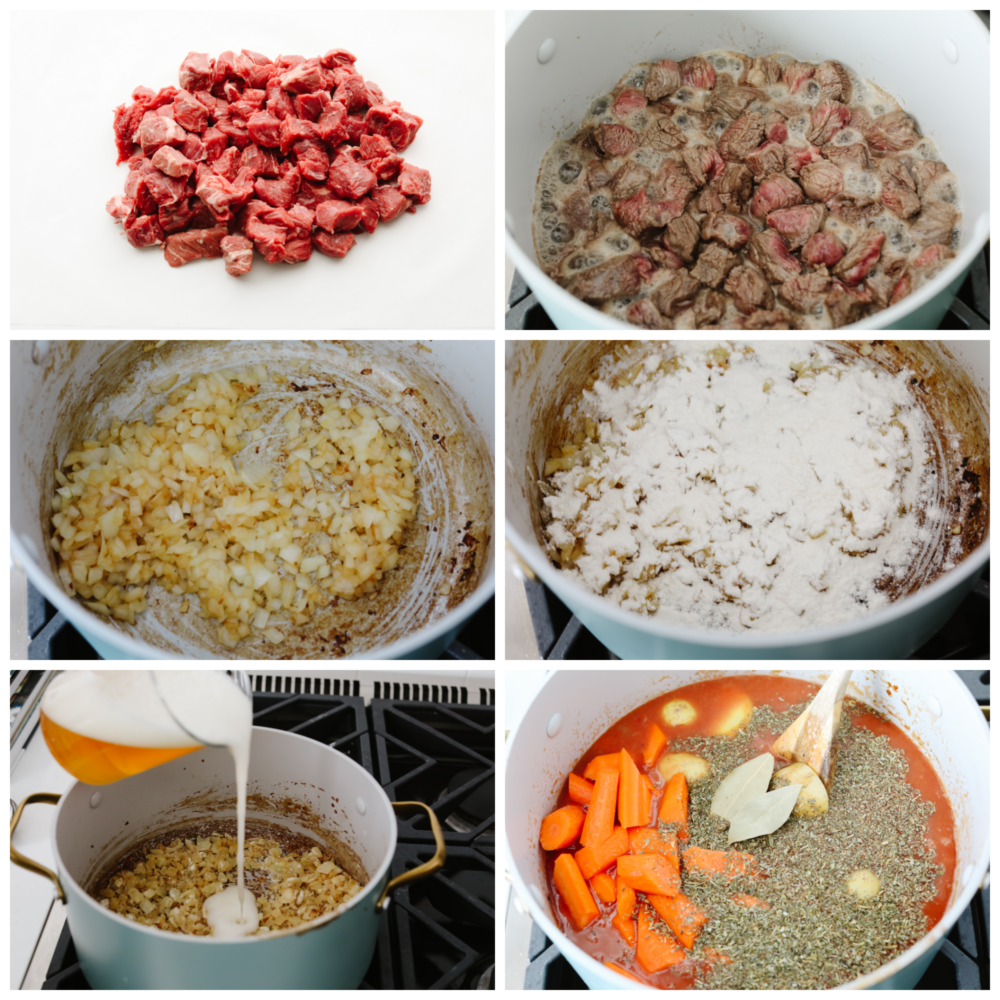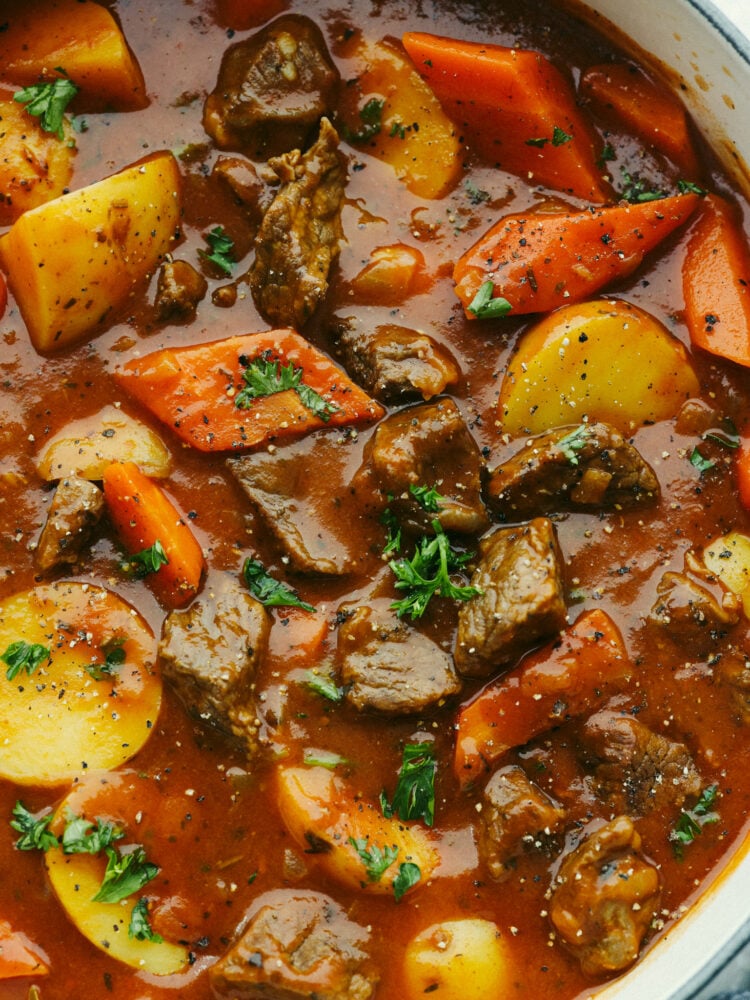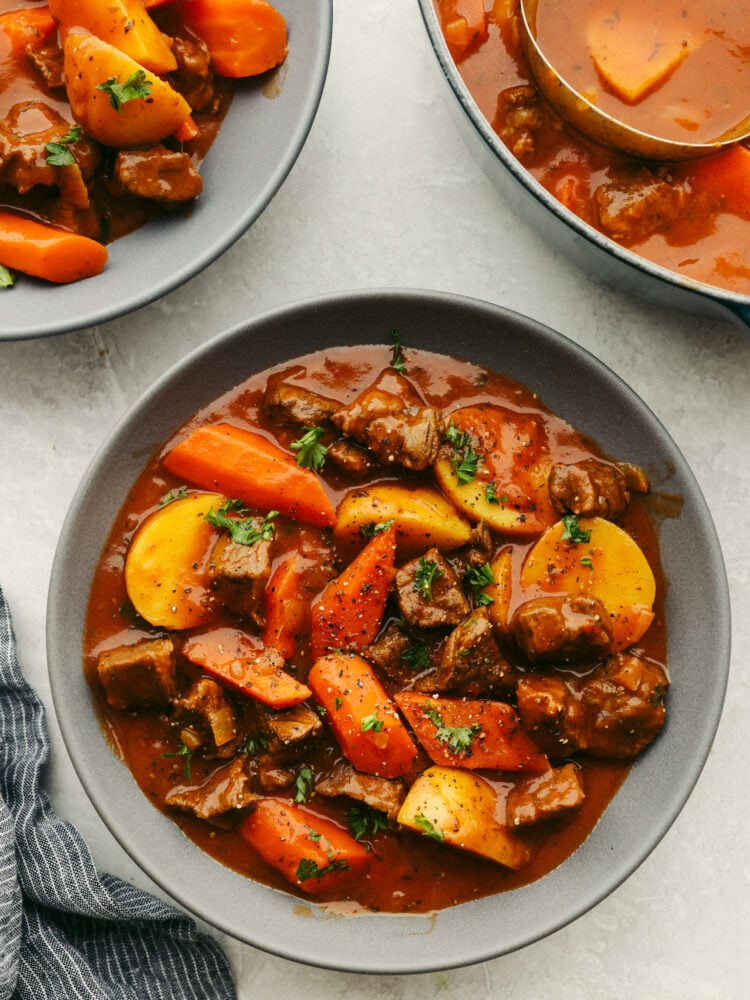 For more information, please see more information about Best guinness beef stew recipe
Detail: 🔗