The perfect Hawaiian side dish, this Hawaiian Macaroni Salad is a creamy combination of pasta salad and potato salad.
PIN IT FOR LATER!
This Hawaiian Pasta Salad is the perfect side dish for Shoyu Chicken or Huli Huli Chicken.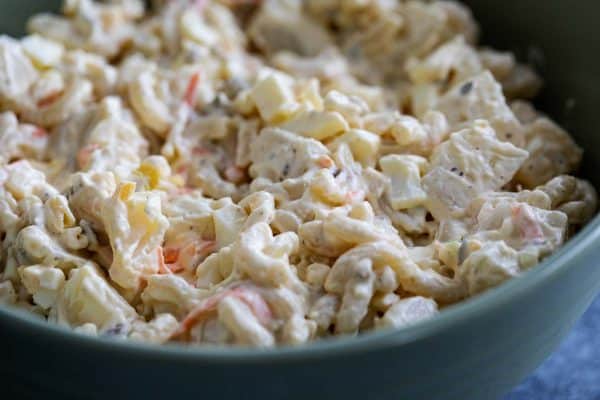 The Perfect Hawaiian Side Dish
As I was testing and retesting my Shoyu Chicken recipe, I found out that one thing was very important:
It must be served with Hawaiian Macaroni Salad.
Also read: Hawaiian Mac Salad with Tuna
Like I mentioned before, I've never been to Hawaii, and I cannot claim that I know everything about Hawaiian cuisine. But I can tell you one thing – this pasta salad is delicious.
Now, just like a lot of regional cuisine, I think that different people make this different ways. And no one way is the right way while the other way is the wrong way. Really, that's the beauty of food. Even if you add your own spin, as long as it is enjoyed, that's all that matters to me!
You can find this recipe the way I made it below, as well as some other suggestions or ideas.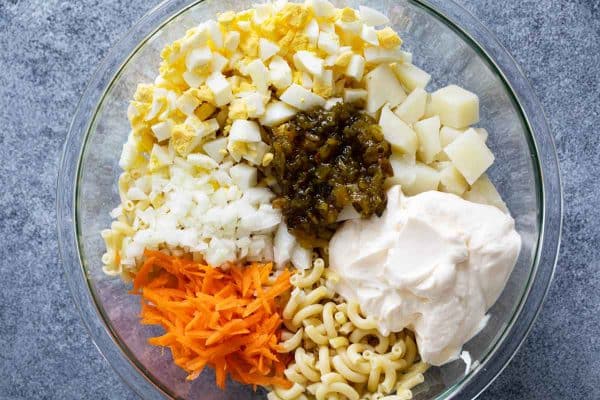 Ingredients in Hawaiian Macaroni Salad
For this version of this macaroni salad, here is what I add:
Potatoes – Apparently, not everyone adds potatoes, but that is one of the things I loved the most about this version. It makes it a combination of a potato salad and a pasta salad. I used russet potatoes.
Also read: Potato Mac Salad – Keeping It Relle
Pasta – It is a macaroni salad, so I'd say your best bet is to use macaroni. 🙂 Technically, you could use any short cut pasta, but I really do believe that macaroni works best here.
Hard Boiled Eggs – This is another ingredient that the more simplistic recipes leave out, but I wouldn't. This was one of my favorite ingredients in this salad.
Sweet Onion – You don't use a lot of onion, but you'll want to use a sweet onion. It is raw in the salad, so the mildness of the sweet onion works well.
Mayonnaise – If there is one thing I learned while reading up and researching on Hawaiian Macaroni Salad, it's that you must use Best Foods Mayonnaise. (And just for the record, it's Best Foods in the west, while the exact same mayo is Hellman's in the east.) It's all about the flavor of the mayonnaise (yes, there is a lot of it) and nothing else will be as good as Best Foods.
Sweet Pickle Relish – Now is when we start adding some of the "extra" ingredients that the super simple recipes don't use, and relish is one of them.
Grated Carrot – In all honesty, I don't know if the carrot really adds a lot of flavor, but I do love that it adds some color.
Also read: Hawaiian Potato Salad – Burrata and Bubbles
Sweet Pickle Juice – This is another added ingredient that you could leave out, but also one that I think really adds to the overall flavor.
Salt and Pepper – An all important ingredient for any recipe! Taste and season as needed.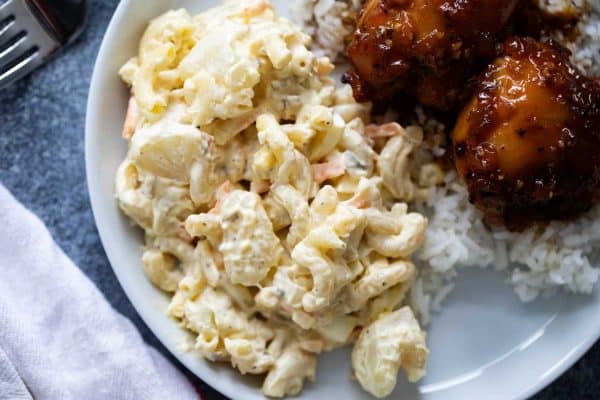 Optional Add Ins
So this version already has a lot of additions that the more basic recipes won't have. But here are some other additions you might want to try.
Celery
A bit of sugar or brown sugar
A splash of teriyaki sauce
Frozen peas
Canned tuna fish
crab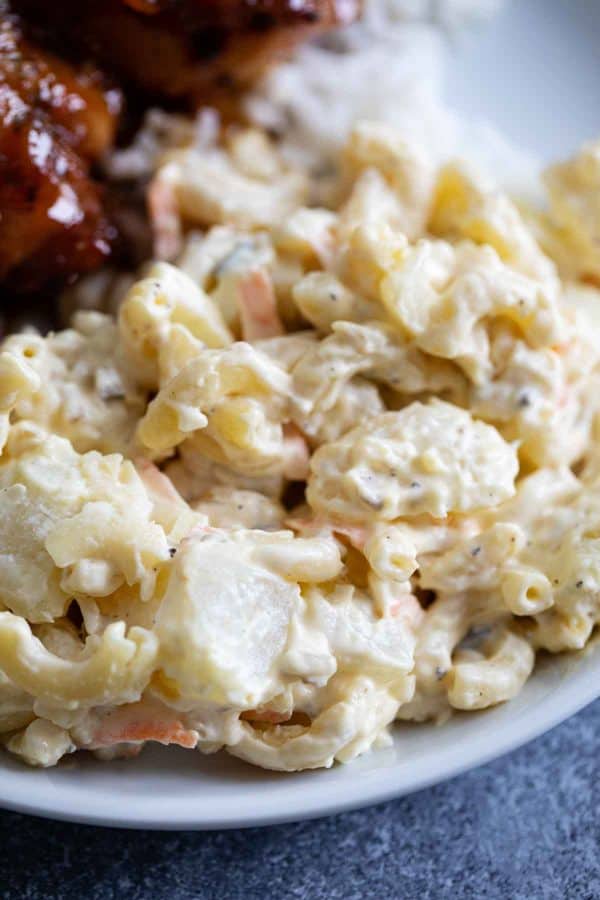 More Pasta Salads
Caesar Salad with PastaArtichoke Pasta SaladAllison's Best Pasta SaladOriental Pasta SaladSun Dried Tomato Pesto Pasta Salad
For more information please see the list of Potato mac salad recipe hawaiian