Here's how to make the BEST Healthy Smoothies, including tips to make them affordable, nutritious and delicious. Plus, there are 7 bonus smoothie recipes to get you started!
Reading: healthiest smoothies to make
How to Make Healthy Smoothies
Making healthy smoothies is a much simpler process than you would imagine, and this post will show you how to make 8 different kinds of healthy smoothies that you're going to love!
I think many people have misconceptions about what healthy smoothies really are. I know when I was younger, I thought that healthy smoothies were the ones you got at Booster Juice. Sadly, I would order a large smoothie from there or Starbucks after a night of partying and think I was replenishing my body with healthy food. Little did I know these smoothies were often filled with sugary frozen yogurt and can contain up to 460 calories (just take a look at their Acai smoothie).
To make genuinely healthy smoothies, you have to be careful with the ingredients you use. This post will educate you on how to choose the highest-quality ingredients to ensure that you're getting the nutritional benefits you should be getting with fruit-filled smoothies.
As long as you stock your freezer with frozen fruit and keep a few handy base ingredients on hand in the fridge each week, smoothie making is super easy and nutritious.
Smoothie Add-Ins
Now that you know to focus on healthy, whole food ingredients for smoothies, let's talk specifics!
Healthy smoothies usually consist of the ingredients you use to flavour your smoothies, such as the fruit itself, and from there you will add in your base ingredients. Typically some kind of milk, water or juice is necessary to provide a smooth consistency, especially if you are using frozen fruit. I will usually use almond milk or coconut milk, though you can use regular dairy milk, soy milk or any other type of nut milk.
You can also use no-sugar added juices, but I typically don't recommend this since you are already getting all your nutrients from the fruit and most juices are so over-processed and filled with sugar that it's hard to separate the good from the bad.
If you don't want to add milk, you can certainly add water to thin out your smoothie instead – I promise it won't water down the flavour and you're minimizing calories as well. Coconut water is another great option, just be sure to read the label and make sure there are no added sugars.
Protein in Smoothies
After you've added your fruit and liquid, you will want to add in some protein, especially if you're looking to enjoy it as a full-on breakfast. Even if you're just looking to drink a smoothie as a healthy snack, you should still be adding a protein source to ensure that it satiates you and keeps you feeling full for a little while.
Protein sources can range from Greek yogurt (the highest protein yogurt out there) to seeds such as flax, hemp hearts and chia seeds – these seeds also help to add omega-3s to your smoothies. You can also add in an all-natural protein powder such as Kaizen Naturals, which has 30g of protein and just 130 calories per scoop (you can also cut the scoop in half, which will still add a significant amount of protein).
Not all protein powders are made equal so be sure you do your research before buying. You can choose from a variety of different protein powders such as whey, rice, pea, soy and more so you'll also want to assess which type is right for you. The Cleveland Clinic has a great article to help you choose.
To summarize, you'll be looking at adding the following to your healthy smoothies:
Fruit and vegetables of choice, preferably frozen
Some sort of healthier liquid (dairy or non-dairy milks, coconut water, juices, water)
A protein source such as Greek yogurt, protein powder and/or flax seeds
How Many Ingredients Should I Use?
My biggest piece of advice for ingredients is to keep it simple!
I've listed a ton of possibilities above but you should try to figure out what works best for you and limit what you're adding so that you can make healthy smoothies on a more consistent basis. If you're trying to eat healthier, the best thing you can do is make it easy for yourself to eat healthy and change your diet for the long-term.
I see a ton of healthy smoothie articles out there that advocate for adding all kinds of supplements and extras to make them more nutritious and "healthy" but sometimes the best way to eat healthier is to make it super simple.
Read more: How long to boil water in microwave for tea
Pick 1-3 fruits to add, maybe a leafy green such as spinach and then your liquid and protein source. That's it!
Don't make it harder on yourself by going out and spending all this money on fish oil, fresh turmeric, etc and then have a smoothie where you don't enjoy the taste very much or you've spent $100 on ingredients and have turned it into a complicated process. Sometimes the healthiest foods are the simplest foods. Choose real, whole foods and you can't go wrong!
What NOT to Add to Healthy Smoothies
There really aren't too many things you shouldn't be adding to smoothies, but I can say with confidence that sugar and ice are the biggest no-nos in my book.
First up, ice will totally water down your smoothies if you don't drink them right away and you need a super high-powered blender to get a smoother consistency. Frozen fruit will still provide you with that thick, frozen texture but fruit is less difficult to blend and won't water down your smoothie. Plus, you can enjoy frozen-fruit blended smoothies up to 3 days after you make them if you keep them in a sealed container such as a mason jar in the fridge. You can't meal prep like that when you've used ice.
Sugar is a big enemy to healthy smoothies too. I remember I used to use sugar when I first made smoothies at home because I thought I needed it to make it enjoyable. Or, like Booster Juice, I would use sugar-laden products like frozen yogurt or fruit-based yogurts. In order to make your smoothies a lot healthier, you should avoid all processed sugar.
How to Make Healthy Smoothies Sweeter
Now, I know you're probably wondering how the heck you make your smoothies sweeter then!
We all have varying levels of taste when it comes to sweetness. For me personally, as I've incorporated less sugar into my diet over time, I've gotten used to things tasting less sweet. I find a banana along with the fruit I'm using is usually more than enough to make my healthy smoothies sweet enough, but you may like to add a bit of extra sweetness in there if you're still getting used to eating less processed sugar.
Pinch of Yum always does a sugar-free January if you're interested in learning how to eat less sugar, and you can always take their principle and apply it to whatever month it is in the year. Your tastebuds really do change when you eat less sugar!
As I mentioned, bananas are great natural sweeteners and they are often more than enough when you're making a smoothie. But, I thought I would add a couple more sweetener ideas if you feel that it's just not enough. Here are some other sweetener ideas below:
applesauce (I often recommend this in place of bananas)
dates
honey
real maple syrup (not cheap table syrup)
stevia
molasses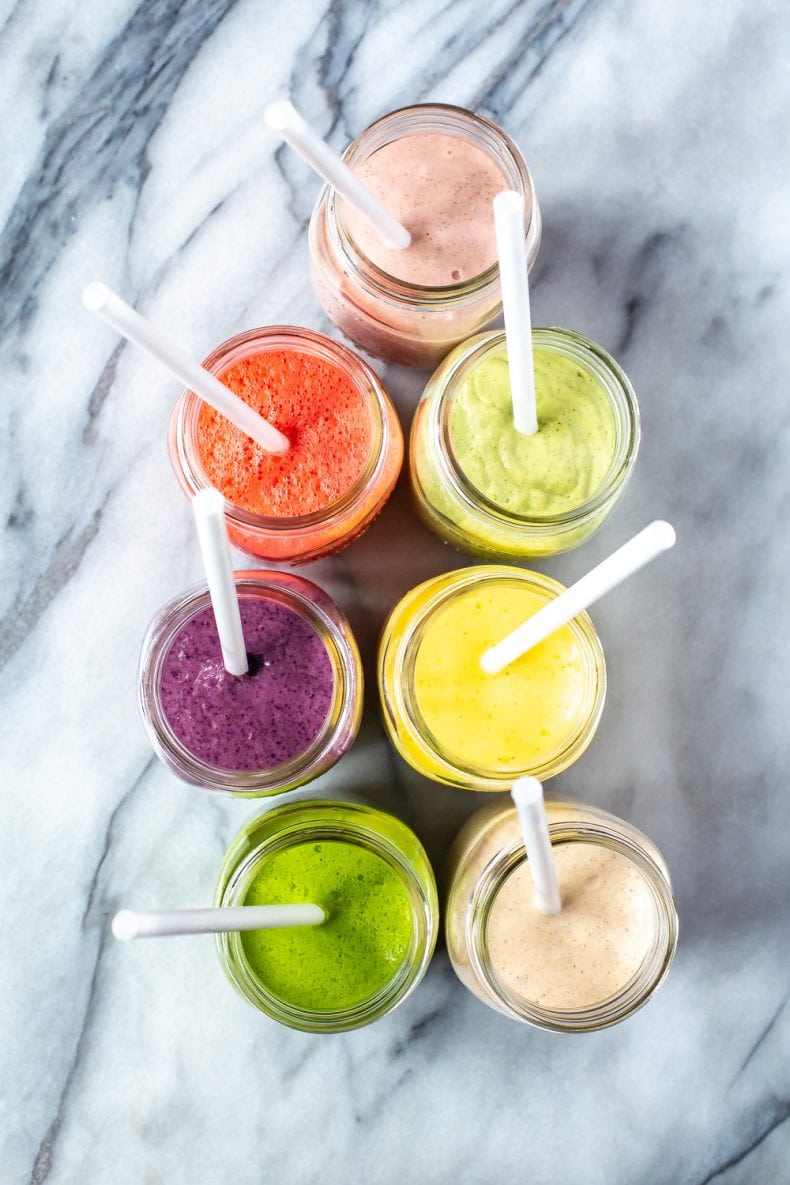 Hacks for Smoothie Consistency
I always use frozen fruit to get the perfect smoothie consistency – this way you can avoid using ice and still get that thick texture. I typically add fresh bananas and ensure the rest of the fruit I'm using is frozen, then add in my almond milk from there. This combo usually provides a thick smoothie that you can still drink from a straw.
If you'd like a thicker smoothie, you can use frozen bananas instead of fresh. You can freeze them whole yourself or buy frozen sliced banana chunks from the grocery store. I prefer not to freeze them whole myself because they aren't very appetizing when you go to use them (they're typically dark brown) but the flavour is typically still the same as using fresh ones.
From there, it's all about the amount of liquid you use. As you can see from the recipe card below, I typically use about 1/2 cup of liquid (milk, juice, water, etc) and then 1/2 cup of frozen fruit plus the fresh banana and maybe some Greek yogurt. This provides a drinkable smoothie that is medium-thickness. Adjust the liquid amount accordingly for whatever your preference is on thickness.
Equipment for Healthy Smoothies
Having the right equipment is key to making healthy smoothies.
The Vitamix personal series is great for making just one or two smoothies at a time
So is the Magic Bullet or Nutri Bullet – the only hang up here is that I find I have to replace these models once every couple years or so because the motor eventually burns out
The Vitamix Ascent series is my fave though – it's self-cleaning so you aren't left with a ton of mess and it's perfect for if you're prepping 3-4 smoothies at a time. It can tear through anything to make the smoothest smoothie, even ice!
You can of course get a mid-range blender too, really any blender will work. But if it takes 3 or more tries to get that smooth texture without all the lumps, it can be a frustrating experience.
See how often you're going to be making smoothies and if it's going to be a consistent thing for you, your best bet is to invest in a high-powered blender that can minimize the time you spend making healthy smoothies.
How to Meal Prep Smoothies
Believe it or not, you can meal prep smoothies in a variety of ways!
I love to make Smoothie Freezer Packs that you can either freeze in Ziploc bags or in mason jars for zero waste.
The basic premise is that you add all your fillings, then add the milk/Greek yogurt fresh the day you go to make them. You can make a ton of different combos in advance and then you have your smoothies meal prepped and waiting for you without the hassle of getting everything out.
Read more: 11 easy cocktails to make at home | Family Cuisine
This method is great for when you have to get out the door fast but you still want a freshly blended smoothie.
How Long Will Healthy Smoothies Last in the Fridge?
You can also blend a few smoothies up to 3 days in advance – I find that just like cold-pressed juices, smoothies will last a few days in the fridge. They won't quite be as good as fresh, but nothing in the smoothie is necessarily going to go bad so you can make a few at a time to enjoy later.
I wouldn't recommend leaving them past 3 days because the bananas or other leafy greens can go bad but you do have a couple days to enjoy.
Alternatives to Bananas
If you're allergic to bananas or otherwise don't like the taste of them, you can substitute a number of ingredients to add the same natural sweetness to your smoothies!
Applesauce and dates are my go-tos, but here are a few other sweet ideas to replace bananas:
Mango
Honeydew or cantaloupe
Watermelon
Fresh figs
Papaya
Pear
Medjool dates
Applesauce
Almond butter
Avocado (replaces the texture, not the sweetness per se)
Fresh Fruit vs Frozen Fruit
I typically like to make my smoothies with frozen fruit primarily for textural reasons but also because frozen fruit tends to be much cheaper and lasts way longer in the freezer so you can make lots of smoothies over top. You also need to use less frozen fruit because it blends up into a thicker texture, whereas fresh fruit can get watery.
However, if you prefer to use fresh fruit and like a smoothie that is thinner in consistency, you can definitely use fresh fruit! Sometimes it is nicer during the summer months when fruit is in season and you're looking for a refreshing drink that feels more like juice than a smoothie.
You just have to watch that you properly wash fresh fruit or choose organic fruit because of pesticides. They tend to be particularly bad with strawberries so make sure you educate yourself on which produce has the most amount of pesticides. There's a great read on pesticides and produce on familycuisine.net.
Washing fresh produce in a vinegar mixture can be a really effective way to get rid of all pesticides so that is an option as well.
Healthy Smoothies and Weight Loss
If you are drinking smoothies in an effort to lose weight, make sure to keep these points in mind:
Not all smoothies are healthy. Drinking smoothies alone will not help you lose weight. Healthy smoothie recipes can contribute to your weight-loss plans, but only if you're choosing low-fat, low-calorie, low-sugar ingredients.
Use portion control. Smoothies can contain more vegetables or fruit than you would eat raw and that means you are taking in more calories, carbohydrates and sugar than you think. Keep your smoothie at around 10 oz (most store-bought smoothies are at least 16 oz or more). If you make too much, freeze the extra portion for later.
Smoothies can leave you feeling hungry. Make sure your smoothie contains the right balance of ingredients. Adding protein and healthy fats will help make you feel full longer. But be careful as these additions can also make the calorie count go up. If you feel the need to add healthy fats or protein, then consider adding a quarter of an avocado (81 calories), half a cup of Greek yogurt (140 calories) or a tablespoon of peanut butter (95 calories).
Yes, you can lose weight drinking smoothies but it needs to be part of an overall diet plan. Read more about meal prep and weight loss here.
Seven Healthy Smoothie Recipes
Below you'll find pictures of each of the seven healthy smoothies you have the option of making along with the recipes below. I hope you enjoy them as much as I do!
Green smoothie
Strawberry banana smoothie
Tropical smoothie
Avocado smoothie

Watermelon smoothie

Peanut butter banana smoothie
Blueberry Smoothie

Meal prep tools for this recipe
These are the mason jars I used in this recipe
You can get larger 32oz mason jars too
NOTE: Nutritional info is an approximate calculation for one smoothie with two different types of fruit, 1/2 cup almond milk and 1/3 cup of Greek yogurt. You can calculate exact calories depending on your unique combo of ingredients on Myfitnesspal