This healthy Brunswick stew is just like the southern classic, but made with simple and wholesome ingredients – no ketchup or BBQ sauce needed!
Brunswick stew is a Virginia classic, but it isn't something I grew up eating. I was first introduced to this thick stew when I met Isaac in college. He and his roommates loved Mrs. Fearnow's and they would stock up whenever it was on sale. Truth be told, Isaac still likes it and there's a can in our pantry right now.
Staring into the pantry one night I saw the yellow can and finally decided I needed to make a homemade healthy Brunswick stew for him.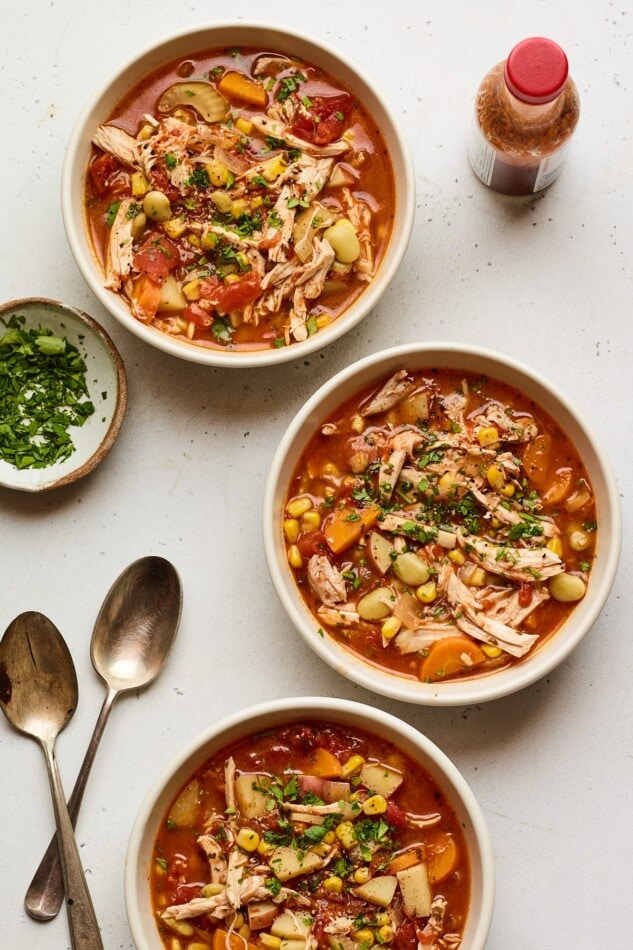 Origin of Brunswick Stew
After a little research I found that Brunswick stew likely originated in Brunswick, Virginia during the 19th century and it was originally made with squirrel meat.
I looked at a couple recipes online for inspiration, but ultimately ended up using the ingredient list from a can of Mrs. Fearnow's as my guide because it's short and overall pretty wholesome. Some of the recipes online called for cups of ketchup, chili sauce, BBQ sauce and creamed corn. I'm not a fan of using a ton of packaged products (because they usually have a lot of added sugar and preservatives) so this recipe skips those things.
The only packaged sauces you'll need are Worcestershire and hot sauce. Although if you decide you want to add a little BBQ sauce, you can use my homemade healthy BBQ sauce recipe.
If you're looking for a warm and comforting meal, I highly recommend making a batch of this healthy Brunswick stew. It's loaded with flavor and truly something the whole family will enjoy!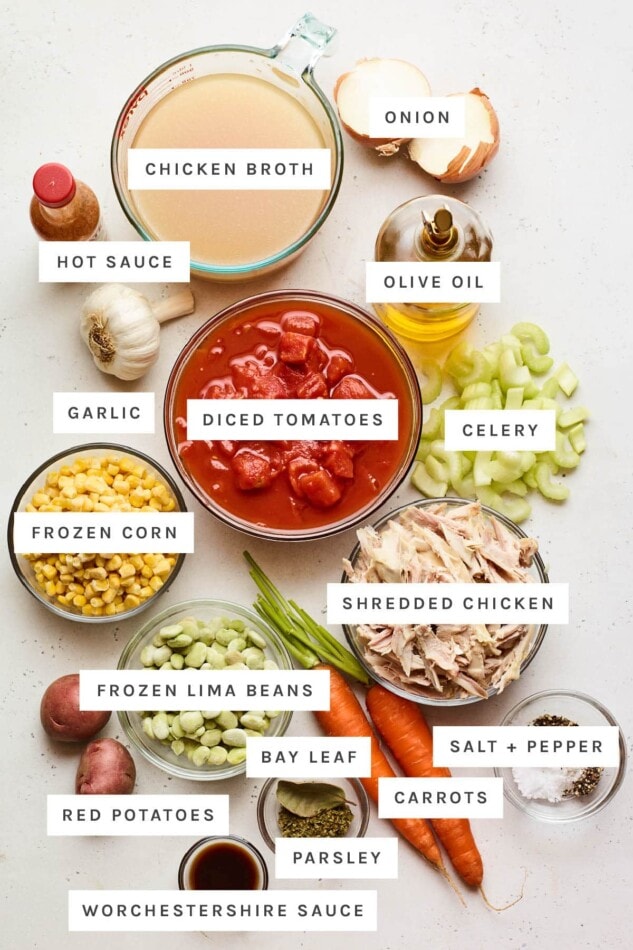 Ingredients Needed
olive oil – to sauté the garlic and onion in for a flavor base.
fresh vegetables – a combination of yellow onion, garlic, carrots, celery and red skinned potatoes. Try to chop these all to a similar size so they cook at the same pace and every bite is a good ratio!
frozen vegetables – no need to thaw the frozen corn and lima beans but make sure you give them a good rinse and drain before adding to the soup.
diced tomatoes – I used canned diced tomatoes for a shortcut. Feel free to use fire roasted tomatoes to add a hint of spice!
chicken broth – I recommend using low sodium broth so you can control how much salt there is in the soup! Vegetable broth also works.
dried parsley – the perfect herb pairing for this soup.
bay leaf – this little herb makes a big impact! Simmer a bay leaf during cooking to release the flavor-packed essential oils. Remove the bay leaf before serving.
Worcestershire sauce – a little goes a long way! It will cut through the richness and adds a delicious depth of flavor.
shredded chicken – leftover shredded chicken works great for this recipe, but you can also make a quick batch using my slow cooker shredded chicken recipe, Instant Pot shredded chicken recipe or making shredded chicken using a rotisserie chicken.
salt and pepper – to taste.
hot sauce – you'll mix in just a touch of hot sauce but I like serving with extra hot sauce as well.
fresh parsley – instantly level up your soup with a fresh herb garnish. Parsley pairs perfectly with this soup!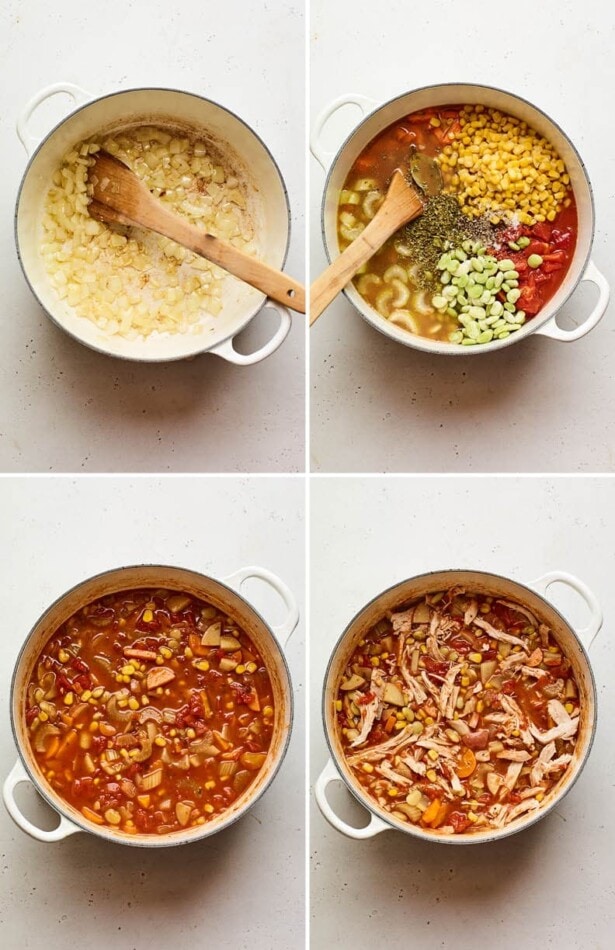 How to Make Healthy Brunswick Stew
Start by sautéing the onion and garlic in a large casserole pan or dutch oven. Sauté until the vegetables are fragrant and soft. Add in the carrots, celery, potatoes, canned tomatoes, broth, corn, lima beans, Worcestershire sauce, parsley, bay leaf, salt, pepper and hot sauce. Bring the mixture to a boil and then reduce the heat to a simmer for 30-45 minutes or until all of the vegetables are tender. The potatoes will take the longest to cook so check those!
Remove the bay leaf and add in the shredded chicken. Stir to combine and cook for an extra 5 minutes to heat the chicken. Once the stew is ready to serve, place in bowls and garnish with fresh parsley. Serve with additional hot sauce so everyone can add as much or as little spice as they like.
pro tip! If stew seems too thin, you can mash up some of the potatoes with a fork to create a thicker broth. If it's too thick, you can add more broth or water.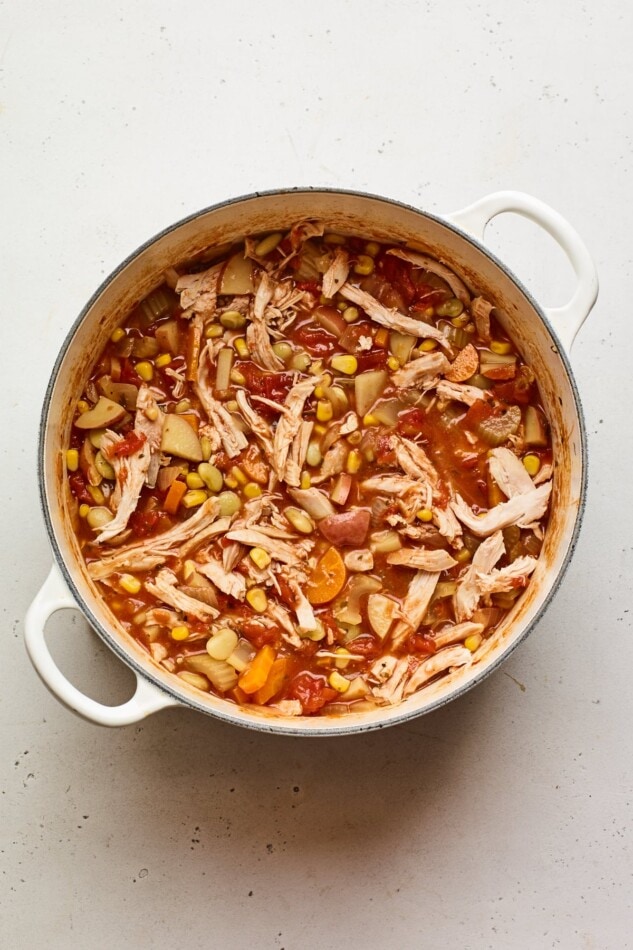 FAQs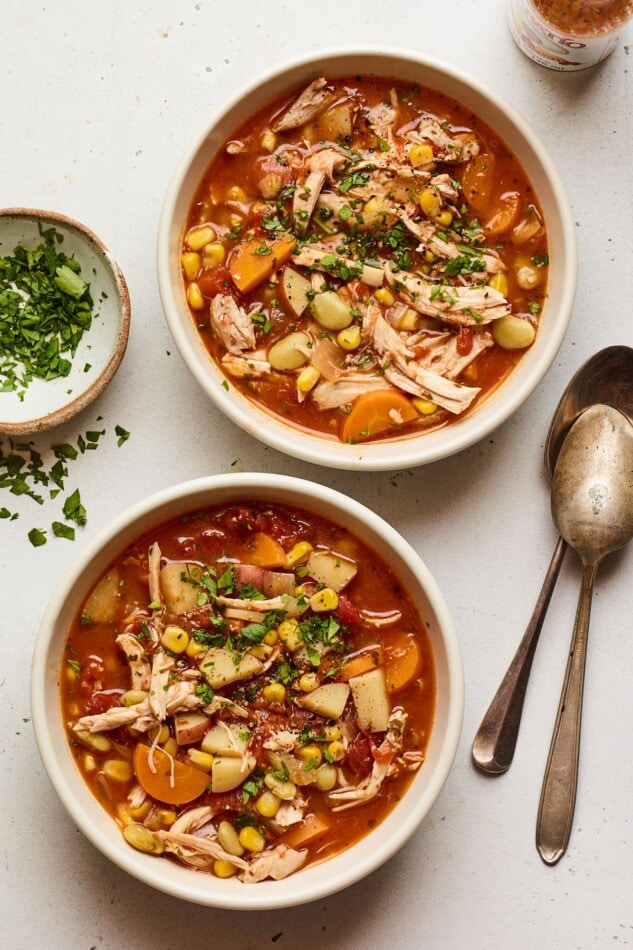 How to Serve Brunswick Stew
After portioning the soup into bowls, top with fresh parsley and serve with extra hot sauce so everyone can add extra spice to their liking. This stew is a meal in one but here are some serving suggestions if you want it to be a part of a larger meal:
Bread – this would be delicious with a crunchy bread like sourdough or honey whole wheat bread.
Crackers – add extra crunch with my 4-ingredient almond flour crackers.
Salad – I love serving soups with salads! My easy quinoa salad, sweet kale salad or easy spinach salad would all be great options.
How to Store Leftovers
After allowing the soup to cool slightly, store it in an airtight container in the refrigerator for up to one week. You could try freezing for longer storage but the texture of the vegetables may change a bit during freezing.
More Tasty Soups and Stews
Lentil Stew with Kale
Butternut Squash Red Lentil Stew
Chicken Fajita Soup
Chicken Wild Rice Soup
Quinoa Vegetable Soup
Chicken Noodle Soup
Vegan Potato Soup
Easy Black Bean Soup
Be sure to check out all of the soup recipes here on EBF!
Please see more list about What to serve with brunswick stew
Detail: 🔗