This healthy egg salad is made with Greek yogurt instead of mayo. It's lighter in calories, but still packed with flavor. Perfect served with crackers or on a sandwich.
I love egg salad! Like really love. I've shared a curried egg salad and an avocado egg salad, but somehow I've never shared my go-to egg salad recipe with you… until today!
This is a great staple recipe to have in your back pocket! It's so simple to make and can be eaten a million different ways, which makes it perfect for meal prep.
Classic egg salad is made with mayonnaise, but in true EBF fashion, we're lightning things up with full-fat Greek yogurt, which works well as a sub for mayo. I'm seriously obsessed with this recipe. I could eat it every week, it's so good!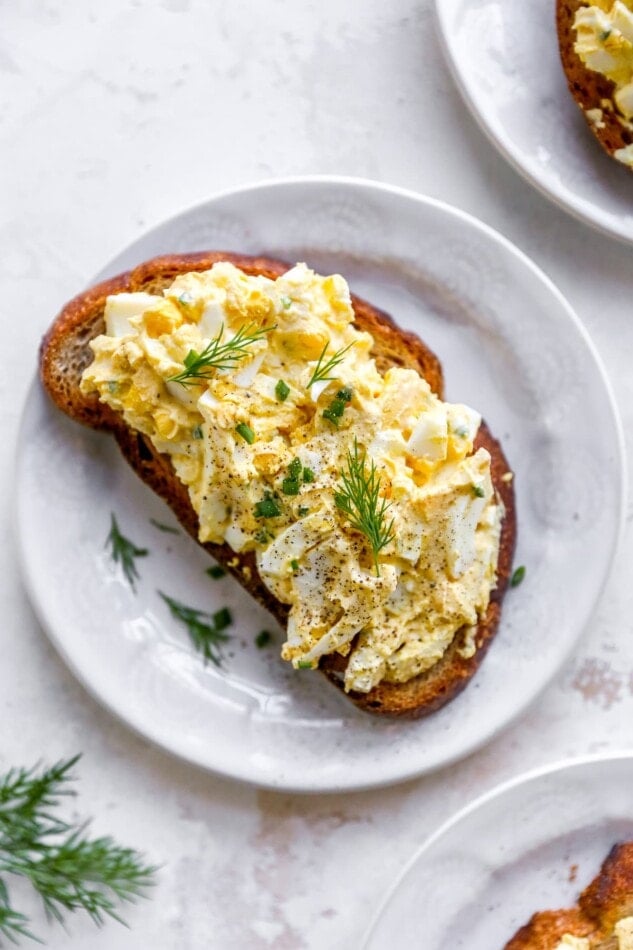 Why You'll Love This Recipe
Once your eggs are cooked this salad comes together in about 5 minutes!
It's made with Greek yogurt instead of mayo, so has less fat and calories than traditional egg salad!
It's perfect for meal prep. Make a batch over the weekend so you have lunches ready to go for the week.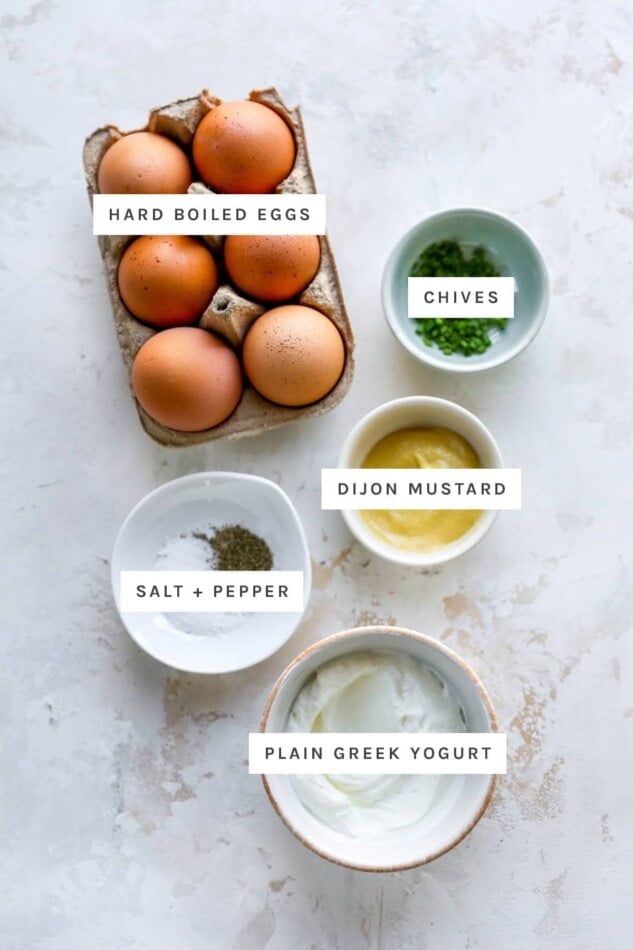 Ingredients Needed
hard-boiled eggs – here is a full tutorial on how to hard boil eggs!
plain Greek yogurt – ditch the mayo for Greek yogurt! It's packed with healthy fats and the perfect creamy base for this salad. You can use whatever fat level you like for the yogurt. I buy full-fat for my daughter so that's typically what I use.
dijon mustard – adds great flavor to this salad.
chives – it wouldn't be egg salad without chives!
sea salt and pepper – for seasoning.
fresh parsley or dill – these are optional, but I wouldn't skip the fresh herbs! The fresh flavor adds so much and brings the dish altogether.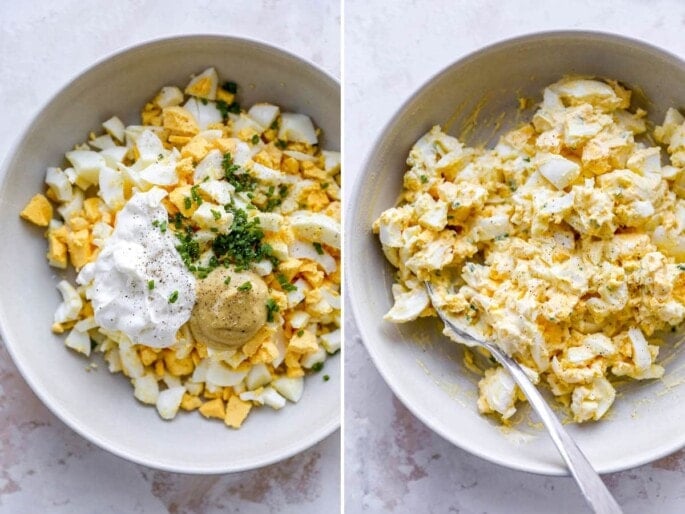 How to Make Healthy Egg Salad
Once your eggs are cooked it takes about 5 minutes total to prep this salad! Here's how:
Make hard-boiled eggs – Use my guide for how to make hard-boiled eggs. Once eggs have fully cooled, peel and chop for egg salad. You can make these a day or two in advance if you'd like!
Combine ingredients – Combine all of the ingredients in a bowl. Top with fresh herbs and enjoy!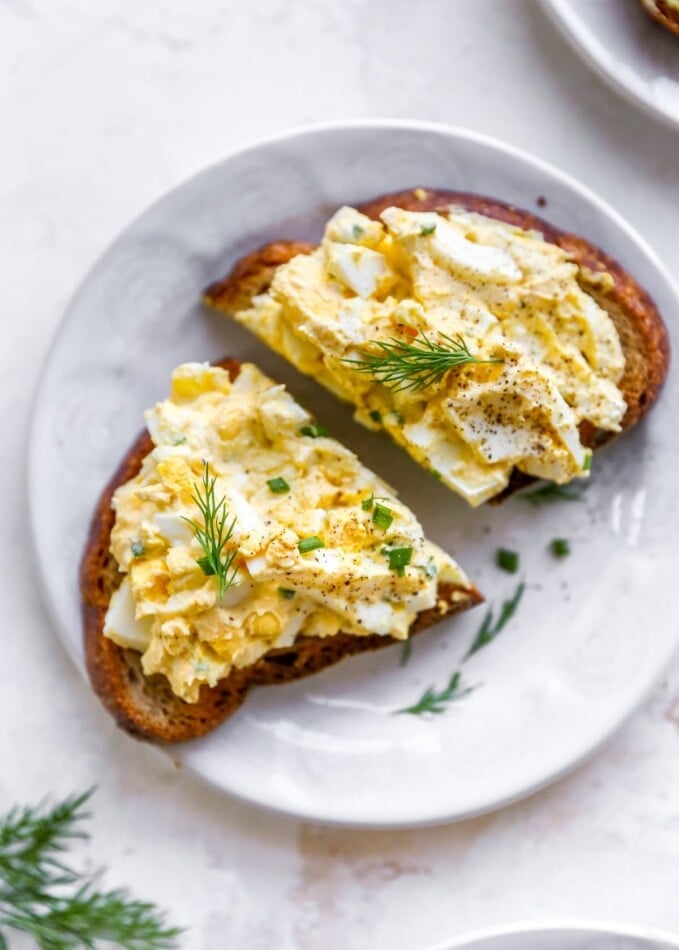 Substitutions & Notes
Add some crunch – Add some fresh celery to your egg salad for some crunch!
Spice it up – Mix in some Sriracha for some spice or smoked paprika for a little smokiness.
Chives – If you don't have chives on hand, feel free to skip them or swap them with chopped onion.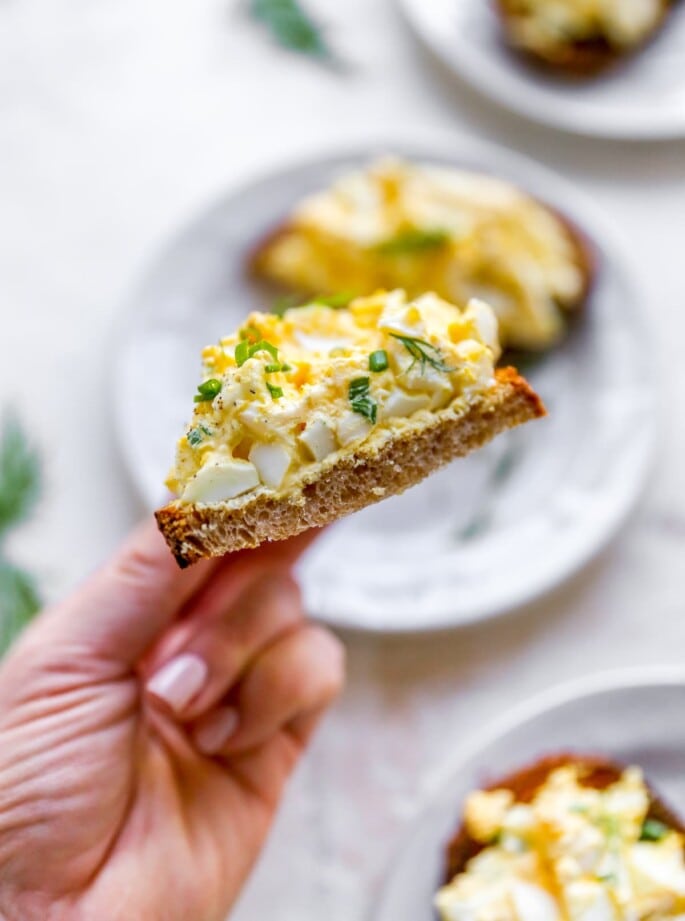 How to Serve Egg Salad
There are so many ways to serve this healthy egg salad. Here are some serving suggestions:
With crackers: Serve this egg salad with crackers for a snack or an appetizer. Try my almond flour crackers.
As a sandwich: Make egg salad sandwiches by serving on sourdough bread. I love adding a slice of tomato, red onion, and lettuce to make it a full sandwich.
Over greens: Top a bed of greens with this egg salad for a meal-sized salad or serve it in lettuce leaves for lettuce wraps.
Prepping and Storing Egg Salad
Egg salad is the perfect meal prep recipe! Double or triple this recipe for healthy meals and snacks all week long. After mixing all of the ingredients together, store leftovers in an airtight container in the fridge. The salad will keep for 3-5 days.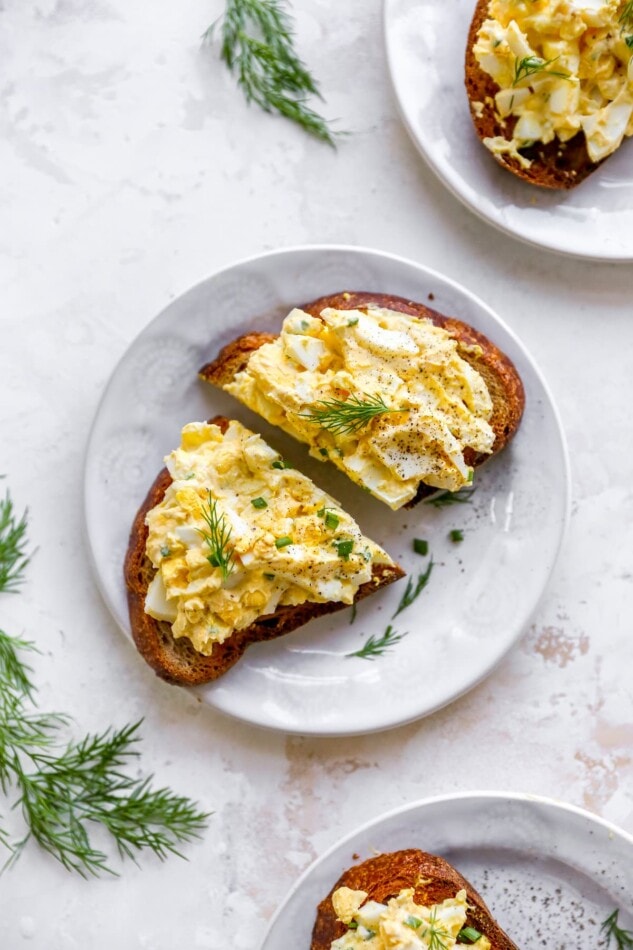 More Egg Recipes
Healthy Deviled Eggs
Avocado Deviled Eggs
Hummus Deviled Eggs
Tuna Salad with Egg
Egg White Bites
Baked Egg Muffins
More Protein Salad Recipes
Greek Yogurt Chicken Salad
Tuna Salad
Turkey Salad
Almond Butter Chicken Salad
Curry Chicken Salad
Curried Chickpea Salad
Vegan "Chicken" Salad
Be sure to check out all of the egg recipes as well as the full collection of salad recipes on EBF!
Please see more list about Egg salad with greek yogurt
Detail: 🔗