This healthy Greek yogurt chicken salad recipe is made with spices, fresh dill, shredded chicken, celery, grapes, diced apple and walnuts. It's a warm weather favorite and the perfect side dish for your upcoming cookout or barbeque. High-protein, low carb, gluten free goodness. The best part? It's ready in just 20 minutes!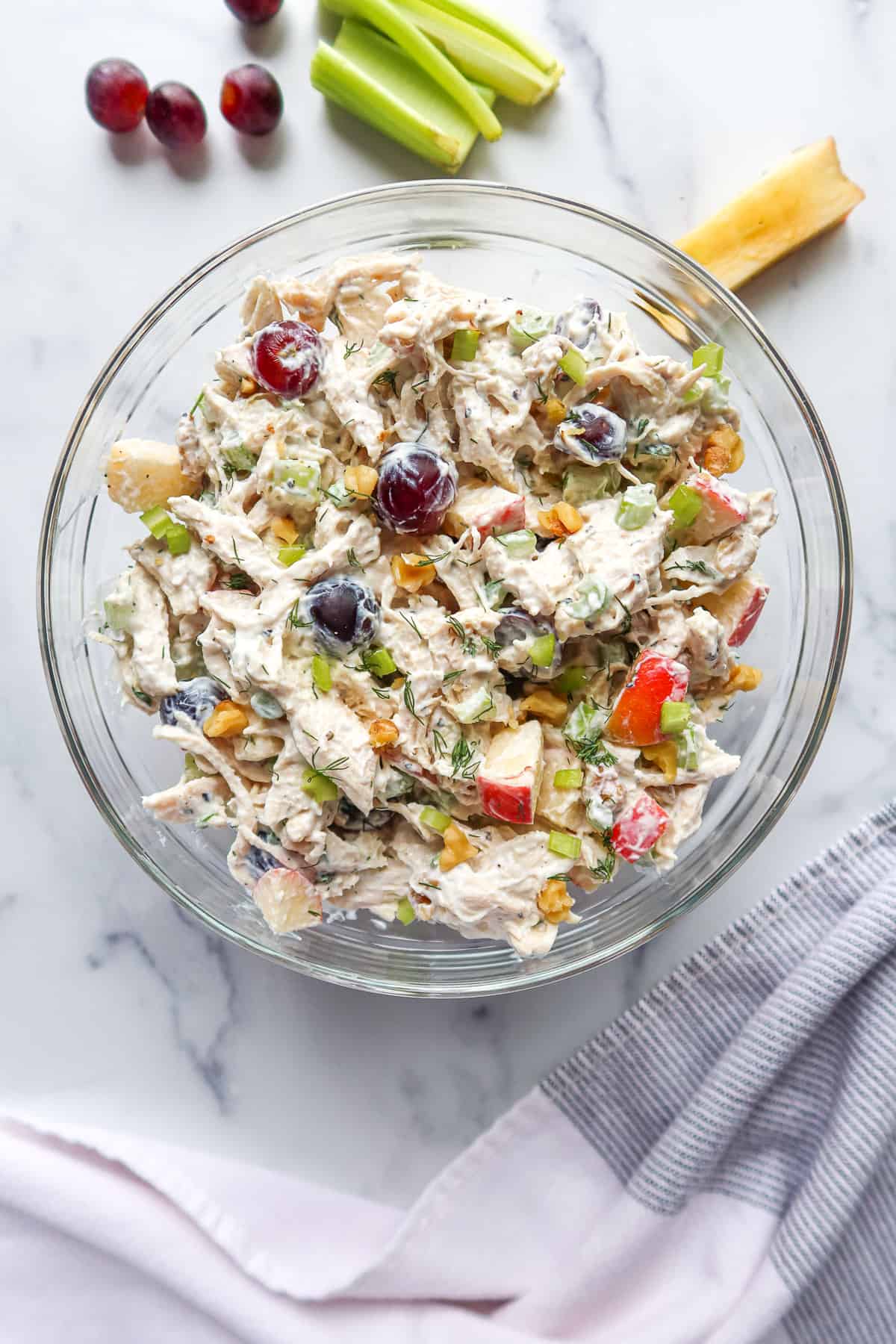 *Disclaimer: This article may contain affiliate links. As an Amazon Associate, I earn from qualifying purchases.
I love how the creamy texture of this dish contrasts with the crunch of crisp celery, tart diced apple and chopped walnuts. It's so refreshing and screams summer time!
Oh and if you need more barbeque side dish inspo, I've got you covered with any one of these crowd pleasers:
Greek Yogurt Egg Salad
Burrata Caprese Salad
Cucumber And Onion Salad
Fruit Salad With Whipped Cream
Watermelon Mint Feta Salad
Asparagus Pasta Salad
4 Ingredient Guacamole
Simple Garden Salad
Why you'll love this easy recipe:
Quick & simple: make it in 20 minutes with 10 simple ingredients!
Also read: Healthy Moroccan Greek Yogurt Chicken Salad | Ambitious Kitchen
No mayonnaise: classic chicken salad is typically made with mayo. If you're not a big fan or just want a low calorie option, this is the salad for you!
Healthy: fresh ingredients, high protein, low carb, gluten free! This salad is also very macro friendly.
Leftovers for lunch: this salad is a great way to mix things up at lunch time. Pack leftovers or make this recipe on the weekend, specifically for meal prep. Divide into individual, grab and go containers and there you have it!
Customizable: this flexible recipe can be made in many different ways! Feeling creative? Have some fun and experiment with different fruits, nuts or spices. Sometimes I like to use pine nuts instead of walnuts or substitute blackberries for grapes.
Ingredients
Regular, unflavored Greek yogurt: I like using nonfat Greek yogurt (Fage brand) but any will do!
Spices: salt, ground black pepper & garlic powder.
Dillweed: adds fresh, summery flavor. Not a fan of dill? Chopped fresh parsley is a good substitute.
Shredded chicken breast: purchase at the store, make your own or shred a rotisserie chicken if preferred.
Fresh fruit: seedless red grapes and honeycrisp or pink lady apples add a hint of sweetness to this healthy recipe! You can use berries if you want less sugar.
Celery & walnuts: for a little bit of crunch!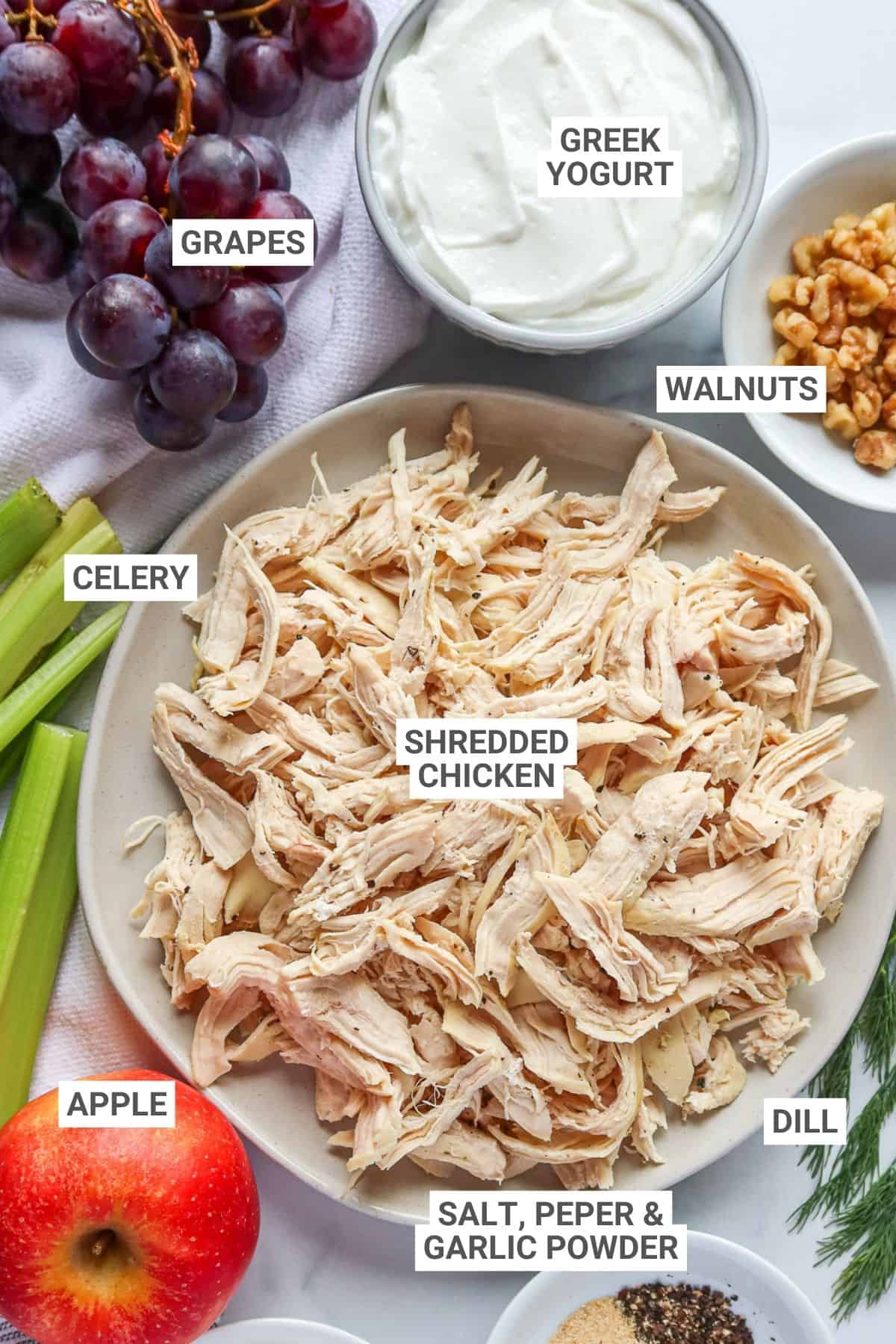 How to make creamy chicken salad:
Start by measuring your Greek yogurt, spices and chopped fresh dill into a large bowl.
Whisk ingredients together vigorously, until smooth.
Stir in shredded chicken, celery, prepared fruits and chopped walnuts.
Give everything a good stir! Mix until all ingredients are well coated in dressing.
Chill and serve. You can also enjoy your salad at room temperature but it's really best cold.
Handy tips:
Shredded chicken: For this recipe, you'll want to buy pre-shredded chicken at the grocery store or make your own.
Also read: Healthy Greek Yogurt Chicken Salad
I've started making shredded chicken in bulk on the weekend and freezing it in 2-3 cup portions to use in weeknight cooking.
Note: If you choose to purchase pre-shredded chicken, you will most likely find it in the frozen food section or the fresh/refrigerated area in the deli. You can also shred a rotisserie chicken or use canned!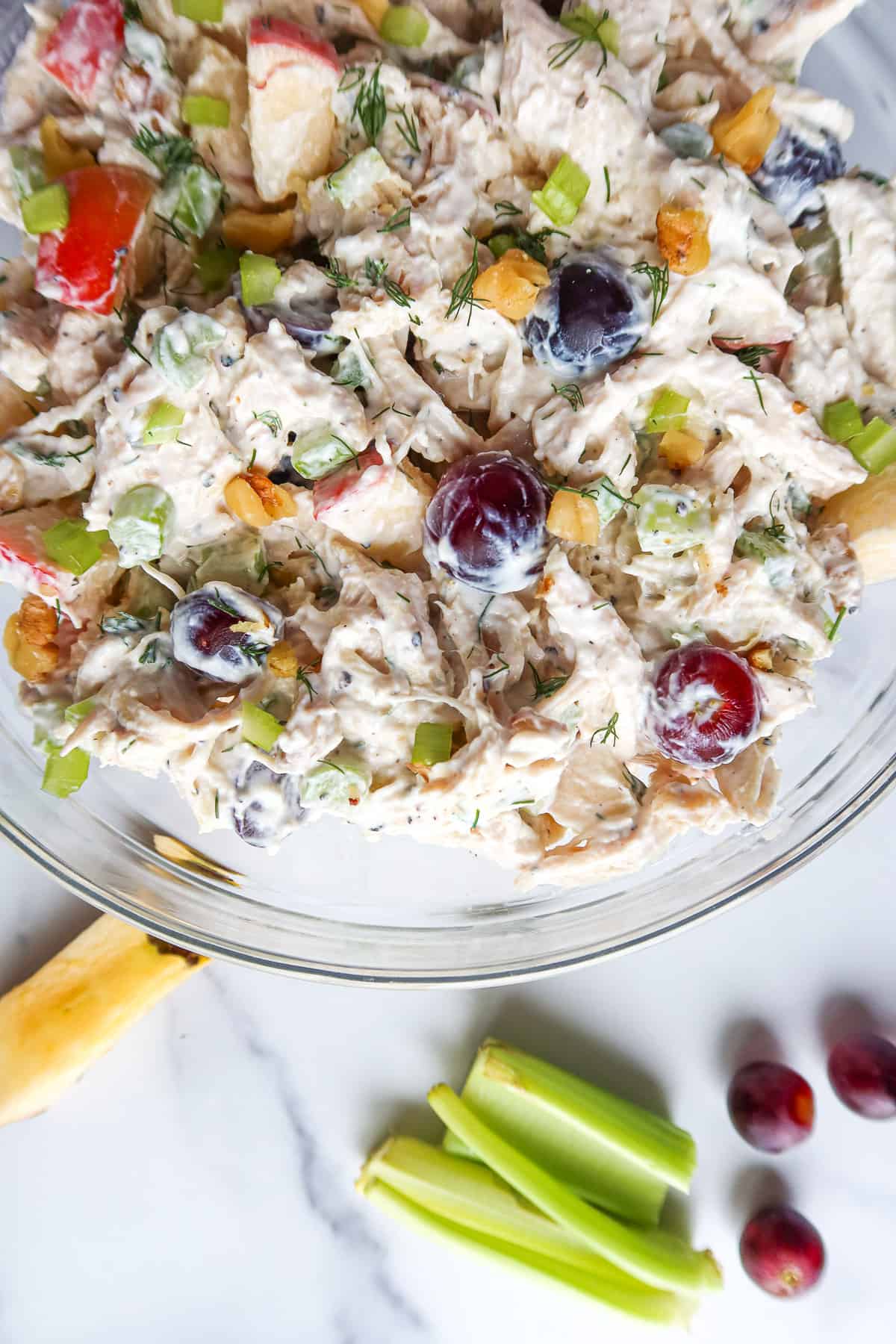 Serving suggestions:
There are so many ways to enjoy this chicken salad!
Eat it on toasted slices of bread or use it to make lettuce wraps / sandwiches.
Think of it as a dip and enjoy with pretzels, crackers and sliced veggies (like cucumber, pickles, carrots, zucchini, etc).
Also read: Greek Yogurt Chicken Salad – Wendy Polisi
And of course this salad is delicious on it's own. It's the perfect dinner or barbeque side and solo leftovers are a great, easy, make ahead lunch option.
Is chicken salad keto?
This chicken salad recipe is definitely keto friendly (low carb), but it's very high in protein and the keto diet focuses on having the majority of your calories comes from healthy fats.
If you're trying to stick really closely to a keto diet I'd suggest using full fat Greek yogurt, a little less shredded chicken, and diced avocado or berries as a substitute for grapes and apples!
Storage instructions:
Transfer leftover chicken salad to an airtight container and refrigerate for 3-4 days. I don't recommend freezing chicken salad as it can change in texture once thawed.
More shredded chicken recipes you'll love:
Chicken Tinga Enchiladas
Keto White Chicken Enchiladas
Taco Salad Bowls With Shredded Chicken
Chicken Taco Stuffed Bell Peppers
Creamy Chicken Gnocchi Soup
Cozy White Chicken Chili
Pin it for later!
Did you make this recipe?!
Wahoo! Thank you so much for trying it out – would you leave a rating?! Simply click on the stars in the recipe card above.
Through this article, we hope to help you understand Healthy chicken salad recipe with greek yogurt