Today, I come to you with a Healthy Greek Yogurt Chicken Salad Recipe that celebrates the deliciousness of plain yogurt and uses it in place of mayonnaise. The beauty of this recipe is that it comes together in about 30 minutes and is just as delicious as the mayo-laden classic chicken salad that you eat in every potluck. With just a few creative ingredient swaps, all of which are probably already in your fridge/pantry, you can make the best chicken salad without using a drop of mayo.
Plus, below you will find my four favorite ways of serving it so that it will never get boring and will deserve a permanent place in your weekly meal prep all year round. Packed with fresh produce and tossed in a healthy Greek yogurt dressing scented with garlic, lemon juice, and fresh dill, every bite is bursting with flavor. And this high protein, low calorie, and low carb salad is so versatile, you'll find yourself making it over and over again.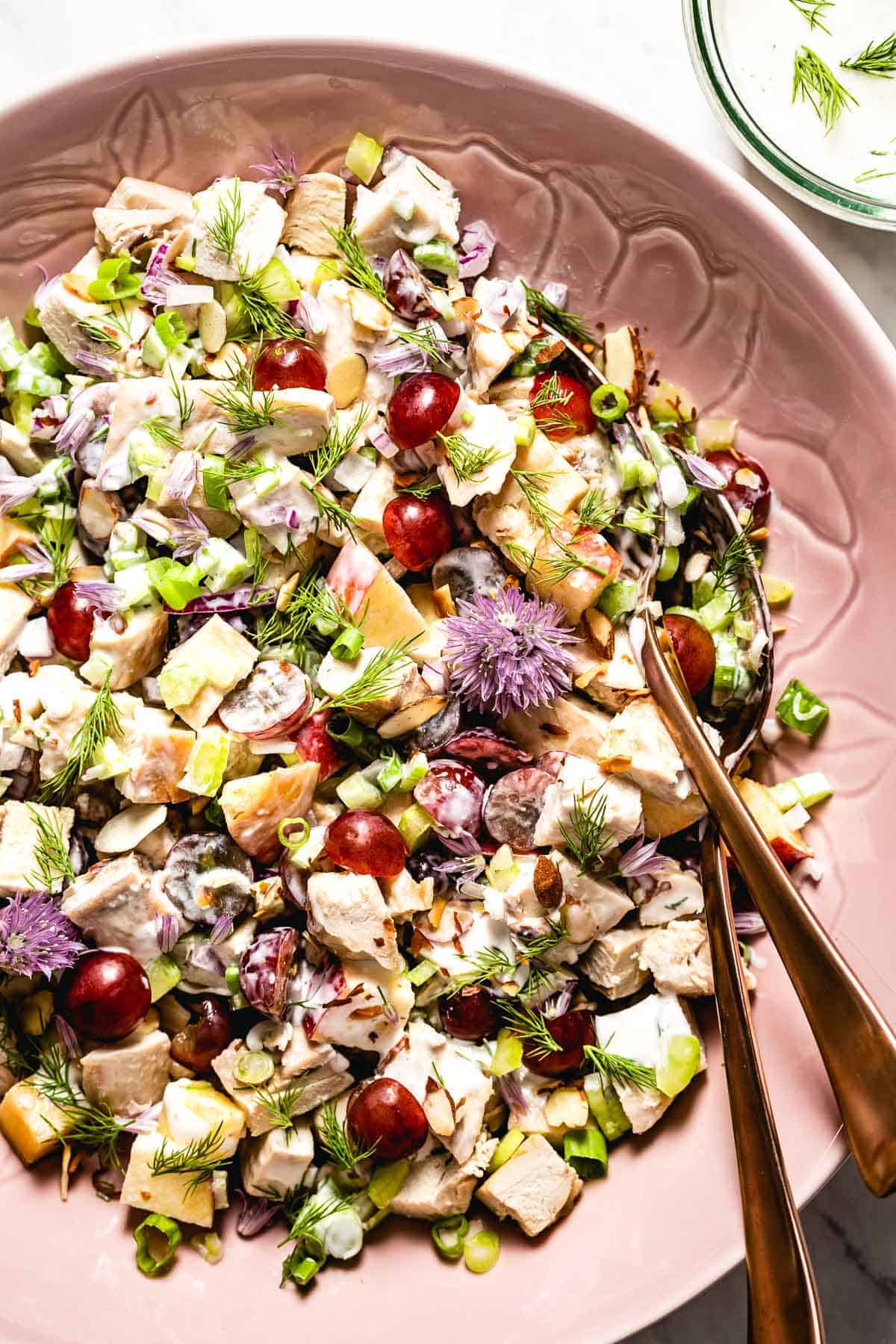 Ingredients:
To make this chicken salad with yogurt you will need three sets of ingredients:
The dressing: Grab plain regular yogurt, garlic, lemon juice, olive oil, fresh dill, and salt and pepper.
Salad Ingredients: Get together cooked chicken, crunchy celery, green onions, red onion, sliced almonds, and red grapes.
Optional Add ins: You can pretty much add in whatever you have on hand but my favorite add ins are ripe avocado, cucumber, radishes and chives.
Ingredient Notes & Substitutions:
Chicken: You can cook chicken right before making the salad or use leftover rotisserie chicken (more on this below) for a 30-minute recipe.
Yogurt: I like to use full-fat Greek yogurt in this recipe but for more of a Skinny Chicken Salad with Greek yogurt, simply use fat-free or non-fat yogurt instead of whole milk.
Fresh herbs: I use a combination of fresh dill and fresh chives but you can use fresh parsley or even fresh mint if you like.
Not a fan of grapes? If you prefer your yogurt chicken salad without grapes, simply omit using them.
Want to make a chicken salad with no fruit? Replace the apple and grapes with an equal amount of diced fennel and cucumber for a bright, crisp flavor.
For a sweeter, fruitier salad, use Honeycrisp or Gala apples. For a tart, crisp chicken salad, use Granny Smith apples instead.
Make a shredded chicken salad recipe with Greek yogurt by replacing the cubed chicken with an equal amount of shredded chicken. Just note – it will be softer in texture.
How To Make Greek Yogurt Chicken Salad (Without Mayonnaise)
This simple salad recipe comes together in 3 folds.
Make the dressing: Prepare the Greek yogurt dressing by whisking together the plain Greek yogurt, garlic, lemon juice, olive oil, salt, and pepper in a small bowl. Add in the fresh dill, give it a good stir, and set it aside.Want to see how I make it? Check out my post on how to make Greek yogurt salad dressing.
Gather the salad ingredients: Place the prepared chicken, scallions, red onion, celery, apples, grapes, and almonds in a large bowl.
Assemble: Drizzle the ingredients with the Greek yogurt dressing and give it a gentle toss. I used the whole cup of the dressing, but you can use less of it if you want.Taste for seasoning, adjust to your liking, and serve as a salad, sandwich, lettuce wrap, or in a jar (more on that later!).
Step By Step Video of How To Make This Healthy & Light Chicken Salad:
Different Variations
Make It With Seasonal Ingredients:
The beauty of this chicken fruit salad is that it is so versatile. I used apples and grapes mixed with sliced almonds as I took some inspiration from my Waldorf Chicken Salad. But feel free to use fresh, seasonal ingredients so you can make this recipe any time of year.
For the Spring/Summer months,use fresh blueberries and diced strawberries instead of apples and grapes. For the Fall/Winter months, use dried cranberries or raisins instead of grapes and replace the sliced almonds with more robust nuts such as walnuts or pecans.
Make Chicken Salad With Leftover Chicken
Like most chicken salad recipes, using leftover chicken makes this come together quick and easy. Luckily, I have a local market that makes some of the best rotisserie chicken in the area. It's a great way to make this a rotisserie chicken salad with Greek yogurt in under 30 minutes.
When I have time, I usually roast 2 or 3 split chicken breasts and use them in this salad. I like breast meat because it is easy to flavor and low in calorie compared to other parts of chicken. If you need a foolproof recipe, be sure to try my Oven-Baked Bone-In Chicken Breast recipe.
With that being said, you can use an equal amount of roasted chicken thighs as well.
How To Store:
Store leftovers in an airtight container for up to 5 days. As it sits in the fridge, it may dry out a little bit. Feel free to add in a tablespoon of yogurt to the leftovers for a creamy chicken salad before serving.
This recipe was originally published in June 2019. It has been updated with minor edits and no changes to the original recipe in July 2021.
Please see more list about Healthy chicken salad recipe with greek yogurt