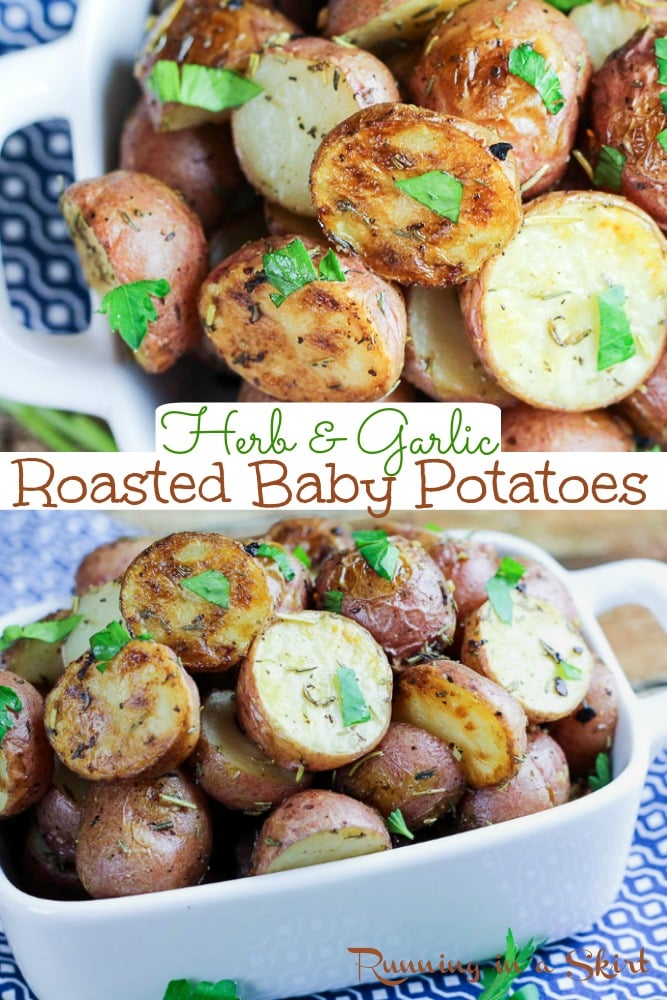 Baby red potatoes are so tender and delicious. I love to roast them under high heat and toss them with rosemary, thyme, and garlic to create my famous oven roasted baby red potatoes recipe with herbs and garlic. This healthy side-dish is a crowd-pleaser!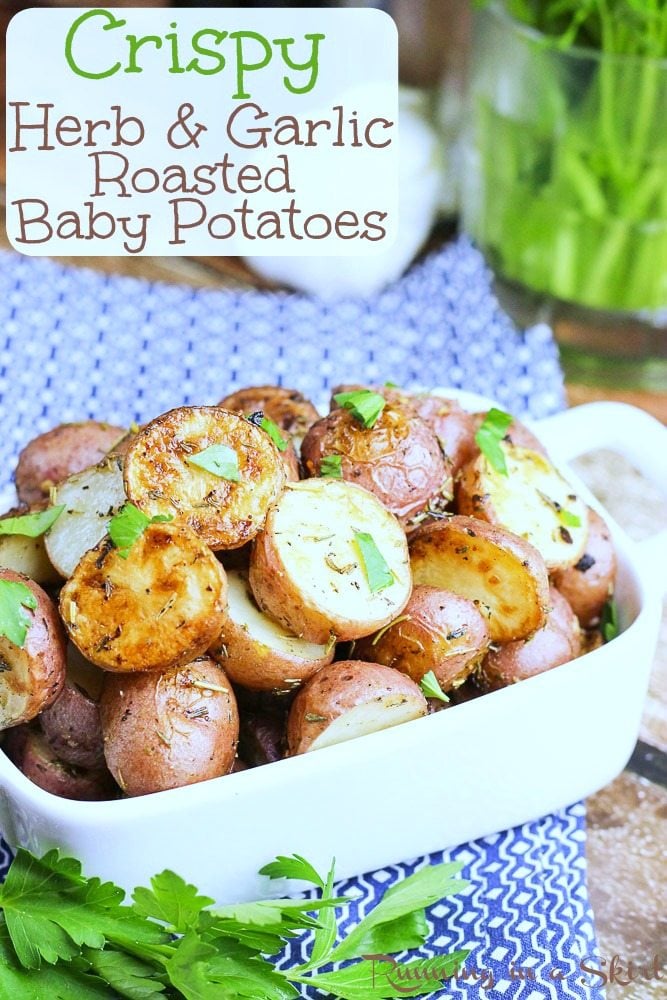 Reading: How long to roast potatoes at 450
Baby Red Potatoes Recipe
I make a lot of dishes routinely, but this one Roasted Baby Red Potatoes is a favorite. This is one that I make over and over and I dare say it is famous in my family. They ask for "THOSE potatoes, please." My oven-roasted baby red potatoes with herbs and garlic are simply perfection.
The star of this dish is simple and healthy baby red potatoes. Sure… you could buy russet potatoes, sweet potatoes, or even standard-sized red potatoes but the specialty BABY red potatoes are just a little more festive in my opinion. I love the ones in the netted bags that are small enough to eat in one bite. I like to cut mine in half for even easier eating.
Here's my favorite way to cook them.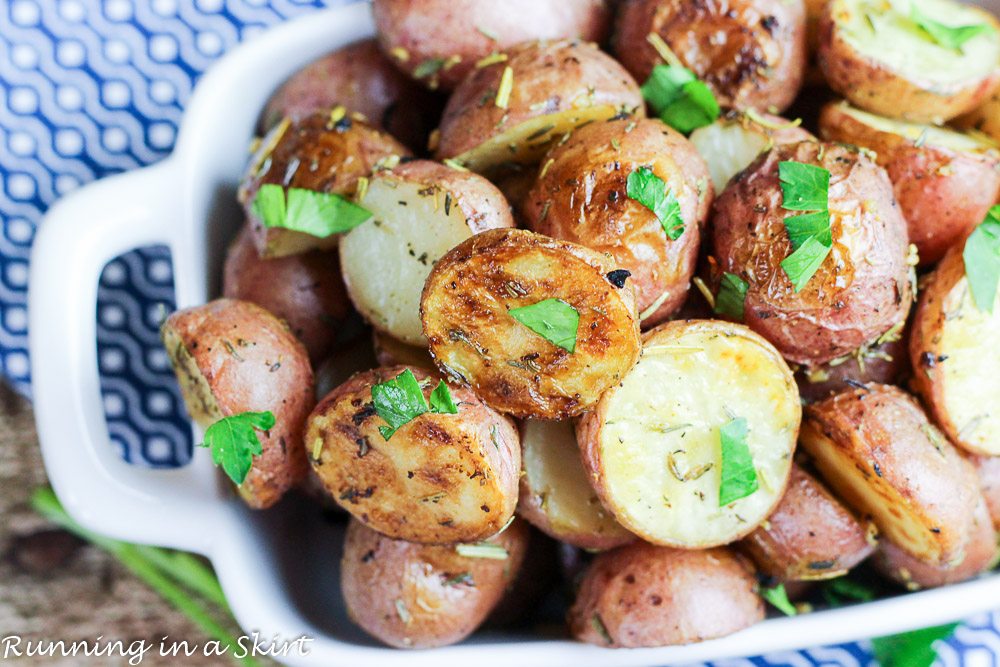 Why You'll Love these Oven Roasted Baby Red Potatoes…
Whenever we are cooking a nice dinner on the weekend or company is coming over, I'll pull this Oven Roasted Baby Red Potatoes recipe out. It's one of those tried, true and well-loved dishes. It's simple, but that's where the joy comes. It's easy to prepare and nearly everyone loves it. It is the definition of a crowd-pleaser.
The recipe starts with those pretty little baby red potatoes.
You could do this recipe with any size red potatoes and cut them down, but I love buying the special tiny potatoes at the store… tiny baby red potatoes in all their petite glory!
When you cut them in half, they are about the size of a quarter round.
So cuuuuttttteeeeeee!!!!!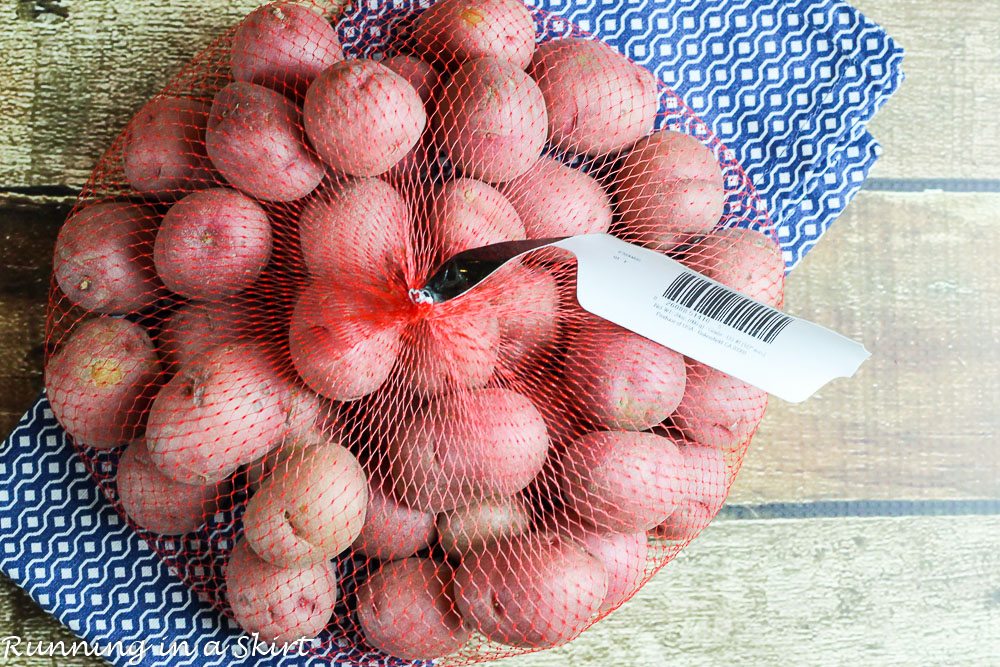 Ingredients:
Read more: How to Roast Frozen Vegetables
Here's what you will need to make these baby red potatoes.
Baby red potatoes: You can really use any type of potato in this recipe, but I love baby red potatoes for their extra health benefits! They contain fewer calories, carbs, and fiber than Russets, and they even have more Vitamin K and niacin.
Olive oil: Pick a quality olive oil for the best results. This one is great off Amazon.
Spice blend (thyme, rosemary, garlic): These seasonings are a great complement to this dish. I can guarantee no one will be able to turn it down! Plus, they make the potatoes smell so good when they are cooking. You can also use an Italian seasoning blend if you don't have all of those handy.
Salt and pepper: I use a heavy hand with both salt and pepper for my baby red potatoes.
Parsley: Parsley makes the perfect garnish as it adds nice flavor and color to the dish.
Instructions:
A simple toss with olive oil, salt, pepper, garlic, and my own fabulous spice blend and you are ready. I roast mine at a high temperature so they cook quickly and get that perfect char on the skins. It's really the only way to get them crispy… plus it doesn't take as long to cook this way!
Here are the step by step instructions for baby red potatoes:
Preheat the oven to 450 degrees and line a baking sheet with foil for easy cleanup.
Cut your baby red potatoes in half.
In a large bowl toss the potatoes in olive oil, garlic, and herbs. Pour the potatoes onto a baking sheet.
Roast the baby red potatoes until they are tender. It should take about 20-25 minutes.
Serve immediately!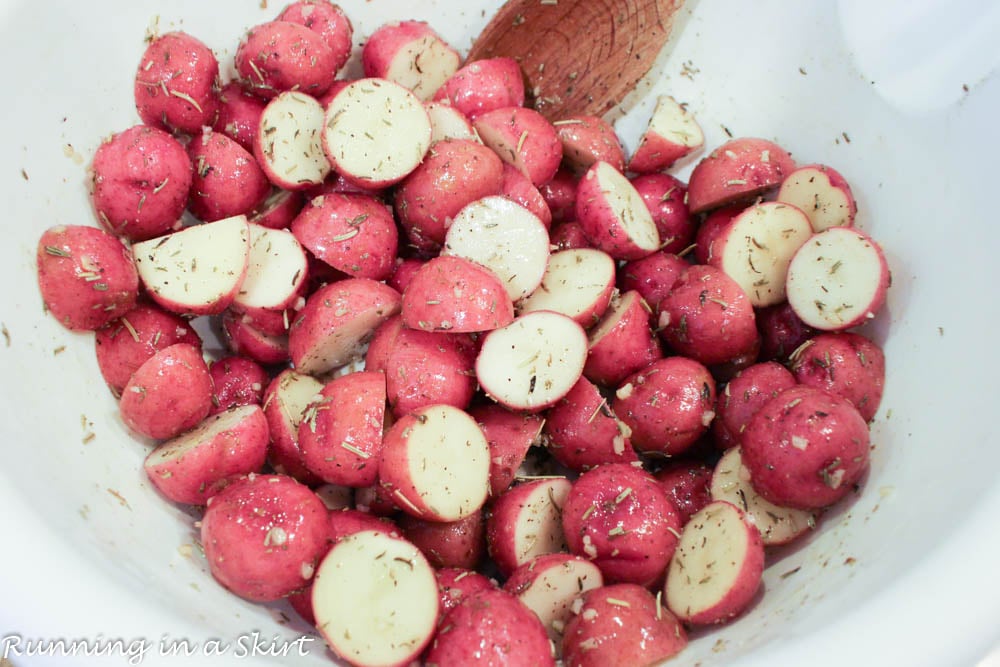 Variations & Pro Tips
If you don't have fresh garlic use garlic powder or salt.
I like to sprinkle a little extra garlic salt on my potatoes at the end. If you love salty, garlicky food… TRY IT!
Instead of the individual herbs try an Italian Seasoning blend or Herbs de Provence
If you can't find baby red potatoes you can use regular red potatoes and just cut them into smaller bites. This recipe will actually work for any type of potato just cut them into even-sized bites for roasting.
How long do you cook baby red potatoes?
If you follow my recipe at 450F, you'll roast the potatoes for 20-25 minutes or until they are golden brown and soft. The high temperature cooks them quickly and gives them a nice crispy skin!
How do you know when baby red potatoes are done?
The potatoes are done when tender. You can test this by piercing the potato with a fork, knife, or skewer. If the utensil easily slides in, the potatoes are done.
Do you have to peel baby red potatoes?
Nope! In fact, I recommend leaving the peels on as they have a beautiful crispy texture after baking, and they pack extra nutrients too!
Can you Make this Ahead of Time?
Yes, although roasted vegetables do tastes best right out of the oven. If you do make it ahead of time, I'd warm it up in the oven for best results.
How do you store leftovers?
Read more: The list of 15 temperature to roast prime rib
Store any leftovers in an airtight container in the fridge for up to 5 days.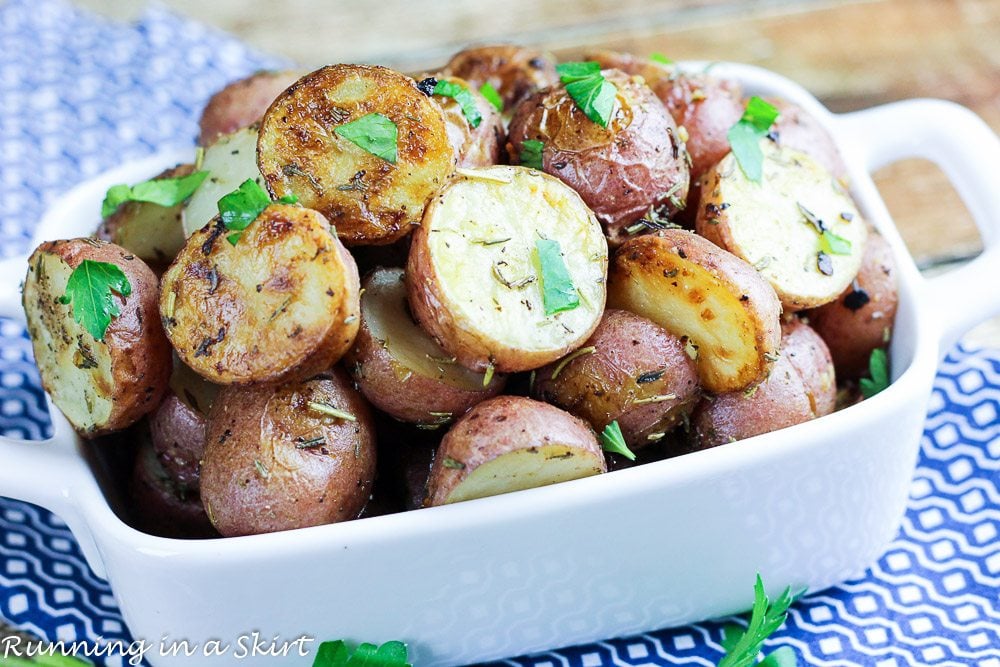 These Roasted Baby Red Potatoes are Healthy!
This oven-roasted baby red potatoes recipe is little bites of carb-y heaven! I seriously don't know why the spud gets a bad rep… because these are incredible. Potatoes are low-calorie, full of potassium, vitamin C, AND a good source of vitamin B6… so you can enjoy these knowing good stuff is going in your body.
Make it a Meal:
Serve these bites with my Lemon Salmon with Greek Yogurt Dill Sauce and Roasted Lemon Parmesan Broccoli for one delicious meal.
I hope you enjoy this family recipe! As always, I'd love to hear what you think.
More Potato Recipes to Love:
5 Ingredient Crock Pot Rosemary Lemon Red Potatoes
Crock Pot Loaded Mashed Potatoes
Healthy Twice Baked Potatoes
Healthy Honey Mashed Potatoes
Healthy Potato Salad with Greek Yogurt
If you make this recipe, I'd love to hear what you think! Leave a comment and a star rating ★ below. Make sure to follow me on Instagram, Pinterest, and Facebook too!
Pin for later:
Read more: Roasting Coffee At Home (Guide, Tips & More)
Please see more list about How long to roast potatoes at 450
Source: https://www.runninginaskirt.com/oven-roasted-baby-red-potatoes/