High Calorie Smoothies for Weight Gain
High calorie smoothies are a great way to add calories and get an extra boost of nutrition. When someone is experiencing unintended weight loss or just needs to gain a few pounds, calories are the answer.
Sometimes it's hard to get additional calories from regular meals. Adding a high calorie smoothie is a great option to maximize intake. It can be easy to sip on a weight gain smoothie in between meals.
Reading: high calorie smoothies gain weight
I am a big fan of both high calorie shakes and smoothies. High calorie smoothies are often packed more vitamins and minerals. The key is providing a high calorie beverage that someone will actually drink. Whether it's a smoothie or a shake there are so many options.
How to Make a High Calorie Smoothie
It's pretty simple to get started. You just need to add a bunch of ingredients into a good blender. Experiment with what works best. Add more liquid if it's too thick. Add more solid ingredients if it's too thin.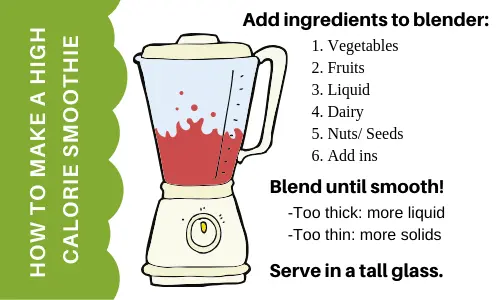 Here are some basic ingredients to add to your high calorie smoothies:
Vegetables
Fruits
Liquid
Dairy
Nuts/ Seeds
Add ins
Let's review some examples of what you add to a smoothie. We'll end with some sample recipes to get you going! Keep in mind these are just some ideas.
Vegetables for Smoothies
Most vegetables are actually quite low in calories. But they do provide a ton of vitamins and minerals. And they can add some fun taste and even color to a smoothie.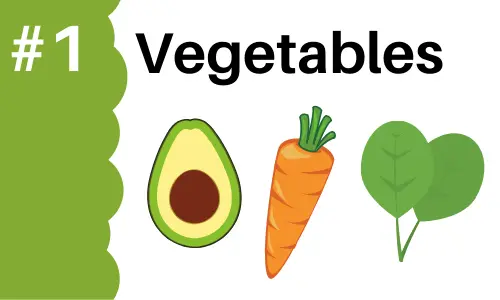 Here are some vegetables to add to smoothies:
Avocados
Carrots
Spinach
Kale
Avocados reign as the highest calorie option here. They are high in heart healthy fats. And they will give a creamy taste to any smoothie. Carrots add a hint of sweetness. And greens often have a minimal taste, but add a nutrient boost.
Fruits for Smoothies
Fruits can be moderately high in calories but are also jam packed with vitamins and minerals.

Here are some fruits to add to smoothies:
Strawberries
Bananas
Pineapple
Apple
Orange
Berries
The banana is a great high calorie option. There are around 100 calories in a medium sized banana. It will give some creaminess to a smoothie and tastes good. Sky is really the limit for fruits to add to a smoothie. There are a ton of different options!
Liquids for Smoothies
Read more: Easy Berry Smoothie Recipe
All smoothie needs some liquids to get them blended up and ready to drink. We do not want to add water to high calorie smoothies. Water has no calories. We want to make sure every ingredient that goes into the blender is high in calories.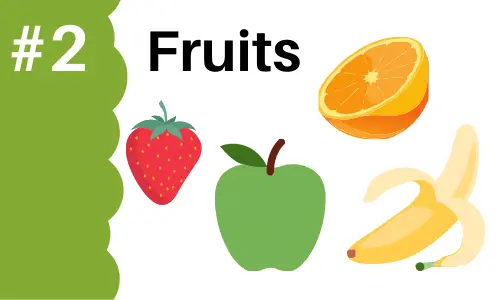 Here are some liquids to add to smoothies with calories:
Whole milk
Half and half
Soy milk
Orange juice
Apple juice
Cranberry juice
Pineapple juice
Half and Half has the most calories of the options listed. It will make the smoothie very creamy and borderline on a milk shake. But any juice or milk option will do here! Some plant-based milks are lower in calories- try to pick the options with the most calories.
Dairy for Smoothies
Dairy products can be high in calories if we use the whole fat options. A couple of dairy items were listed in the liquids section above, but let's cover some more dairy options you can add.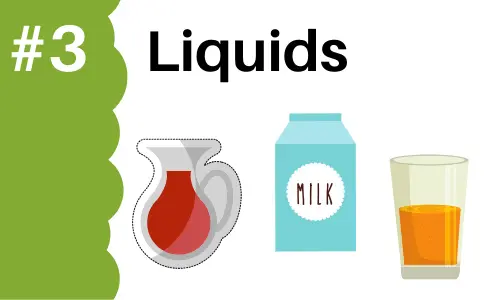 Here are some liquids to add to smoothies with calories:
Yogurt
Greek Yogurt
Cottage Cheese
Ice-cream
Sherbet
Be sure to read the nutrition labels and get the options with the HIGHEST number of calories. Often times dairy products are sold as "light" or lower in calories… a majority of the public isn't looking to gain weight. Food marketers are often targeting weight loss in dairy products.
Nuts/ Seeds for Smoothies
Nuts and seeds are high in heart healthy fats. This is a great option if you have a good blender. If you don't have the strongest blender and don't want too much texture, use powdered nuts/seed or pre-made nut or seed butters.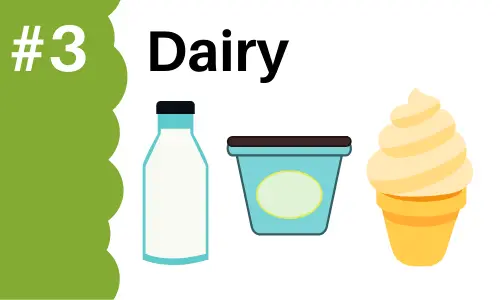 Here are some nuts/seeds to add to smoothies:
Peanut butter
Almond butter
Walnuts
Almonds
Flax seed
Chia seed
Flax and chia seed are high in omega-3 fats. Peanut butter is super high in calories and a tasty edition to a smoothie- depending on the ingredients.
Add ins for Weight Gain Smoothies
But wait, there's more! Here are some high calorie add ins that don't necessarily fit into the categories above.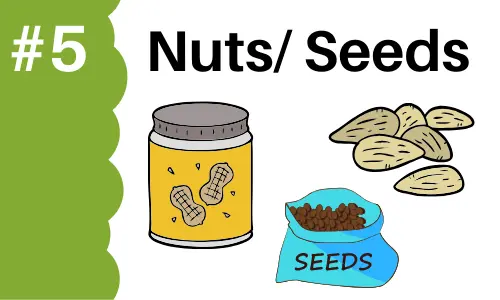 Here is other high calorie add ins for weight gain smoothies.
Protein powder
Powdered milk
Honey
Oats
Instant breakfast
Coconut cream
The protein powder will add an extra boost of protein if needed. Honey will add some sweetness along with calories. And oats, while it may seem like a strange ingredient, will add some extra fiber and fun taste. You can use powdered oats, soak oats in liquid 10-20 minutes before blending, or even use raw oats if you don't mind the texture (they will get ground and softer when you blend).
High Calorie Smoothie Recipes for Weight Gain
So how can you incorporate these ingredients into a tasty smoothie? Here are some sample recipes for weight gain to get you started!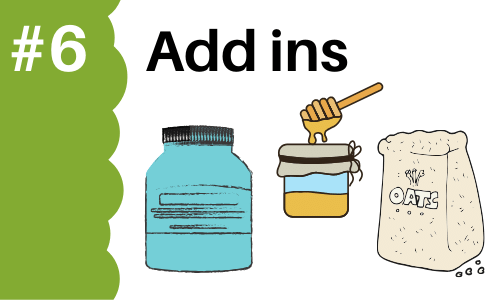 Green Smoothie
Read more: How to make homemade iced green tea
Estimated Calories: 515
1 medium avocado
1 cup pineapple
½ medium apple
1 cup spinach
1 cup apple Juice
Strawberry Banana Smoothie
Estimated Calories: 650
2 cups strawberries
1 medium banana
1 cup whole milk
½ cup Greek yogurt
1 Tbsp chia seed
1 Tbsp honey
Blueberry Blast Smoothie
Estimated Calories: 465
1 cup blueberries
1 medium banana
½ cup vanilla Greek yogurt
1 cup cranberry juice
1 Tbsp ground flax seed
Pineapple Coconut Smoothie
Estimated Calories: 525
1 cup pineapple
1 medium banana
½ cup coconut cream
1 cup pineapple juice
Peanut Butter Oatmeal Smoothie
Estimated Calories: 730
¼ cup powdered oats
1 medium banana
1/2 cup half and half
¼ cup peanut butter
1 Tbsp honey

High Calorie Smoothies Pro Tip: Frozen juice

Before I wrap up the post, I wanted to share a high calorie pro tip. Some people like their smoothies cold. Using frozen fruit is a great way to make a cold frozen smoothie. Some people use ice too. But ice is water. Water has no calories. Don't use ice.
Instead, you can freeze juice in an ice-cube tray and use this for your smoothies. It will provide an ice-cold frozen smoothie and you won't be wasting any volume. It will be jam packed with calories!
P.S. You can freeze milk or half and half too.
High Calorie Shakes
If you are interested in learning more about high calorie shakes, check out my free resource on RD2RD Marketplace High Calorie Shakes. It includes The King of Calories recipe with a whopping 1200 calories! And it's delicious! You can also purchase the High Calories SHAKES e-Cookbook which contains 25 delicious recipes, color photos, and tips for weight gain.
Conclusion
I hope this article gave you some good ideas for making high calorie smoothies for weight gain. It's really pretty easy once you get the hang of it. And if you are a caregiver for older adults, be sure to check out my blog post Weight Gain Smoothies: Stopping Unintended Weight Loss in Older Adults.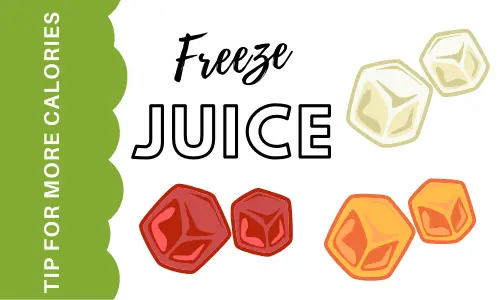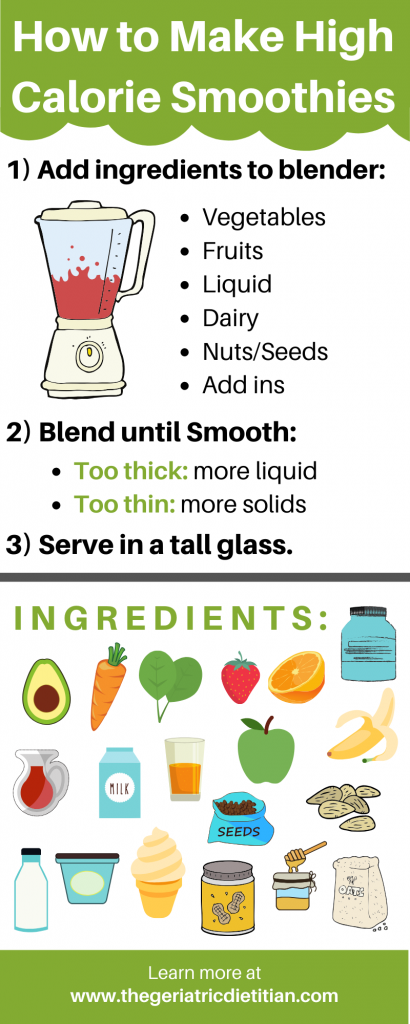 Read more: How to make homemade lemonade for kids