Prepare this savory garlic herb Holiday Prime Rib Roast for a perfect dinner. This classic prime rib recipe is perfect for the holiday season. Serve with your favorite sides for a comforting seasonal spread everyone will enjoy.
Safeway is the destination for purchasing a ribeye roast. They sell Colorado Angus Beef USDA Choice Cut meat. Since it's from a local ranch, the meat is fresh, never frozen, and doesn't have far to travel to get to your plate!
The whole Ribeye Roasts are on sale at Safeway for $5.47/lb. when you buy it whole in the bag and use a digital coupon available through December 25th.
The whole ribeye has 7 ribs and is about 20 pounds, which will feed 20 people or so. The whole ribeye takes a bit of processing, so unless you are serving a large gathering, or cutting into steaks for the freezer, you may opt for the cut and tied roast.
Alternatively, you can purchase an oven read Ribeye Roast in a custom cut, perfect for your family from the butcher for just $7.47/lb.
The Signature Cut Ribeye Roast is hand-cut and tied and is oven-ready with a pop-up timer that lets you know when the roast is perfectly medium-rare at 130°.
The holiday prime rib roast recipe below uses fresh herbs like rosemary, and thyme mixed with garlic, salt, pepper, and softened butter as a rub for the roast.
The fresh herbs really enhance the meat flavor and make the house smell amazing while the roast is cooking!
If you don't want to cook for Christmas – you can order a prepared prime rib, ham or turkey from Safeway with all the sides starting at $59.99.
Note – the Safeway video in this post does not match my recipe as Safeway uses olive oil and I used butter. Otherwise, it's similar.
How Much Prime Rib to Buy?
The butcher will recommend you purchase about one pound per person, so if you are feeding 5 people, a 5-lb. roast is perfect.
I purchased a 5-lb. roast and it was perfect for my family which consists of my husband and me, two teenagers, and a ten-year-old. We did not have any leftovers. If you want leftover meat, consider buying a larger roast.
When selecting a ribeye roast – look for good marbling and try to find one that has even fat distribution.
My cut was a little on the fatty side, so it made for a delicious roast.
Prime Rib Roast Recipe
Ingredients:
1 stick (1/8 cup) of butter, softened
8 cloves garlic, minced
1/2 cup fresh rosemary, minced
1/4 cup fresh thyme, minced
2 Tbs kosher salt
1 Tbs black pepper
5 lb. prime rib, bones cut and tied (ask the butcher to prepare the roast for you)
How to Make Prime Rib
Let the roast come to room temperature before cooking. This could take up to one hour. This step ensures the roast will cook evenly without hot spots on the top and raw meat in the middle.
Tying Up Prime Rib Roast: It is important to tie the prime rib before roasting. If left untied, the outer layer of meat will pull away from the rib-eye muscle and overcook. To prevent this problem, tie the roast at both ends, running the cooking twine parallel to the bone.
If you purchase the Safeway Signature Cut ribeye roast, the butchers will tie your rib roast for you so you don't have to do this step.
In a small bowl, combine softened butter, garlic, rosemary, thyme, kosher salt, and black pepper.
Pat the roast dry with paper towels to remove excess moisture.
Rub the butter mixture all over the roast and place the roast into a roasting pan.
Add chopped celery, onions, and carrots to the roasting pan and add 1 cup of beef broth to the roasting pan. Season the vegetables with salt and pepper and a drizzle of olive oil.
Preheat oven to 500º.
Cook the roast for 20 minutes uncovered at 500° to get a gorgeous crust and sear the meat. This also locks in the juices and is an essential step in cooking a prime rib.
Look at that crust after 20 minutes.
How Long to Cook Ribeye Roast?
After 20 minutes at 500°, decrease the oven temperature to 350º. Cook the roast to the desired doneness, about 12-15 minutes per pound for medium-rare.
For a 5 pound roast, it took 2.5 hours total cooking time for it to be done. If you've let the roast come to room temperature before cooking, it may take only 2 hours.
Note – mine took longer because I removed it from the oven for a photograph of the crust and because I didn't trust the pop-up timer, so I kept opening the oven to check.
Trust the pop-up timer, or use an instant-read thermometer to prevent opening the oven door too many times while the roast is cooking.
Here is a guide to prime rib roast cooking times based on the size of the roast and preferred doneness:
Approximate Prime Rib Cooking Time Per Pound until Internal Temperature reaches 130 degrees F at high altitude baking the prime rib at 350°
1 rib (2 to 2.5 pounds) – 25 to 30 minutes
2 ribs (4 to 5 pounds) – 1 1/2 hours – 2 hours
3 ribs (7 to 8.5 pounds) – 1 3/4 to 1 1/2 hours
4 ribs (9 to 10.5 pounds) – 2 to 2-1/2 hours
5 ribs (11 to 15 pounds) – 2 3/4 to 3 1/4 hours
6 ribs (15 to 16 pounds) – 3 1/2 to 4 hours
7 ribs (16 to 18.5 pounds) – 4 hours +
Beef Roast Cooking Internal Temperatures:
Remember that a roast will rise 5° in temperature from the residual heat when resting, so be sure to remove from the oven 5° before your ideal doneness. The optimal temperature for a ribeye roast is 135° after it has rested.
Rare – 120 to 125 degrees F. The center is bright red, pinkish toward the exterior portion
Medium Rare – 130 to 135 degrees F. The center is very pink, slightly brown toward the exterior portion
Medium – 140 to 145 degrees F. The center is light pink, the outer portion is brown
Medium Well – 150 to 155 degrees F. The roast will be brown, not pink
Well Done – 160 degrees F. and above (not advisable for a ribeye roast – becomes chewy)
Remove from the oven when an internal temperature of 130º is reached. You'll know by the pop-up timer when the roast reaches 130°.
Don't make the mistake of checking the temp every 30 minutes as I did. Trust the pop-up timer! It works!
If you want the roast slightly more well done, you can let it go to 135° – but the roast will end up 5 degrees hotter from the residual heat when resting, so do not go more than 135° for a perfect roast.
Let it rest 20-30 minutes in the roasting pan loosely tented with aluminum foil before slicing to serve.
What to Serve with Prime Rib
Mashed potatoes are the quintessential side for a ribeye roast. I like to serve with lemony green beans, a brussels sprouts salad with blue cheese and cranberry sauce on the side. Here are a couple of sides to consider.
Butternut Squash Salad With Kale, Apples & Cranberries
Winter Salad With Granny Smith Apple Vinaigrette
Instant Pot Mashed Potatoes
Mashed Maple-Orange Sweet Potatoes
Roasted Sweet Potatoes with Pecan Crunch
Roasted Ginger Green Beans Recipe
Balsamic Roasted Asparagus With Chive Aioli Recipe
Easy Cranberry Sauce
If you have someone at your dinner table who likes their meat a little done (like my 10-year-old) do not fret, the solution is so simple!
Cook the roast to the perfect internal temperature of 130° as you normally would.
After the roast has rested, slice off the first piece and place it in a hot skillet on the stovetop. Pan sear it for one minute on each side for a perfectly pan-seared ribeye steak that will be 135 – 140°.
It will still be pink and tender on the inside, but seared, and caramelized on the outside.
Dinner solved for even the pickiest of diners!
Here's a picture of my 10-year-olds dinner that she loved! Super tender, pink inside and so much flavor!
Additional Prime Rib and Beef Roast Recipes
Peppered Ribeye Roast Recipe With Roasted Garlic Sauce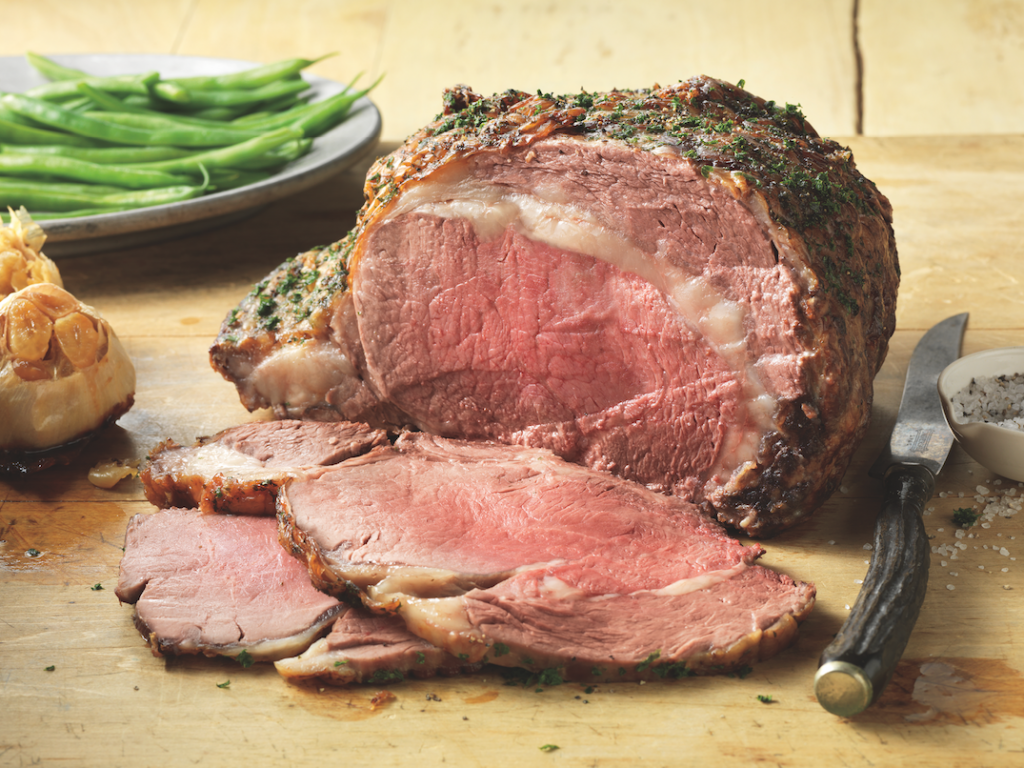 Prime Rib Roast with Red Wine Cherry Sauce
Garlic Herb Crusted Bottom Round Beef Roast
Peppered Cross-Rib Roast Recipe
Related Reading: Beef Roast Cuts What's The Best Cut for Pot Roast, Sliced Roast Beef and More
Thanks to our friends at Safeway for letting us share the video with you.
SuperSafeway is a blog devoted to helping you find the best deals at Safeway in the Denver division. Every week we find and share the best advertised and unadvertised deals at Safeway with and without coupons. We also share recipes and weekly meal planning ideas based on sales to maximize your savings. For more low prices, check out Super Safeway's weekly ad coupon matchup page. Stay updated on the best deals by following Super Safeway on Facebook, on Twitter, on Instagram, or Pinterest and subscribe to our newsletter.
* Please note – Savings information is based on Colorado pricing and the Safeway Coupon Policy for the Denver Division which includes Colorado, Nebraska, New Mexico, Wyoming and South Dakota. Your market may vary. *
For more information please see the list of Christmas prime rib roast recipe
Detail: 🔗