This post may contain affiliate links. Please read my disclosure policy.
This tangy Homemade Greek Salad Dressing has the perfect flavor balance to compliment a traditional Greek salad of tomatoes, cucumbers, red onions, kalamata olives, and Feta cheese.
Whip it up in just 5 minutes with a good quality extra-virgin olive oil, then serve this versatile dressing over salads or pasta salads, or even basted on grilled chicken or fish.
My easy Homemade Greek Salad Dressing recipe is made with dried oregano and basil, but if you have fresh, by all means use that instead. A splash of lemon juice brightens up all the flavors and a bit of Dijon mustard stabilizes the dressing so that it doesn't separate.
Try this dressing on any type of leafy green salad or use it in Healthy Greek Coleslaw for a delicious lunch. Once you try making this dressing at home, you may never the buy bottled kind again!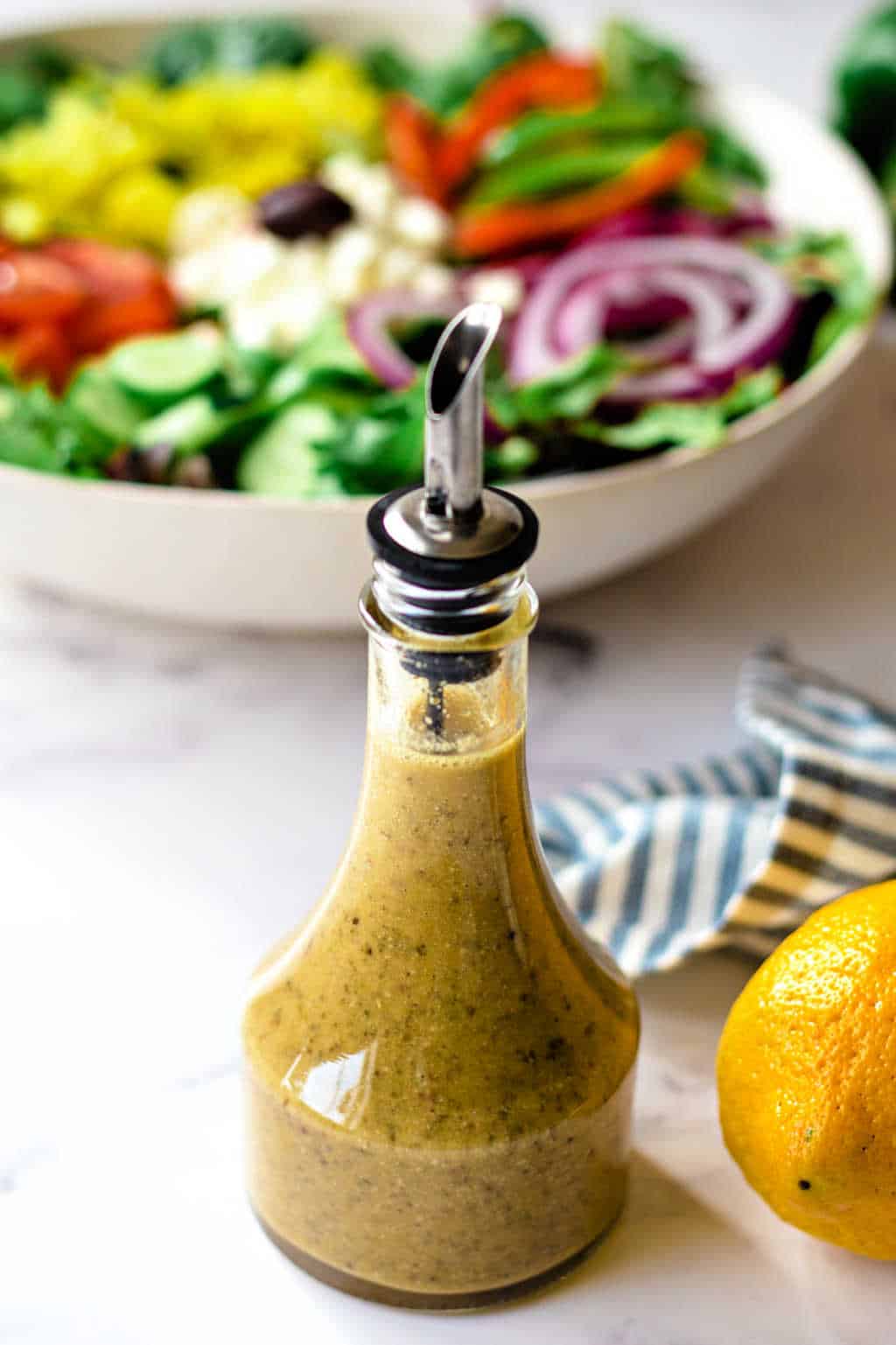 Homemade Greek Salad Dressing
I absolutely love all types of Mediterranean food, which is why I've shared a few of my favorites like Greek Chicken Kabobs with Cucumber Sauce, Greek Turkey Burgers, and Greek Olive Focaccia Bread here on my blog. I'm a sucker for olives, especially on pizza and I love them on Greek Salads.
When a fresh Greek salad is tossed with a quality Greek dressing, it just can't be beat! The last few years, I've started making most of our salad dressings from scratch.
That may seem like a lot of trouble, but once I started experimenting with making dressings at home, I was hooked.
The ingredients are fresher, I can make just the amount we need, and it only takes a few minutes. Today's Greek Dressing doesn't require any special ingredients, so it's a no-brainer to just whip up my own!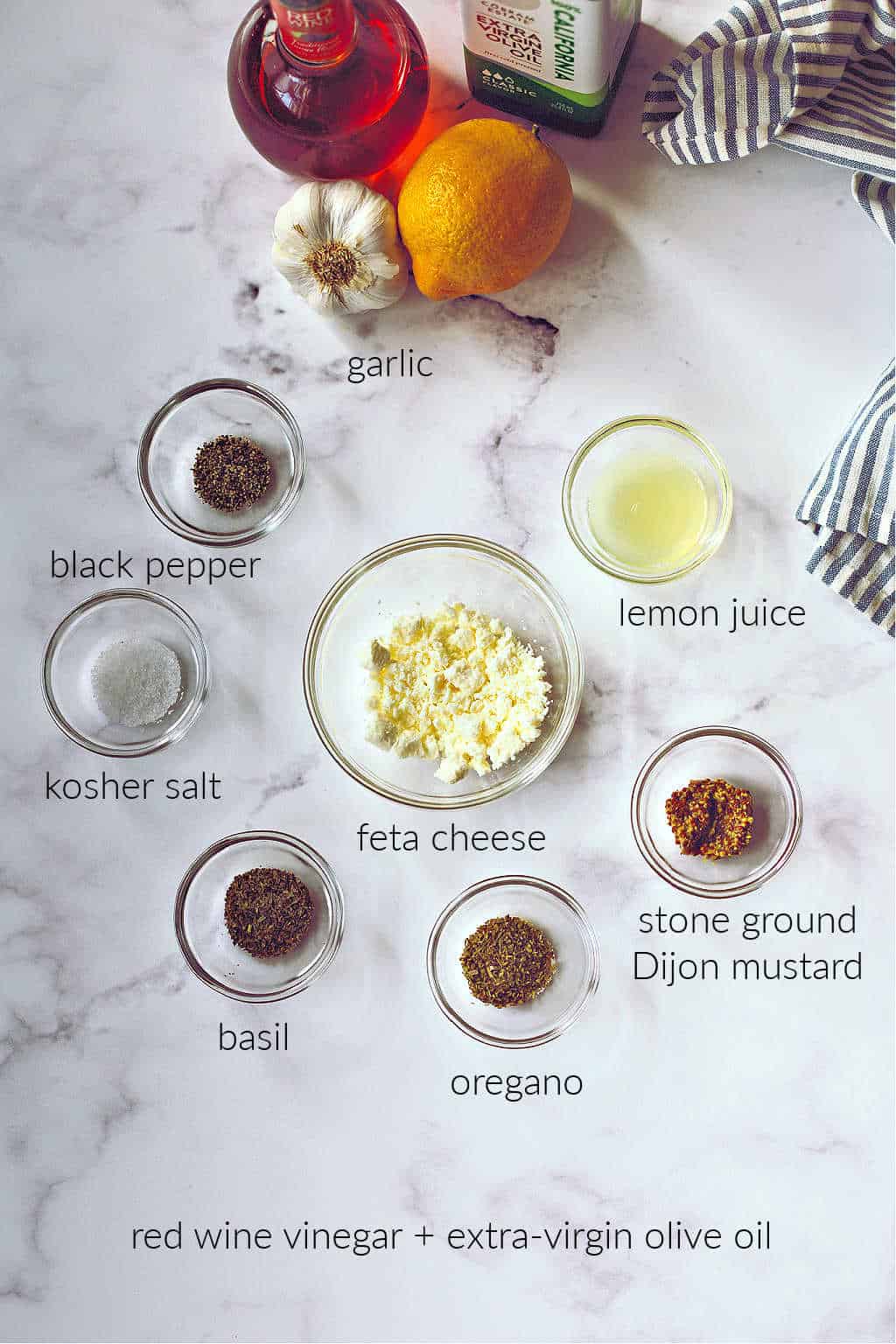 What is Greek salad dressing made of?
Greek salad dressing is an oil and vinegar based dressing made with these basic pantry ingredients:
Extra-virgin olive oil—don't use a light olive oil for salad dressings or vinaigrettes because you want the entire depth of flavor to shine through
Red wine vinegar—adds acidity and flavor. In a pinch, you can substitute white wine vinegar instead.
Fresh lemon juice—also adds acidity, but also brightens up the over all taste. Both the red wine vinegar and the lemon juice contribute to the tanginess of the dressing.
Garlic—minced so that it mixes well in the dressing
Freshly ground black pepper
Kosher salt
Dried oregano—or use fresh oregano leaves; double the amount if you use fresh herbs
Dried basil—again, you may use fresh, but double the amount and be sure to mince.
Stone ground Dijon mustard—or regular Dijon mustard, for flavor and to stabilize the dressing so that it doesn't separate after being emulsified
Feta cheese crumbles—adds flavor and gives this dressing a creamier texture
Balsamic vinegar—totally optional, but just a tablespoon or two of a good quality aged balsamic will add just a touch of sweetness to the dressing.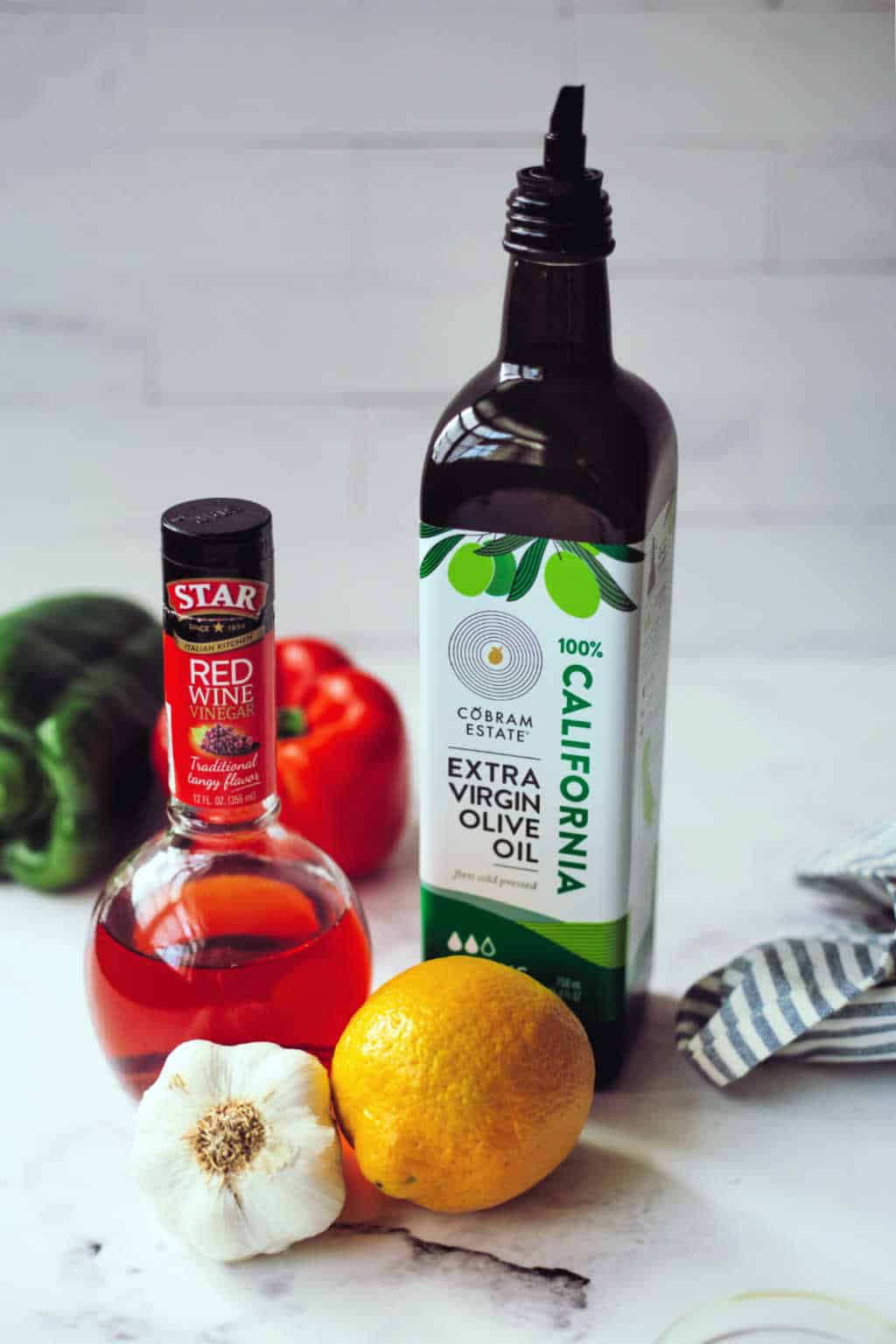 How do you make Greek salad dressing from scratch?
First, mince the garlic clove and squeeze the lemon for fresh juice—that's all the prep work needed!
Add all the ingredients to the bowl of a food processor or blender, except for the Feta cheese and balsamic vinegar (if using). Process until the mixture is well combined and emulsified, meaning the oil and vinegar are no longer separated.
If using, add Feta cheese and balsamic vinegar, then blend for another 30 seconds until creamy. EASY PEASY!
What is the difference between Greek and Italian dressing?
There are a lot of varieties of both Greek and Italian dressings, but the main difference seems to be that Italian dressing has onion, bell peppers, and Parmesan cheese (instead of Feta) added.
A lot of Greek dressing recipes do not include Feta cheese, but I like the added flavor and creaminess it adds.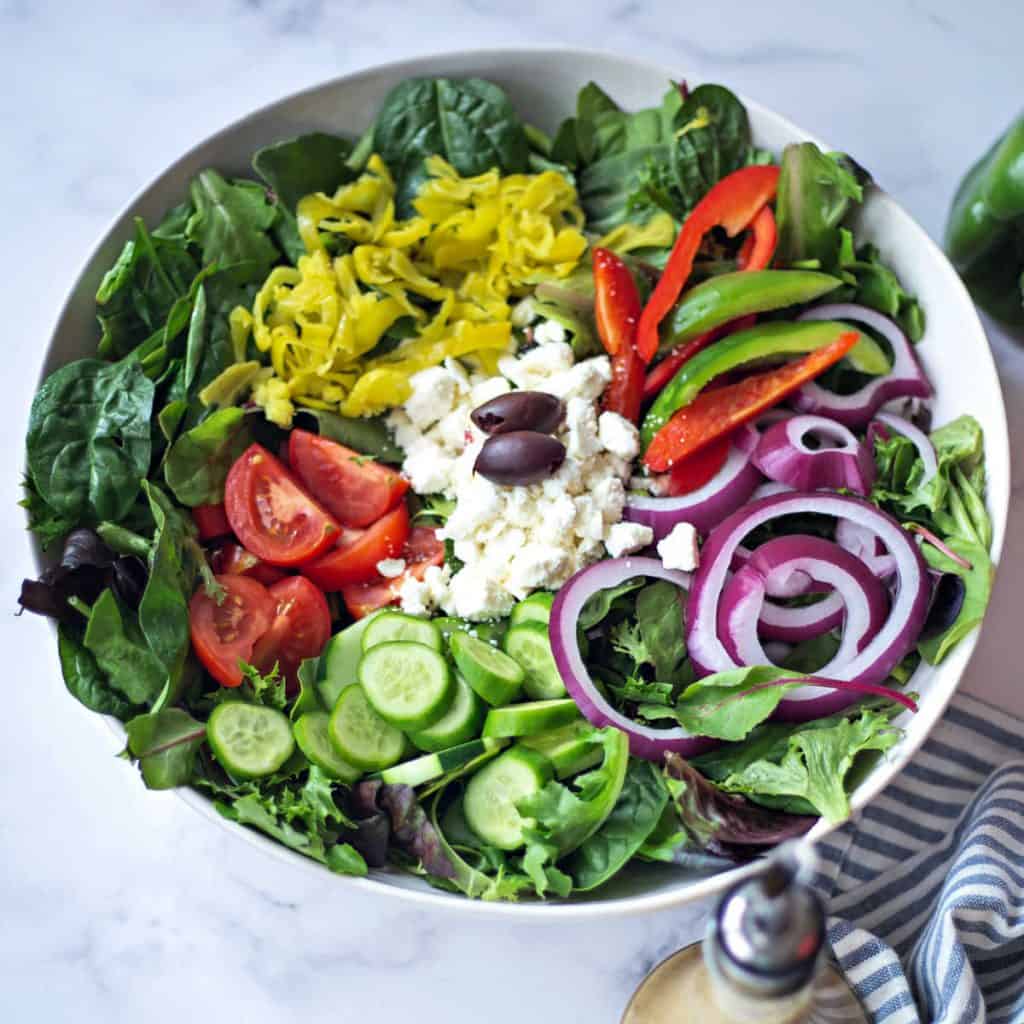 What is a traditional Greek salad?
A traditional Greek salad, also known as Horiatiki, is a mix of cucumbers, tomatoes, onions, Kalamata olives, green pepper, and Feta cheese—without lettuce—with a dressing made from olive oil, vinegar, and fresh lemon juice.
Many American restaurants build their Greek salads on a bed of mixed greens or chopped romaine.
Related recipes
Homemade Blue Cheese Dressing with buttermilk has less calories than store-bought and is delicious on wedge salads or as a dipping sauce for Buffalo wings.
Basil Buttermilk Dressing blends fresh herbs, garlic, and tangy buttermilk for a delicious salad topper.
Avocado Caesar Dressing substitutes avocado for mayo for half the fat of a regular Caesar dressing!
Super Food Salad with Ginger Sesame Dressing has amazing color, interesting ingredients, crunchy texture, and delicious taste!
Curry Salad Dressing Recipe is flavorful with curry powder, lemon, garlic, & Worcestershire sauce. Delicious on a simple salad of greens or a hearty salad.
Let's cook!
Store any leftover Greek dressing in the refrigerator for up to 10 days. If refrigerated, allow to come to room temperature before serving.
If you DO NOT add the Feta cheese to the dressing, it may be stored at room temperature for up to a week.
Please share!
Your shares are how this site grows and I appreciate each one. Do you know someone who would enjoy this recipe? I'd love it if you would share it on Facebook or on your favorite Pinterest board!
Please see more list about Best greek salad dressing store bought
Detail: 🔗