Homestyle Pork Pot Pie goes together quickly with the use of store-bought pie dough and leftover pork. It's comfort food that's as easy as one, two, three.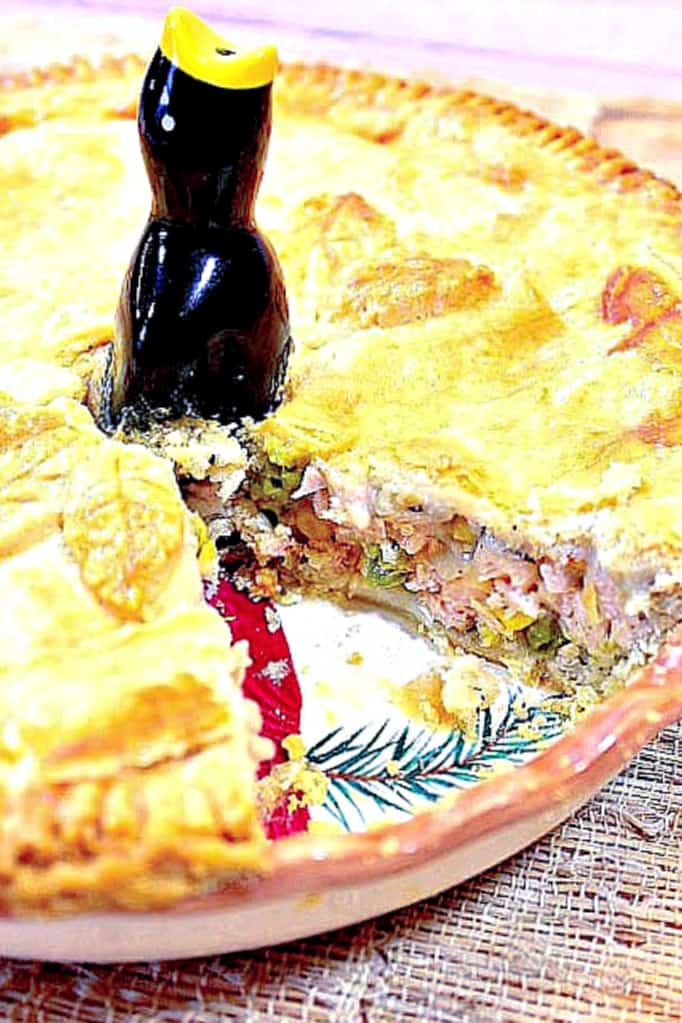 Since my husband and I became "empty nesters" recently, I'm finding myself a bit confused when it comes to cooking for only two people.
Even though this pork pot pie feeds more than two people, it utilizes leftover pork which is another way to get more bang for your buck. And who doesn't want that?
This recipe post is being updated from it's original publish date of 2015. The recipe itself has not changed.
**Please Note – The printable recipe card with detailed instructions, complete ingredient measurements, and nutritional information for making Homestyle Pork Pot Pie is available near the end of this post, OR click on the "Jump to Recipe" button "found above" to be taken directly to the recipe.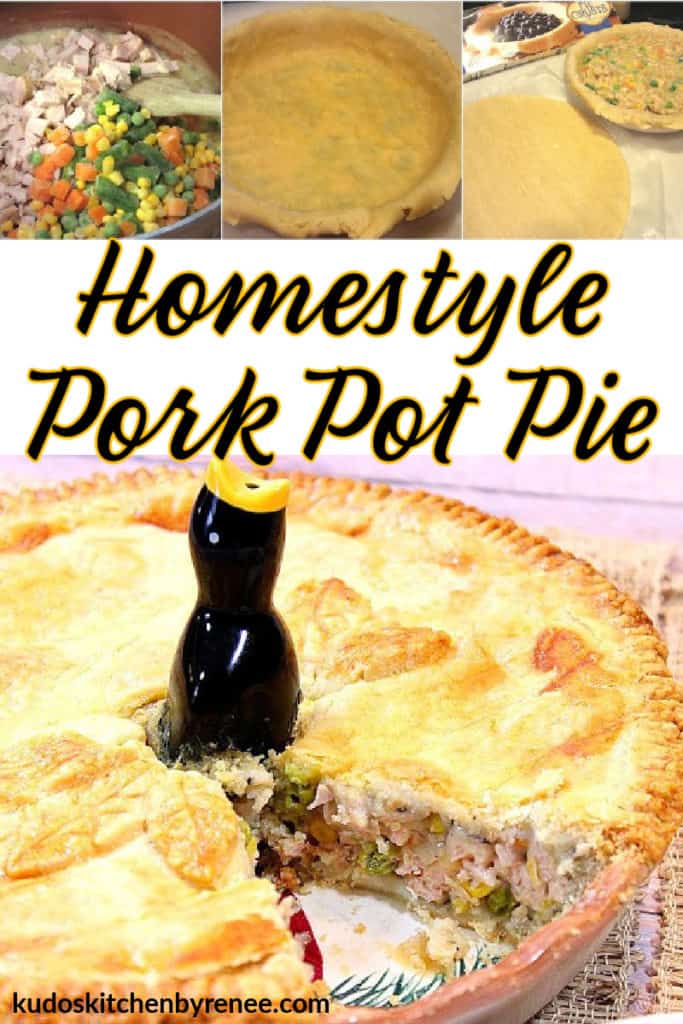 The ingredient list:
**Note – The following lists of ingredients plus kitchen tools and equipment contain affiliate links (highlighted in blue) for your consideration and shopping convenience. #CommissionsEarned
2 – 9″ prepared pie crusts
butter
flour
chicken stock
salt and pepper
minced garlic
leftover cooked pork, shredded or cut into cubes
dried thyme
Dijon mustard
frozen mixed vegetables
egg
Kitchen tools and equipment needed:
large skillet or saucepan
measuring cups and spoons
rolling pin
deep dish pie plate
wooden spoon or spatula
baking sheet
parchment paper
pie bird (optional)
whisk
pie server
How is pork pot pie different from chicken pot pie?
Can I substitute cooked chicken meat for the pork in this recipe?
Yes, and then you can call it chicken pot pie!
What if I don't have a pie bird?
Make a few slits in the top of the pie crust (using a paring knife) to allow the steam to escape, and so the pie doesn't burst in the oven.
Since this Pork Pot Pie takes advantage of leftover pork (from the pork roast I made that could easily feed eight to ten people), it also did double duty in this pie that can also feed eight people.
Maybe someday I'll get the hang of cooking for only two people…but don't count on it. LOL
The easy instructions:
In a large stockpot over medium heat, melt the butter.
Stir in the flour and cook for 2-3 minutes.
Switch to a whisk and add the chicken stock, salt, pepper, and minced garlic.
Whisk continually until the mixture heats and thickens (approximately 5-7 minutes).
Using a wooden spoon, stir in the thyme, mustard, pork, and frozen vegetables.
Cook, stirring occasionally to heat through.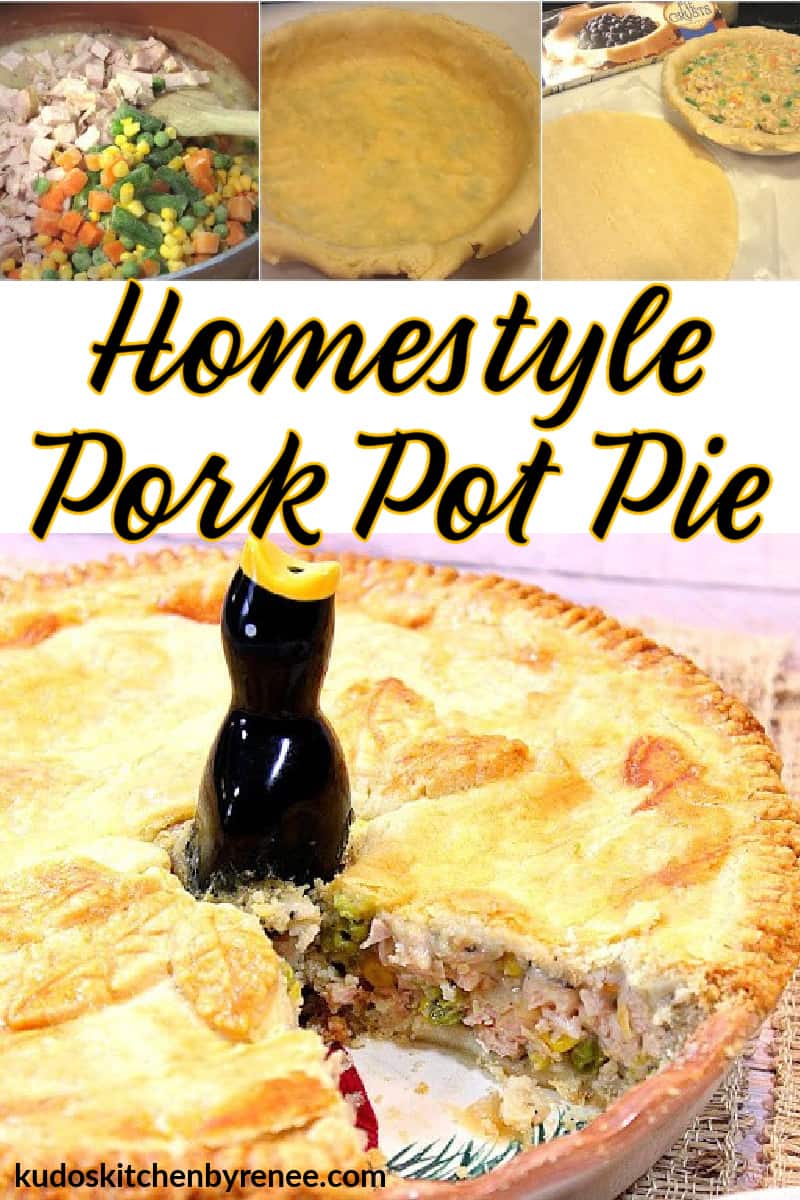 On a lightly floured surface, carefully roll out one of the pie crusts.
Transfer the pie crust to a prepared pie pan that has been sprayed with non-stick spray. *Note – To help with the transfer of the dough, roll the dough loosely onto the rolling pin and unroll it carefully over the pie pan. Press the dough into the pie pan and allow the excess to fold over the sides of the pan. Set aside.

Carefully pour the pork filling into the prepared pie crust.
On a lightly floured surface, roll the second pie crust out like the first one.
Transfer the dough over the pork filling (on the rolling pin) and carefully unroll to cover.
Use a paring knife to trim the excess dough away (saving some for the leaf garnish), and use a fork to press and seal the bottom and top crusts together.
Use a paring knife to cut some steam holes into the top crust (and insert a pie bird if you have one).
Use some of the trimmed dough to cut out leaf shapes and use a dab little water to adhere the leaves to the top of the pie.
Whisk together the egg and water and brush over top of the crust.
Place the pie on a baking sheet and bake in a preheated oven for 40-45 minutes or until the crust is golden brown and the filling is heated through.

Allow the pork pot pie to cool for at least 20 minutes before slicing and serving.

Can pork pot pie be made in advance and frozen?
Yes! Make the pie up until it's time to bake (without the pie bird). Then, wrap it well and freeze for up to two months.
How long will it keep in the refrigerator after it has been baked?
Store the cooked pork pot pie, covered, in the refrigerator for up to 5 days.
Can Pork Pot Pie be baked from frozen?
Yes, but please allow double the oven time, and plan accordingly.
Believe it or not, this is the very first time I've ever made my own pot pie. This is also the very first time I ever got to use the pie bird that I purchased from Sur LaTable many moons ago. Better late than never, right? Tweet!
HaHa! I also just noticed the tie-in about my husband and I being "empty-nesters" and the irony of me using a pie bird. Life is funny sometimes, don't you think?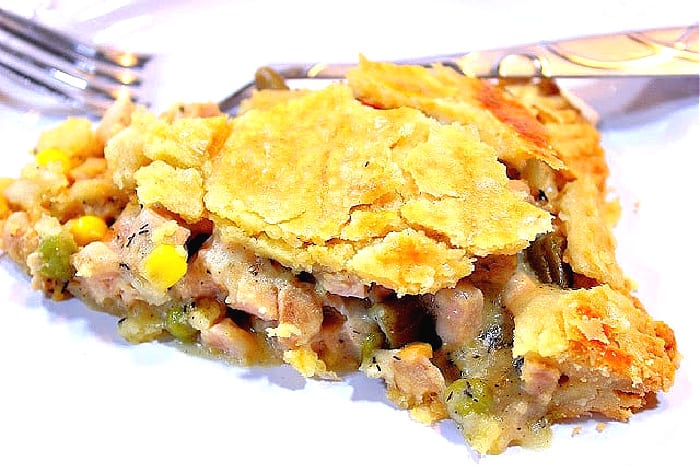 Additional pot pie recipes:
Vegetarian Pot Pie from Life's Currents
Chicken Pot Pie from Rant's from My Crazy Kitchen
Pizza Pot Pie (pictured below) from (yours truly) Kudos Kitchen
My idea was to recreate all the flavors we love on a traditional one crust pizza but add a fun twist of making it a real pizza "pie" with two store-bought pie crusts and all the toppings piled high inside.
Below is the printable recipe card along with the nutritional information for today's easy dinner recipe of Homestyle Pork Pot Pie.
I sincerely hope you've enjoyed today's easy family dinner recipe for Homestyle Pork Pot Pie as much as I've enjoyed bringing it to you!
Through this article, we hope to help you understand Pork pie with leftover pork roast
Detail: 🔗