This easy and healthy Honey Lemon Vinaigrette Salad Dressing is perfect for all your favourite salads, and it's simple to make with only a few basic ingredients!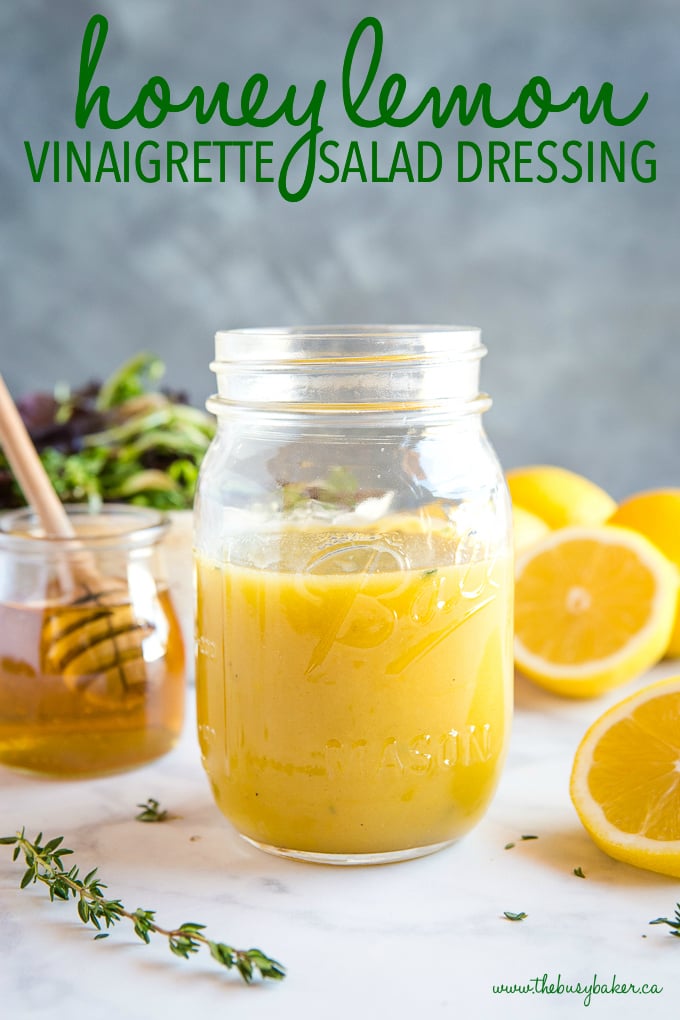 NEVER MISS A POST! FOLLOW ME ON:
FACEBOOK | PINTEREST | INSTAGRAM | TWITTER

I don't know about where you live, but we are LOVING the spring weather we've been enjoying these last few weeks. I can hardly wait for the farmer's markets to open and start selling all kinds of fresh fruits and veggies – it's the beginning of salad season folks, and I couldn't be more excited about it! And in honour of salad season I'm sharing this delicious Honey Lemon Vinaigrette Salad Dressing recipe with you today!!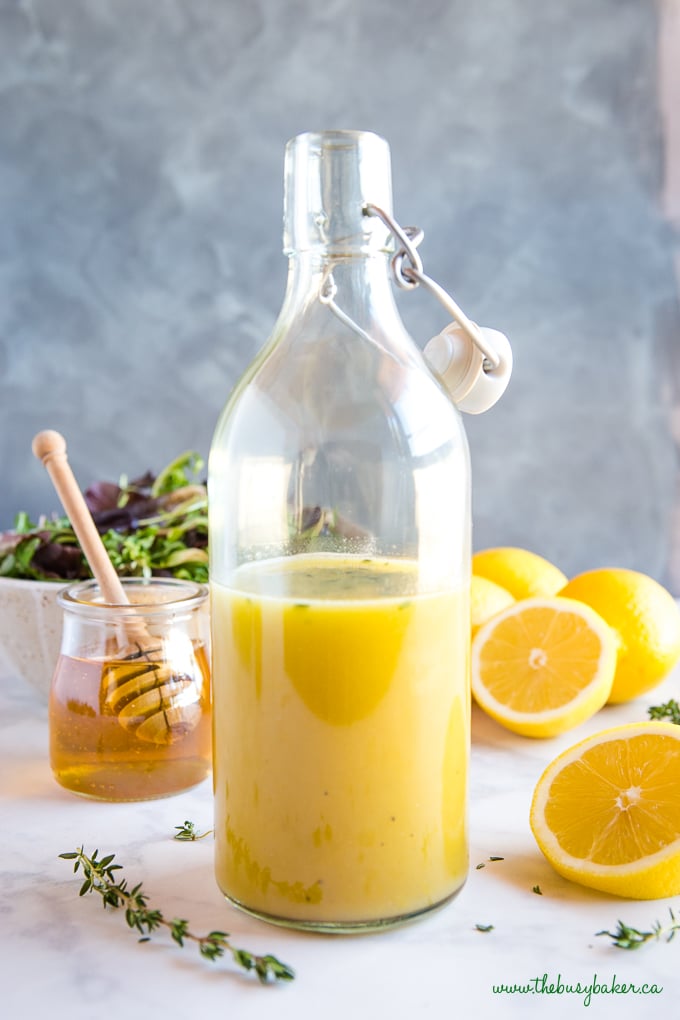 How to make healthy salad dressing
Making healthy salad dressing at home couldn't be easier! Just combine all your ingredients, shake or blend, and that's it! Healthy dressings go easy on the oil and sweetener and often include more natural ingredients like lemon or lime juice, maple syrup, honey, mustard, garlic, and fresh or dried herbs and spices. Mason jars are a great kitchen tool to have on hand for recipes like this Honey Lemon Vinaigrette Salad Dressing. They form an airtight seal, so you don't have to worry about spills, they're dishwasher safe and easy to clean, and they're great for more than just salad dressings – I use them for smoothies, homemade jams, soups, and tons of other food storage. Get my favourite go-to Mason jars HERE (affiliate link).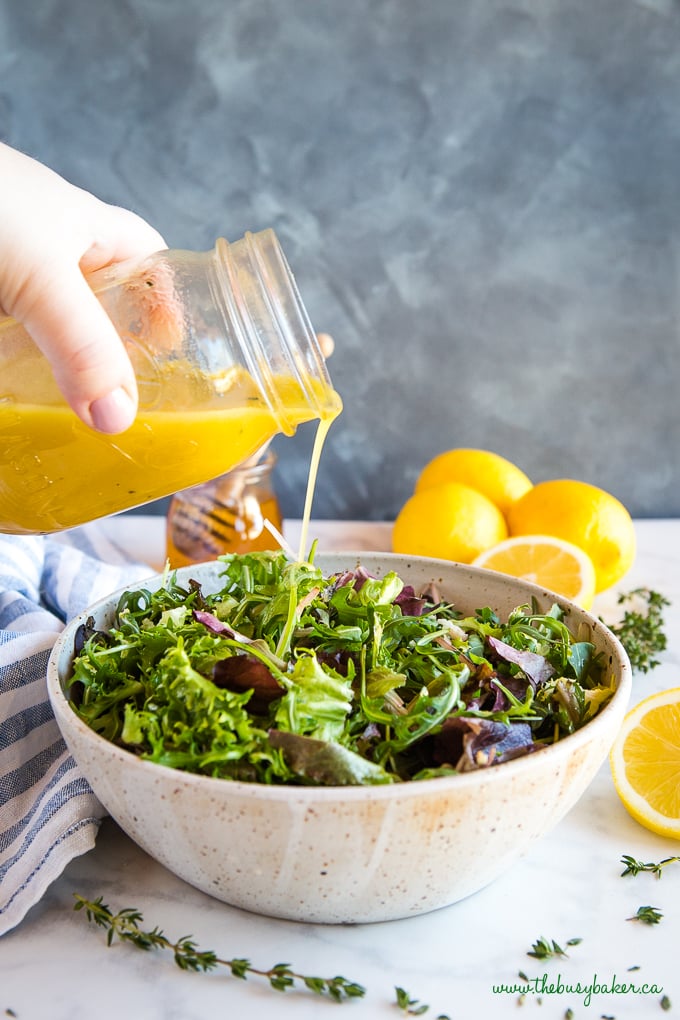 Aside from mason jars, one of my absolute FAVOURITE kitchen tools is this OXO Good Grips Salad Dressing Shaker (affiliate link). I make homemade salad dressing all the time because the bottled stuff isn't available where I live, and I also like being able to control the amount of fat and sugar I'm pouring over my salads. This salad dressing shaker is PERFECT for making homemade salad dressings in a flash!! It allows you to measure ingredients right into the shaker (with the handy measurements on the side), it forms an airtight seal to keep the salad dressing fresh (and it's good for shaking too!), and it pours beautifully thanks to the spout. It fits nicely in the fridge, and it's seriously one of my most favourite kitchen items ever!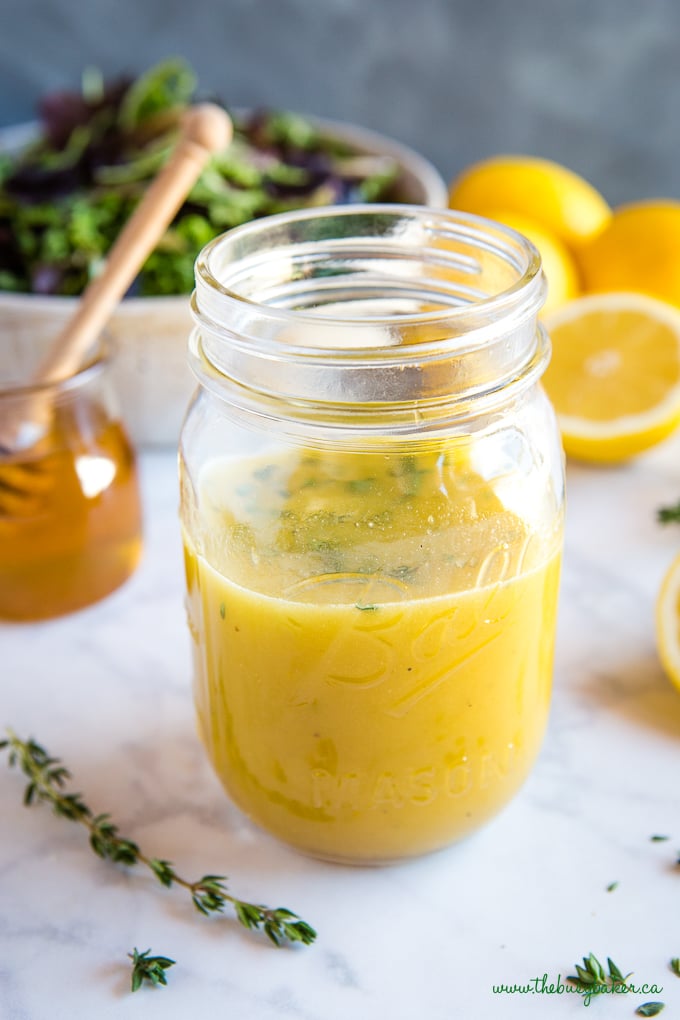 NEVER MISS A POST! FOLLOW ME ON:
FACEBOOK | PINTEREST | INSTAGRAM | TWITTER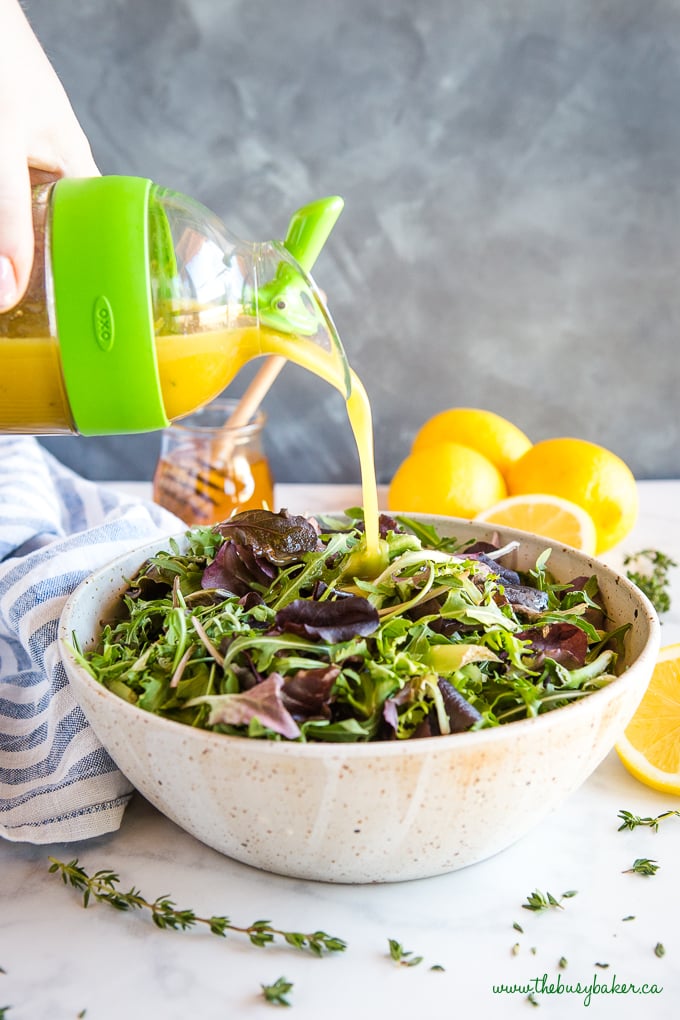 I hope you love this Honey Lemon Vinaigrette Salad Dressing as much as we do! Let me know in the comments below, what's your favourite salad to enjoy in the spring and summer? I'd love to know!
Kitchen Products I recommend:
<span data-mce-type="bookmark" style="display: inline-block; width: 0px; overflow: hidden; line-height: 0;" class="mce_SELRES_start"></span>
Looking for more delicious salad recipes? You'll love these!!
Berry Walnut Spinach Salad with Maple Vinaigrette
Healthy Greek Yogurt Caesar Salad
Brussels Sprouts Salad with Creamy Bacon Dressing
Quick and Easy Greek Pasta Salad
Rainbow Vegetable Pasta Salad
Grapefruit and Arugula Salad
Best Ever Creamy Italian Salad Dressing
Recipe Video
Watch the video below to see exactly how I make this simple recipe. You can find more delicious recipe videos on my YouTube channel.
Please see more list about Lemon honey dressing for salad
Detail: 🔗