Homemade Honey Sesame Asian Salad Dressing is a light and healthy salad dressing made with just a few simple ingredients like olive oil, ground ginger, honey, toasted sesame seeds, and soy sauce. This sesame vinaigrette is packed with flavor and perfect for any Asian inspired salad.
Be sure to sign up for my email… to get new recipes and ideas in your inbox!
Reading: Recipe for asian salad dressing
Easy Homemade Asian Salad Dressing
Every good salad starts with a great dressing, and nothing beats a homemade salad dressing. It may sound like extra work, but it really only takes a few minutes and will have so much more flavor than store-bought.
This Sesame Asian Salad Dressing is one of my all-time favorite dressings. It's an easy sesame vinaigrette, packed with amazing flavor and I love the little crunch you get from the toasted sesame seeds.
While this sesame dressing is delightful on all your Asian inspired salads, noodles, or slaw it also makes a wonderful marinade or dipping sauce. That's a recipe win in my book!
Nothing tastes as good as when you make it yourself, that's why I'm sharing this Honey Sesame Asian Salad Dressing with you!!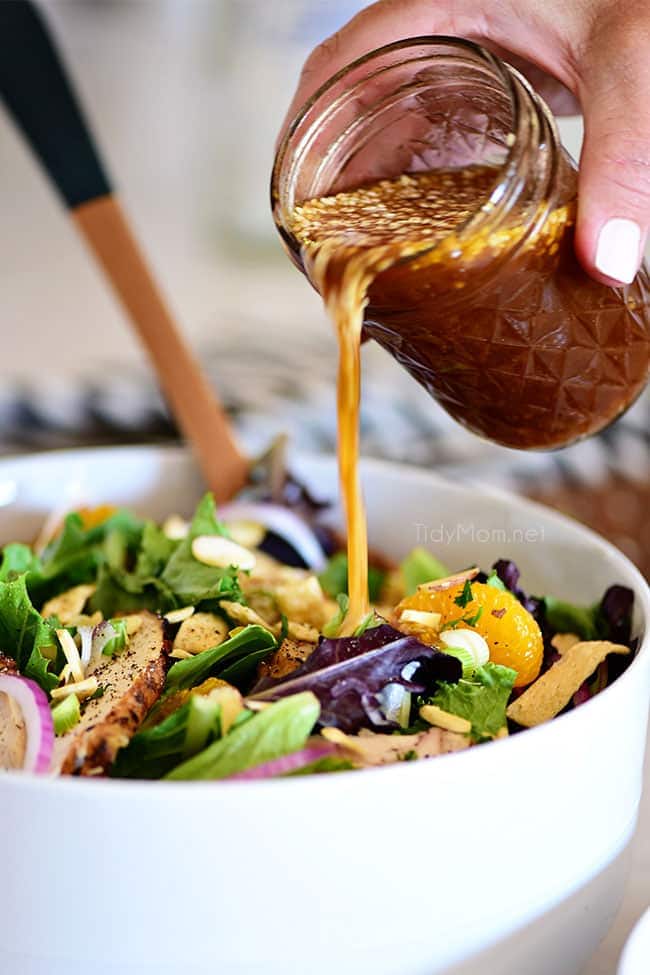 Asian Salad Dressing Ingredients
(full printable recipe at the end of this post)
Tangy rice vinegar, sweet honey, savory soy sauce, and toasted sesame seeds all create a perfectly sweet and tangy dressing that is so versatile!
seasoned rice vinegar
olive oil
sesame oil (or canola oil)
soy sauce
honey
toasted sesame seeds (you can buy toasted sesame seeds, but the flavor is much better when you toast them yourself)
ground ginger
minced garlic
TIP: FOR A CREAMIER ASIAN SALAD DRESSING add a tablespoon of creamy peanut butter
What Is Rice Vinegar?
Rice vinegar made from fermented rice is a mild, slightly sweet delicate vinegar. If you don't have rice vinegar on hand, you can substitute with Apple Cider Vinegar.
Read more: Is Salad Dressing Gluten Free?
While there are many other vinegars on the grocery store shelves, they have very different flavor profiles and would not make a good substitute for rice vinegar in this recipe.
How To Make Asian Salad Dressing
(full printable recipe at the end of this post)
The best Asian salad dressing is made with simple ingredients you likely have on hand. Use fresh ginger and garlic if you have them and lots of toasted sesame seeds!
Add all ingredients to a wide mouth jar with a tight-fitting lid.
Shake until emulsified. Set aside and allow flavors to mingle for at least 30 minutes before serving.
Perfect for topping a classic Asian Salad or marinating chicken.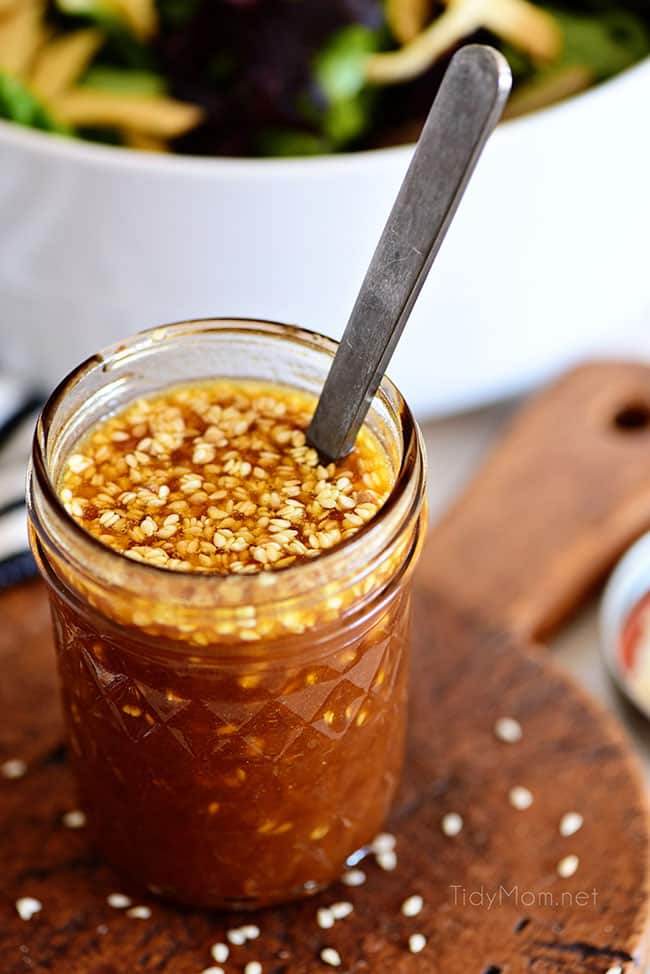 How To Store Sesame Asian Vinaigrette
Homemade vinaigrettes are great when you need to prep ahead. Simply mix this recipe up ahead of time and store in the refrigerator for up to 2 weeks.
If you plan to use fresh garlic, you will want to use it within 7 days.
Vinaigrette dressing should be stored in the refrigerator and will separate over time. Give it a quick shake before serving!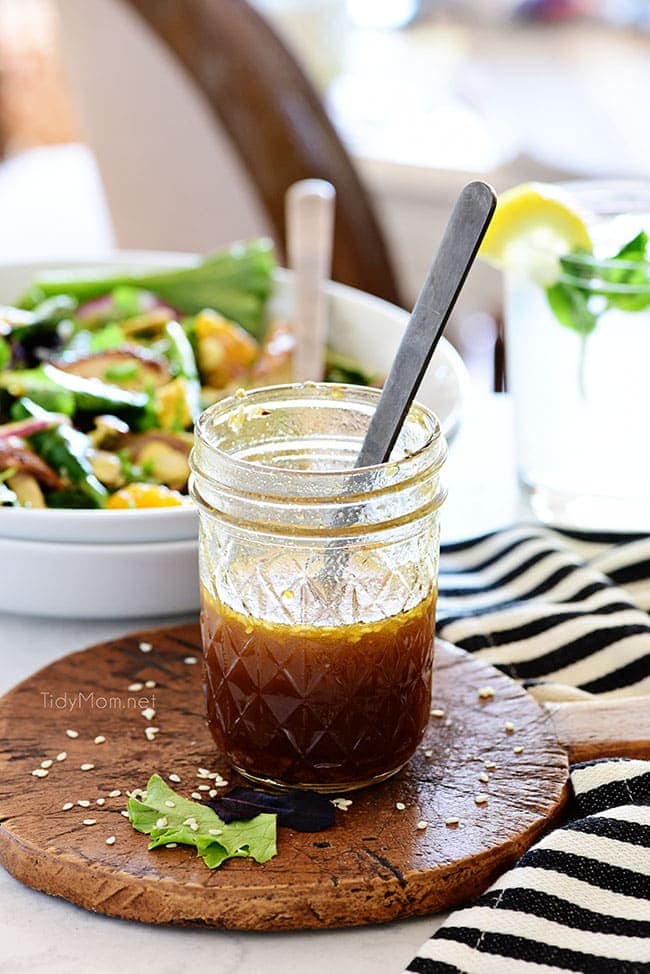 Asian Salad Dressing Uses
Read more: Classic Italian Tomato and Cucumber Salad
You can use this Asian dressing for more than just salad!
Salads – this sesame vinaigrette is delicious on any type of salad
Pasta Salad – make an Asian-inspired dish with cold pasta, crisp veggies, and slivered almonds or peanut pieces.
Chinese Slaw – delicious with assorted crunchy veggies
Marinade – Place a few chicken breasts in a zip-top bag with this Asian Salad Dressing. Let it sit for 30-60 minutes before grilling or baking and voila, you've got Asian Chicken. ((NOTE: discard any marinade that has come into contact with raw meat, do NOT use it as a sauce)
Dip – Use this dressing as a dip for spring rolls and egg rolls.
Like This Asian Salad Dressing Recipe? Pin It!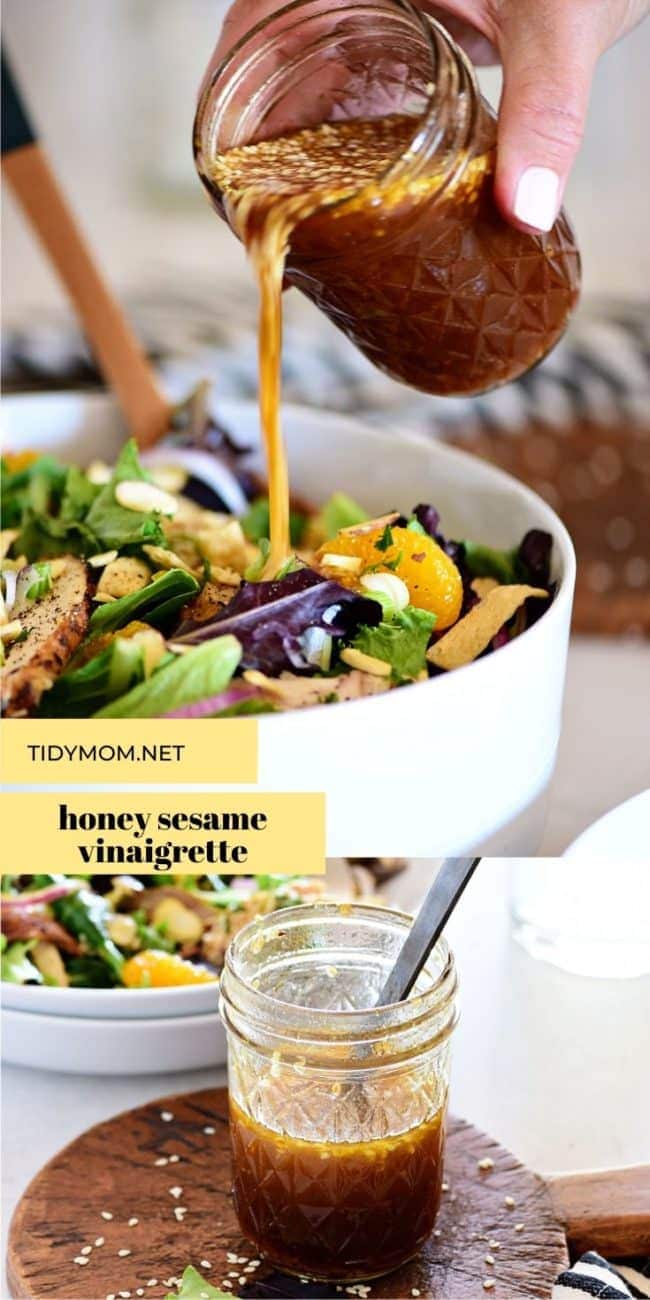 This flavorful Homemade Asian Dressing recipe is the best of the best. It's easy to keep on hand in your fridge because you'll definitely be using it over and over again. Now that you know how to make Asian dressing, you can start adding it to all your favorite Asian-inspired dishes for a little extra flavor!
Follow Along On Social Media
If you're looking for even more inspiration check out the fun little group I created on Facebook, I'd love for you to join in! It's a place where you can share YOUR favorite recipes, home tips, creative ideas and ask questions and see what's new with TidyMom! If you'd like to check it out, you can request to join HERE.
Be sure to follow me on Instagram and tag #tidymom so I can see all the wonderful TidyMom recipes YOU make and tips YOU use!
Connect with TidyMom! Facebook | Twitter | Pinterest | Instagram
Sign up to receive an email in your inbox for each new recipe:
FREE EMAIL SUBSCRIPTION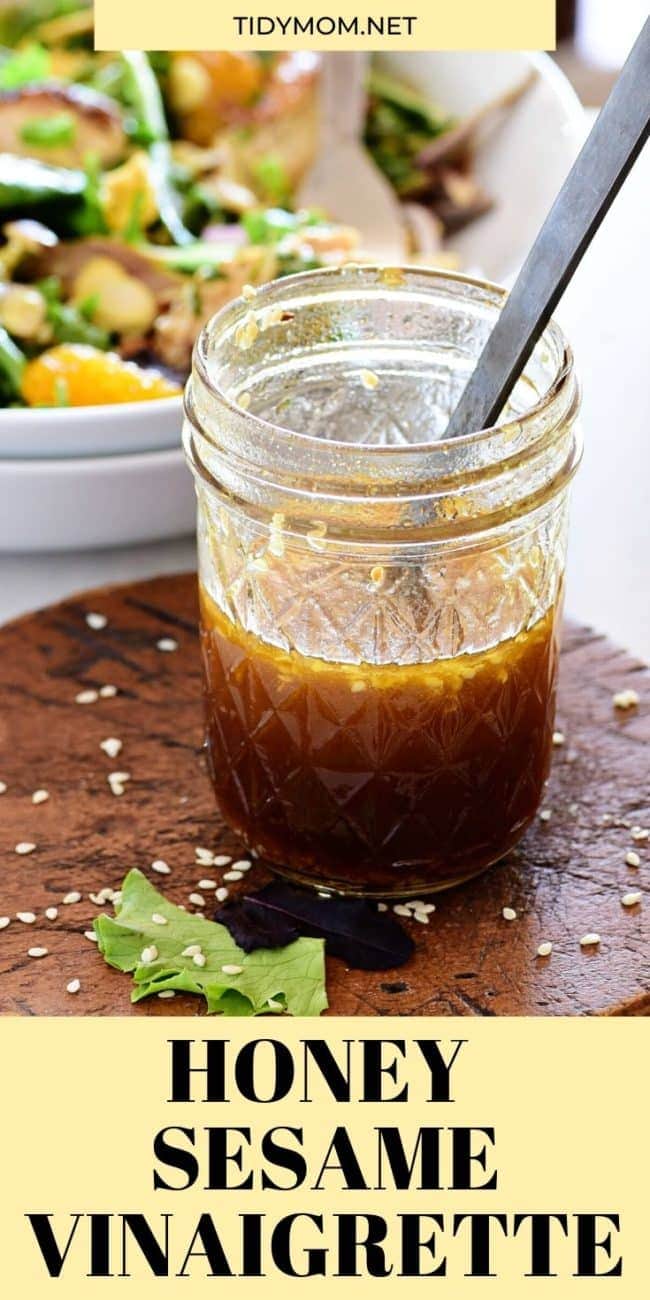 Read more: Recipe for japanese cucumber salad
Through this article, we hope to help you understand Recipe for asian salad dressing