The Top 10 benefits of drinking 16 ounces of Celery Juice first thing in the morning to help heal the gut, bolster the liver and support the body! With a video!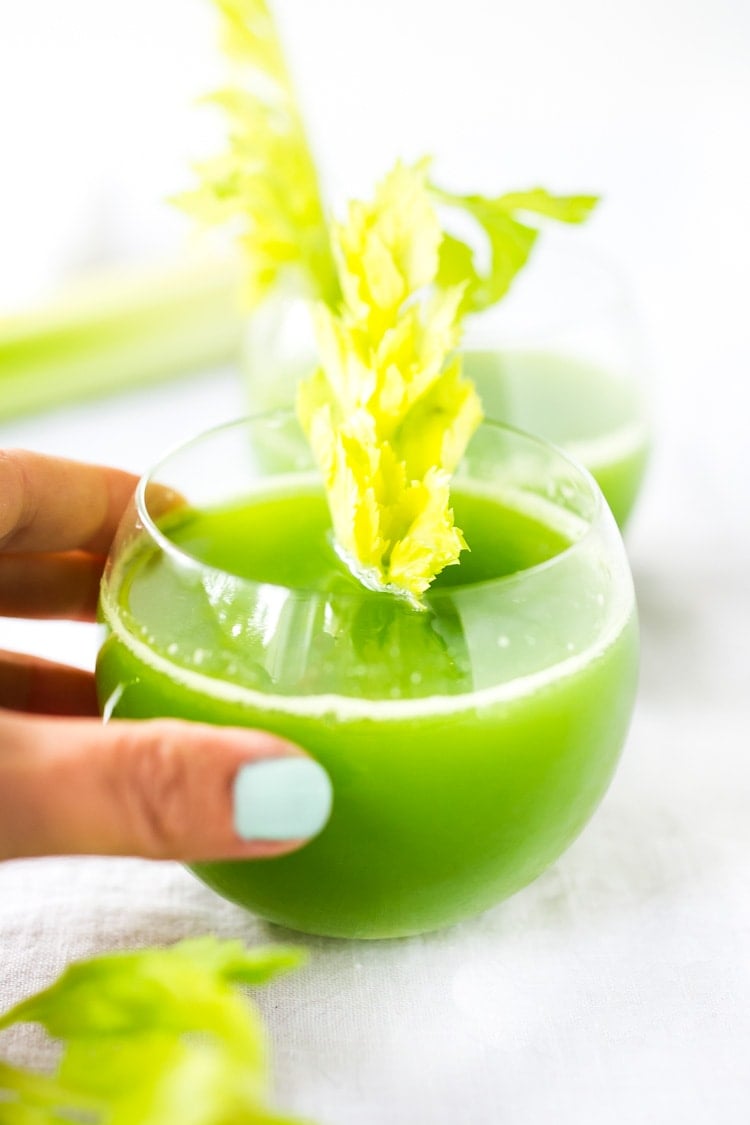 Imagination is the highest form of research. ~Albert Einstein
While on our annual road trip to California, I discovered something really strange. All the grocery stores were totally OUT of organic celery! What is going on here I thought?! Where is all the celery going? There is no celery because everyone is guzzling it, a friend later informed me. What? Why?
Reading: how do you make celery juice
And then, how the universe likes to work, I began noticing that everyone was posting and sharing celery juice on social media. Health and wellness podcasts kept talking about it, singing its praises. Celery Juice just kept popping up on my radar, over and over, until well, of course, I had to try it myself to see what all the hubbub was about.
So I'm on week three of drinking 16 ounces (2 cups) of organic celery juice first thing in the morning and just wanted to share my experience in case you are curious about it too.
Like all things on the blog- I'm not here to tell you what to eat or drink. You know your bodies and what you need. I just like to share ideas and options in case something piques your interest.
How to make Celery Juice (two ways) + Health Benefits | 30-sec video
Is Celery juice good for you?
Essentially, yes. Celery stalks, leaves and celery seeds all offer nutritional benefits, but most importantly celery contains two beneficial antioxidants apigenin and luteolin. Research shows that apigenin and luteolin reduce inflammation and may help treat a range of inflammatory diseases.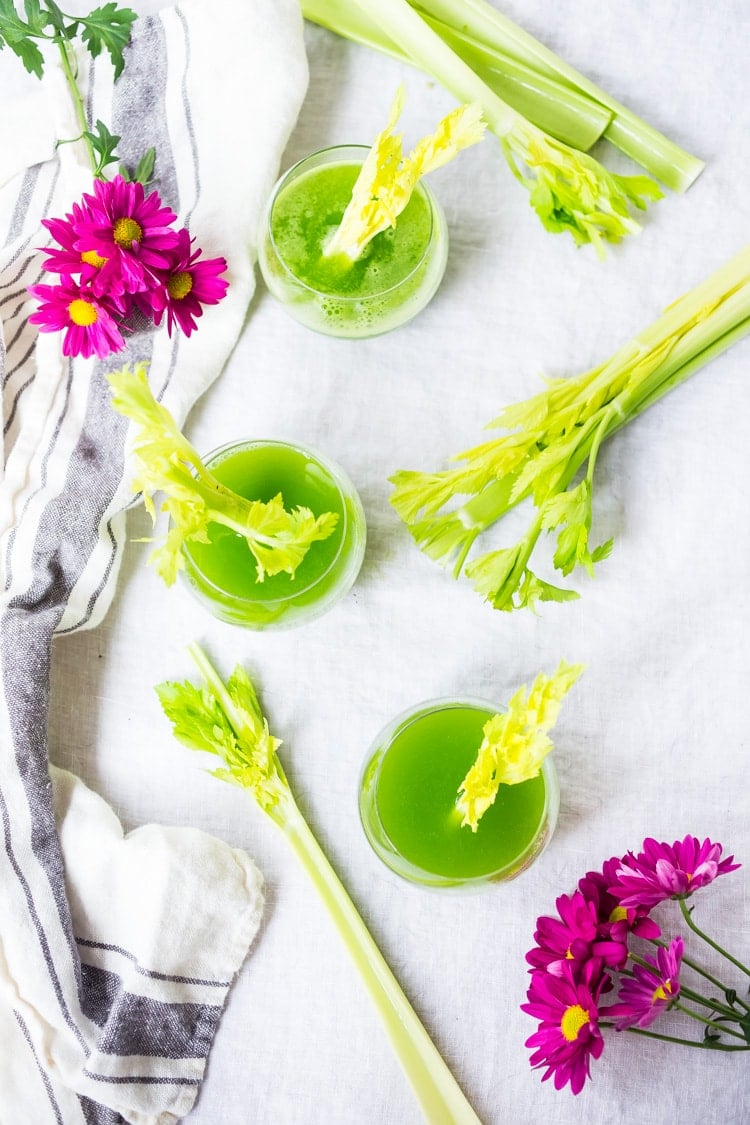 Top 10 Benefits of Celery Juice:
There seems to be a lot of research and consensus about the healing benefits of celery – but as always, please do your own research and decide for yourself. You can always try it and see how you feel.
Celery Juice contains powerful anti-oxidants and cancer-fighting compounds. Celery contains a flavonoid called apigenin, which has been shown to kill cancer cells. The polyacetylenes in celery interestingly contain chemo-protective compounds that help to reduce toxicity while boosting immunity and help slow the growth of mutated cells.
Celery Juice heals and activates the gut by restoring hydrochloric acid which helps us digest things faster and more efficiently. Celery juice helps raise stomach acid, which is necessary to help break down food, especially protein. Especially good for those on a high protein diet. If our stomach acid is low, the body has to use more resources to digest that food, often leaving us feeling tired and lethargic. Celery juice has the ability to significantly replenish depleted levels of gastric mucus that is needed in the stomach lining to heal and prevent ulcers and acid reflux.
Celery Juice lowers cholesterol. Celery contains a compound called 3-n-butylphthalide (BuPh) that has been reported to have lipid-lowering action, reducing the bad cholesterol (LDL) in our bloodstream.
Celery Juice is a natural anti-inflammatory. It contains Polyacetylene which reduces chronic joint pain, gout, and rheumatoid arthritis. Not only does it soothe the body, but it is also believed to soothe the nerves, with calming and relaxing properties.
Celery lowers blood pressure. Research shows that celery helps lower high blood pressure by acting as a smooth muscle relaxant, improving the flow of calcium and potassium in cells, allowing blood vessels to expand and contract with greater ease.
Celery juice aids the Liver. Celery juice improves liver function by increasing the production of enzymes. Studies show that celery helps reduce fat build-up in the liver. The nutrients in celery protect the liver, and actually, help the liver produce enzymes that help flush fat and toxins out.
Celery juice improves digestion by increasing circulation in the intestines, getting things going and moving. It's good for constipation, bloating, puffiness and water retention, acting as a gentle, mild, natural laxative and diuretic.
Celery Juice reduces glucose levels. Research shows that compounds found in celery can help reduce glucose levels with no increase in insulin.
Celery Juice is alkalizing. Celery is one of the most alkaline foods you can eat! Research suggests that an alkaline diet lengthens life and prevents chronic diseases.
Celery juice is highly nutritious. Celery is loaded with essential minerals and vitamins such as folate, potassium, vitamin B6, vitamin K and vitamin C. A cocktail for the skin. The luteolin in celery protects skin from the inside and prevents UV-induced damage. Some swear by celery's skin healing properties, saying that it helped clear up skin conditions like psoriasis and acne.
Read more: How to make lemonade with bottled lemon juice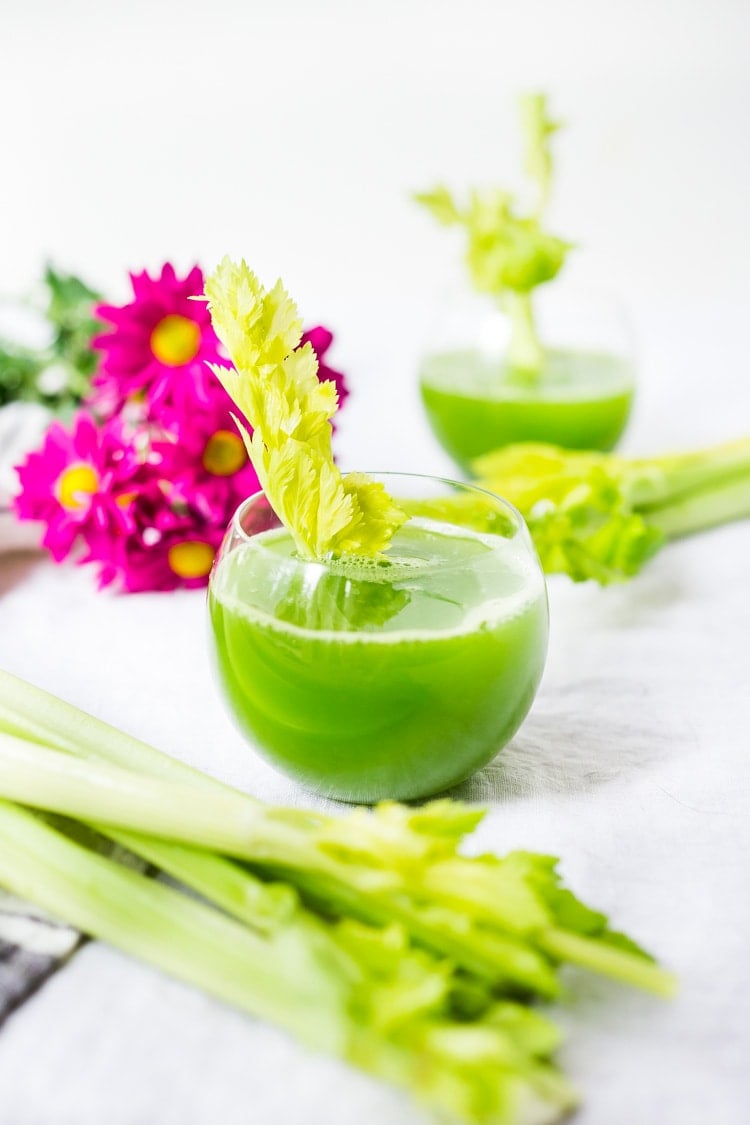 Is Celery a Superfood?
Yes, according to an article in Pub Med: "Celery, because of compounds such as caffeic acid, p-coumaric acid, ferulic acid, apigenin, luteolin, tannin, saponin, and kaempferol, has powerful antioxidant characteristics, to remove free radicals. It is clear that celery, with different compounds and diverse concentration, can have varied healing effects." It turns out, even celery seeds are highly nutritious.
Can celery juice heal the gut?
According to Anthony Williams, in his book Liver Rescue, "Celery Juice is one of the most powerful and healing juices we can drink. Just 16 ounces of fresh celery juice every morning on an empty stomach can transform your health and digestion in as little as one week."
He suggests drinking it straight and not adding anything to it for the maximum benefit.
If possible, use organic celery. One small bunch makes about 16 ounces. He suggests making it fresh every morning.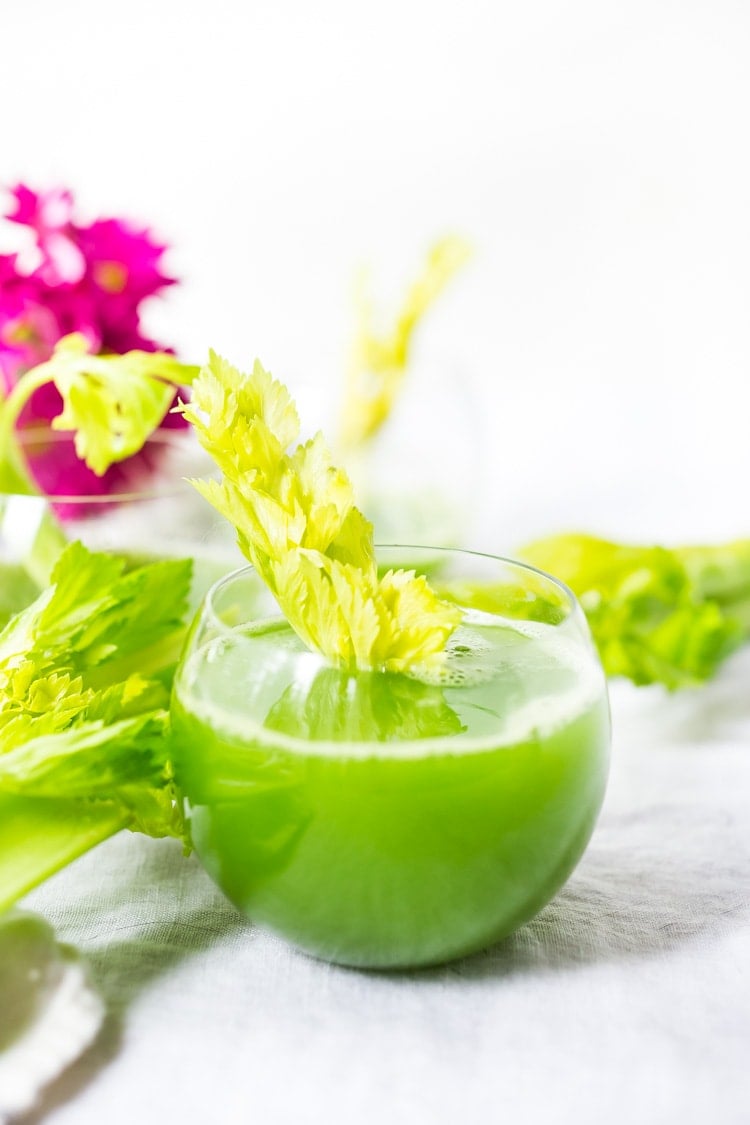 I personally make enough for two days and store the extra in the fridge, letting it come to room temperature before drinking.
When should you drink Celery Juice?
Drink it first thing in the morning on an empty stomach for optimal results. Wait 20-30 minutes before drinking anything else.
How much Celery Juice should you drink?
Drink 16 ounces (about two cups, or a pint glass). If you feel you can't tolerate two cups in the beginning, start with 1 cup and gradually increase. Or perhaps if is not pleasant, it may not be what you need.
Does celery need to be organic?
It is preferable, but not mandatory. If using non-organic celery, make sure to wash all the stock very well, to help rinse any lingering pesticides. Celery is on the list of veggies that are heavily treated with pesticides.
Why can't we just eat celery instead of juicing it?
You can. But, to get the full benefits that everyone is raving about, you'de have to eat the whole head (or bunch) of celery first thing in the morning. One whole head of celery ( 9-12 stalks) equals 16 ounces of juice when juiced.
How to Make Celery Juice in a Juicer:
Use 1 bunch of organic celery, cutting off the base to separate the stalks
Wash them in clean water to remove any debris
Feed the celery through your juicer.
Drink immediately.
Feel free to make enough for 2 days ( two bunches) and keep in a sealed mason jar the fridge.
How to make Celery Juice in a Blender:
Use 1 bunch of organic celery and cut off the base to separate the stalks
Wash them in clean water to remove any debris
Chop the celery stalks into 1 inch pieces and place them in the blender.
Add 1/4 cup of purified water and put the lid on the blender. Blend until smooth.
Place a clean nut milk bag over the mouth of a pitcher or bowl and pour the blended celery through the nut milk bag. Use your hands to squeeze the celery juice through the bag.
Drink immediately, or feel free to make enough for 2 days ( two bunches) and keep in sealed mason jar the fridge.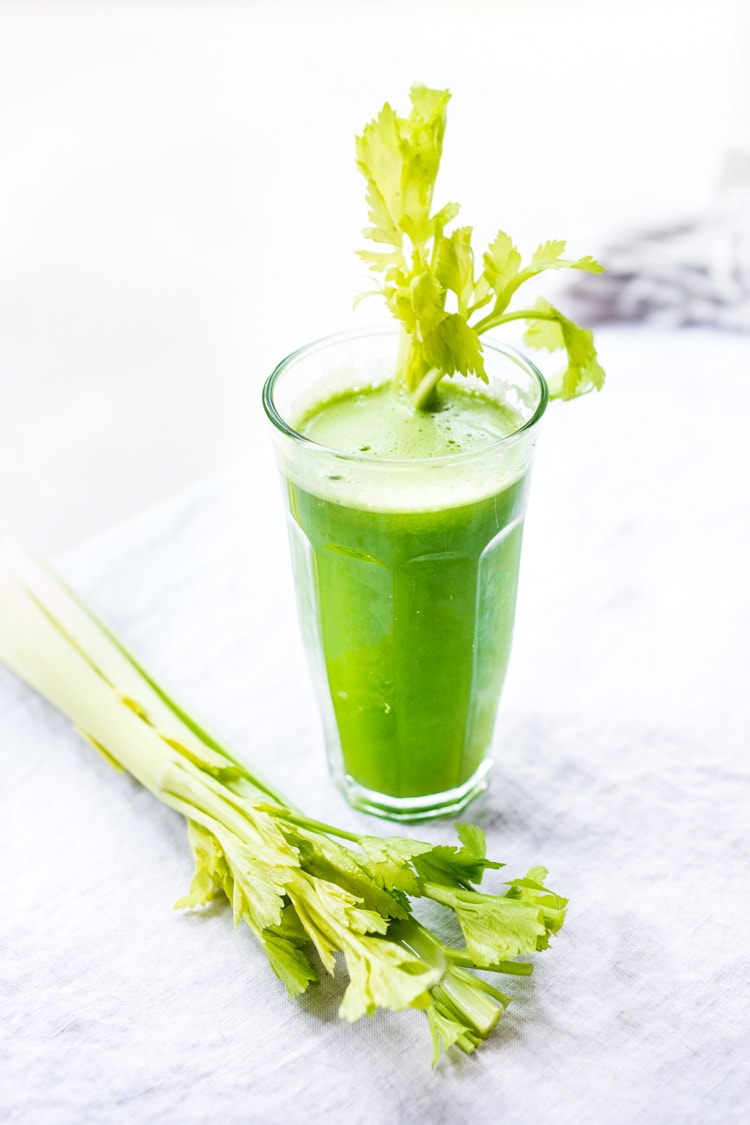 Celery Juice's effect on me personally:
Read more: How to make lemon tea for weight loss
Just to be clear, I'm not advocating a big, outrageous juice cleanse here. I am more in the camp of bringing balance to the body in a gentle way by incorporating small changes and seeing how my body feels. Overall, I feel the celery juice has had positive effects.
After a period of two weeks of drinking celery juice in the morning, my digestion seems to have improved- I feel like my stomach digests things quicker and more efficiently.
I feel less bloated, and my stomach feels flatter which seems to last throughout the day.
My skin feels more hydrated and looks healthier overall.
I'm having less salt cravings and less sugar cravings.
I feel good after I drink it- it feels nourishing, I feel healthy. I like how I feel- which makes me want to keep drinking it. I also enjoy the taste of it.
I feel like have more energy.
My joints feel less stiff and achy.
Best bet: just try it. It may or may not be for you. Read the comments below and see if anything resonates. People have experienced benefits from drinking this, but we are all different.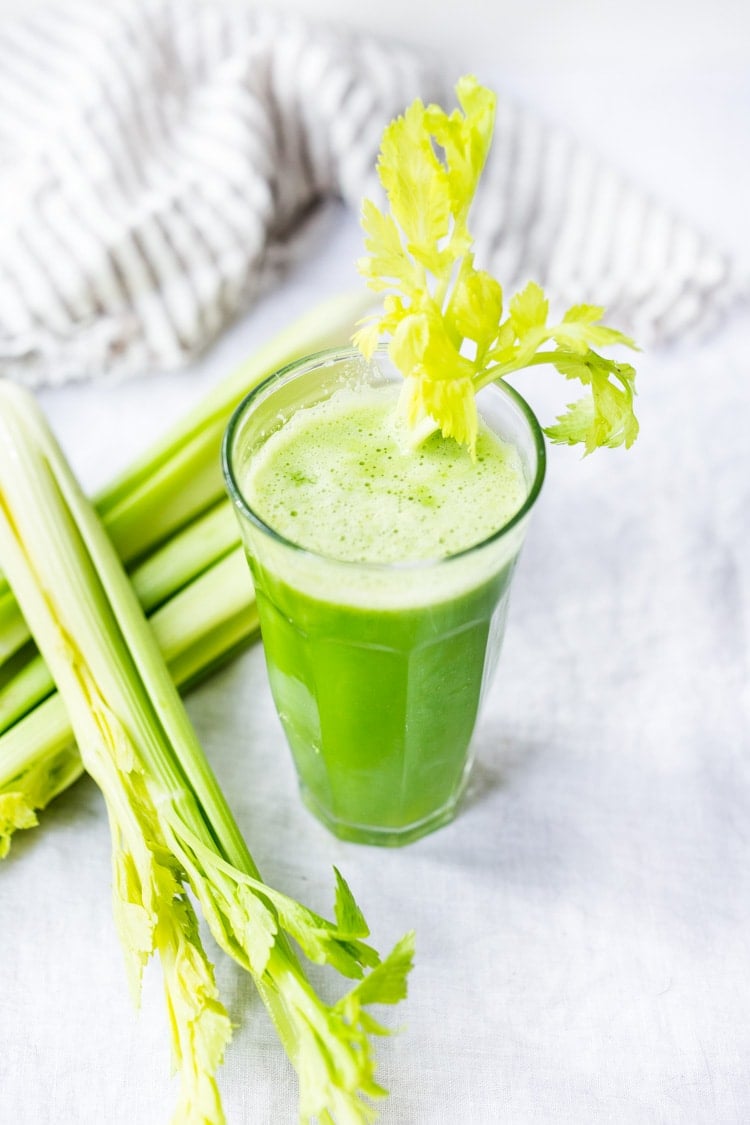 The bottom line is this: If Celery Juice is calling you- just try it! See how you feel. If your body feels good after drinking it, then perhaps it will benefit you. If you feel any discomfort, or no effect, perhaps it is not for you!
You'll never know unless you try it and experience it for yourself. If it doesn't interest you, it may not be right for you or that you just don't need it.
We intuitively know what we need to feel our best!
Listen!
More Healing Drink Recipes you may enjoy:
How to Make a Switchel! (Apple Cider Vinegar Water)
Jamu Juice (Turmeric Ginger Juice from Bali for inflammation)
Ayurvedic Detox Tea (to drink throughout the day)
Turmeric Tonic!
Moroccan Sore Throat Tea
Turmeric Golden Root Juice
Read more: Bunn cw series how to make coffee
Print