Kool aid pickles combine sweet and salty for an amazing flavor combination. With just 3 ingredients,this kool aid pickles recipe is super easy but so delicious.
Reading: how do you make kool-aid pickles
Kool aid pickles
You might be thinking what in the world? Well, let me just say that kool aid pickles do not disappoint! While Kool Aid pickles might have originated in the South, they are sure to impress in any region.
You only need 3 ingredients to make these. I bet you already have all of the ingredients! This is a great recipe to let the kids help with.
The pickles are sweet with a little bit of sour and have amazing color. You have to give this recipe a try!
We are addicted to these now. They are really tasty.
If you like Kool Aid, try Kool Aid Ice Cream for another fun recipe.
What do Kool Aid pickles taste like?
I think they taste like bread and butter pickles or sweet pickle relish. The pickles take on a very sweet taste from being soaked in the sugar and koolaid.
If you like sweet pickles, you will love these koolaid pickles. Plus, they are just so fun and easy to make. My kids love helping make these!
Let's get started!
Ingredients for kool aid pickles:
dill pickle spears
packet kool aid, cherry
sugar
I told you it was simple! With just 3 easy ingredients, you can make these delicious and sweet pickles. Yum!
Read more: Make Old-Fashioned Brine Fermented Pickles Like Your Great Grandmother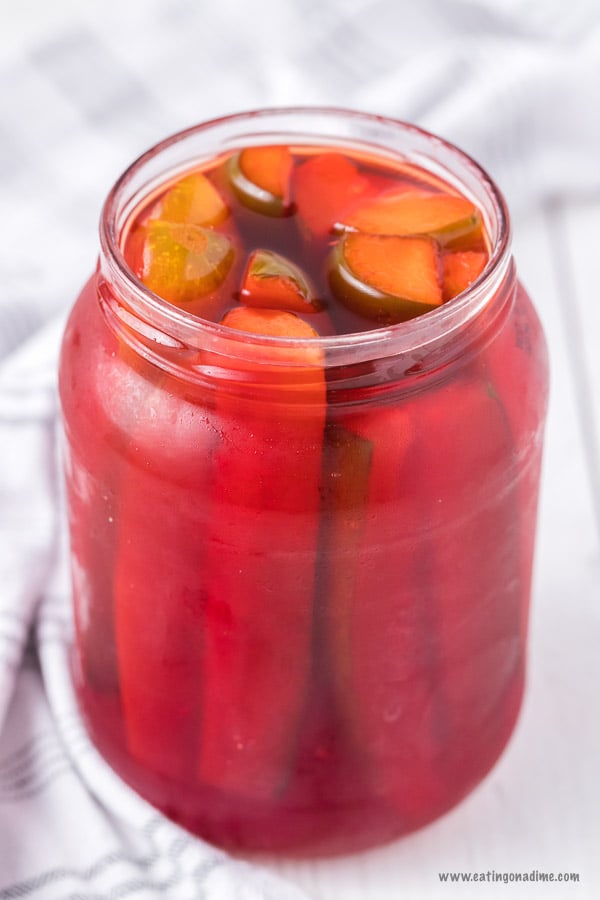 How to make kool aid pickles:
In a large bowl, drain the pickle juice from the jar.
Next, add in Kool aid and sugar to pickle juice and whisk together until dissolved. Easy!
Pour back into jar with pickles. You may have a little juice left over. That is ok!
Seal top and shake. Place in refrigerator and shake once a day for 5-7 days. My kids love helping with this part.
They love when it is time to shake the pickles. Plus, it is so fun to watch the pickles turn a vibrant color of kool aid.
Keep refrigerated and enjoy! Scroll down to see the full recipe.
Other ideas to try with kool aid pickles:
We used dill pickle spears to make this recipe. However, any shape will work. You can use pickle chips to make these and they will look more like bread and butter style pickles.
I think whole pickles would be good as well. The baby dill pickles would be tasty.
Read more: Tsukemono – Shiozuke (Salt Pickling) 塩漬け | Family Cuisine
Also, feel free to change the kool aid flavor. We used cherry but tropical punch would also be good. Hawaiian Punch is another good flavor.
You can really try any flavor you prefer or have in the pantry. The main difference will be the color of the pickles.
Obviously if you use grape, the pickles will have a purple color instead of red.
Just use what you have to make these sweet and sour pickles. Try other shapes of pickles. Anything will work!
We often just use what is on sale or we already have in the pantry. By shopping when things are on sale I save money on groceries and it really helps our budget.
I actually cut our grocery bill by 50% off by following these 8 Tips for for Saving Money on Groceries by Menu Planning! You can do the same thing and use that money for something else!
Try Kool Aid Pickles this week!
Give these a try and let us know what you think! My kids had a blast helping to make these. They weren't sure if they would like them but they all agreed they were delicious.
We had a lot of fun shaking them each day. It was fun to watch the color of the pickles turn and deepen each day.
This is a great recipe to try with your kids and very inexpensive as well. You know we like to keep things simple around here but tasty. 🙂
I can't wait for you to give this recipe a try. It really is so yummy! Leave a comment letting us know what flavor you tried and how they turned out!
Print this kool aid pickles recipe below:
Make sure you check out these other delicious homemade recipes:
How to Make a Roux so you can make other kinds of gravy!
Homemade Egg Noodles
How to Make Whipped Cream
Homemade Chocolate Pudding Recipe
The Best Flour Recipe
Homemade Pancake Syrup
Casear Salad Dressing Recipe
Homemade Croutons
The Best Homemade Pancake and Waffle Mix
Easy Homemade English Muffins
Read more: How To Make Perfectly Crunchy Homemade Dill Pickles