Juicy baked pork tenderloin is a family favorite meal that can be made in under an hour. We are answering how long to cook pork tenderloin in the oven at 400 degrees and sharing an easy recipe for the perfect, tender pork.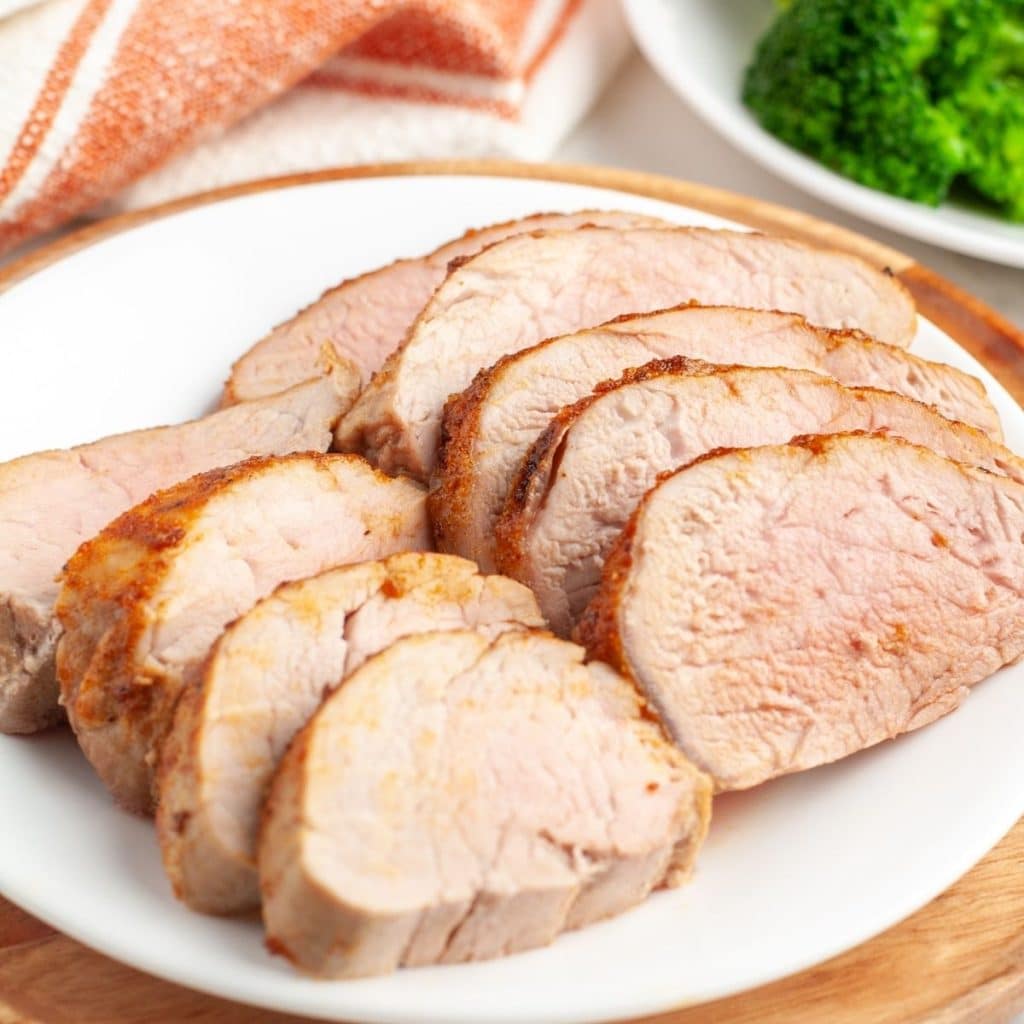 This easy pork tenderloin recipe is one we make on a weekly basis. Similar to these amazing baked pork chops, it's flavorful, simple, and is a great main dish that can be paired with with a side dish like broccoli, sweet potato fries, seasoned rice, and fried okra.
How long to cook pork tenderloin at 400 degrees?
The answer to how long to cook pork tenderloin in the oven varies slightly depending on how done you like the pork and the thickness of the tenderloin. A pork tenderloin will take about 20-25 minutes to cook in the oven at 400 degrees F.
Ingredient needed
Pork tenderloin – You can bake one or two pork tenderloins at a time. If cooking two, double the spice mixture.
Olive oil – This helps to brown the outside of the pork while baking.
Seasonings – This is an easy spice mixture made with garlic powder, onion powder, ground mustard, paprika, brown sugar, salt and ground black pepper. Feel free to use your favorite spice mixture.
How to cook pork tenderloin at 400 degrees
Step one: Prepare the tenderloin by cutting off the silver skin if needed and trimming off any excess fat. Pat dry with a paper towel.
Step two: Preheat the oven to 400 degrees f. Spray a baking dish with non-stick cooking spray and then place the pork in the dish.
Step three: Combine the spices and brown sugar in a small bowl. Rub oil on the pork and then sprinkle seasoning mixture over the pork. Make sure to try and cover the whole tenderloin with the seasoning mix.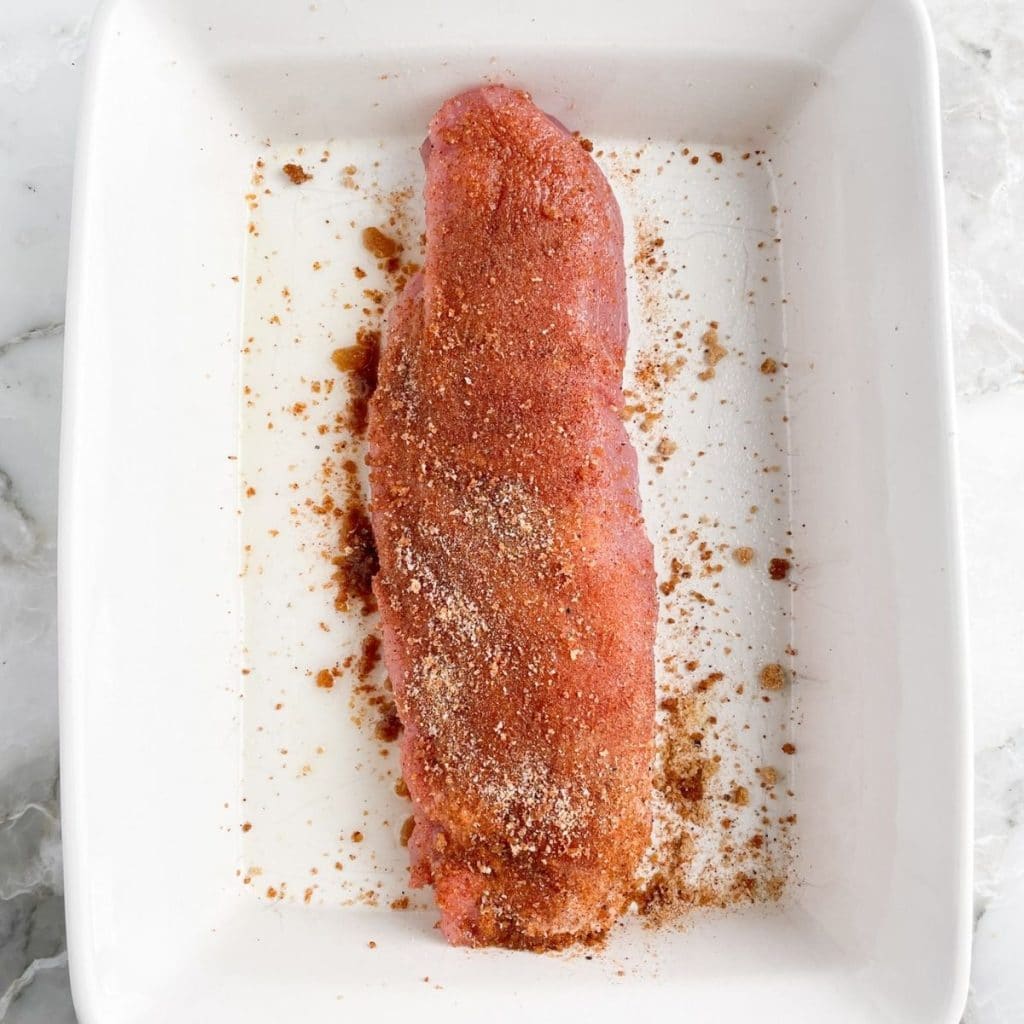 Step four: Place the pork in preheated oven and bake for 20 minutes. Check the internal temperature by placing an instant read thermometer in the thickest part of the meat. If it reaches 145 degrees it can be taken out. If not, cook for another 2-5 minutes.
Step five: Carefully place the tenderloin on a cutting board and let it rest for 5-10 minutes to finish cooking and lock in the juices. Slice with a sharp knife to serve.
What is the best temperature to cook pork tenderloin in the oven?
Pork tenderloin can be cooked at a variety of different temperatures but cooking it at a high temperature like 400 degrees, will give you great color and flavor on the outside.
When cooking pork tenderloin, the optimal internal temperature is 145 degrees Fahrenheit according to the national pork board. This gives you a medium cook, meaning a little pink in the center, tender, and juicy.
You can cook your pork up to 160 degrees if you prefer a little more medium well – well. according to the national pork board
Recipe tips
It is not necessary to cover the baking dish with aluminum foil.
Make sure to use a meat thermometer to check the internal temperature of the pork.
To ensure you get juicy pork tenderloin, be careful not to over cook because it's a lean cut of meat that can dry out quickly.
Don't skip the step of letting the pork rest for at least 5 minutes before slicing. This really helps to lock in the juices, giving you moist, tender pork.
This cooking method can also be used for pre-marinated or seasoned pork tenderloins.
Feel free to add fresh herbs like thyme and rosemary.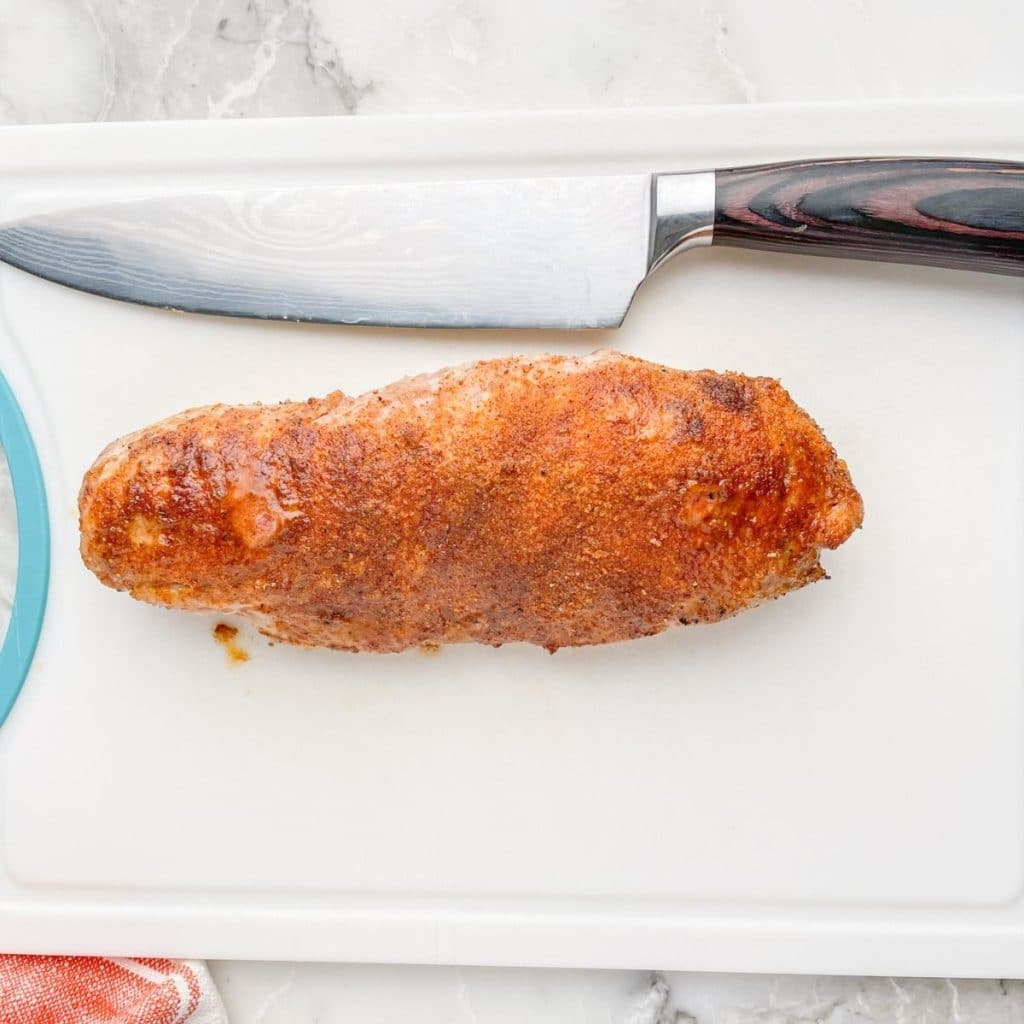 How to store leftovers
Leftover pork tenderloin can make a delicious meal the next day. To store leftovers, make sure the meat has cooled to room temperature. Store in an airtight container in the refrigerator for up to 3 days.
More easy pork recipes
Air fryer pork loin
Leftover pulled pork recipes
Instant Pot country style ribs
Did you try this pork recipe? Let me know how it turned out in the comments below.
For more information, please see more information about How long to cook pork roast in oven at 400
Detail: 🔗