Air Fryer Frozen Chicken Nuggets will revolutionize your approach to making this classic dish in the kitchen! In just a matter of minutes, you can achieve perfectly crispy outsides and tender insides for your chicken nuggets using the air fryer.
The Appeal of Frozen Chicken Nuggets in an Air Fryer
In the past, we would typically rely on the oven to cook our frozen chicken nuggets. However, it's time to move away from that old method and embrace the incredible results of air frying! There's something truly remarkable about the speed and efficiency with which the air fryer can cook frozen foods. The end result is irresistibly crisp nuggets with none of the added oil. It's definitely a winning technique that you'll want to try!
If you enjoy using frozen foods, you'll also love our other air fryer recipes such as Air Fryer Corn Dogs, Air Fryer Pizza Rolls, and Air Fryer Frozen Chicken Wings. And if you're up for a homemade creation, be sure to check out these delectable veggie nuggets.
You'll quickly become enamored with this cooking method! Don't just take our word for it—give it a try and see for yourself. We promise you won't be disappointed!
How to Make Frozen Chicken Nuggets in an Air Fryer
To achieve the perfect batch of frozen chicken nuggets in your air fryer, follow these simple steps:
Retrieve your desired amount of frozen nuggets from the freezer bag.
Arrange the nuggets in the air fryer basket without the need for any additional oil.
Air fry the frozen chicken nuggets at a temperature of 400F/204C for approximately 10-12 minutes. If you're using veggie nuggets, adjust the cooking time to around 6-8 minutes.
Once cooked, remove the nuggets from the air fryer and serve them alongside your favorite dipping sauce.
Please note that the numbered steps correspond to the photos above and are provided for illustrative purposes. For a complete list of ingredients and detailed instructions, refer to the recipe below.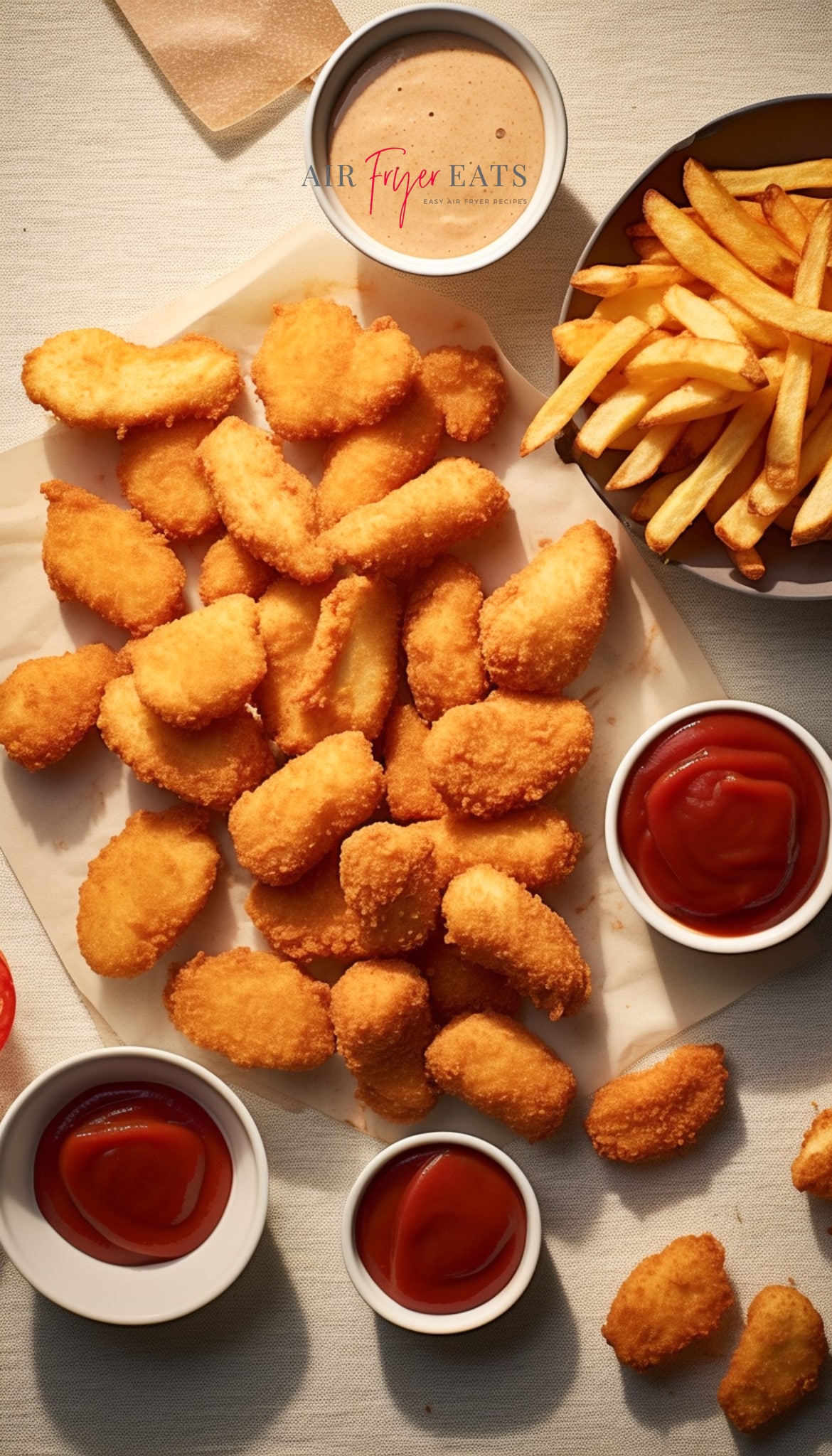 Choosing the Perfect Dipping Sauce
The choice of dipping sauce can make all the difference when it comes to enhancing the flavors of your chicken nuggets. Consider trying out these delicious options: Dr. Pepper BBQ Sauce and Easy Homemade BBQ Sauce. These flavorful sauces will elevate your dining experience to new heights.
Tips for Air Frying Frozen Chicken Nuggets
Will Tyson Chicken Nuggets be Suitable for Air Frying?
Absolutely! Tyson chicken nuggets are perfect for air frying. In fact, almost any brand of frozen chicken nuggets will work well in the air fryer. Whether you opt for a popular brand like Tyson or a store brand, you can expect satisfying results.
Can You Air Fry Veggie Nuggets?
Indeed! Veggie nuggets or vegetarian nuggets can be air fried to perfection. However, keep in mind that the cooking time may need to be slightly reduced. For frozen veggie nuggets, we recommend cooking them at the same temperature mentioned earlier but for a shorter duration of 6-8 minutes.
Is it Possible to Stack Chicken Nuggets in the Air Fryer?
We advise against stacking the nuggets in the air fryer. Instead, arrange them side by side in the air fryer basket or tray. While they can touch one another, stacking them may affect the cooking time and result in unevenly cooked nuggets.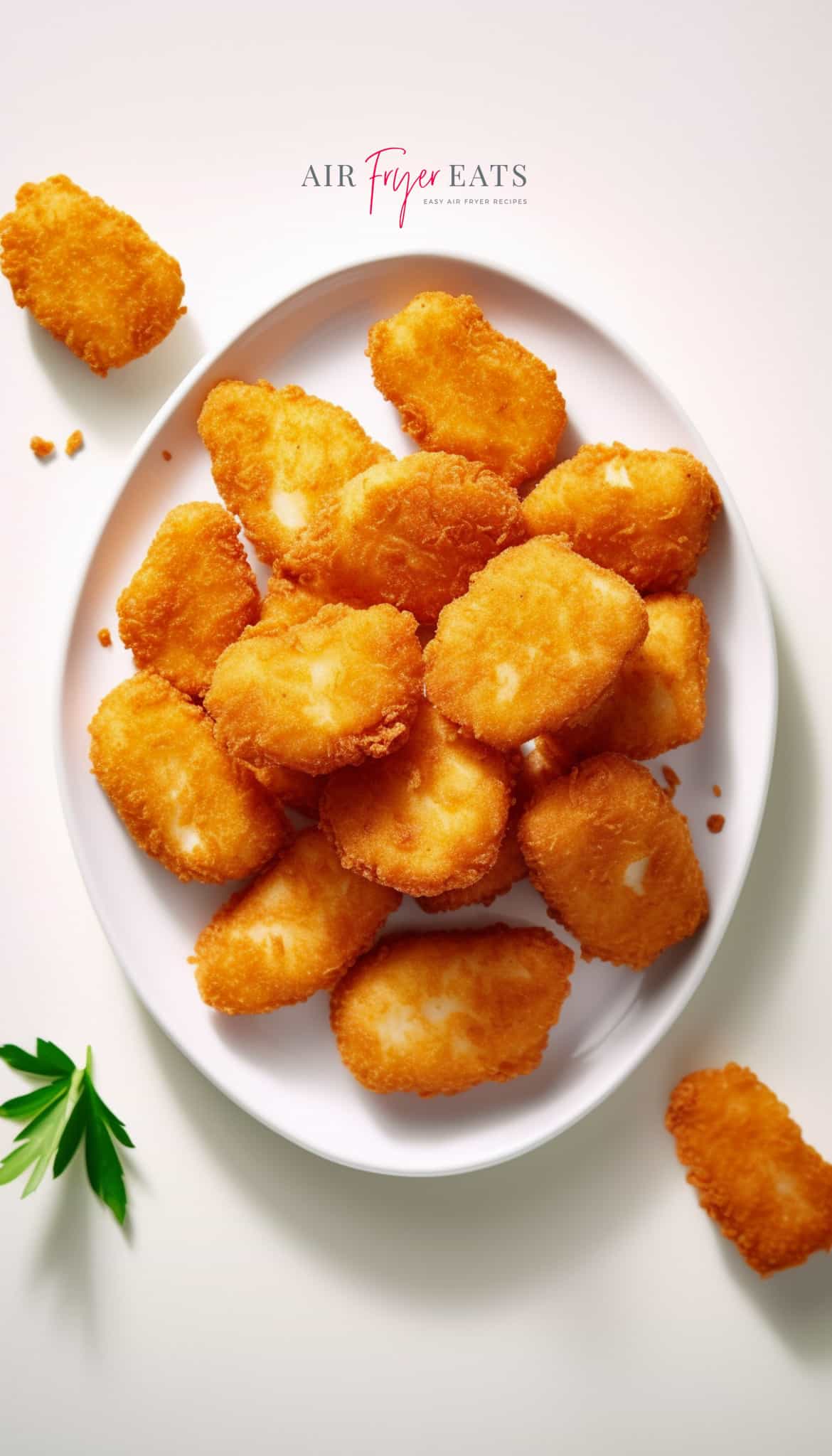 More Delicious Air Fryer Recipes
Looking for more mouthwatering air fryer recipes to try? Look no further! We have a wide range of options for you:
Air Fryer Kale Chips
Air Fryer Turkey
Sweet Potato Hash in the Air Fryer
Air Fryer Chicken Thighs
Air Fryer Asparagus
Gluten-Free Mac and Cheese
Air Fryer Ravioli
Air Fryer Morel Mushrooms
Air Fryer Mozzarella Sticks
Pro Tips
Compatibility with Any Air Fryer: This recipe can be prepared using an air fryer with a basket or an air fryer oven. If you're using an air fryer oven, simply place your food on the middle rack and select the "air fry" function.
Monitor the Cooking Process: Every air fryer operates differently, so it's essential to keep an eye on your food as it cooks. This will help you achieve the ideal level of doneness and avoid undercooking or overcooking. It's all about getting familiar with your specific air fryer's characteristics!

Gluten-Free? We've Got You Covered!
If you follow a gluten-free diet, no worries—we've got you covered! Check out our sister site called VegetarianMamma, where EVERYTHING is gluten-free. You'll find a fantastic array of dishes, perfect for your Meatless Mondays. As always, please remember to carefully read the ingredient labels to ensure that the products align with your dietary restrictions.
We hope you enjoy making these air fryer frozen chicken nuggets as much as we do! If you try out this recipe, please leave a comment and rating below. Your feedback helps other readers make informed decisions. Also, don't forget to tag @AirFryerEats on Instagram when sharing pictures. Let's get social! You can follow us on YouTube, Instagram, Facebook, and Pinterest, or join one of our Air Fryer Facebook Groups, such as Air Fryer Recipes, Air Fryer Recipes for Seniors, and Gluten-Free Air Fryer Recipes. Lastly, be sure to subscribe to our email newsletter.