This post may contain affiliate links. If you click on a link and make a purchase, I may receive a small commission at no extra cost to you. For more information, please read my disclaimer here.
Sharing is caring!
Read more: Quinoa Fried "Rice" | Family Cuisine
Reading: how to air fry chicken patties
Enjoy extra crispy frozen chicken patties in the air fryer in little time. It's the perfect quick lunch or dinner option for the whole family!
Cooking frozen foods in the air fryer is a favorite of mine. We put everything from air fryer hot dogs to air fryer mozzarella sticks in the air fryer and they cook to perfection.
I'm going to explain how to cook air fryer chicken patties, how to reheat chicken patties, and how to melt cheese on them the easy way.
I've used these directions on Tyson chicken patties in the air fryer and also Morningstar chicken patties (yes, the vegan variety)!
While some Tyson packages have "air fryer" instructions on some of their bags, I find that the time and temperature provided doesn't give the best results.
Read more: how to make fried mashed potatoes cakes | Family Cuisine
This recipe uses no oil, but still gets that crispy outside breading you love!
Love air frying food from frozen? Check out these other delicious air fryer frozen recipes!
What Are Chicken Patties?
Chicken patties are basically ground up chicken pressed into a patty. That patty is then fully breaded, cooked, then frozen, and sold in stores.
This means the frozen chicken patties in the stores are precooked and just need to be warmed up.
It's kind of like a frozen breaded chicken breast, but with shredded up chicken pieces instead of fully intact.
Other Air Fryer Recipes You'll Love:
Air Fryer Panko-Breaded Chicken Tenders
Air Fryer Hash Brown Patties
Air Fryer Bone-in Chicken Breasts
Air Fryer Brats
Air Fryer Frozen Chicken Nuggets
Frozen Chicken Strips in the Air Fryer
How to Cook Air Fryer Chicken Patties
Preheat air fryer to 400 degrees. It's important to preheat so the patties will cook evenly.
Place frozen chicken patties in the air fryer in one single layer.
Cook chicken patties for 7-8 minutes, flipping them halfway through.
Place buns inside the air fryer and cook for 1-2 minutes until crisped up (if desired).
Remove from air fryer, place chicken patties on buns, and enjoy immediately or store in fridge for up to 3 days using reheating directions below.
The chicken does not need to reach 165 degrees since it is already pre-cooked chicken.
How to Melt Cheese on Top of a Chicken Patty
Read more: how to stir fry sweet potato | Family Cuisine
I love putting spicy pepper jack cheese on my chicken patties, but if you've ever tried putting a slice of cheese on something in an air fryer, you know it flies off immediately.
This is a fun trick I use to melt cheese without any added tools and it works perfectly every time.
Place chicken patty on the bun (if using) and place in the air fryer.
Turn the air fryer off completely and put a piece of cheese on the chicken patty.
Close your air fryer and let it sit for 30-60 seconds. The cheese will melt from the residual heat in the air fryer!
I also use this trick when making Air Fryer Cheeseburgers.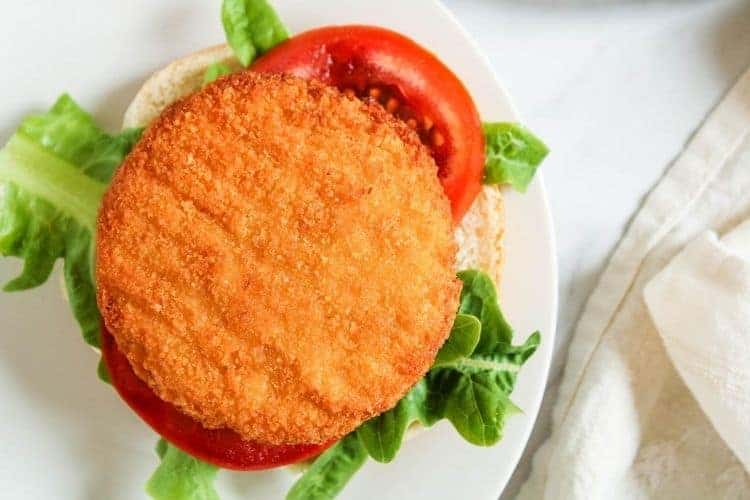 How to Reheat a Chicken Patty in the Air Fryer
Reheating chicken patties in an air fryer is 1,000 times better than trying to reheat them in the microwave. The breading stays crispy and it tastes like you just cooked them the first time!
Preheat your air fryer 350 degrees.
Place chicken patties into the air fryer and cook for 3-5 minutes until warmed thoroughly.
Finish recipe with toasting bun and melting cheese as stated in recipe below.
Enjoy immediately!
Try using frozen chicken patties in one of these other recipes:
Spice it up with our famous 5-minute buffalo sauce recipe
Use it in this spicy buffalo chicken sandwich recipe
Substitute a chicken patty in this easy buffalo chicken wrap
Love air frying? Join our newsletter! You can also follow us on Facebook, Instagram, or join our free Facebook Air Frying Community.
Sharing is caring!
Read more: Quinoa Fried "Rice" | Family Cuisine
Reading: how to air fry chicken patties