Introduction
Indulge in the deliciousness of gooey, hot cookie dough cooked to perfection in an air fryer! With a crispy top and melty, gooey center, these treats are rich, decadent, and pair perfectly with a dollop of ice cream. While this recipe features basic chocolate chip cookie dough, the possibilities for customization are endless. Whether you prefer individual servings in ramekins or a larger sharing dessert, this recipe will satisfy your sweet tooth.
The Perfect Easy Dessert
These hot cookie dough pots make for a delightful and effortless dessert. With just one bowl and no need for a mixer, they are simple to make. You can even prepare them ahead of time. The quick cooking time in the air fryer ensures a soft and gooey texture that will impress anyone with a love for warm, chewy cookies. The individual portions lend an elegant touch, making them a fantastic addition to any dinner party with a cozy ambiance.
Ingredients & Variations
When it comes to making cookies, stick to the classic ingredients. Here's what you'll need:
Light or dark brown sugar: Both work well, but the dark brown adds a subtle difference in flavor.
Melted butter: For an extra nutty taste, consider browning the butter in a saucepan.
Dark chocolate chips: Feel free to get creative and use other types of chocolate chips, such as milk or white chocolate, M&Ms, nuts, freeze-dried berries, crushed Oreos, or any other filling that tickles your fancy. Let your imagination run wild and adapt the recipe to the season.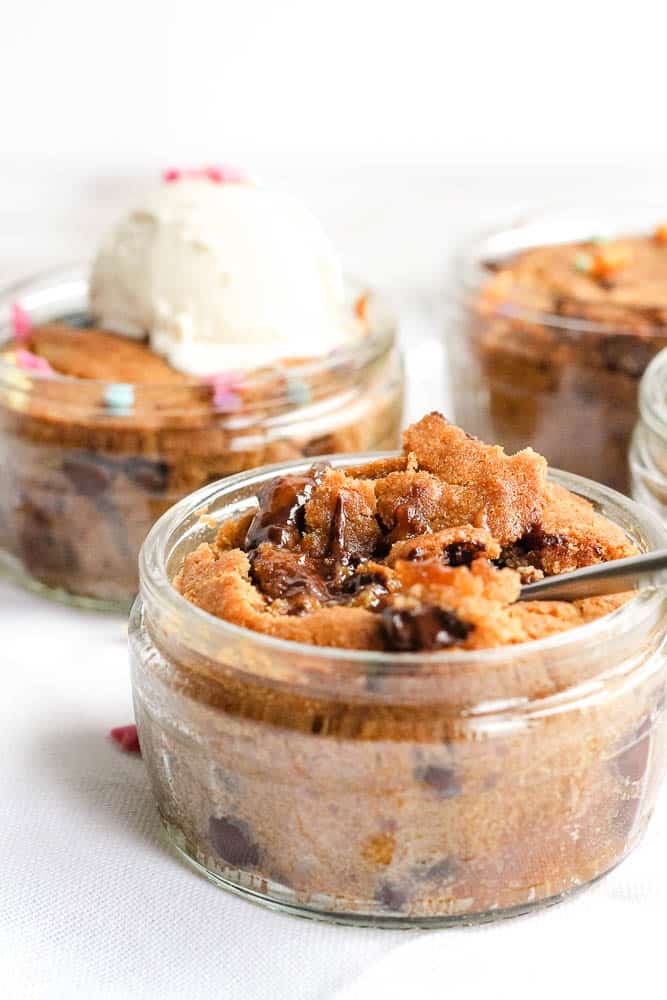 Equipment
To prepare individual portions of cookie dough pots, you will need ramekins. Glass ramekins are particularly convenient because you can assess the readiness of the dough by peeking through the side. If you don't have ramekins, try using standalone silicone muffin or cupcake cases. Additionally, it's helpful to use a silicone mat for the bottom of your air fryer to protect its nonstick surface from scratches when placing the ramekins in and out. For handling the hot ramekins, small silicone potholders are easier to use with an air fryer than regular potholders.
The Easy Cookie Dough (One Bowl, No Creaming!)
Putting together the cookie dough is a breeze. With just one bowl and no need for a mixer, the process is as simple as it gets. Since most of the dough will be consumed in its gooey form, there's no need to follow the same preparation steps as when fully baking cookies.
This recipe yields enough dough to fill four ramekins to the top, as pictured, or you can stretch it to make six ramekins without filling them entirely.
Serving Suggestions
To enhance the cookie dough experience, serve it with a scoop of vanilla ice cream. The coolness of the ice cream complements the warm dessert delightfully. If you prefer, you can also pair it with whipped cream, pouring cream, clotted cream, or mascarpone, depending on your taste. For a fun and festive touch, add some sprinkles to the presentation to match the holiday season.
So gather your ingredients, preheat your air fryer, and embark on an air-fried cookie dough adventure that will leave your taste buds craving for more!