Whether you're looking for a delicious and easy side dish, or are looking to mash them, sweet potatoes are a great and nutritious choice! Baking them in the air fryer means you can use LESS oil, and you end up with amazingly light and fluffy sweet potatoes with the perfect crispy skin!
Looking for more side dish options? Check out my Oven Roasted Vegetables, Bourbon Glazed Carrots, Stick of Butter Rice, and Crockpot Ranch Mushrooms!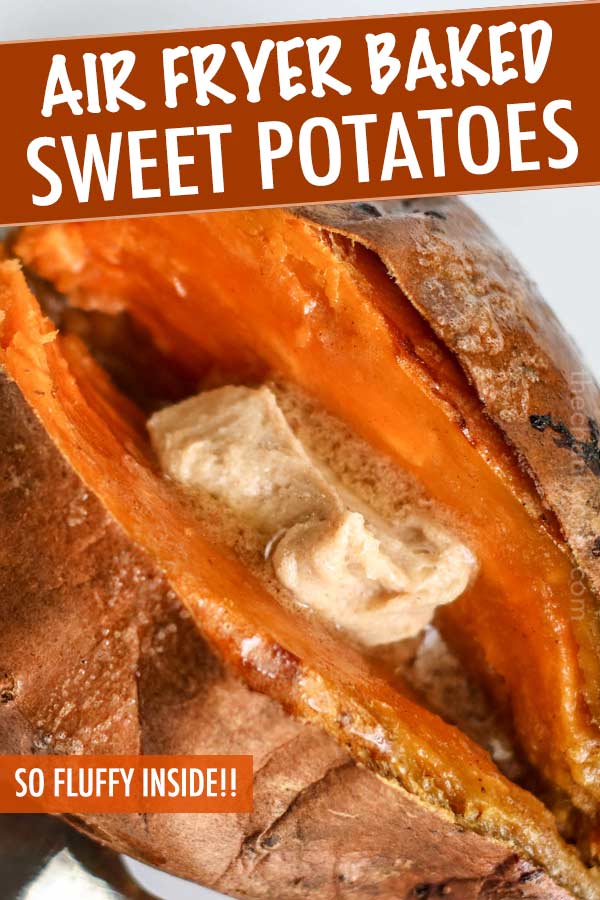 BAKED SWEET POTATO
Also read: how to stir fry rice noodle | Family Cuisine
Aren't sweet potatoes just the best?! I love a great baked sweet potato, all slathered with some butter, cinnamon and sugar.
They're perfect alongside a great steak, or even stuffed. Side note, have you checked out these Chorizo Enchilada stuffed sweet potatoes? They are a fabulous light dinner or lunch option!
Roasting them in the oven works well, but it tends to heat up the kitchen, and for whatever reason, I can't get the skins as crispy as I'd like.
The air fryer solves both of those problems, and is healthier, since you use hardly any oil!
HOW TO MAKE BAKED SWEET POTATOES
Clean and dry sweet potatoes.
Pierce sweet potatoes.
Coat in oil and seasonings.
Air fry until tender.
Also read: how to chop peppers for stir fry | Family Cuisine
That's it!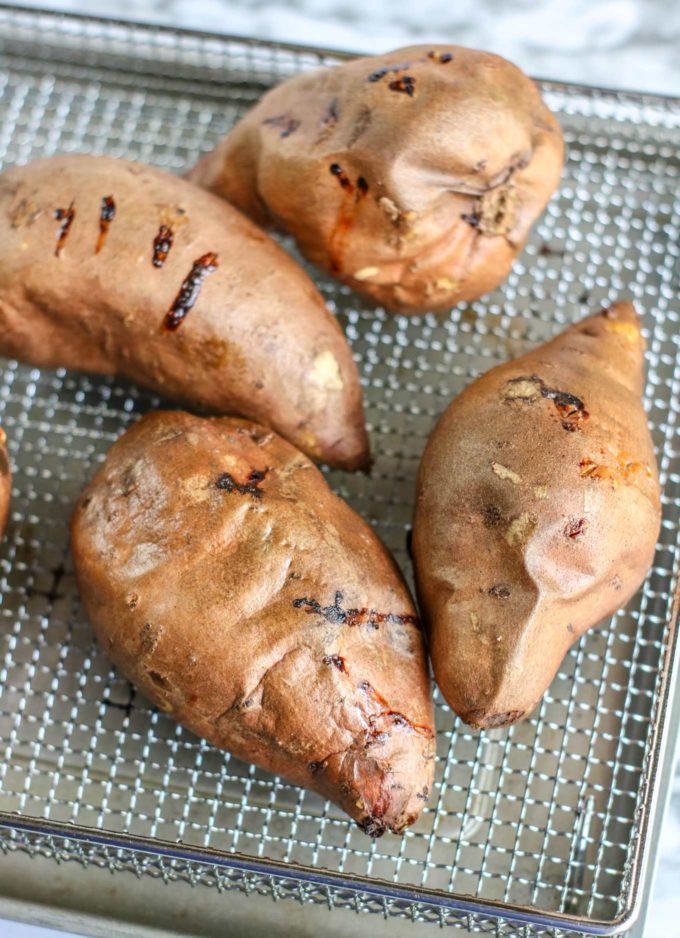 COOKING TIPS FOR BAKING SWEET POTATOES
Prepare the sweet potatoes – make sure to wash (and scrub with a clean scrubby), and dry your potatoes. They're grown in dirt, so they'll need a good cleaning. Make sure they're dry so these potatoes truly bake and roast instead of "steaming".
Poke, poke, poke – to ensure even baking and keep the sweet potatoes from exploding in the air fryer, take a small knife or the tines of a fork and pierce the skin of the potatoes 5-6 times per potato.
Pick the right sweet potatoes – when it comes to sweet potatoes you want to pick a long, skinny potato, and pick ones that are similar in size so they'll bake evenly. Rounder and bulbous sweet potatoes will cook unevenly, which is why I prefer the skinnier ones.
VARIATIONS OF BAKED SWEET POTATOES
There's not too many ways to bake a sweet potato, but I'll share a couple.
Oven – No air fryer, no problem! The oven method is very easy and doesn't really take any longer to bake.
Baked in foil – for a softer skin, prepare sweet potatoes as directed, but wrap individually in foil before baking.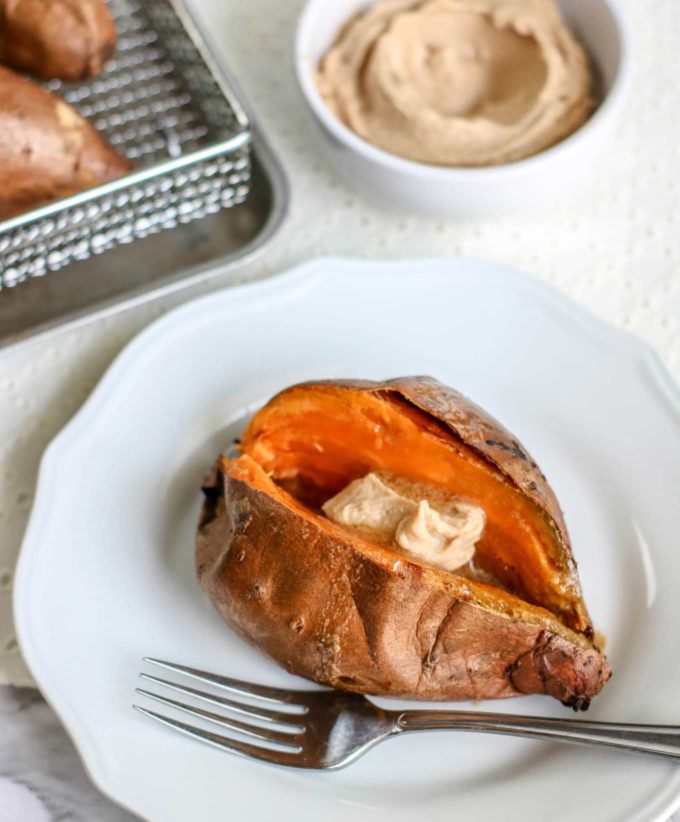 HOW TO SERVE BAKED SWEET POTATOES
As a side dish
Use leftover sweet potatoes and turn them into a delicious mashed sweet potato dish
Stuffed
SWEET POTATO TOPPINGS
Cinnamon Honey Butter
Butter, chopped pecans, and marshmallows – pop these under the broiler for a minute to lightly toast the marshmallows
Chili
Butter, smoked paprika (or chili powder), and crumbled bacon
SWEET POTATO STUFFERS
Chorizo Enchiladas
Buffalo Chicken Dip
Dr Pepper Pulled Pork
Beef BBQ
STORING LEFTOVER SWEET POTATOES
Also read: how to make crispy deep fried potato wedges | Family Cuisine
Transfer leftovers to an airtight container or wrap tightly with foil and transfer to the refrigerator for up to 3-4 days, or freeze for up to 3 months.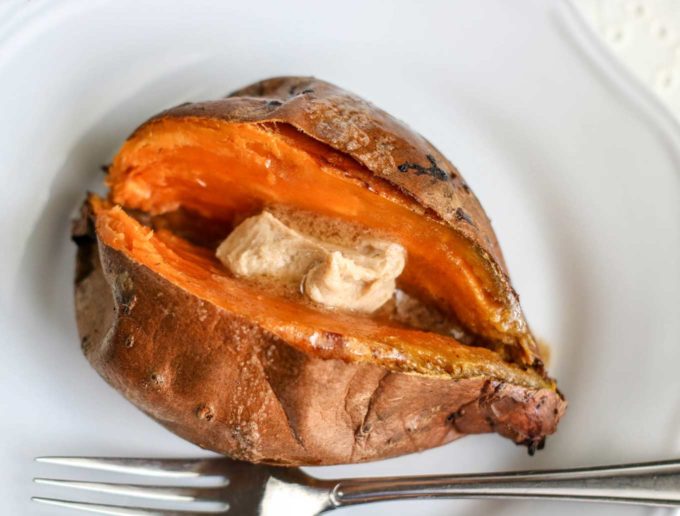 SPECIAL EQUIPMENT USED IN THIS RECIPE
Air Fryer – there are a TON of air fryers out there, but this is the model I have in my kitchen.

BE SURE TO SCROLL DOWN TO CHECK OUT OTHER READERS' COMMENTS!
AND DON'T FORGET, IF YOU'VE MADE THIS RECIPE, LEAVE A COMMENT AND PLEASE GIVE IT A STAR RATING!