Sharing is caring!
Read more: how to deep fry fish with cornmeal | Family Cuisine
These Air Fryer Turkey Burgers are juicy, delicious, and full of amazing flavor. I use my healthy secret ingredient to keep these turkey burgers nice and juicy with no added oil or butter.
Reading: how to air fry turkey burgers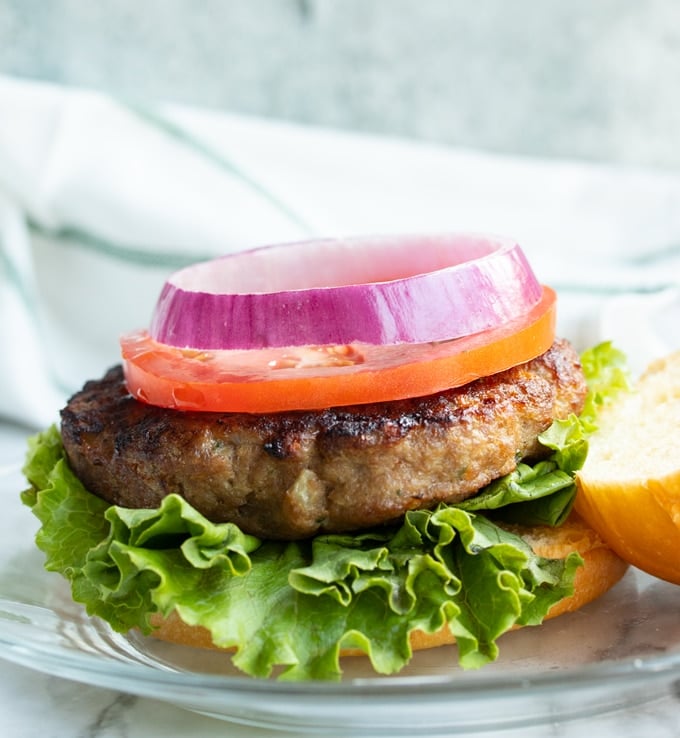 This post contains affiliate links, please read my full disclaimer here.
Full Recipe Ingredients/Instructions are available in the recipe card at the bottom of the post. You can find important tips/tricks in theblog post.
I've used ground turkey to replace ground beef in a ton of recipes for as long as I can remember. Not because I think it's better for you, but because I like diversity in my food.
But turkey burgers usually get a bad rap for being dry and nasty. That's generally because turkey has to be cooked to a temperature of 165 degrees Fahrenheit so you can't get away with undercooking it a bit like you can with other meats. But I figured out the secret ingredient to keep those turkey burgers nice and juicy…unsweetened apple sauce.
Read more: stir fry leeks how to cut | Family Cuisine
Unsweetened apple sauce adds moisture into your burgers and keeps the meat nice and juicy without adding any additional oil to the meat. I also add a little bit of grated fresh onion to the meat mixture to add moisture and flavor. It works every time and results in perfectly cooked juicy turkey burgers. And because I love my Air Fryer, that's exactly what I use to cook them.
How to make Air Fryer Turkey Burgers
First, grate your onion on the side of a large box grater or use a small food processor to get half of an onion finely grated. I do this because minced onion adds juiciness and flavor to your burger and it does not leave huge chunks of onion in your burger.
Then combine your onion, ground turkey, unsweetened apple sauce, ranch seasoning, Worchestire sauce, minced garlic, breadcrumbs, and salt and pepper. Mix with your hands until combined.
Form into 4 hamburger patties. I use my burger press to ensure that my burgers are equally sized and perfectly formed.
Then place your burgers in the refrigerator for about 30 minutes to have them firm up a bit. This step will help your patties stay together when your air frying.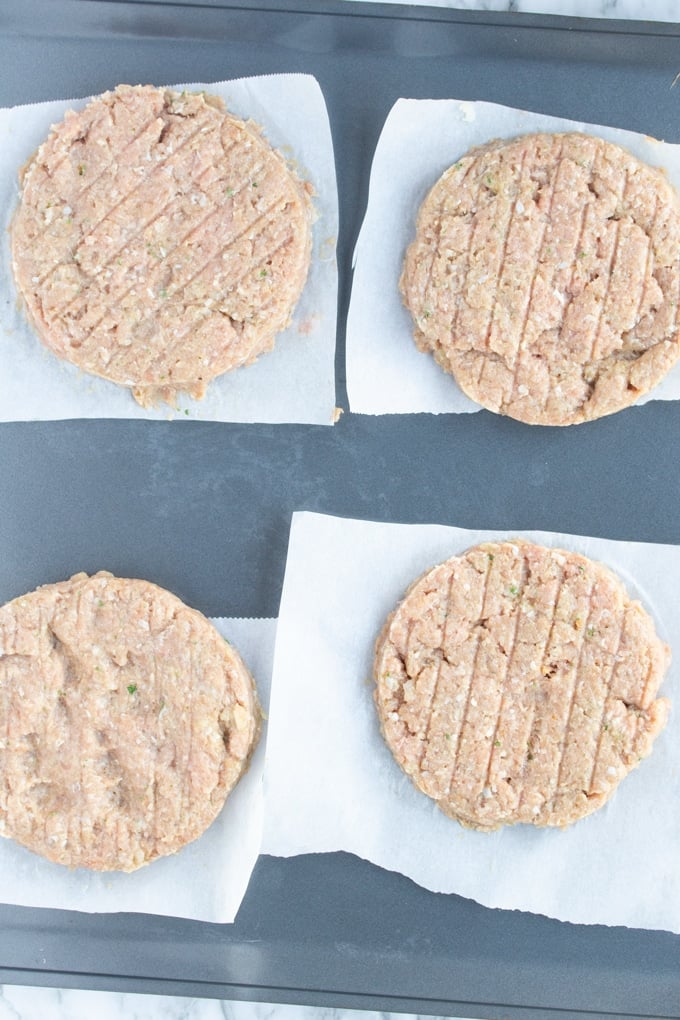 Preheat your Air Fryer to 360 degrees Fahrenheit by running your Air fryer on 360 degrees for about 3 minutes. Place your burgers in your Air Fryer basket, making sure they don't overlap or touch. Cook on 360 degrees Fahrenheit for 15 minutes, flipping halfway through. Your burgers are finished when they reach an internal temperature of 165 degrees Fahrenheit on a quick read thermometer.
Serve them however you like. I generally top them with lettuce, tomato, and a slice of red onion. I also top them with a little cranberry sauce if I'm feeling fancy.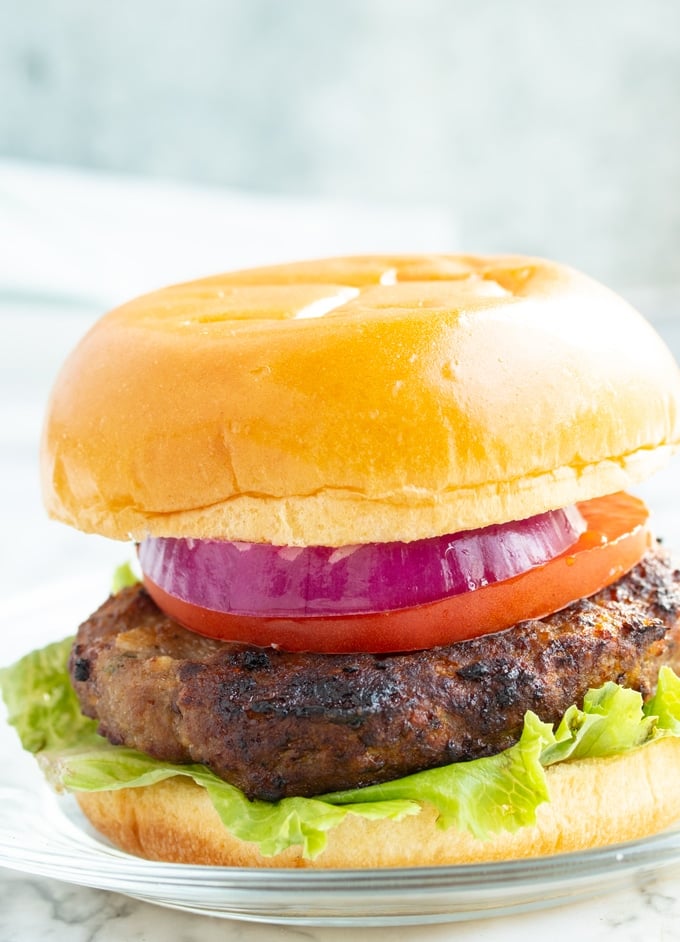 How to make burgers from frozen in the Air Fryer
Read more: how to roast carrots for a stir fry | Family Cuisine
These turkey burgers freeze beautifully and can go straight from the freezer to Air Fryer. For frozen burgers, cook on 360 degrees Fahrenheit for 18 minutes, flipping halfway over. Use a quick read thermometer to ensure your turkey burger has reached 165 degrees Fahrenheit.
How to add cheese to these burgers
Whenever we get the craving for a little melted cheese, I add them after I cooked the burger in the air fryer and then close the basket for a few minutes without running the air fryer. The cheese will melt on your burger while it sits in the warm air fryer.
Subbing Ground Beef
If you would rather make beef burgers, I recommend using ground chuck for your burgers (80/20 fat content) as it has so much flavor. I don't add any additional ingredients to my beef patties except salt and pepper. I just form and shape ground beef into a patty and coat with salt and pepper. I got that tip from Bobby Flayand it's one I absolutely agree with.
I generally cook ground beef burgers in the Air Fryer on 360 degrees Fahrenheit for 13-15 minutes or whenever my quick read thermometer reaches 165 degrees.
I hope you enjoy these turkey burgers as much as we do. If you're looking for sides to go with these burgers, try these out:
Air Fryer Potato Wedges
Air Fryer French Fries
Easy Air Fryer Baked Potato
Air Fryer Sweet Potatoes with Hot Honey Butter
Air Fryer Sweet and Spicy Brussels Sprouts
Kale and Broccoli Salad with Sweet and Sour Dressing
Roasted Cauliflower and Sweet Potato
Looking for other recipes with ground turkey? Try these out:
Ground Turkey Tacos
Pressure Cooker Turkey Chili
Sharing is caring!
Read more: how to deep fry fish with cornmeal | Family Cuisine