These Baked BBQ Chicken Tenders are my kid's favorite dinner dish! Seasoned, baked, and brushed with BBQ sauce. The perfect family-friendly dinner idea.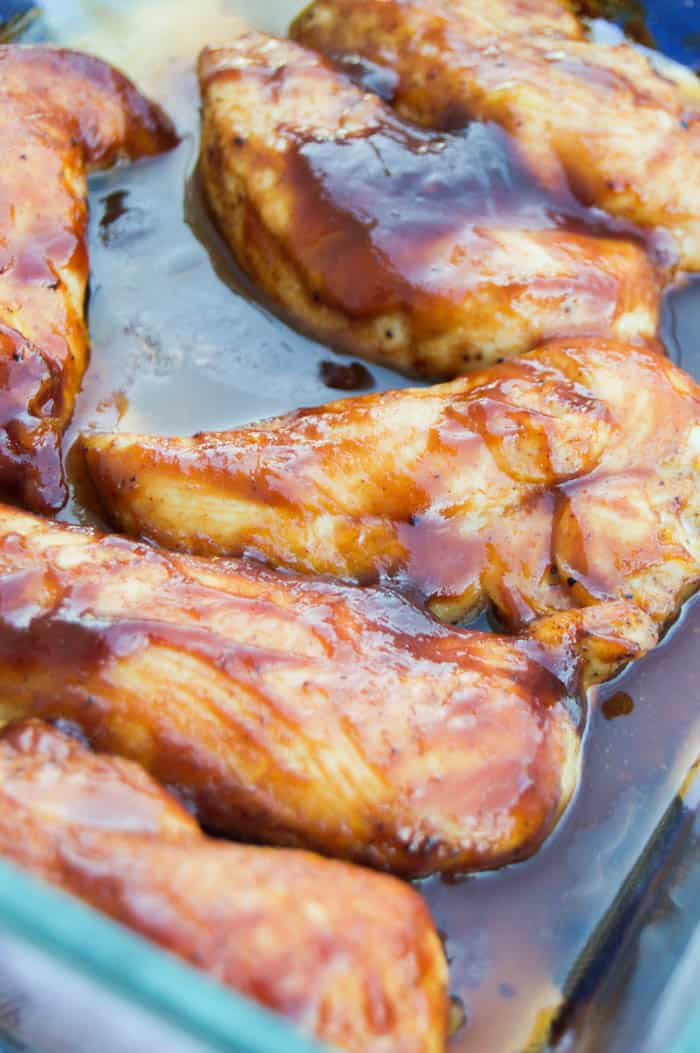 Reading: how to bake chicken tenderloins with bbq sauce
I love BBQ chicken! It's a food that all my family loves and we serve it in so many ways. I would say that it is on our table in some form at least once a week!
Some of our favorites include Baked BBQ Chicken Breast and Baked BBQ Chicken Drumsticks that taste like they came right off the grill. These tenders though are my kid's favorite.
If you love bbq chicken as much as my family does then make sure to check out the rest of my recipes! I think you will love them.
Baked BBQ Chicken Tenders Ingredients: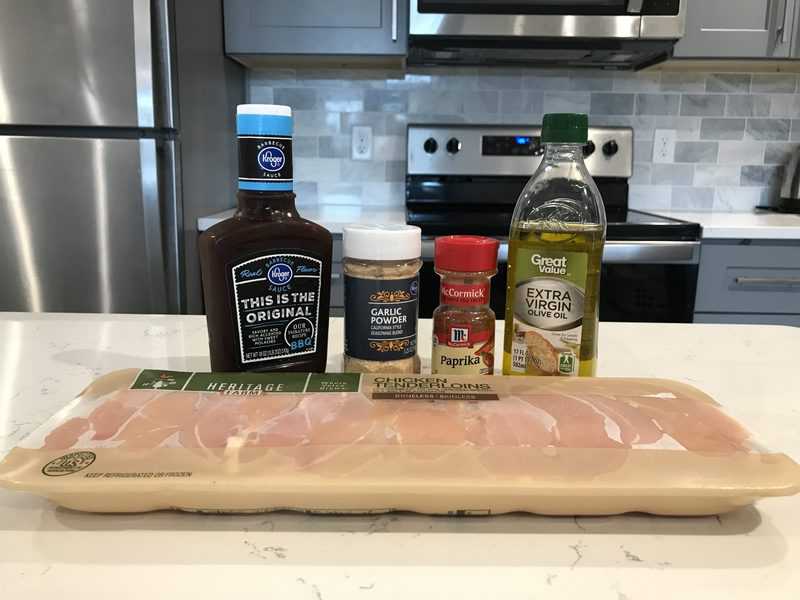 Chicken Tenders – I use fresh but frozen would work if thawed.
Oil – use the oil you prefer. I usually make it with EVOO or vegetable oil.
Paprika
Garlic Powder
Salt – add more or less to taste.
BBQ Sauce – use your favorite brand.
How to make Baked BBQ Chicken Tenders:
Step one: Start by preheating your oven to 375 degrees F. Then prepare a 2 quart casserole dish with nonstick cooking spray and set it aside.
Step two: Place chicken tenders in a large baggy with oil and massage into chicken. Add in paprika, garlic powder, and salt. Massage chicken tenders again and dump everything into a casserole dish.

Step three: Bake for 20 minutes then remove the chicken tenders and brush with bbq sauce. Place back into the oven for 10 -15 minutes or until chicken is cooked through.

Step four: Remove from oven and let rest before serving.
Side Dish Options:
I love serving these on top of a salad, with a side salad, veggies, or potatoes. Here are a few more of my favorite
Cheesy Corn Casserole
Roasted Parmesan Garlic Potatoes
Mashed Sweet Potatoes
Roasted Ranch Green Beans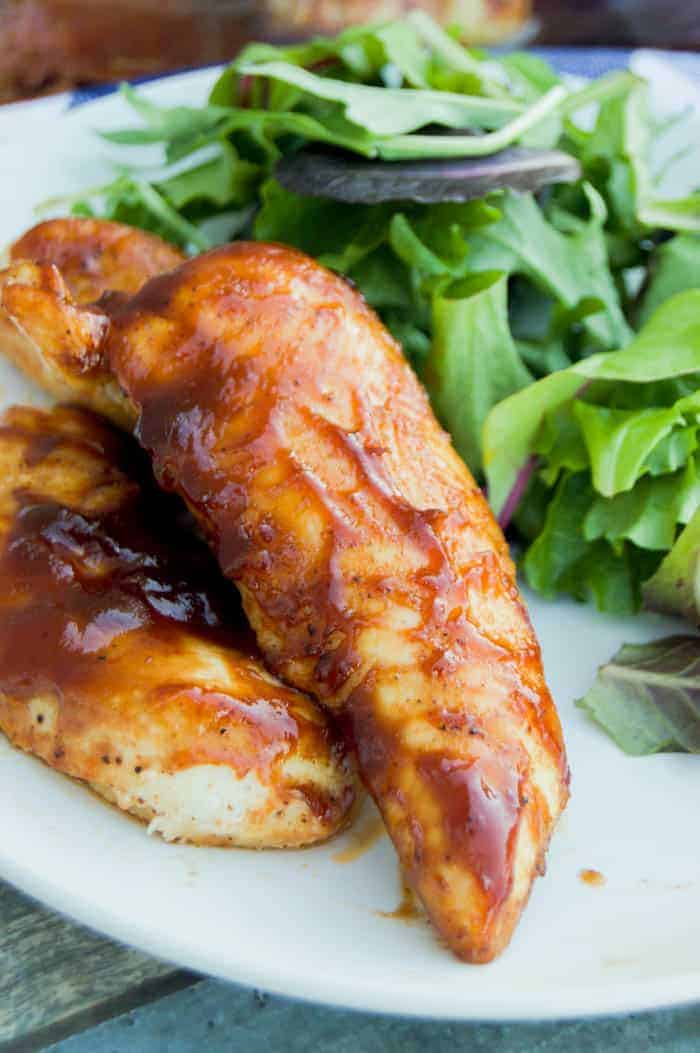 Chicken Tender Recipes:
If you have some chicken tender loves in your house as I do then make sure to check out these next:
Lemon Pepper Chicken Tenders: I love this one just as much as the kids do. Coated with breadcrumbs and seasoned with lemon pepper seasoning.
Baked Ranch Chicken Tenders: Amazing flavor and best served with more ranch dressing for dipping.
Read more: how to make kebab shop chili sauce | Family Cuisine
Lemon Garlic Chicken Tenders: Not only are these a great dinner option but I love them chilled and added to a salad.

function extend(destination, source) { for (var prop in source) { destination[prop] = source[prop]; } }
if (!Mimi) var Mimi = {}; if (!Mimi.Signups) familycuisine.netups = {};
familycuisine.netdValidation = function() { familycuisine.netialize();
var _this = this; if (document.addEventListener) { familycuisine.netventListener('submit', function(e){ familycuisine.netrmSubmit(e); }); } else { familycuisine.netchEvent('onsubmit', function(e){ familycuisine.netrmSubmit(e); }); } };
extend(Mimi.Signups.EmbedValidation.prototype, { initialize: function() { familycuisine.net = familycuisine.netlementById('ema_signup_form'); familycuisine.netit = familycuisine.netlementById('webform_submit_button'); familycuisine.netbackName = 'jsonp_callback_' + familycuisine.netd(100000 * familycuisine.netom()); familycuisine.netdEmail = /.+@.+..+/ },
onFormSubmit: function(e) { e.preventDefault();
familycuisine.netdate(); if (this.isValid) { familycuisine.netitForm(); } else { familycuisine.netlidateOnChange(); } },
validate: function() { familycuisine.netlid = true; familycuisine.netlValidation(); familycuisine.netdAndListValidation(); familycuisine.netteFormAfterValidation(); },
emailValidation: function() { var email = familycuisine.netlementById('signup_email');
if (this.validEmail.test(email.value)) { familycuisine.netveTextFieldError(email); } else { familycuisine.netFieldError(email); familycuisine.netlid = false; } },
fieldAndListValidation: function() { var fields = familycuisine.netySelectorAll('.mimi_field.required');
for (var i = 0; i < familycuisine.netth; ++i) { var field = fields[i], type = familycuisine.netdType(field); if (type === 'checkboxes' || type === 'radio_buttons' || type === 'age_check') { familycuisine.netkboxAndRadioValidation(field); } else { familycuisine.netAndDropdownValidation(field, type); } } }, fieldType: function(field) { var type = familycuisine.netySelectorAll('.field_type'); if (type.length) { return type[0].getAttribute('data-field-type'); } else if (field.className.indexOf('checkgroup') >= 0) { return 'checkboxes'; } else { return 'text_field'; } },
checkboxAndRadioValidation: function(field) { var inputs = familycuisine.netlementsByTagName('input'), selected = false;
for (var i = 0; i < familycuisine.netth; ++i) { var input = inputs[i]; if((familycuisine.net === 'checkbox' || familycuisine.net === 'radio') && familycuisine.netked) { selected = true; } } if (selected) { familycuisine.netsName = familycuisine.netace(/ invalid/g, "); } else { if (field.className.indexOf('invalid') === -1) { familycuisine.netsName += ' invalid'; } familycuisine.netlid = false; } }, textAndDropdownValidation: function(field, type) { var inputs = familycuisine.netlementsByTagName('input'); for (var i = 0; i < familycuisine.netth; ++i) { var input = inputs[i]; if (input.name.indexOf('signup') >= 0) { if (type === 'text_field') { familycuisine.netValidation(input); } else { familycuisine.netdownValidation(field, input); } } } familycuisine.netEmbedDropdownValidation(field); },
Read more: how to make a cream sauce for noodles | Family Cuisine
textValidation: function(input) { if (familycuisine.net === 'signup_email') return;
if (input.value) { familycuisine.netveTextFieldError(input); } else { familycuisine.netFieldError(input); familycuisine.netlid = false; } },
dropdownValidation: function(field, input) { if (input.value) { familycuisine.netsName = familycuisine.netace(/ invalid/g, "); } else { if (field.className.indexOf('invalid') === -1) familycuisine.netsName += ' invalid'; familycuisine.netlectCallback(input); familycuisine.netlid = false; } },
htmlEmbedDropdownValidation: function(field) { var dropdowns = familycuisine.netySelectorAll('.mimi_html_dropdown'); var _this = this;
for (var i = 0; i < familycuisine.netth; ++i) { var dropdown = dropdowns[i]; if (dropdown.value) { familycuisine.netsName = familycuisine.netace(/ invalid/g, "); } else { if (field.className.indexOf('invalid') === -1) familycuisine.netsName += ' invalid'; familycuisine.netlid = false; familycuisine.netange = (function(){ familycuisine.netdate(); }); } } }, textFieldError: function(input) { familycuisine.netsName = 'required invalid'; familycuisine.neteholder = familycuisine.netttribute('data-required-field'); }, removeTextFieldError: function(input) { familycuisine.netsName = 'required'; familycuisine.neteholder = "; }, onSelectCallback: function(input) { if (typeof Widget === 'undefined' || !Widget.BasicDropdown) return; var dropdownEl = familycuisine.netntNode, instances = familycuisine.netances, _this = this; for (var i = 0; i < familycuisine.netth; ++i) { var instance = instances[i]; if (instance.wrapperEl === dropdownEl) { familycuisine.netlect = function(){ familycuisine.netdate() }; } } }, updateFormAfterValidation: function() { familycuisine.netsName = familycuisine.netormClassName(); familycuisine.net = familycuisine.netitButtonText(); familycuisine.netbled = !this.isValid; familycuisine.netsName = familycuisine.netlid ? 'submit' : 'disabled'; }, setFormClassName: function() { var name = familycuisine.netsName; if (this.isValid) { return familycuisine.netace(/s?mimi_invalid/, "); } else { if (name.indexOf('mimi_invalid') === -1) { return name += ' mimi_invalid'; } else { return name; } } }, submitButtonText: function() { var invalidFields = familycuisine.netySelectorAll('.invalid'), text; if (this.isValid || !invalidFields) { text = familycuisine.netttribute('data-default-text'); } else { if (invalidFields.length || invalidFields[0].className.indexOf('checkgroup') === -1) { text = familycuisine.netttribute('data-invalid-text'); } else { text = familycuisine.netttribute('data-choose-list'); } } return text; }, submitForm: function() { familycuisine.netSubmitting(); var _this = this; window[this.callbackName] = function(response) { delete window[this.callbackName]; familycuisine.netveChild(script); familycuisine.netbmitCallback(response); }; var script = familycuisine.netteElement('script'); familycuisine.net = familycuisine.netUrl('json'); familycuisine.netndChild(script); }, formUrl: function(format) { var action = familycuisine.neton; if (format === 'json') action += '.json'; return action + '?callback=' + familycuisine.netbackName + '&' + serialize(this.form); }, formSubmitting: function() { familycuisine.netsName += ' mimi_submitting'; familycuisine.net = familycuisine.netttribute('data-submitting-text'); familycuisine.netbled = true; familycuisine.netsName = 'disabled'; }, onSubmitCallback: function(response) { if (response.success) { familycuisine.netbmitSuccess(response.result); } else { familycuisine.net = familycuisine.netUrl('html'); } }, onSubmitSuccess: function(result) { if (result.has_redirect) { familycuisine.net = familycuisine.netrect; } else if(result.single_opt_in || !result.confirmation_html) { familycuisine.netbleForm(); familycuisine.netteSubmitButtonText(this.submit.getAttribute('data-thanks')); } else { familycuisine.netConfirmationText(result.confirmation_html); } }, showConfirmationText: function(html) { var fields = familycuisine.netySelectorAll('.mimi_field'); for (var i = 0; i < familycuisine.netth; ++i) { fields[i].style['display'] = 'none'; } (this.form.querySelectorAll('fieldset')[0] || familycuisine.net).innerHTML = html; }, disableForm: function() { var elements = familycuisine.netents; for (var i = 0; i < familycuisine.netth; ++i) { elements[i].disabled = true; } }, updateSubmitButtonText: function(text) { familycuisine.net = text; }, revalidateOnChange: function() { var fields = familycuisine.netySelectorAll(".mimi_field.required"), _this = this; var onTextFieldChange = function() { if (this.getAttribute('name') === 'signup[email]') { if (_this.validEmail.test(this.value)) familycuisine.netdate(); } else { if (this.value.length === 1) familycuisine.netdate(); } } for (var i = 0; i < familycuisine.netth; ++i) { var inputs = fields[i].getElementsByTagName('input'); for (var j = 0; j < familycuisine.netth; ++j) { if (this.fieldType(fields[i]) === 'text_field') { inputs[j].onkeyup = onTextFieldChange; inputs[j].onchange = onTextFieldChange; } else { inputs[j].onchange = function(){ familycuisine.netdate() }; } } } } }); if (document.addEventListener) { familycuisine.netventListener("DOMContentLoaded", function() { new familycuisine.netdValidation(); }); } else { familycuisine.netchEvent('onload', function() { new familycuisine.netdValidation(); }); } })(this);

SaveSaveSaveSave
SaveSave
Read more: how to make homemade spaghetti sauce from canned tomatoes | Family Cuisine
SaveSave
Read more: how to make homemade spaghetti sauce from canned tomatoes | Family Cuisine
SaveSave
Read more: how to make homemade spaghetti sauce from canned tomatoes | Family Cuisine
SaveSave
Read more: how to make homemade spaghetti sauce from canned tomatoes | Family Cuisine
SaveSave
Read more: how to make homemade spaghetti sauce from canned tomatoes | Family Cuisine
SaveSave
Read more: how to make homemade spaghetti sauce from canned tomatoes | Family Cuisine
SaveSave
Read more: how to make homemade spaghetti sauce from canned tomatoes | Family Cuisine
SaveSave
Read more: how to make homemade spaghetti sauce from canned tomatoes | Family Cuisine
SaveSave
Read more: how to make homemade spaghetti sauce from canned tomatoes | Family Cuisine
SaveSave
Read more: how to make homemade spaghetti sauce from canned tomatoes | Family Cuisine