Marinara sauce is made with a few simple pantry ingredients. This marinara sauce for canning is made with diced onion, garlic, tomato puree, and spices.
You'll love this marinara sauce with Sausage and Peppers too! It's made with simple ingredients in about 20-minutes. You'll never want to buy store-bought sauce again!
Reading: how to can marinara sauce
Home canned marinara sauce is easier to make than you think! It gives you fresh, preservative free sauce all-year long.
My mom made marinara sauce all the time when we were young. It was delicious on her homemade meatballs, homemade pizza, lasagna, stuffed shells, meatball subs, and so much more.
Why this recipe works
Simple to make with easy to find ingredients
Stock your shelves with your own homemade sauce, saving money and less trips to the grocery store.
No preservatives or unnecessary additives. All-natural ingredients.
Home canned marinara sauce will last for up to 18-months in a cool, dry space.
What you'll need
Extra virgin olive oil – Cook the onions to in hot oil over medium heat. The olive oil gives this sauce a great flavor.
Yellow or sweet onions – chopped
Garlic – Use minced garlic to add a pop of garlic flavor. You can either mince your own or save time and buy minced garlic in the refrigerator in the produce section.
Water – Use warm water and whisk with the tomato paste to create the base for this sauce.
Tomato puree (canned) – Canned tomato puree is recommended by the USDA because the pH is controlled and citric acid is added as a natural preservative.
Tomato paste – Gives you a burst of rich tomato flavor.
Brown sugar – Helps get rid of the acidity of the tomato sauce.
Not everyone waits for perfectly ripe tomatoes to make homemade spaghetti sauce or marinara sauce. Quality canned tomato puree, onions, garlic, brown sugar, water, and spices will achieve the perfect consistency for this tomato sauce.
Are you growing a vegetable garden like we are? Check out our vegetable garden and tips on how to grow summer produce. We use many of our tomatoes in homemade pasta sauce and even make homemade BBQ sauce.
How to make Marinara Sauce from scratch
Nearly each day we harvested tomatoes from our vegetable garden. They were washed with cold water, stems removed, and most finished ripening on our kitchen counter near the window. When they were perfectly ripe, cut into quarters, and placed into freezer zip-style bags.
Freeze the bags of tomatoes until you have enough to process. With this many tomatoes to process, we want to work smarter- not harder.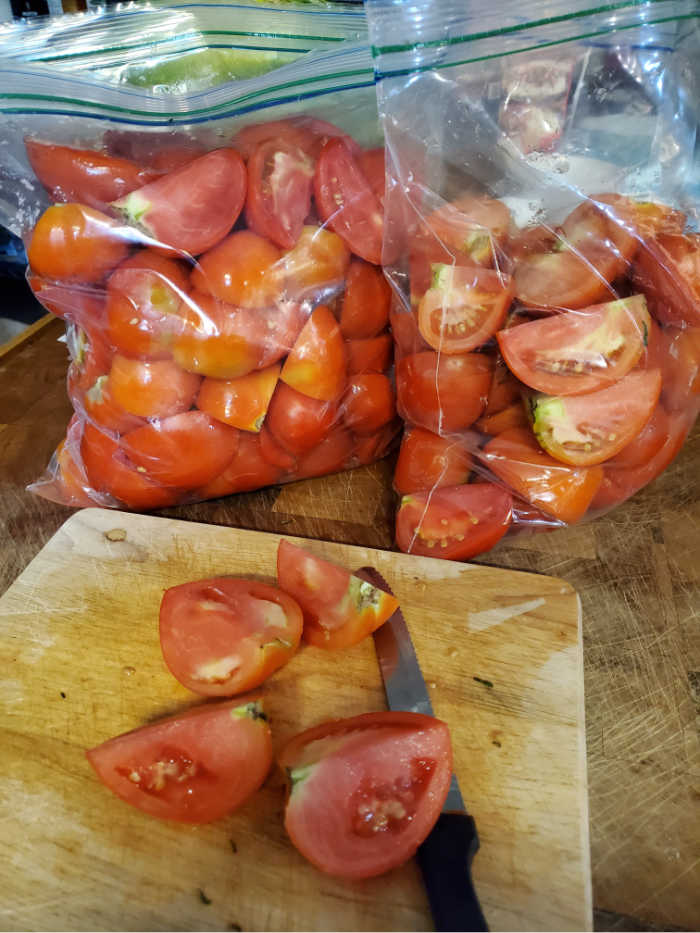 Read more: how to make tartar sauce like red lobster | Family Cuisine
For processing all of the fresh tomatoes, we used a Squeezo food mill and an outdoor burner to cook them in a large stockpot. Cook the tomatoes until softened and it's easier for them to go through the food mill.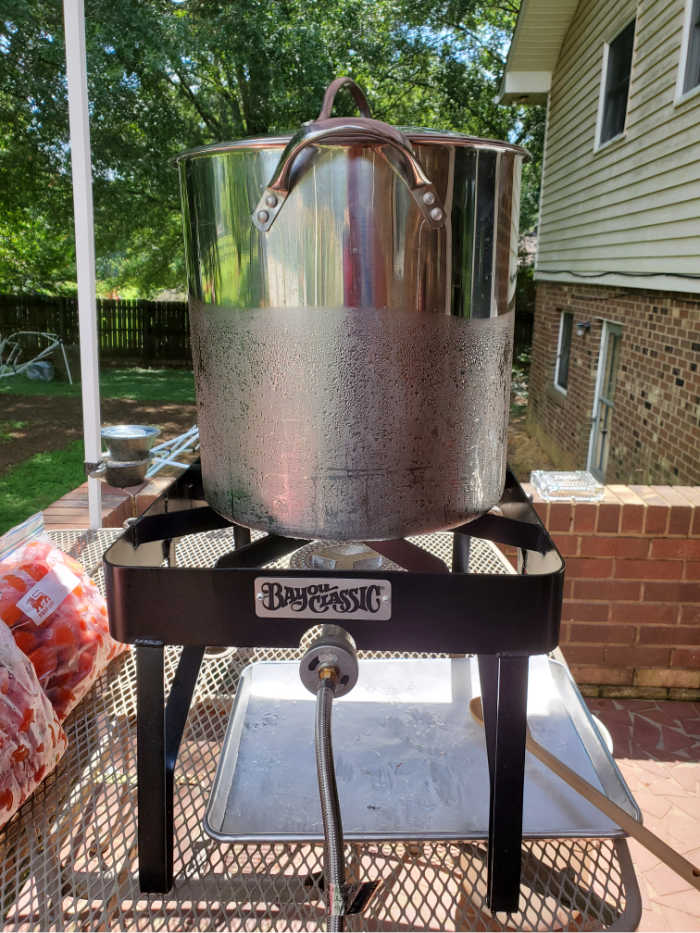 With the Squeezo food mill, tomato juice and pulp comes down the drip tray and collected in a large pot. While, skins and seeds get discarded.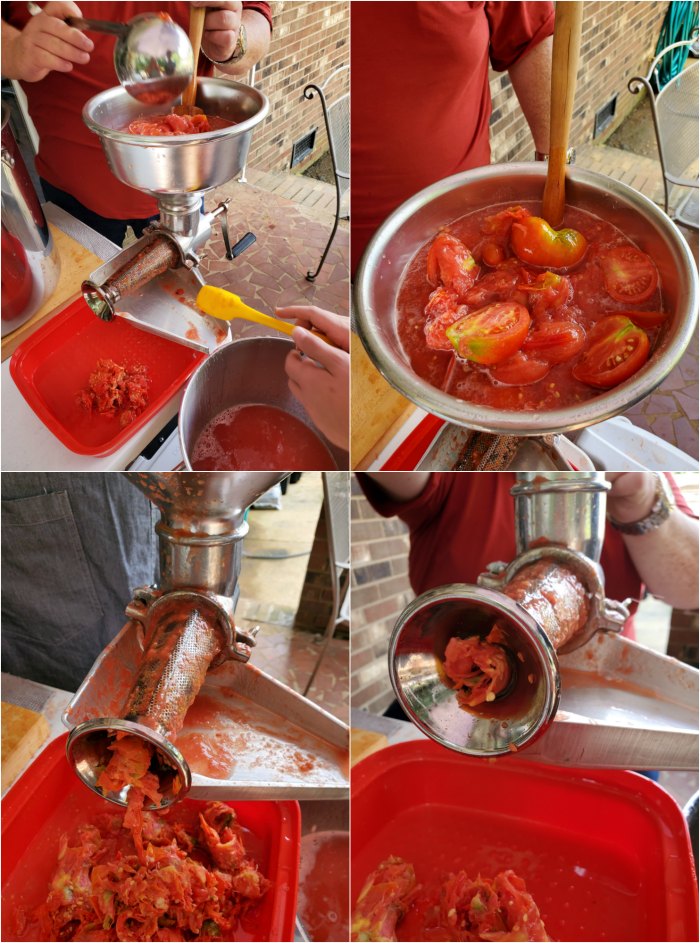 Recipe FAQs
We grew about 15 tomato plants this year in our vegetable garden. The two varieties we planted were Beef Steak and Better Boy. Both varieties are heirlooms our grandparents planted and make great homemade pasta sauce with fresh tomatoes!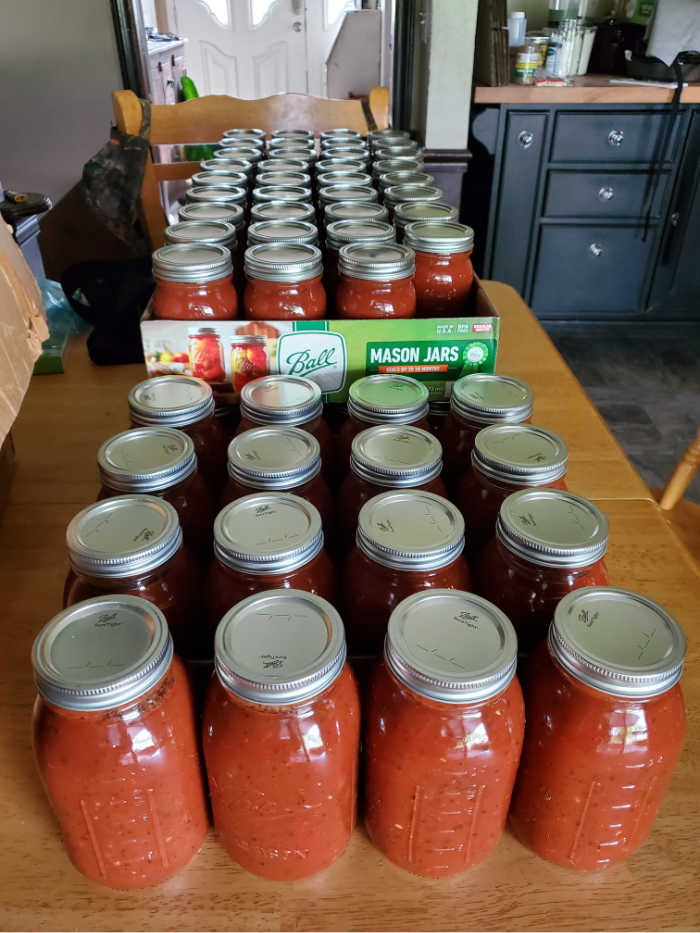 Sealed Mason jars of homemade pasta sauce will last 18 to 24 months in a cool and dry environment.
How to make Homemade Marinara Sauce
Step 1: In a 12 to 14-quart pot, heat the olive oil over medium heat. Add the onions and cook until they are softened. Stir occasionally with a spoon. Add the garlic, stir and cook for a few minutes.
Step 2: Add the water, tomato puree, tomato paste, brown sugar, oregano, fennel, basil, salt, and black pepper. Use a metal whisk to mix well and remove any lumps.
Step 3: Adjust the salt and pepper as desired. Simmer over low to medium heat until desired thickness is reached, stirring occasionally to keep it from scorching.
Homemade pasta sauce with fresh tomatoes
Step 1: Follow the sauce recipe below.
Read more: how to make dipping sauce for spring rolls | Family Cuisine
Step 2: In addition to those ingredients, add 8 cups fresh tomato juice/puree mixture. Add 2 additional cups of water. 1 additional cup of brown sugar, 1 tablespoon additional each of salt, black pepper, ground fennel, basil, and oregano.
Step 3: Whisk together ingredients and let simmer over medium to low heat until desired thickness is achieved. (Follow directions below for canning tomato sauce)
This will give you about 20-22 pints of tomato sauce, depending on the thickness.
One of the secret ingredients to my mom's marinara sauce is ground fennel. Which is often difficult to find in your local grocery store. Order it here!
For more great Home Canning Recipes be sure and try Pickled Peppers Recipe, Bread & Butter Pickles, Mixed Berry Jam, and Raspberry Rhubarb Jam.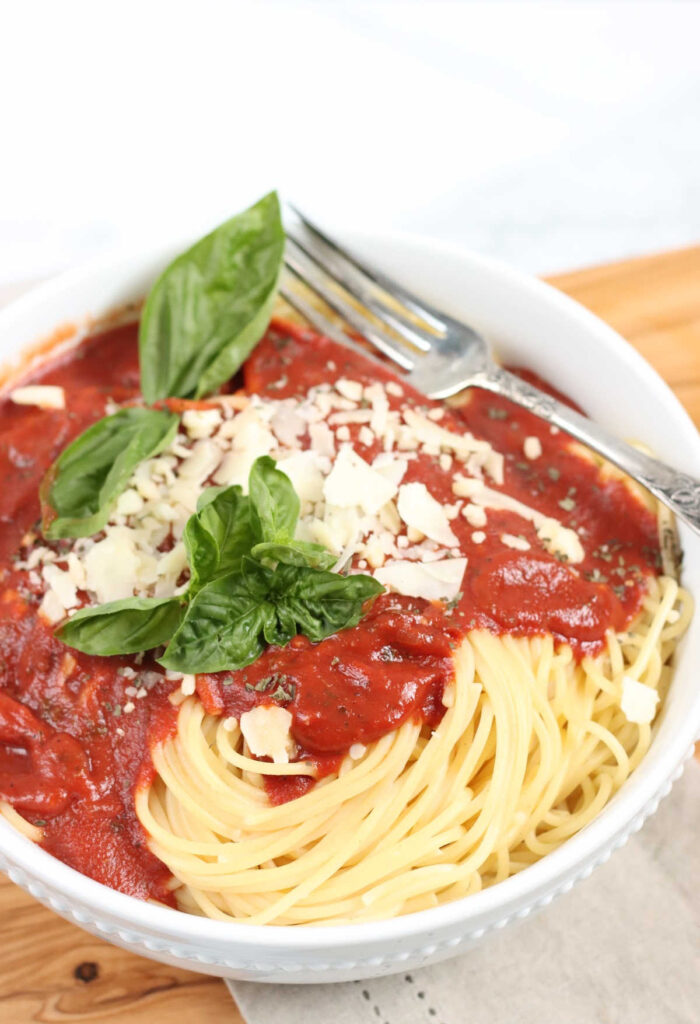 To make a meat sauce, simply brown one-pound of ground beef, pork, or turkey. Add a jar of sauce to the sauce over low heat to warm it up.
Be sure to try this easy to make tomato sauce on Cast Iron Pizza, Italian Pizza, Goulash, and Stuffed Cabbage.
Did you make one of my recipes? Please take a moment to leave a star rating. Also, if you are on Pinterest, please feel free to leave a comment there and a photo if you have one! Follow A Farmgirl's Kitchen on FACEBOOK and PINTEREST and subscribe my mailing list for ALL the latest recipes!
Disclosure: As an Affiliate Marketer, I earn from qualifying purchases. If you click a product affiliate link on A Farmgirl's Kitchen and make a purchase, I may receive a commission at no additional cost to you! I own every cooking product I recommend and love how they perform.
Read more: how to make sauce for pasta at home | Family Cuisine