Introducing two ways to cook stir-fried water spinach, and both require fewer than five ingredients. Try out this Chinese leafy green to add color and nutrition to your dinner table. {Vegan, Gluten-Free}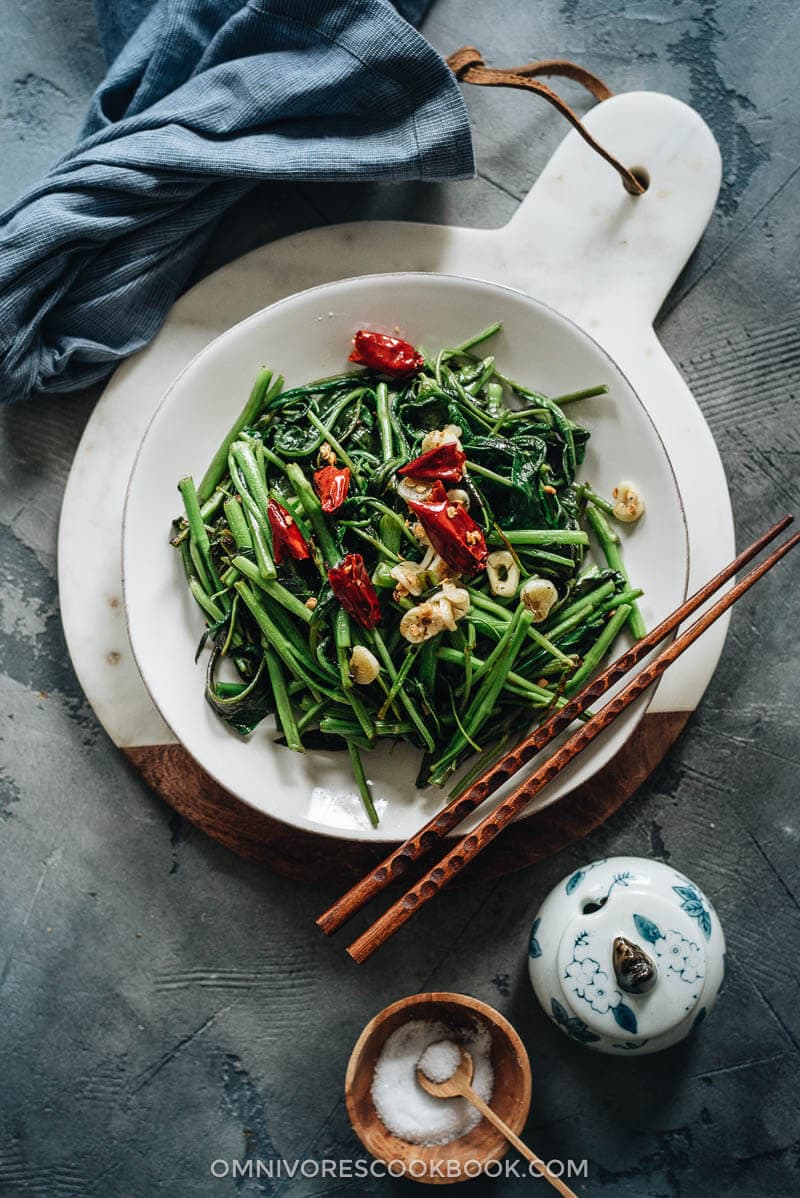 Reading: how to chinese stir fry water spinach
Vegetables are a staple in Chinese cuisine and seasonal leafy greens are an important element on the Chinese dinner table. Since I moved to the US, I've been missing the simple and delicious greens that my mom used to make every day. She would visit the market a few times a week and get a few batches of the greens that look the freshest. She'd cook at least two veggie dishes every day, both for lunch and dinner, just for the three of us. If you're curious about how our dinner table looked like in China, you can find some examples in this post.
In the past I shared some veggies dishes using more common greens. For example, Chinese broccoli in oyster sauce, baby bok choy in garlic sauce, and 4-ingredient cabbage stir fry.
I purchased and cooked Chinese greens while living in Austin, especially after the 99 Ranch Market opened in 2018. After moving to New York, the situation improved even more.
We're lucky enough to live close to Manhattan's Chinatown. The first time I visited the wet market there, I was thrilled to find almost all the veggies I'd eaten growing up. Not only is the variety very wide, but the veggies also look super fresh and are cheaply priced. Now I'm working on putting together a Chinese veggie guide to help you shop for and cook these veggies you've never heard before. Today we'll look at how to prepare water spinach.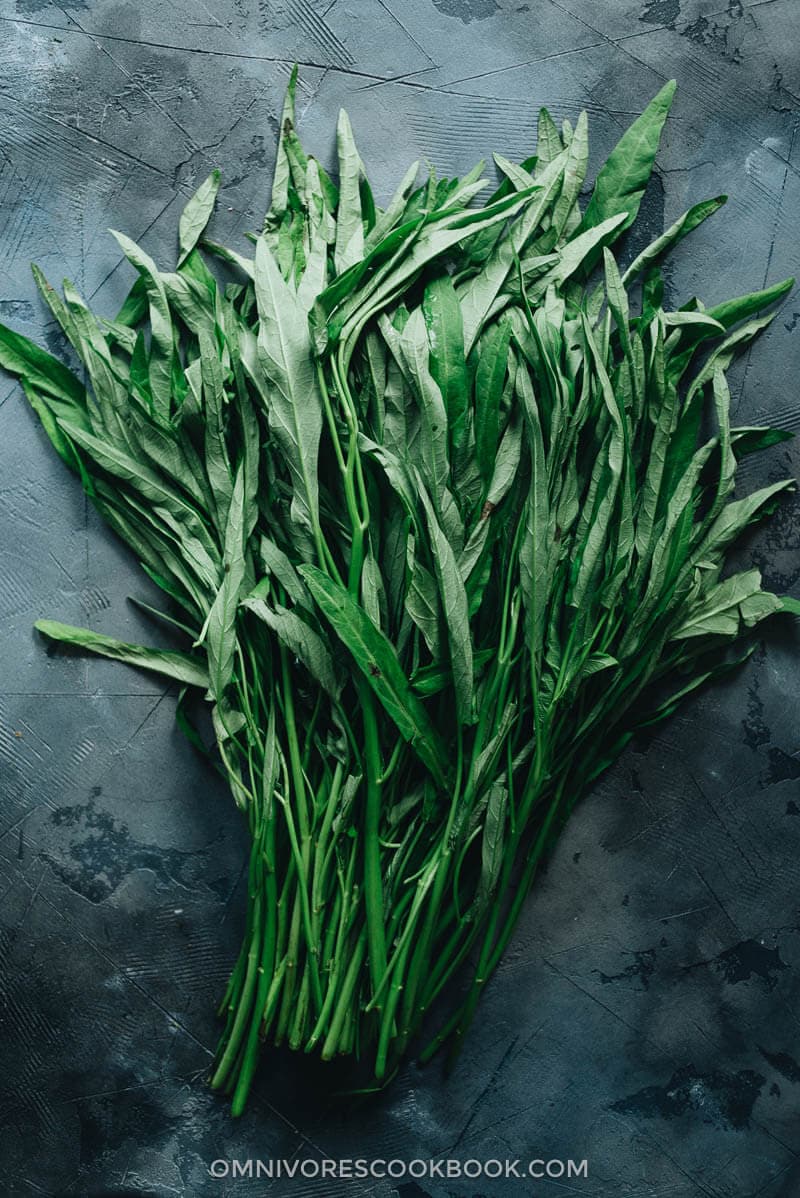 Water spinach 101
1. What is water spinach?
Water spinach is called kōng xīn cài (空心菜) in Chinese, which literally means 'empty hearted' spinach. The name probably comes from its round, hollow stems. It has slender, long, pointed leaves. The vegetable is quite popular in southern Chinese and Southeast Asian cuisines, where it is known as 'kang kung'.
Water spinach has a savory, mild, and slightly mineral flavor. Once cooked, the leaves turn very tender like spinach with a hint of sweetness. The cooked stems stay crunchy with a refreshing taste.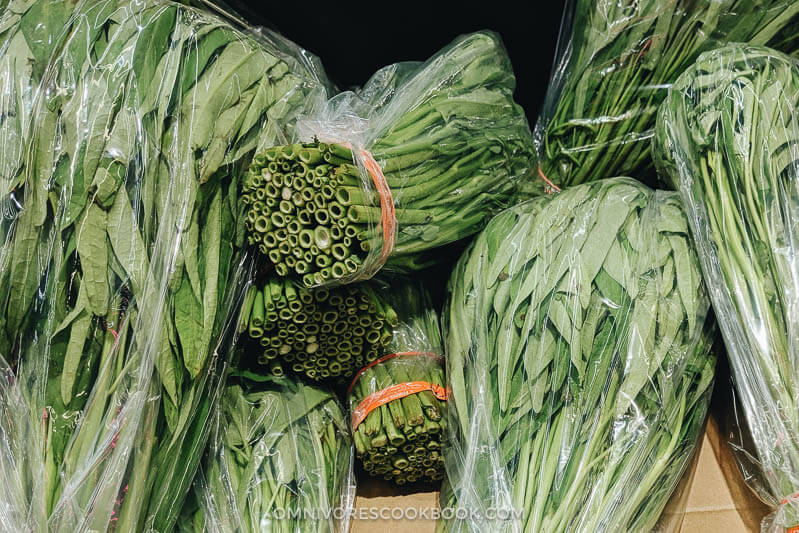 2. Nutrition facts
If you're wondering why go to all this trouble to hunt down and cook this special veggie, I might have a good reason beyond the fact that it's a delicious tasting vegetable.
Water spinach contains an abundance of vitamins and minerals. For example, 100 grams of water spinach contains 210% of the daily recommended value of vitamin A, which is essential for healthy skin, hair, and eyes. Additionally, the greens also contain minerals such as iron (21%), calcium (8%), potassium (7%), magnesium (18%), manganese (7%) and phosphorus (5.5%). Some of minerals, such as iron and calcium, are especially crucial if your diet contains less meat or is plant-based.
3. How to buy and store
Read more: Fried Smelt – Pan Fried in 5 minutes! | Family Cuisine
Water spinach is usually sold in bundles, displayed in the room-temperature produce section of a wet market, or in a refrigerated area in an Asian grocery store. The length of water spinach varies, from 12 to 19 inches (30 to 50 cm).
When available, I prefer water spinach that is shorter with slimmer stems. The veggies are crisper and tenderer once cooked. On the other hand, I've seen other cooks actually prefer larger sized water spinach, stating that the bigger leaves taste richer.
At any rate, avoid wilted, yellowish leaves. Also avoid damaged, insect afflicted greens.
Once purchased, store water spinach in a bag in the refrigerator and consume it as soon as possible, preferably within three days. I've stored water spinach in the fridge for 4 to 5 days in the past. But the longer I store it, the more prep it will require since you will need to pick out and discard any withered leaves.
4. How to prep water spinach
The preparation method you use for water spinach (i.e. before cooking) can affect the end result of the dish, substantially.
To get the best result, you should trim off the tough stem, separate the stems and leaves, and cut the stems into 2-inch (5-cm) pieces. I usually separate the stems and leaves and cook the stems a bit longer to get the best result.
Ideally, you will be dealing with the water spinach one stalk at a time, which my mom insists on doing. She usually feels the stems by hand, and snips off and discards the part of the stem that is tough. It's easier said than done, because the process can take 15 to 20 minutes.
What I usually do is feel a few stems and cut off 3 to 5 inches (7 to 13 cm) from the bottom to remove the tough part, Then I separate the leaves and stems into small batches. Then I further chop the stems into bite-size pieces.
Once done cutting, you should thoroughly rinse the water spinach with running tap water. Unlike most grocery stores, Asian markets don't usually wash the veggies before putting them on display (so they have a longer shelf life). Sometimes the water spinach can be very dusty.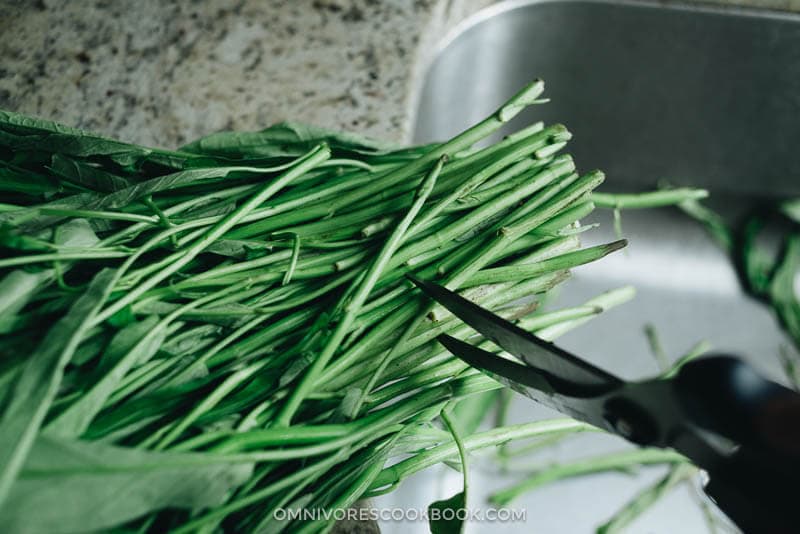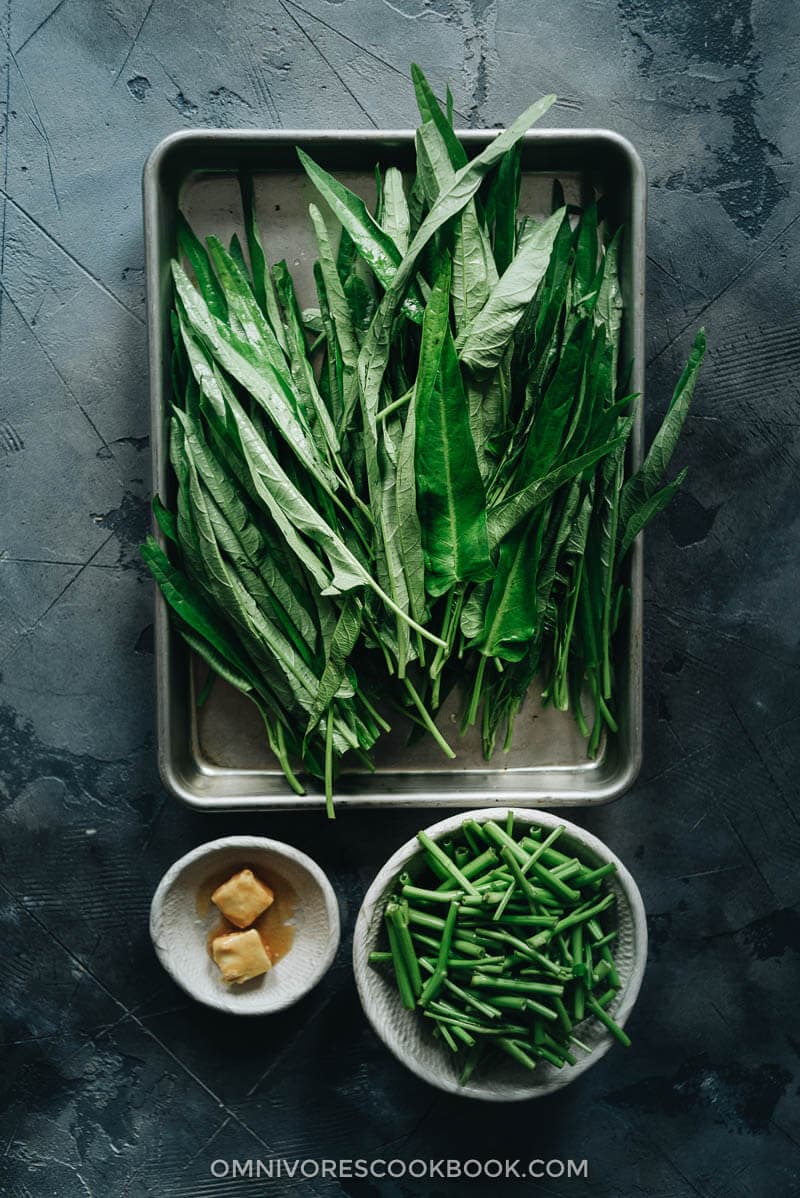 5. Cooking methods
Since water spinach has a very mild taste, it usually works well with pungent sauce and aromatics. In China, it's very popular to cook water spinach with fermented tofu, which has kind of a strong fermented taste like blue cheese. I've included it in one of the methods below.
I also added a simpler way to cook it, since some of you might not like the taste of fermented tofu.
Read more: how to stir fry honey garlic chicken breast | Family Cuisine
If have some of my black bean sauce on hand, you can add a tablespoon of it at the end using method #2. It goes great with the veggies.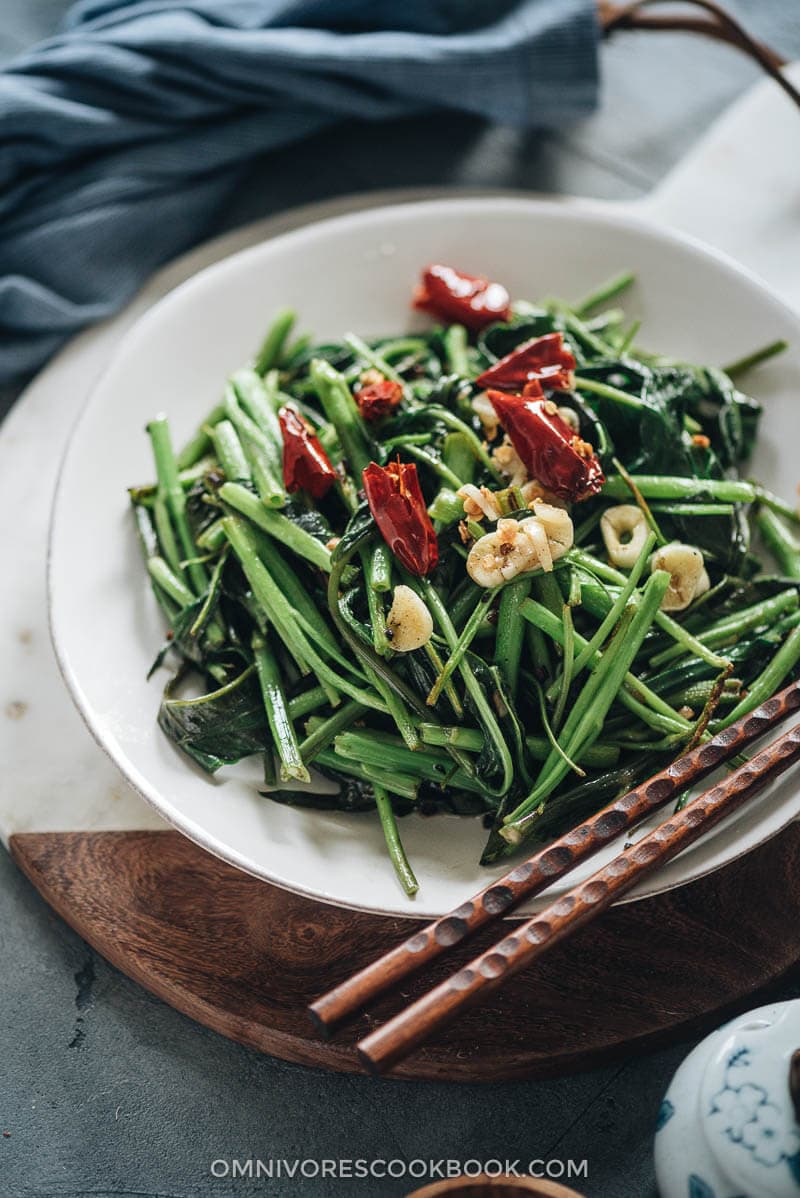 Cooking notes
1. How much to cook at a time
It's hard to measure leafy green veggies and give an exact amount in the recipe, because each market bundles the veggies differently. Plus, depending on the freshness of the veggies, you might need to remove a lot of material before cooking. There was a time I bought a big batch of water spinach that was about a pound and a half. I ended up using just a third of it because I left it in the fridge for too long and most of the pieces had gone bad.
The bottom line is, the raw veggies should fill up your pan but not by too much. When cooking Chinese greens, the less you cook at a time the better the result.
2. A quick word on fermented tofu
Many Chinese recipes call for the red fermented tofu. But I've found that both the white and the red type work pretty well in this dish. Depending on the brand and the type of fermented tofu, they come in different sizes. I usually use two cubes of white fermented tofu or one cube of red fermented tofu.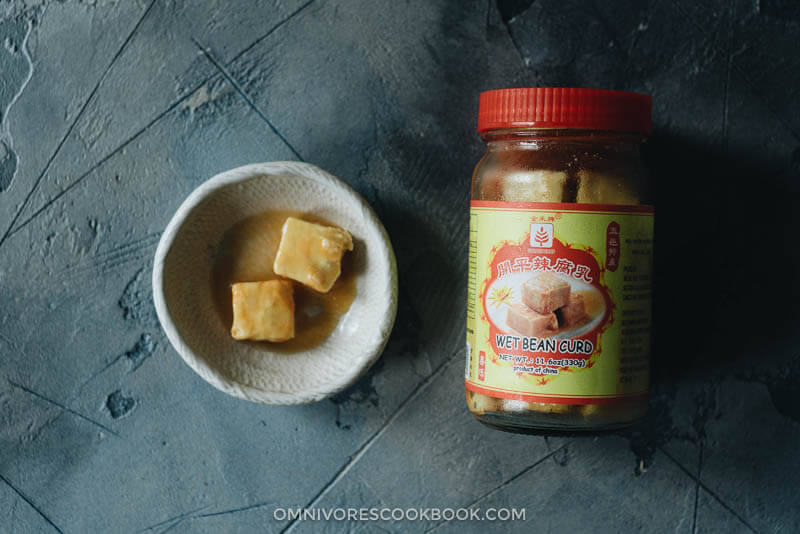 3. Oil content
The hard truth about cooking a delicious plate of Chinese greens is, you need to use quite a bit of oil to make it work. For a big plate of veggies, using two tablespoons of oil is quite normal. Not only will the oil will be infused with aromatics, it will also ensure the veggies are seared and not steamed.
If you prefer to use less oil, you can reduce the oil to 1 tablespoon. In this case, I usually add a splash of Shaoxing wine while cooking, so the pan won't get too dry.
4. Cooking equipment
I discussed the wok vs. flat skillet issue in depth in the past. Long story short, it doesn't matter when you make a saucy and rich stir fry dish (such beef and broccoli) in a skillet. However, a nice heavy pan or a wok does make a difference when you're making very simple dishes, like this stir-fried water spinach. I usually use my Debuyer carbon steel skillet when making this dish. A cast iron pan works great as well. Use a wok only if you have a good gas stove.
You can totally use a nonstick pan to make the dish as well. It works the best, especially when you want to use less oil.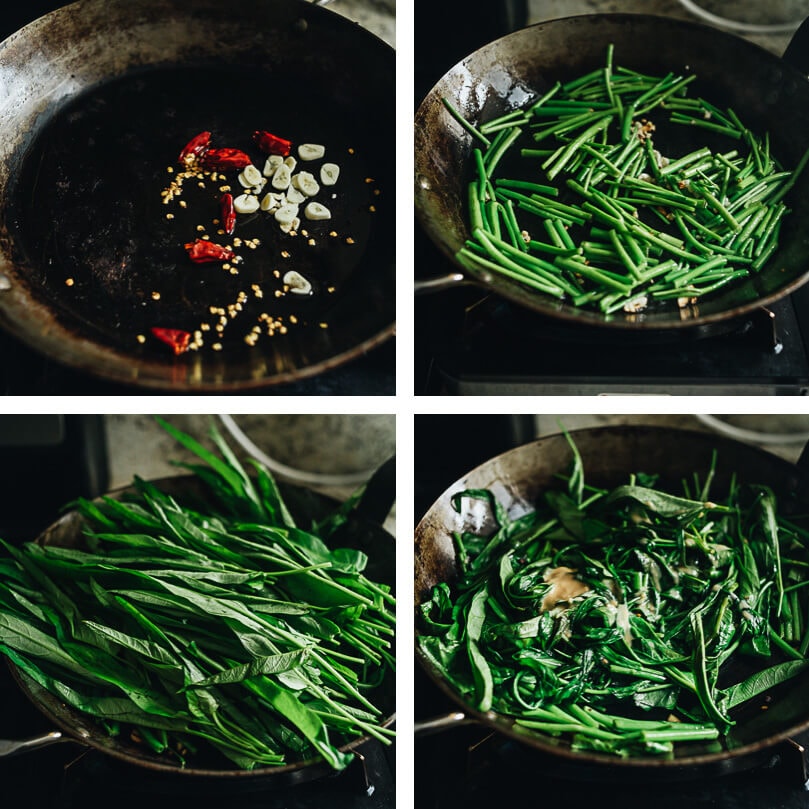 More delicious vegetable recipes
Stir-Fried Pea Shoots with Garlic
Chinese Seaweed Salad (凉拌海带丝)
Steamed Eggplant in Nutty Sauce (芝麻酱拌茄子)
The Best Chinese Coleslaw
Vegetable Fried Rice (蔬菜炒饭)
If you give this recipe a try, let us know! Leave a comment, rate it (once you've tried it), and take a picture and tag it @omnivorescookbook on Instagram! I'd love to see what you come up with.