These Italian beef braciole are deliciously fork tender and packed with a heavenly medley of flavors that will make your taste buds sing!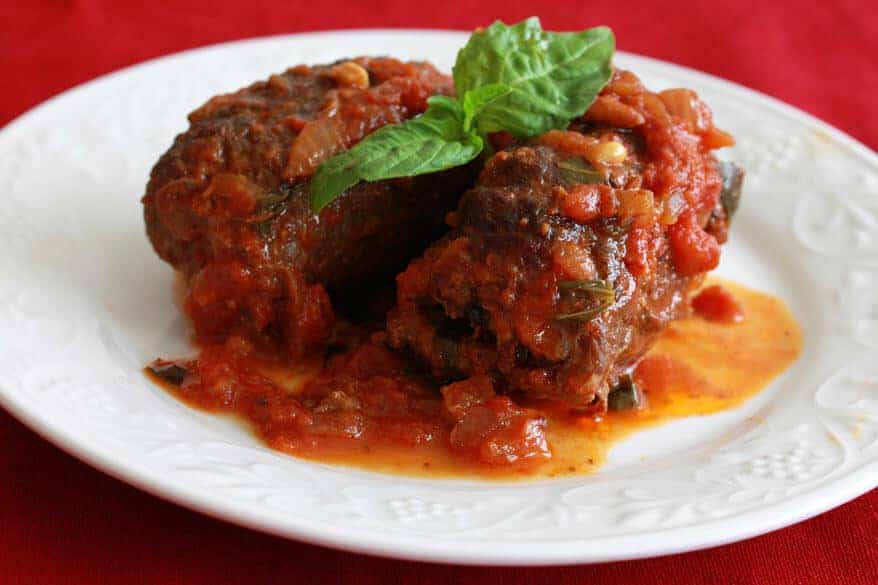 Thank you to Honest Cooking and Parma Ham for sponsoring this post!
Reading: how to cook beef braciole in tomato sauce
I've brought you something extra special today! A delicious, traditional dish from Italy featuring beef rolls that area packed with a phenomenally flavorful filling, then browned and slow simmered in a luxurious sauce. They're absolutely irresistible!
Our braciole incorporate a variety of delicious ingredients including Proscuitto. It adds a flavor dimension to the braciole that is out of this world delicious. The flavor of the prosciuotto is not only infused into the slow-simmered beef, its flavor is melded into the tomato sauce which forms the base for the accompanying pasta dish.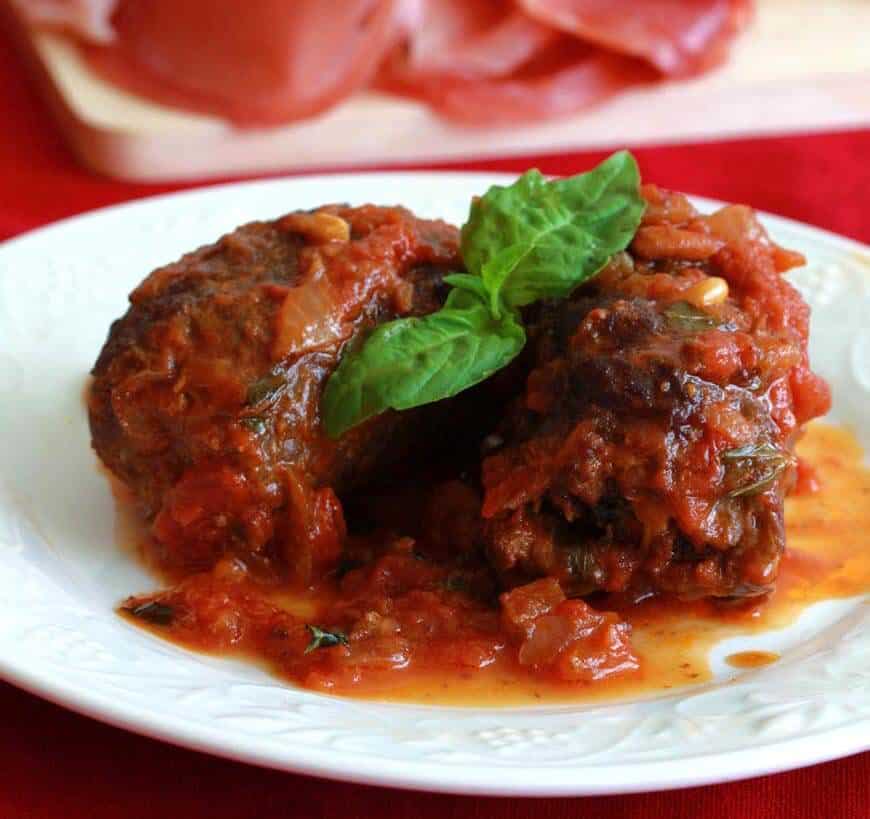 "Braciole" is the term used here among American Italians. This same dish in Italy is known as Involtini di Manzo, involtini meaning "little bundles," the more accurate name for it. But we'll refer to this dish by the name it's more commonly known as over here in the U.S.. While at first appearance this dish may look a little time-consuming, it really isn't. The rolls can be made a day ahead and then simply browned and added to the sauce to simmer. And as for the 3 hours of slow simmering – it doesn't need to be stirred, so you can let it do its thing undisturbed while you do yours.
Bracioles, usually beef (but can also be pork or chicken) can consist of a variety of fillings, most commonly some kind of combination of bread crumbs, herbs, garlic, and sometimes cheese or pancetta. This version also includes pine nuts and raisins, two kinds of cheese, and instead of pancetta uses this delicious prosciutto. These flavor combinations meld together beautifully. The tender, juicy stuffed beef rolls are exquisite and the slow-simmered tomato sauce is worthy of taking center stage in its own right.
Note: The long simmering process isn't an absolute requirement, but the old-fashioned way is to slow simmer it like in making a ragù. This yields the most flavor, allowing the juices from the meat and the filling to mingle with the tomato sauce, making a wonderful sauce for the pasta.
Okay, let's get started!
Let's take a look at the different ingredients that go into making this special dish:
You'll need a few thin cuts of lean beef (usually top or bottom round roast). There's really no right or wrong in terms of what size to get. If you're serving 4 people, you can either assemble 4 medium-sized braciole or 8 small ones.
Part of the filling consists of pine nuts, raisins, breadcrumbs, Parmesan cheese and herbs.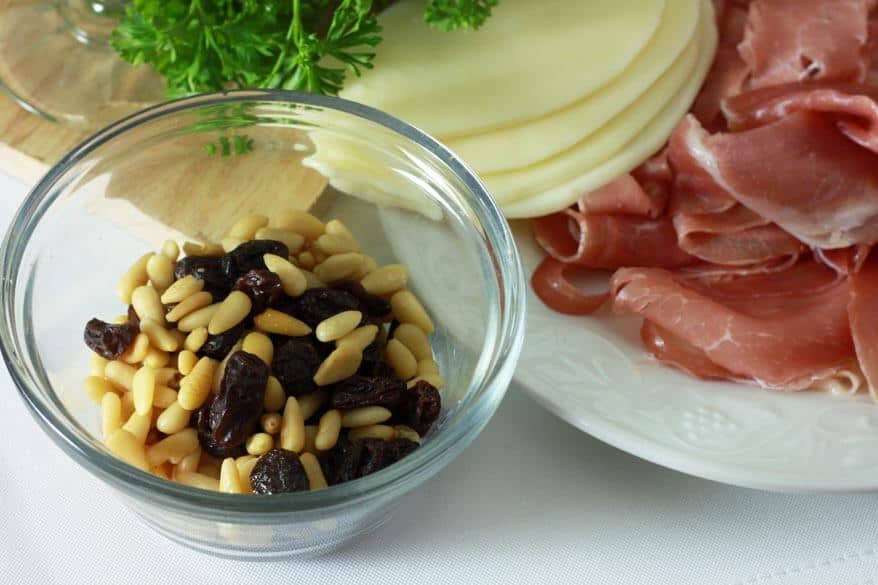 And then there's the crowning touch – the prosciutto. And we're going to add some tangy Provolone cheese to the filling as well.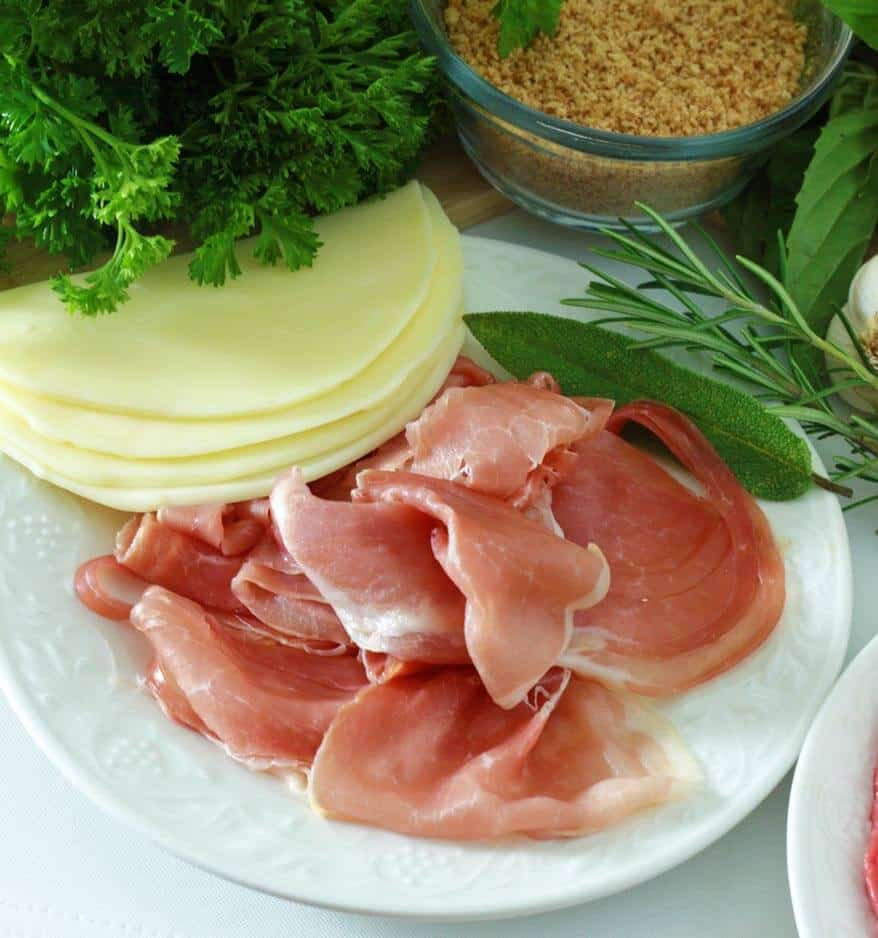 The sauce is going to consist of tomatoes, garlic, onions, extra virgin olive oil, and fresh herbs.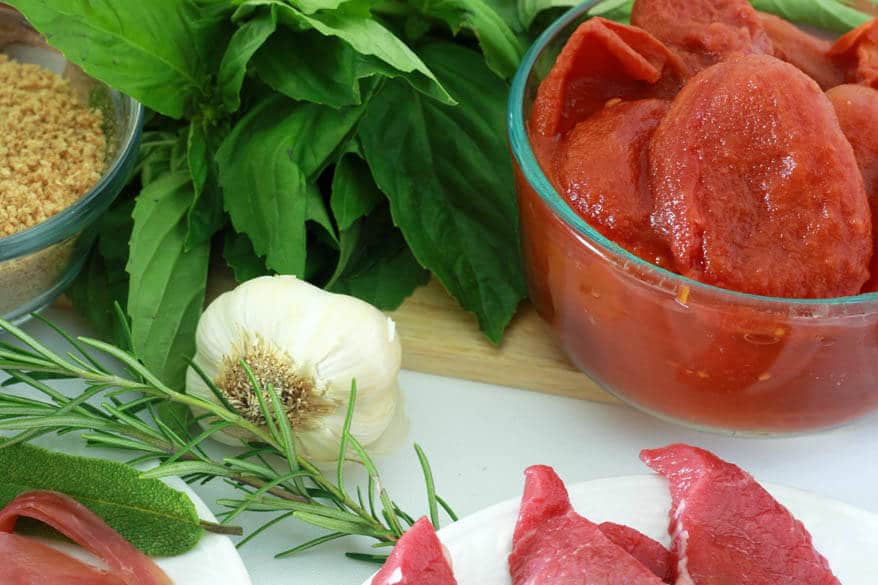 …and of course a glass of red wine.
Read more: How to prepare stew sauce for rice | Family Cuisine
And there you have it! The beautiful, fresh ingredients that go into making this fabulous, authentic Italian dish!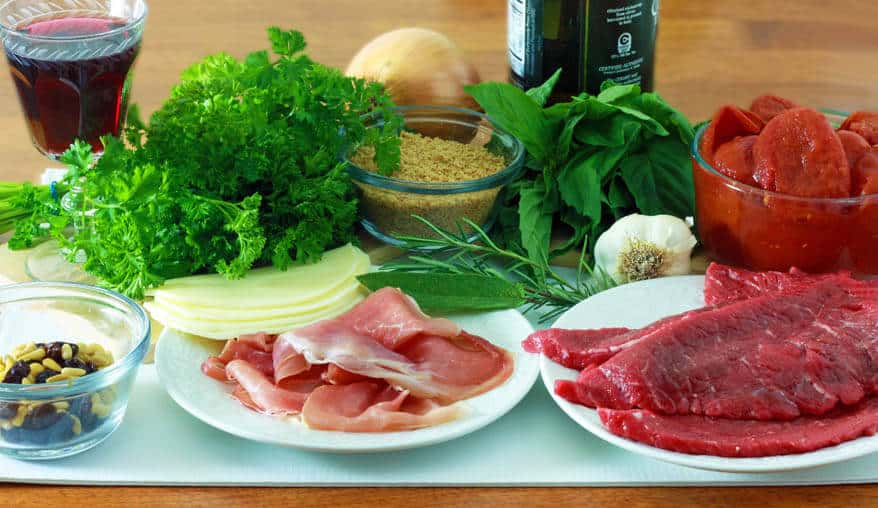 Okay, let's make some Braciole!
Pound the meat to about 1/4 inch thickness between two pieces of plastic wrap – use the flat side of a meat pounder. Sprinkle with salt and freshly ground pepper.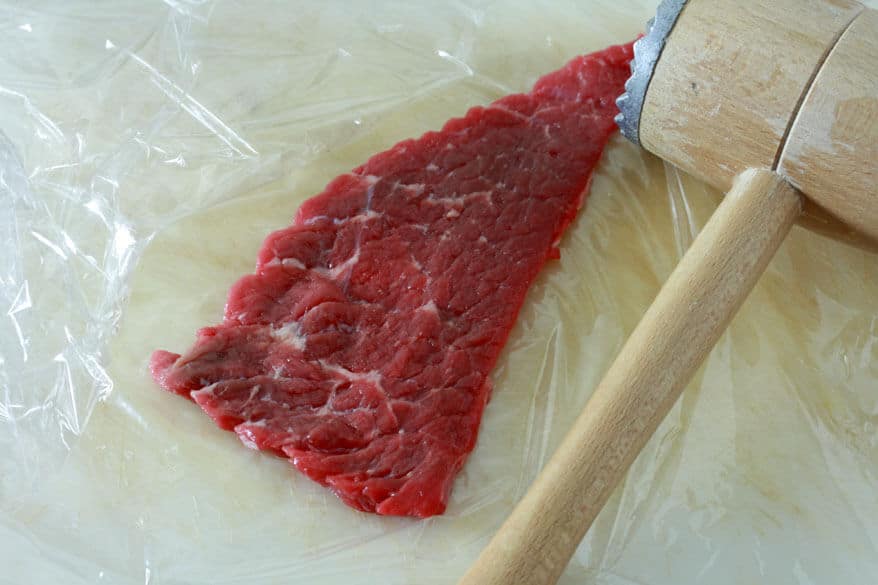 Combine the milk-soaked breadcrumbs, Parmesan cheese, parsley, rosemary, garlic, pine nuts, and raisins in a small bowl.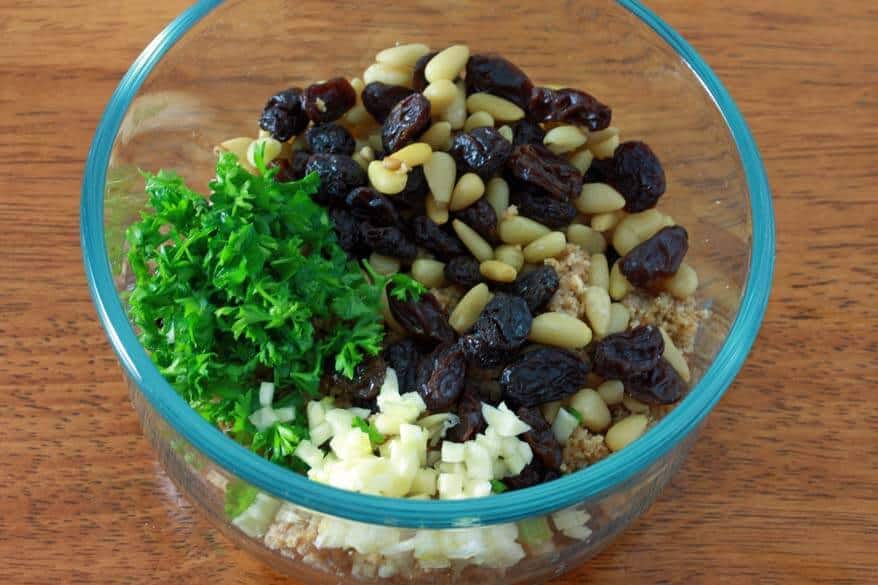 Crush the tomatoes in a large bowl with your hand, discarding the hard cores. Set aside.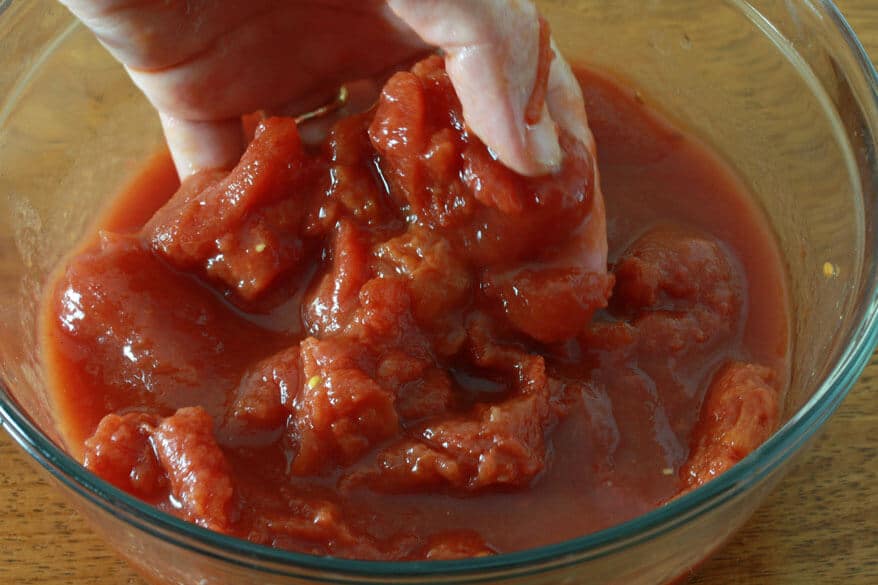 Lay a piece of prosciutto on top of the slice of beef, followed by a slice of Provolone, then place a tablespoon or so of the filling (depending on what size of beef rolls you're making) in the center.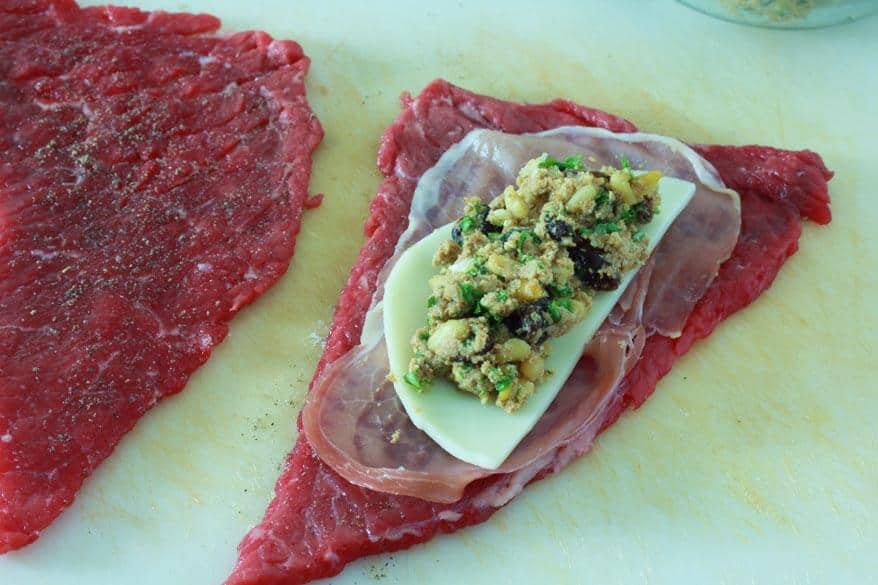 Fold in the sides of the roll, lengthwise, fold in one end…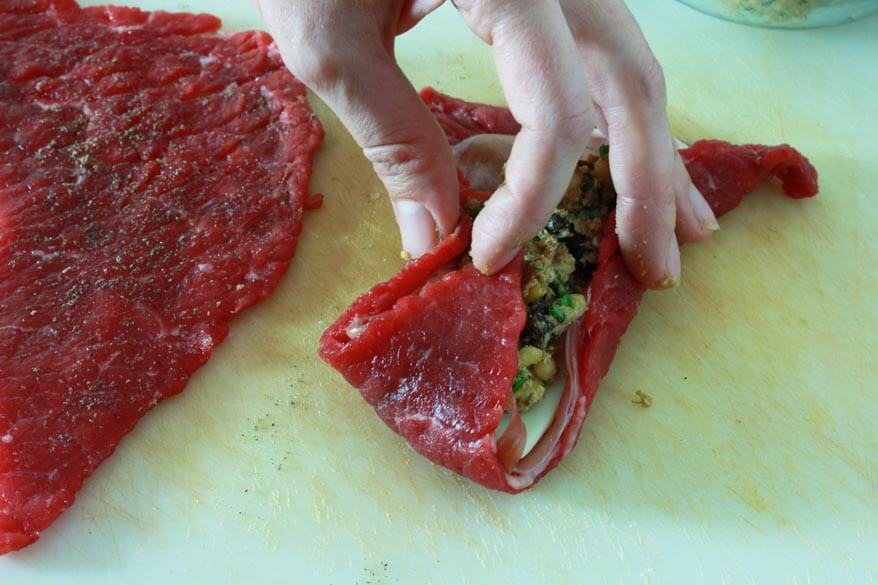 Then roll it up, starting at the non-folded in end, pushing and wrapping it tightly.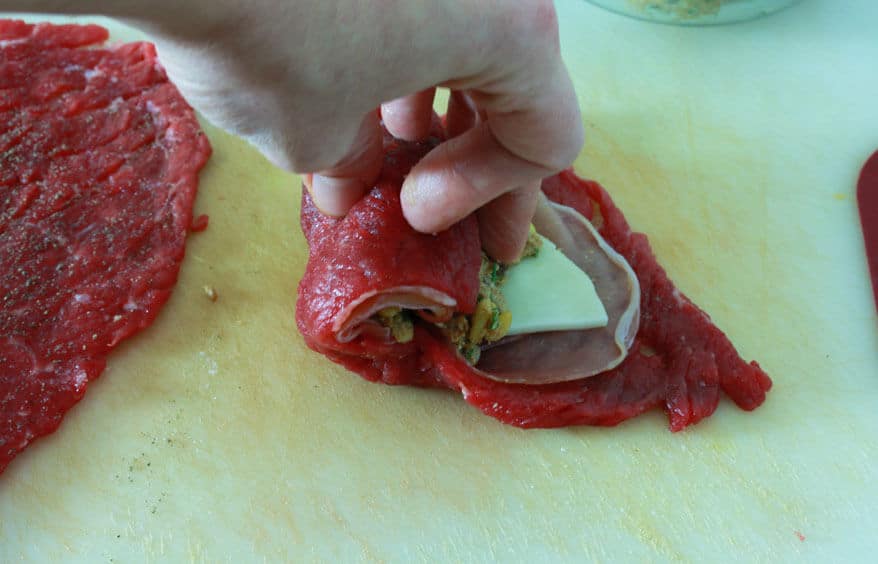 To secure the rolls, you can use toothpicks or, like I did here, wrap them "gift package" style with some thread. Just remember to remove it, or the toothpicks, before serving!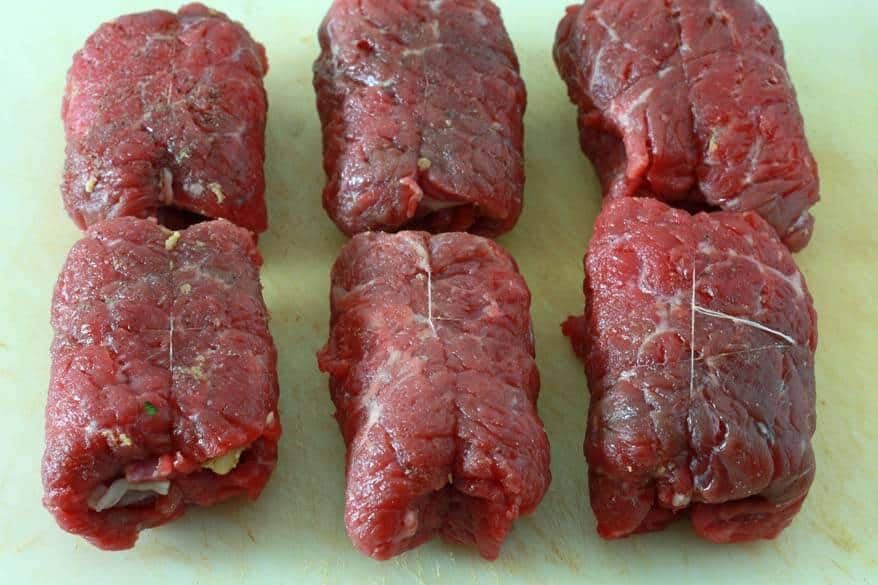 Heat the olive oil in a Dutch oven (I use and love Lodge) over medium-high heat. Add the rolls, seam side down to seal them.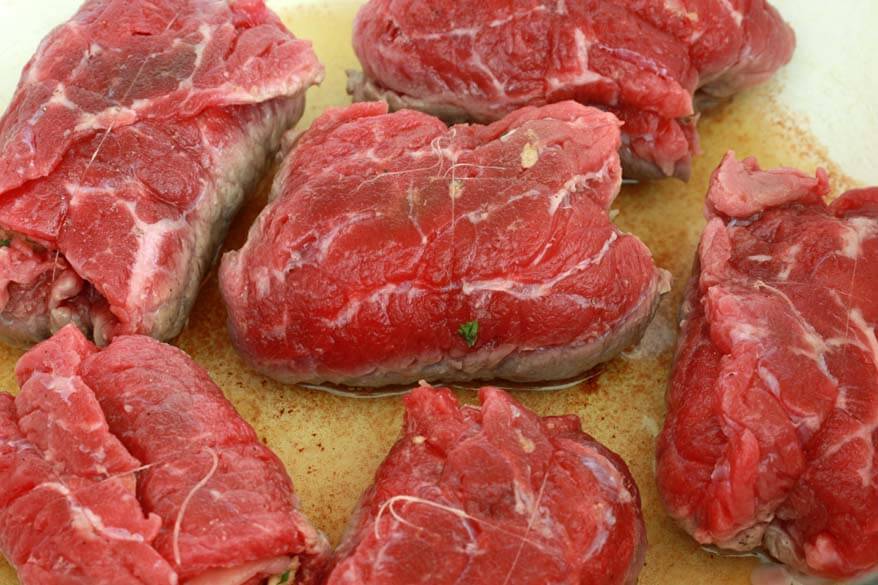 Read more: how to make spicy pizza sauce | Family Cuisine
Generously brown the rolls on all sides. The browning is essential to adding flavor. And don't discard the burnt browned bits on the bottom of the pan! Also essential to flavor.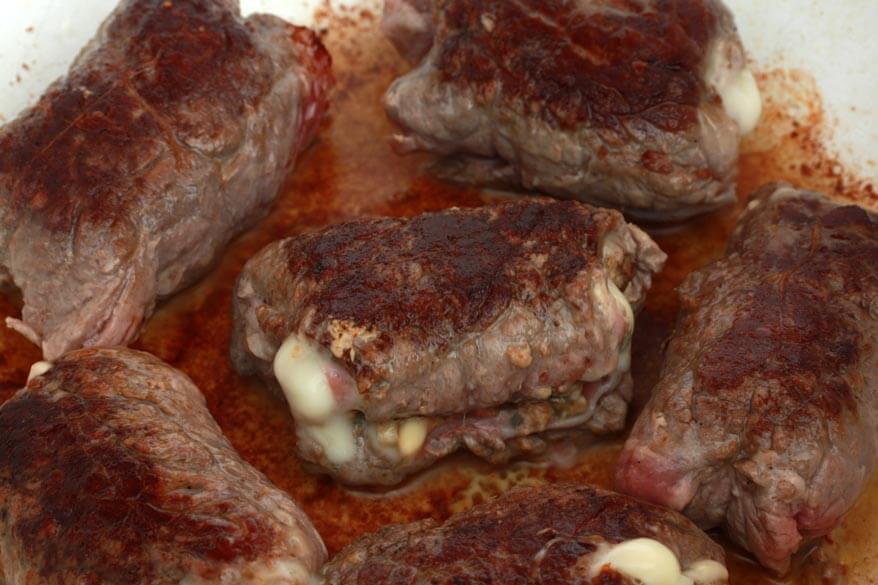 Transfer the rolls to a plate and set aside. Saute the onions and garlic until soft and translucent, about 5 minutes.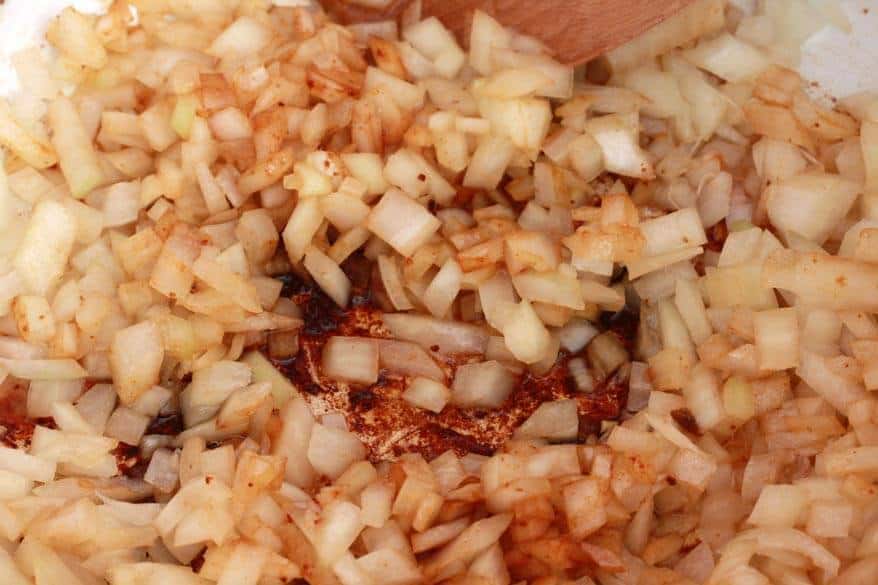 Add the red wine and bring to a boil, cooking until the wine is mostly evaporated, about 3-4 minutes, deglazing the pan (scraping up the browned bits from the bottom of the pan).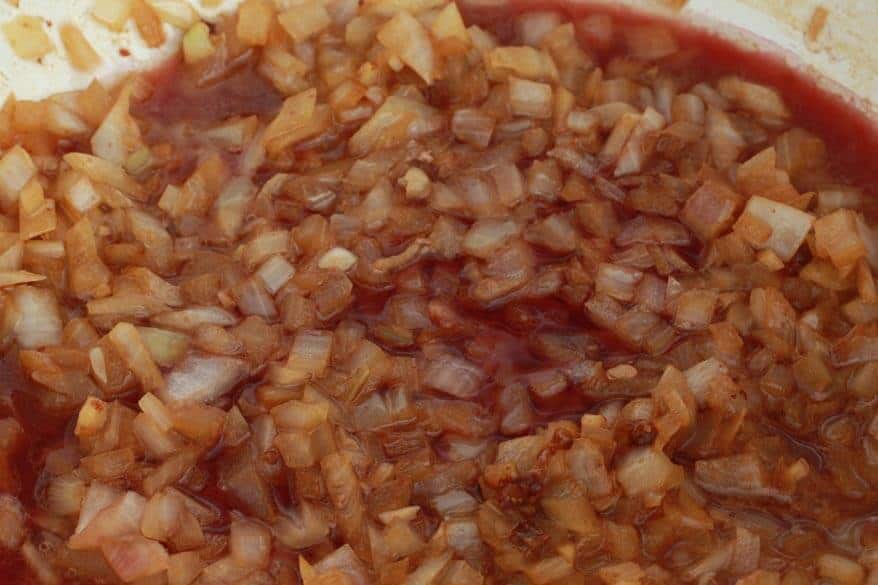 Add the crushed tomatoes, salt and freshly ground pepper. Simmer for 3 minutes.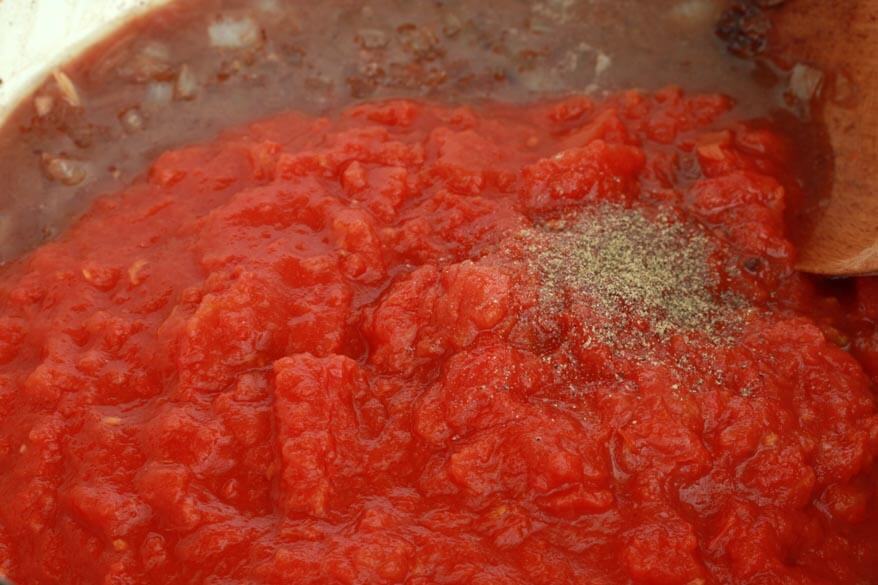 Return the beef rolls.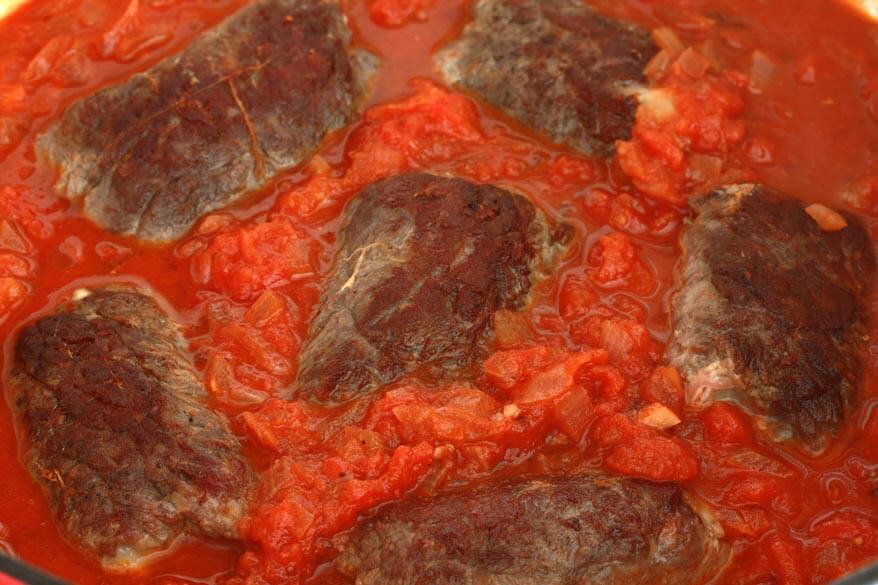 Add just enough water to cover the rolls so they are submerged. Bring to a boil, reduce the heat to low, cover, and simmer for about 3 hours or until fork tender.
Mmmm, the aroma when you finally open the pot! Add the fresh basil and parsley and simmer for another 2 minutes.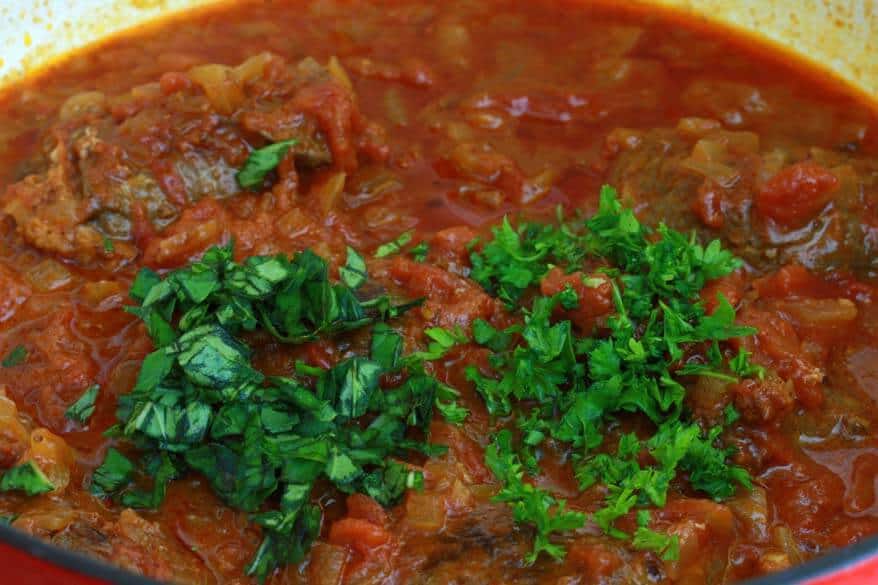 Add salt and pepper to taste. You're masterpiece is done!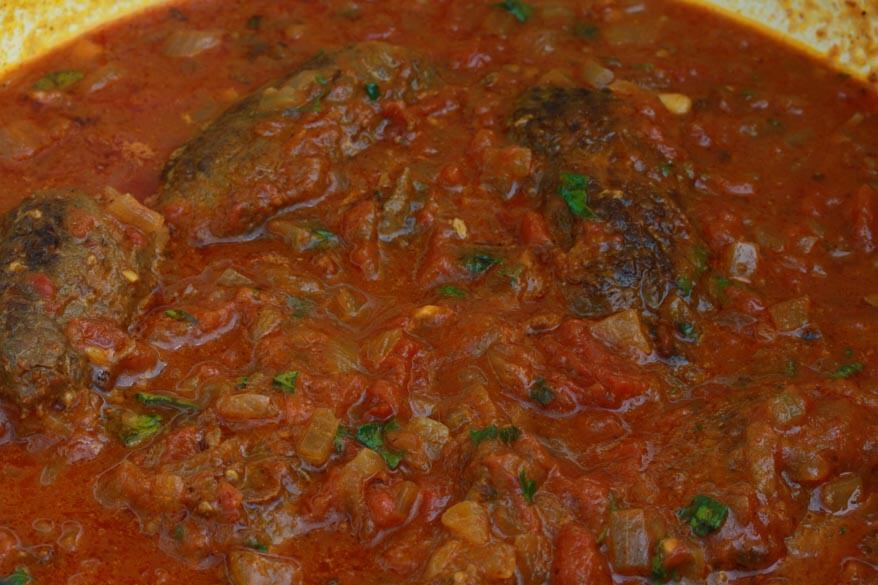 Enjoy!
Traditionally, the braciole are served as the second course (along with a leafy green salad, for example), and the first course is pasta tossed with the delicious tomato sauce. Serve it all together or separately – however you prefer.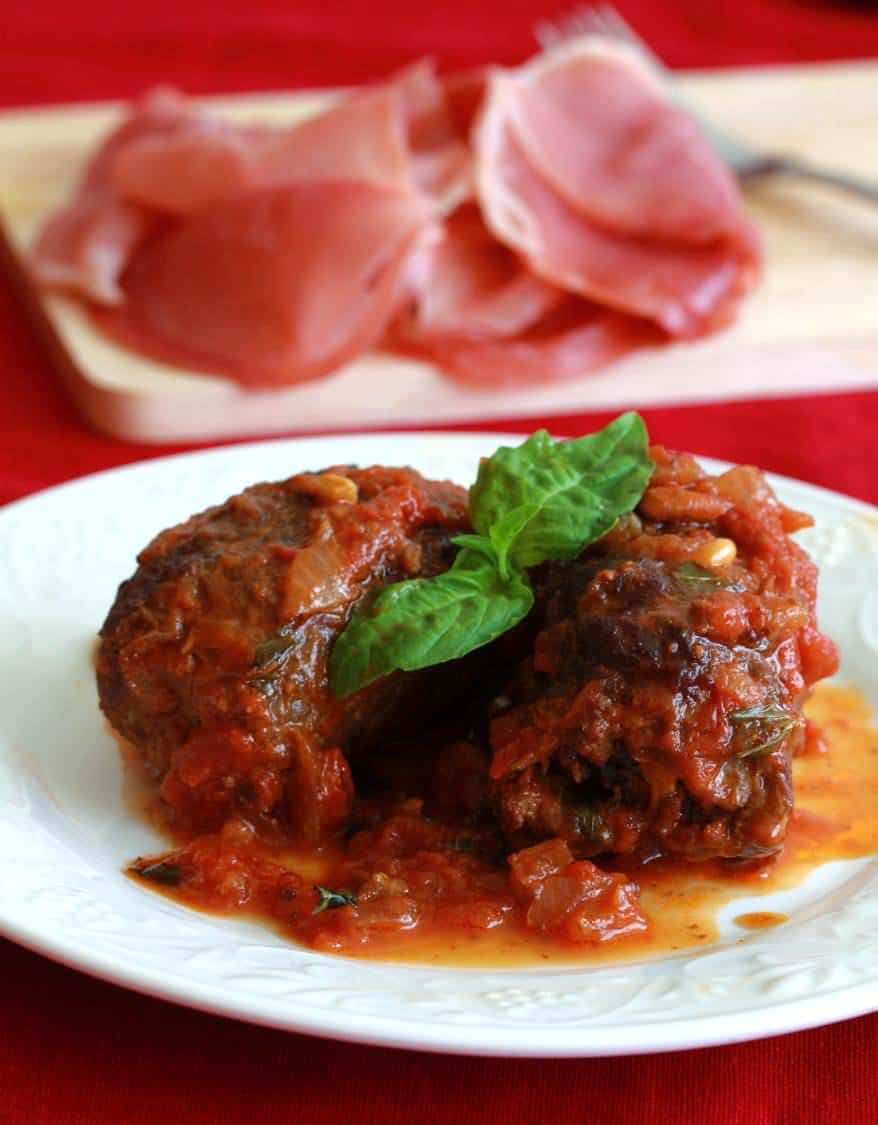 Be sure to also check out our Italian Pork Ribs with Olives from the Tuscany region of Italy!
Read more: How To Make Philly Cheesesteak Sauce