Summertime is the best moment to invite family and friends over for a great barbecue. This follows the idea of grilling meats and cooking burgers.
Now, one of the best grills you can adopt for cooking burgers at such a time is the Pellet Grill. Using the likes of Propane or gas grills may not give your burger the desired heat distribution.
The Pellets within a pellet grill burn slow, hot, and provide the required temperature consistency needed for a great-tasting burger. The best part is that such a burger gets a smoky taste and an appealing flavor.
However, if you are not accustomed to cooking burgers on a Grill, here is a detailed guide you can look through to cook your savory burger with the use of Pellet Grill.
How to use a Pellet Grill for Cooking Burgers?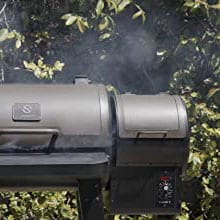 You can either opt to cook your burger on a flat surface or a grill. However, if I am you, I would consider using a Pellet Grill for making a Flavor-filled burger.
Do note that the use of a pellet grill takes a longer time than a typical gas-fueled grill. To cook your burgers on a Pellet grill, you need to do the following;
What Temperature is the best?
It is imperative to keep your grill hot before cooking your burgers. Pre-heating your pellet grill should be done by setting it to the highest temperature setting, usually between 400oF to 500oF.
Moreover, if you desire to smoke your burger patty, you should set the temperature to 225oF. Whenever you are done smoking the patty, remove it from the grill and then pre-heat to 400oF. Doing this will give the burger a flavorful outlook and prevent the burgers from sticking to the grill.
How long does it take?
The method to which you cook your burger on a Pellet Grill is known as smoking. Smoking allows one to indirectly cook the burger while the characteristic natural wood flavor is infused into the burger while cooking.
It might be of interest to note that the burger cooking time depends solely on the thickness of the patties.
This burger patty takes on an average of 5 -6 minutes, especially for 1/2 -inch thick patties to be well done under a grilling temperature of 400oF. However, you only need to set the grill to a temperature of 225oF for smoking a burger patty.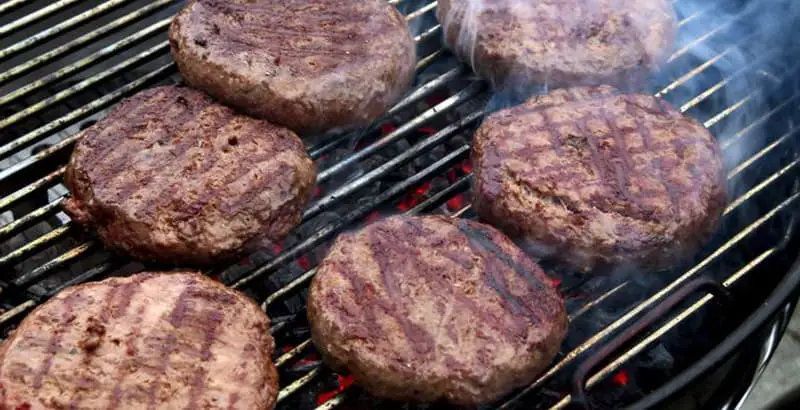 What is the Ideal Meat for Burgers?
The rule of the thumb is; The Quality of your burger depends on the type of meat used. To cook the best burger ever, you need the best meat type. For cooking burgers, the ideal beef here is Ground beef.
Why? This is because the Ground beef is packed in so much rich flavor. It comes in types perfect for making hamburgers. Many of the processed Ground beef you find in the store are usually random cuts mixed with Ground Beef.
However, in selecting Ground beef, we recommend you go for the following types based on the concentration of fat content. Picking any of these types will give an idea of the Lean-to fat ratio and lets you know what cut the meat came from.
What is the best way to Season a Burger?
A well-seasoned burger is always a welcome dish at an outdoor party. The best way to season your burger is to add some essential ingredients to your ground beef before forming a burger patty.
To achieve this, you need a blend of ingredients such as pepper, onions, garlic powder, and some other seasons and take the following step process;
Note: Ensure the pepper is neatly blended in a powdery form and avoid sprinkling excess spice!
Additional Notes for using Pellet Grill to Cook Burgers?
It is imperative to take out some tips when it comes to cooking Burgers on Pellet Grill. This is important to make sure you make the burger properly.
What is the Best Wood Pellet for Cooking Burgers?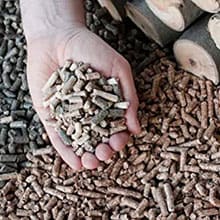 The Pellet Grill is the perfect choice for cooking an intuitive burger. This owes to the fact that Pellets burn hotter and slower than the usual wood chips ensuring consistency in heat flow.
The other advantage of cooking burgers with pellets lies in the production of less waste or ash.
Now when it comes to picking the best wood pellet for cooking burgers, you do need to consider the seasoning being used. You see, it is the right pellet that delivers consistent heat and infuses to generate a pleasant aroma from a seasoned burger. There are two types of wood pellets best suited for cooking burgers.
Tools and Ingredients for Cooking Burgers on Pellet Grill
The most crucial aspect of cooking burgers on a pellet grill is the tools and ingredients you employ. The tools provide a source of ease and safety while cooking on a pellet grill.
Some of the tools that are super useful to anyone who needs to cook or smoke burger on a Pellet grill includes;
Instant Thermometer: The internal temperature of your burger patty determines how well your burger patty is done. A well-done burger is cooked to an internal temperature of 160oF, medium-well is 150oF, and rare burgers 120o.

Now, a temperature above 160oF will only dry up your burger patty. Another thing is that you can't visibly determine the cooking extent of the burger. This is where an instant thermometer comes in to take the internal temperature readings of your patties before removing them from the pellet grill.

Heatproof gloves: Using hot equipment like a Pellet grill with bare hands will expose them to burns. Arming your hands with heatproof gloves will ensure your hands are safe from burns.

Brisket Knife: A typical brisket knife comes in a Granton design with grooves along the blade, making it hard for meat to stick when cutting. This brisket knife comes in handy whenever you need to slice or cut Ground beef into smaller sizes for making patties.

Drip trays: For ease of cleaning your pellet grills after cooking a burger patty, a drip tray should be prioritized. A drip tray helps collect fat and oils emanating from a smoking burger patty to ensure a clean base.

Spatula: This is a safety toolkit that allows proper placement of meatballs or burger patties on the grill's grate without direct contact with hands.
Besides cooking burgers on a pellet grill, you need some necessary ingredients like:
Ground Beef
Kosher salt
Grated onions
Ground pepper
Dried spices like garlic for seasoning
Canola oil to apply on grill's grate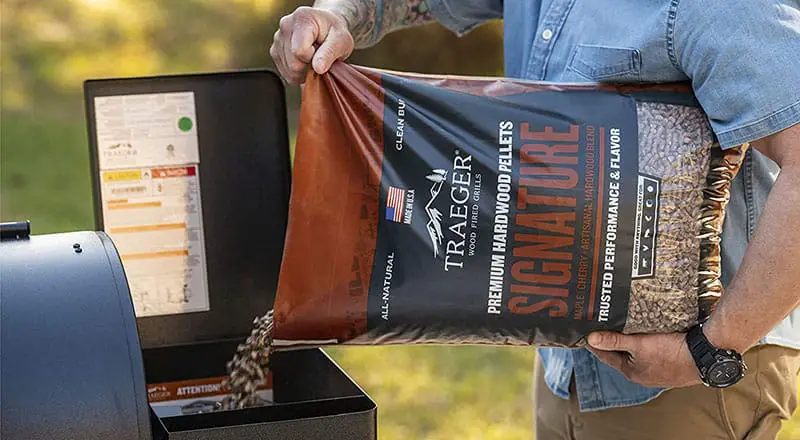 F.A.Q.
How do you make a Burger Patty?
You don't have to invest in buying an already made patty in making your home-cooked burger. Making your burger patty is relatively easy; all you need is the right meat and other assortments. To make a burger patty, do the following:
Gently take out a small handful of ground meat (usually about ¼ of a 1.5-pound beef package) and hold on your hands.
Divide the ground into exact proportions and pack them in a loose ball of meat (just enough to stick together).
Drop this loose ball of ground meat 10-12 inches on a clean surface, flip it, and drop on the other side.
Use your hands to gently flatten the balls to 4-inch wide and 3/4 -inch thick patties.
Make an indentation on the patty (to maintain shape while cooking).
Once you are done, sprinkle the sides with salt and pepper, heat the patty on a grill to your desired temperature.
What is the Right Size for a Burger Patty?
The size of a burger patty solely depends on the type of burger you want to make. Speaking of burgers, there are three types, which are Classic, Smashed, and Stuffed.
Each of them has a particular size, which contributes to its overall taste. For Classic burgers, flatten out the patties to be 4-inch wide and ¾-inch thick. A smashed burger will need a perfect size for a patty, around 2 ½ -inch thick.
There's a need to use your thumb in making an indentation on the patties before cooking. This allows such patty to keep its shape once it goes through the cooking process.
Can you use the Camp Chef Pellet Grill for Cooking a Burger?
Yes, the camp Chef Pellet grill is suitable for cooking burgers. Although this specific pellet grill is found to be popular among chefs who smoke beef cuts like steak, it is ideal for a burger too.
The Camp Chef pellet grill offers the best hands-on precision when it comes to temperature control. Many of its models feature a PID digital temperature controller allowing you to keep your burger cooked at the appropriate temperature.
The best part is that this pellet grill comes with a patented ash cleanout management system to reduce efforts in cleaning. Cooking a burger with this pellet grill comes in the following easy steps;
Power up the Camp Chef pellet grill and set it to a temperature of 400oF to pre-heat the grill's grate.
Place the prepared burger patty on the grate to heat up.
Leave the burger patty to cook for 30 minutes; once cooked, flip to the other side to ensure evenness.
Place the bread in the grill to heat for 4-5 minutes.
Then place the patty with the bread and enjoy a great-tasting burger meal.
Can you use Pit Boss Pellet Grill for Cooking Hamburgers?
The Pit Boss Pellet Grill cooks hamburgers just like any other pellet grill. The difference lies in the fact that it bulky features a large cooking area for making as many burger patties as possible.
You get additional storage space and convenience for tool hooks and space racks. If you are craving a smoky, juicy hamburger, then the Pit Boss Pellet grill is your best fit. You use Pit Boss Pellet Grill to cook burgers through the following steps:
Start your Pit Boss pellet grill with the lid open to pre-heat. This pre-heating is done for 5-7 minutes to a temperature of 400o
Using a Basting brush, brush up the grill's grate with oil to prevent the burger from sticking to the surface.
Prepare your hamburger patty in a bowl by mixing Chuck beef with different assortments like pepper, garlic, and onion but no salt (to prevent fast drying).
Divide the patties and place them on the grate to heat up for 5-8 minutes on both sides until it reaches a desired internal temperature.
Also, heat the burger bun for 2-3 minutes.
Remove the hamburger patties and bun from the grill with the aid of worn heatproof gloves and a spatula
To the bottom half of the hamburger bun, add slices of tomato along with veggies and melted cheese.
Serve to enjoy.
Conclusion
Please see more list about Grilling burgers on pellet grill
Detail: 🔗