These Crispy Baked Chicken Wings have a thin and shatteringly crisp skin. They're good enough to eat plain, and extra delightful when tossed with a sweet and savory oyster sauce. This is my family's favorite homemade chicken wings recipe!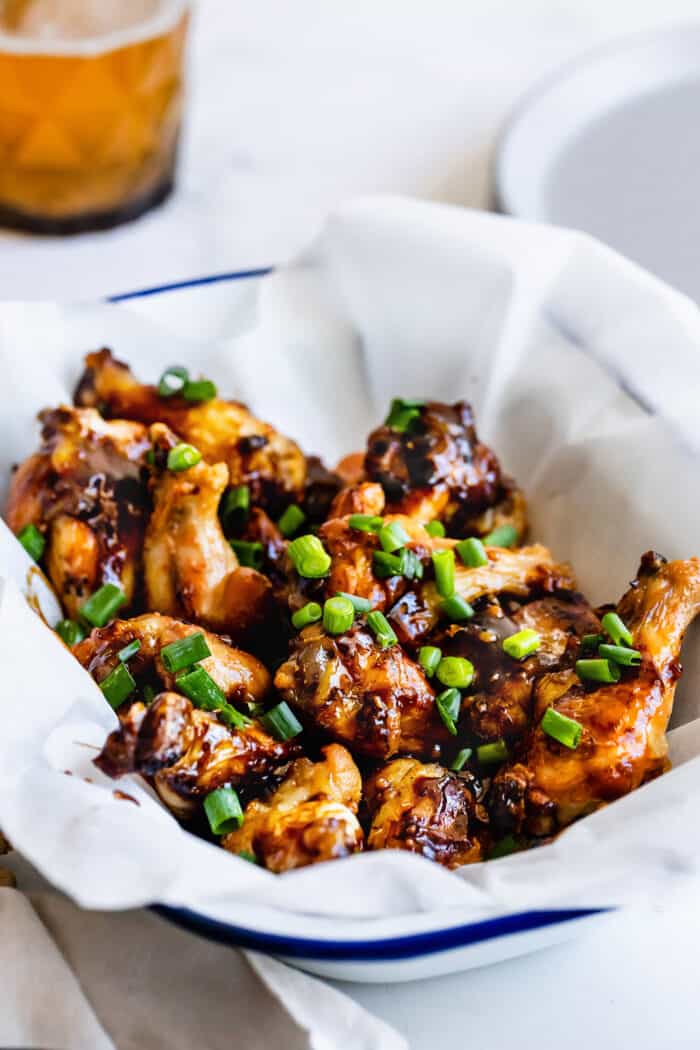 The Best Baked Chicken Wings – That are Truly Crispy!
This recipe for Crispy Baked Chicken Wings with Oyster Sauce represents significant closure in my journey to find the perfect crispy oven baked chicken wings.
I worked on this recipe, off and on, for years. I tried so many different baked wings methods that I lost count – and none of them measured up to my dreams of crackly-skinned, homemade wings perfection.
If you've been looking for the best way to make crispy wings at home – without using a deep fryer – look no further. Plus, I'm happy to share my family's favorite way to enjoy wings – with a super tasty (and easy to make) oyster sauce. These wings are crazzzzzy good.
I hope you love this baked chicken wings recipe!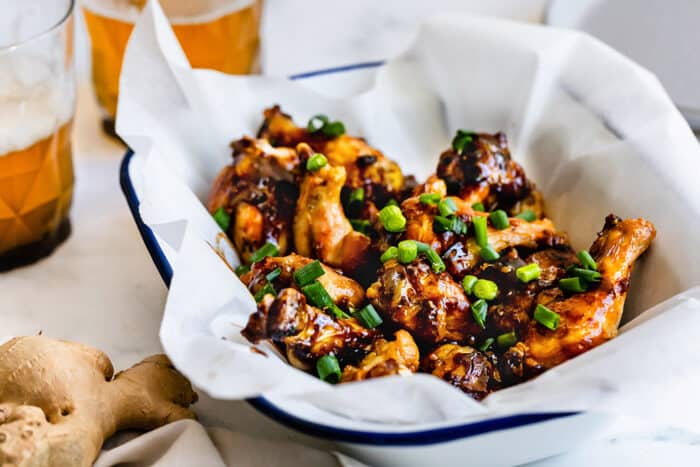 This baked chicken wings adventure set fire in our friends' back yard many years ago. It was a sultry summer evening. And by that, I mean it was oppressively humid and downright HOT.
A number of us gathered around the table on the shady backyard deck of our friends Chris and Dana. We combatted the heat with plenty of water and cold drinks while our kids slipped in and out of the hot tub, thankful to be in their swimsuits.
It was an evening filled with lots of stories and laughter, and plenty of delicious food. Dana, a caterer in another lifetime, always makes the best nibbles. And his grilled oyster wings were EXTRAORDINARY!
Also read: how to make balsamic vinegar reduction sauce | Family Cuisine
I went home determined to recreate crispy-skinned wings in the oven. With oyster sauce, of course!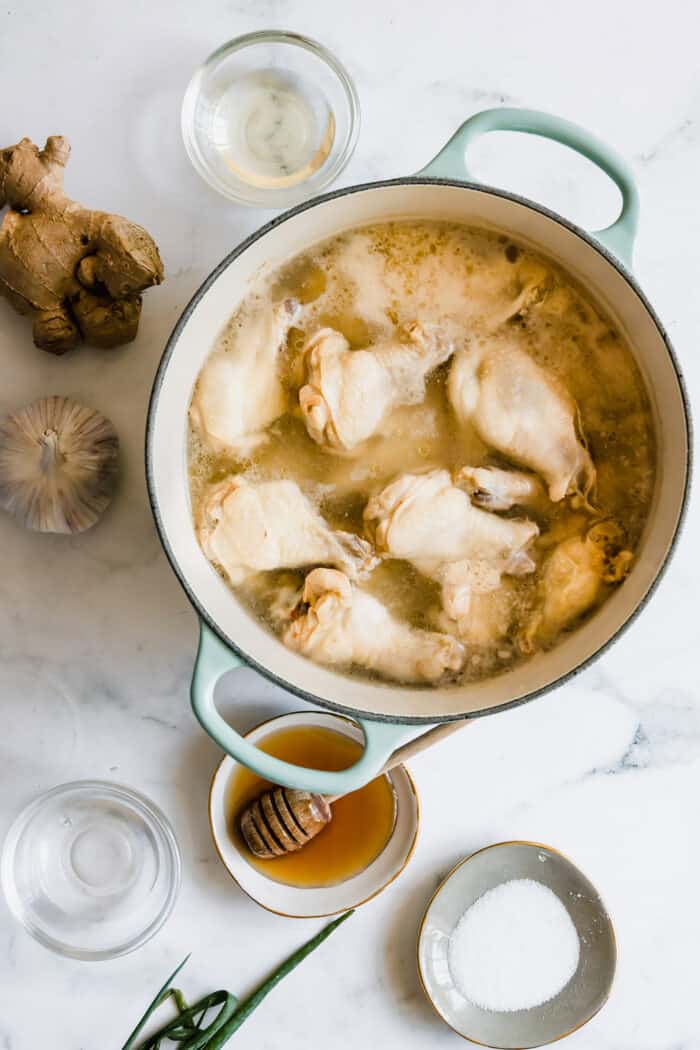 The Best Method for Crispy Chicken Wings
In all my recipe testings, it was always my goal to never use a deep fryer. I wanted the wings to be a bit healthier, plus I'm not a fan of how the deep fryer makes our house smell for a week!
I wanted an awesome crispy chicken wings recipe that had less fat and calories, was baked in the oven, and was totally crave-worthy!
I decided early on in my testing that I wanted crispy baked chicken wings without baking powder, as I found that I liked the naked wings the best. Pure, crackly chicken skin was my favorite texture.
Then I ran across Alton Brown's method of steaming the wings over a pot of boiling water prior to baking. Which finally led me to my friend Joanne's technique of parboiling.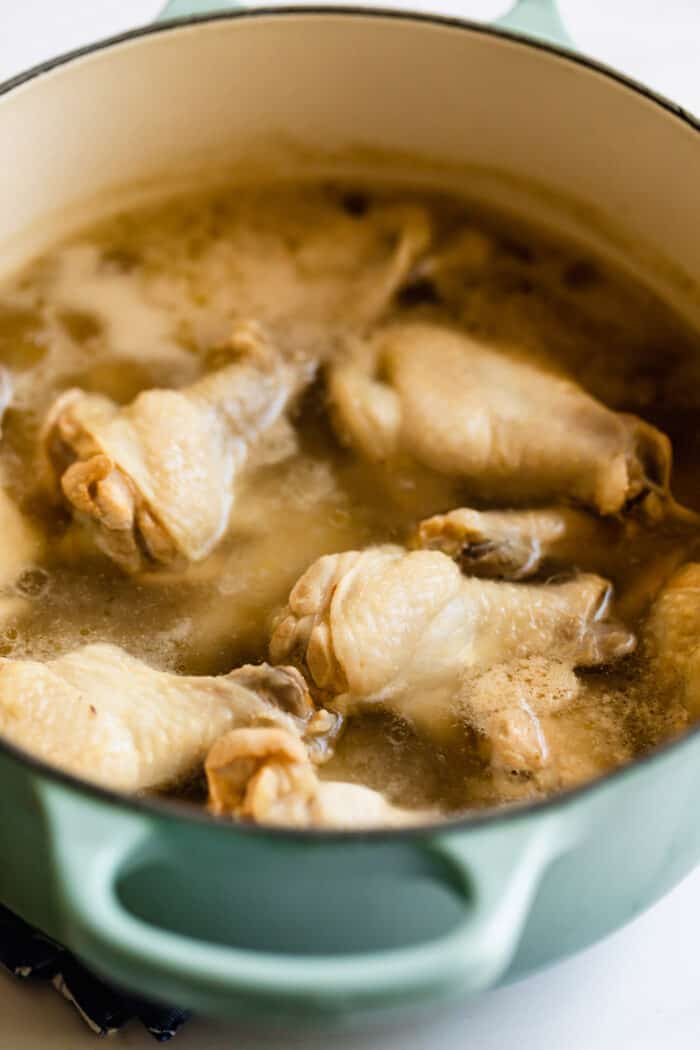 Parboiling chicken wings is an important step in creating the crispiest texture.
To parboil means to boil briefly as the first step in a cooking procedure.
In this case, the wings are first boiled for 7 minutes to cook off the excess fat. This results in chicken skin that is thinner and less flabby. Then the wings finish cooking in a high-temperature oven to crisp them up.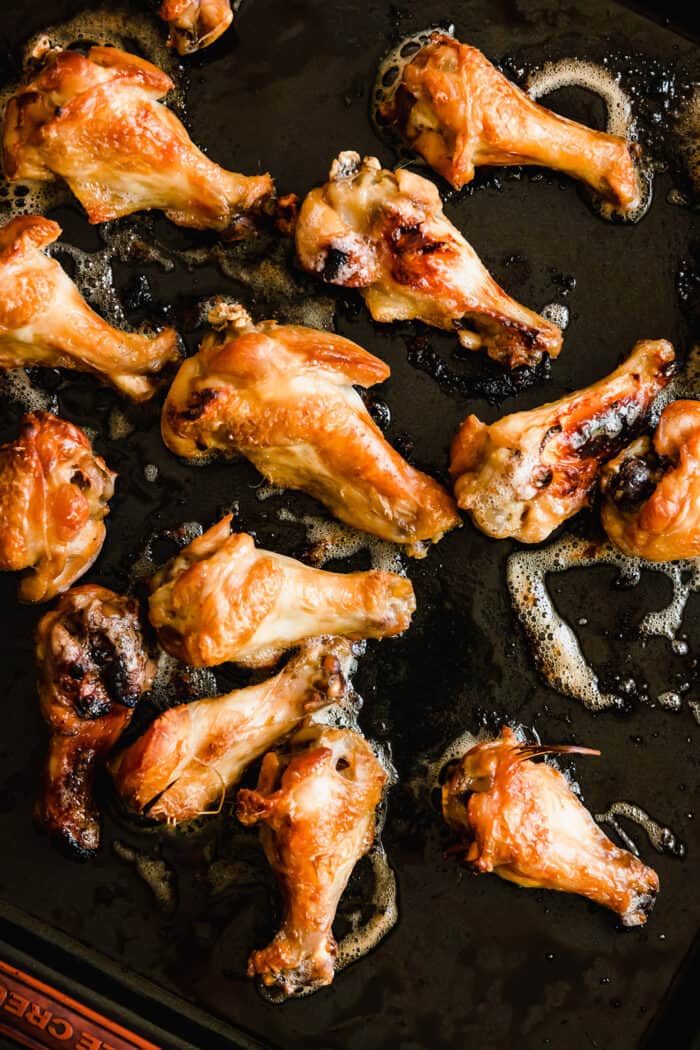 How to Make Crispy Oven Baked Chicken Wings
Want crispy baked chicken wings? Here's what you need to do!
Prep: I recommend using (thawed) "party style" wings, which have the wingettes and the drummettes already separated. If you buy whole wings, you will need to separate the wings at the joint, discarding the wing tips (save the tips for making chicken stock!).
Parboil: Bring a large pot of water to a boil and drop the wings in, and parboil for 7 minutes. This will cook the fat out of (render) the chicken skin.
Drain & Dry: Drain the wings in a colander and then dry them very well.
Bake: Place the wings on a sheet pan, skin side down, and bake. Then flip and bake some more.
Broil: For ultra crispy skin, finish by broiling the wings for 5 to 10 minutes.
Toss: Pour your favorite sauce (you'll love this oyster sauce!) over the wings, toss to coat, and dig in!
How Long to Bake Chicken Wings
Also read: how to make boiling crab garlic butter sauce | Family Cuisine
Partially cook the wings with the parboiling step, and then finish them up in a high-temperature oven. 450° F is perfect.
Place the wings on a sheet pan, skin side down, and bake for 10 minutes. Then flip to skin side up and bake another 15 minutes.
Then expose the chicken skin to a more intense heat, to really crisp it up. Place the wings under the broiler for the final 5 to 10 minutes, until they are golden and crispy.
Note: If you have exceptionally small or large wings, adjust for less or more baking time. Take care to not cook for more time than is necessary, as that will dry out the wings.
My Best Tips for the Best Wings
I've learned a few things along the way, in my journey to find the best crispy oven baked wings. Here goes!
Use thawed chicken wings. If using frozen wings, be sure to fully thaw them first. If possible, use fresh wings rather than frozen, as fresh meat usually contains more moisture.
Dry thoroughly. Moisture is the enemy of crispy wings, plus it causes the wings to stick to the pan more. Be diligent to get the chicken as dry as you can after parboiling. To dry, place the wings on paper towels and then give them a squeeze with additional paper towels to remove every last bit of moisture. You could also use clean, absorbent, non-lint cotton towels if you prefer.
Use an uncoated sheet pan. For the crispiest results, use an uncoated sheet pan. NOT a non-stick pan. I then recommend spraying the pan very lightly with a non-stick cooking spray.
Grab a sturdy metal turner. If your wings want to stick to the pan (drying the wings extra good also greatly reduces sticking!), use a sturdy metal turner with a thin, sharp edge to get under the wings to scoop them up. The metal turner works great to get the wings off the pan with their crispy skins still intact.
Enjoy HOT! For the crispiest wings experience, eat the wings while they're hot out of the oven. Quickly toss them in sauce if you like, and then enjoy them right away!
Want to make these ahead of time? A few hours in advance, parboil the wings, dry them thoroughly, and place them on a sheet pan in the refrigerator, uncovered. When ready to eat, bake the parboiled wings in the hot oven per the instructions. Just know that they may take a little longer to bake after being chilled.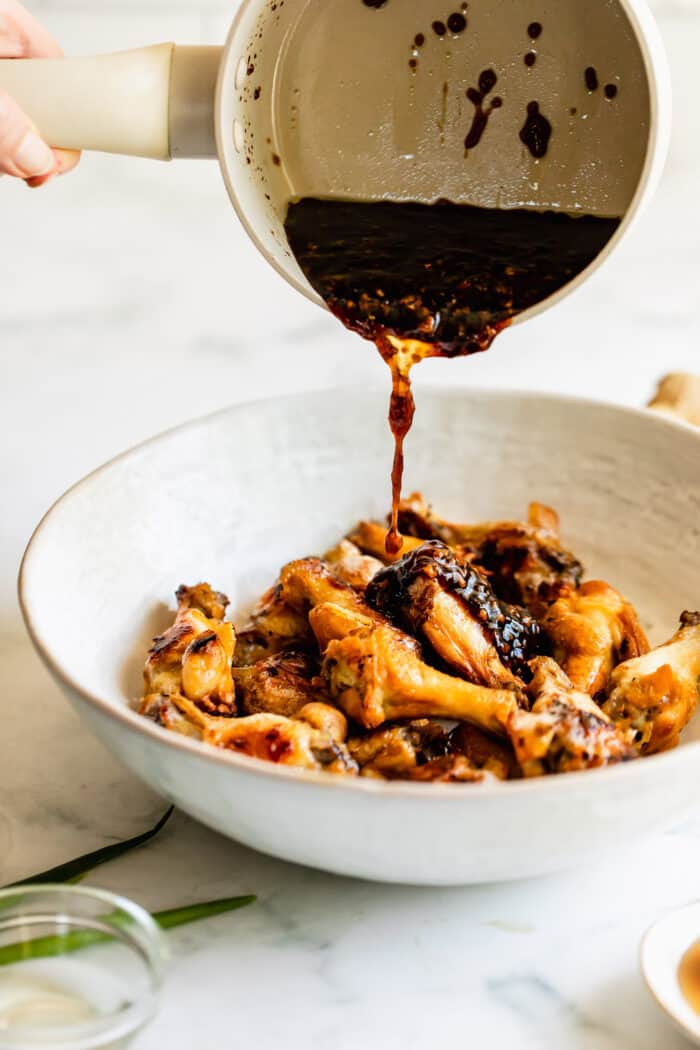 Our Family's Favorite Wing Sauce: Oyster Sauce!
Now let's talk about this amazing oyster sauce. I'm so happy that our friend Dana introduced us to this easy sauce recipe. It's our favorite way to eat wings!
Note: These crispy baked wings are good enough to eat plain. But if you want to sauce them up, and are not a fan of oyster sauce, then simply toss them in your favorite sauce. Or serve them with a dip. Blue cheese dip is a classic!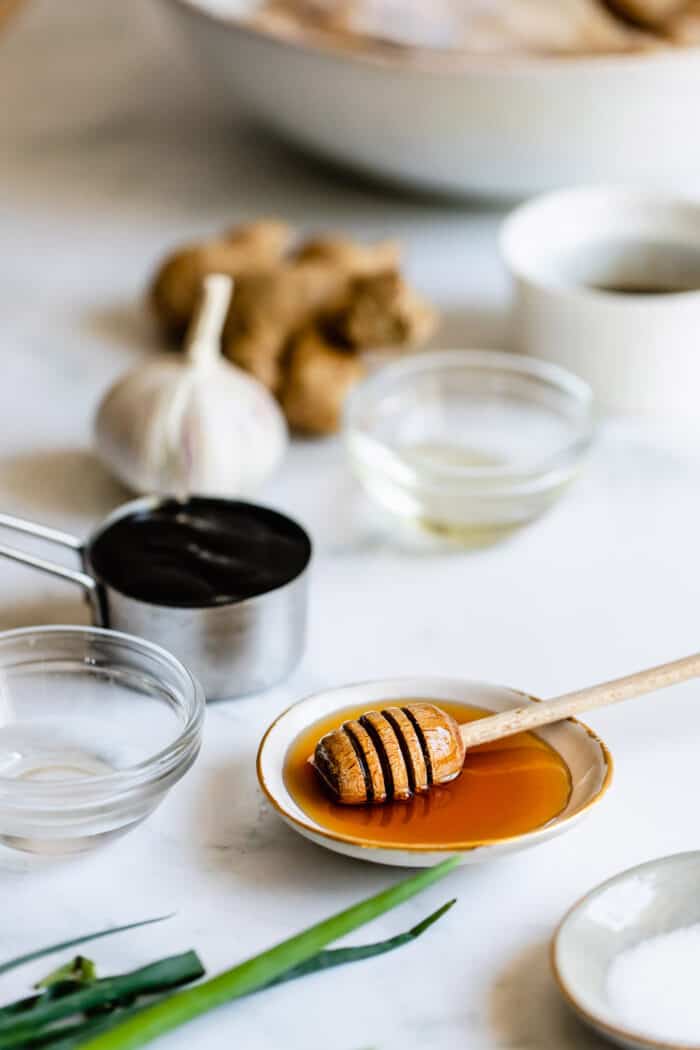 This oyster sauce is perfectly savory and sweet, totally addictive.
Oyster Sauce Ingredients: Grab some vegetable oil, fresh garlic and ginger, prepared oyster sauce, a bit of white wine (or just use water), soy sauce, and honey.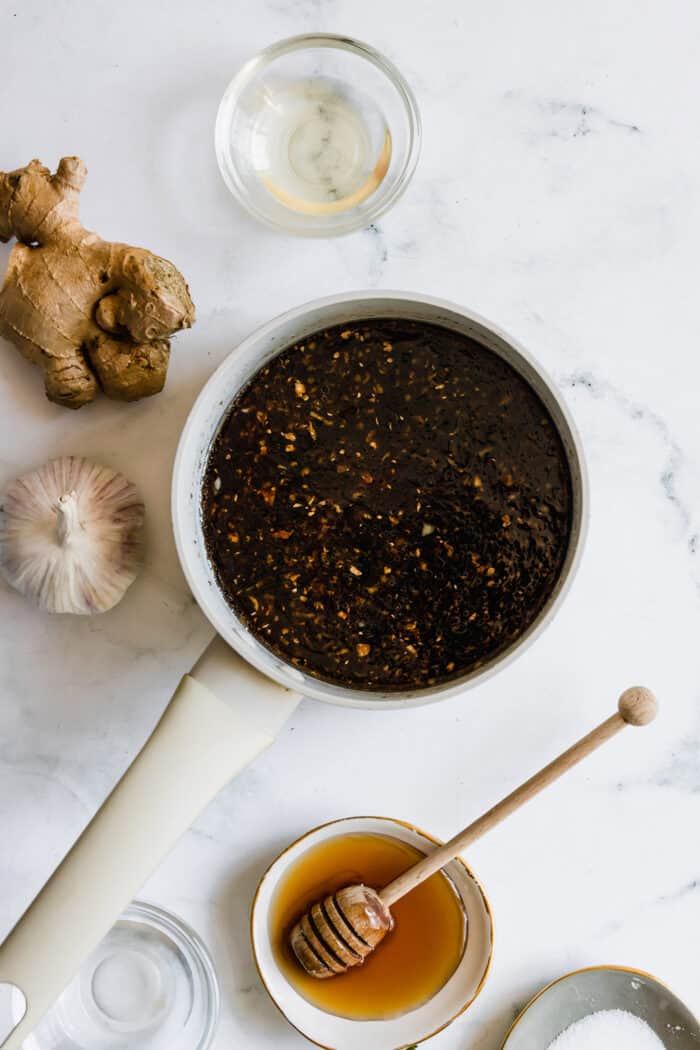 Also read: how to make pancit palabok sauce | Family Cuisine
Oyster Sauce Instructions: To make this sauce, start by sautéing minced garlic and ginger in a saucepan. Then stir in oyster sauce, white wine/water, soy sauce, and honey. Simmer for 10 minutes, stirring occasionally, until reduced and thickened.
That's it! It's so easy. And if you're not spooning this delectable concoction into your mouth at this point, I'd be surprised. Its flavor is AMAZING.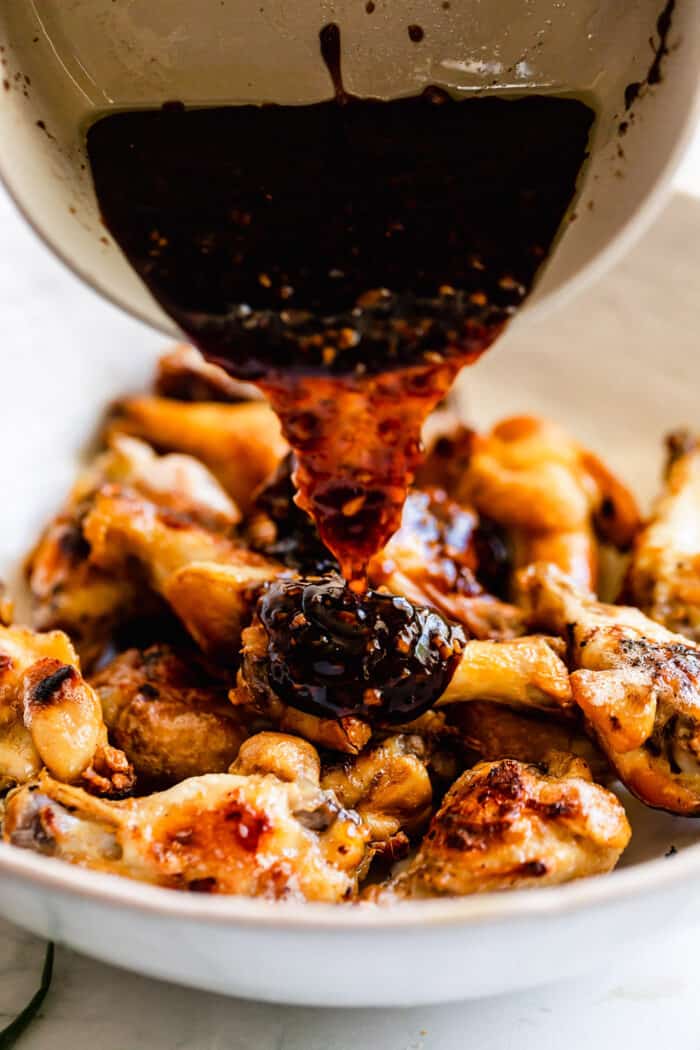 Once those crispy baked wings come out of the oven, pour the homemade oyster sauce over them.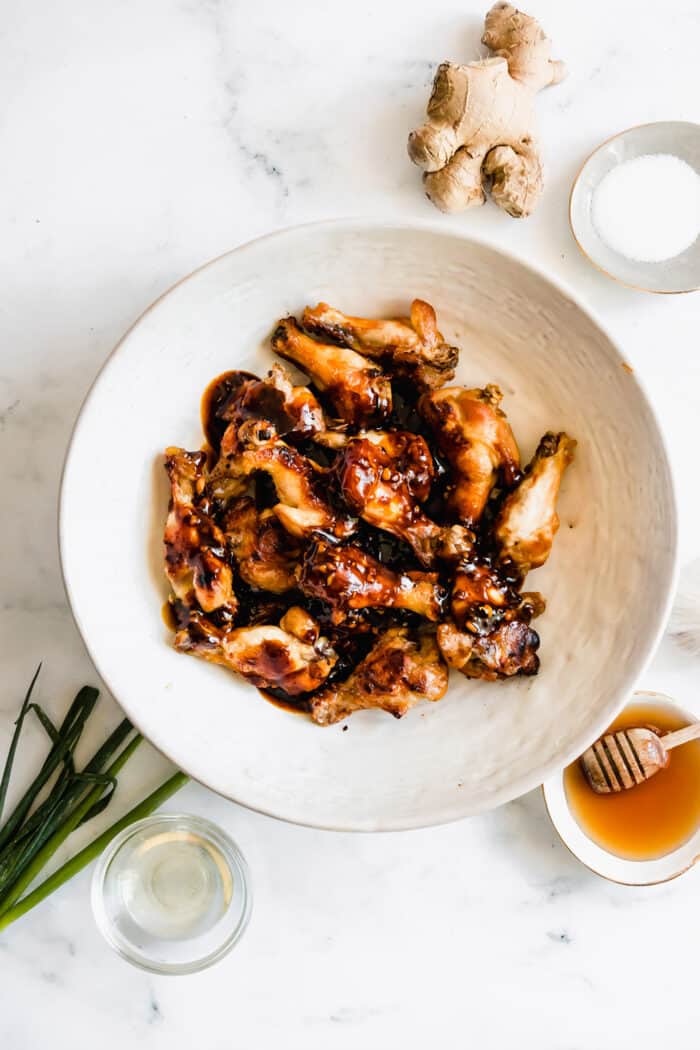 Then quickly toss to combine.
Sprinkle some fresh green onion over the top for good measure – I always like to add a little bit of fresh garnish whenever I can!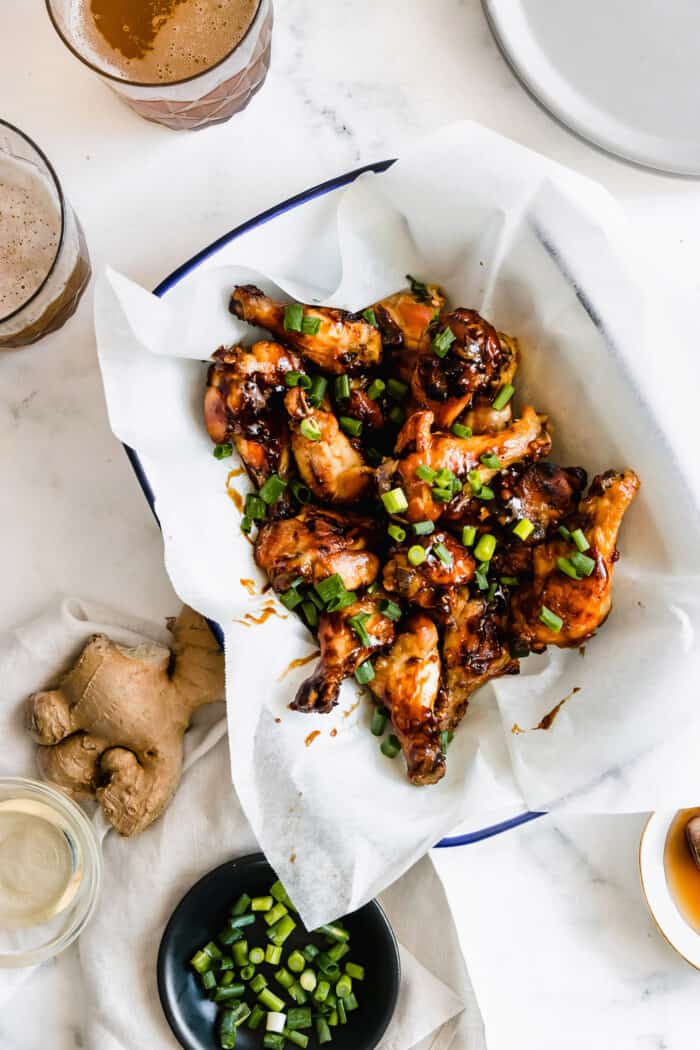 And then crack open a cold, crisp beer and ENJOY those wings!
Looking for a few more party appetizers? I have you covered!
Shrimp Dip – My mom's recipe, I've been enjoying this FOREVER!
Fried Pickles – Seriously, who can resist? This is my (excellent) copycat version of the ones we enjoy at the Minnesota State Fair.
Pineapple Salsa – A wonderful compliment to the oyster wings. Just add tortilla chips for dipping!
Margarita Grilled Shrimp – One of my top favorite recipes. I LOVE THIS SHRIMP.
Italian Stuffed Jalapenos – So super fun and delicious. For those who don't enjoy jalapenos, just substitute mini sweet peppers.
Like this recipe? Save it to Pinterest!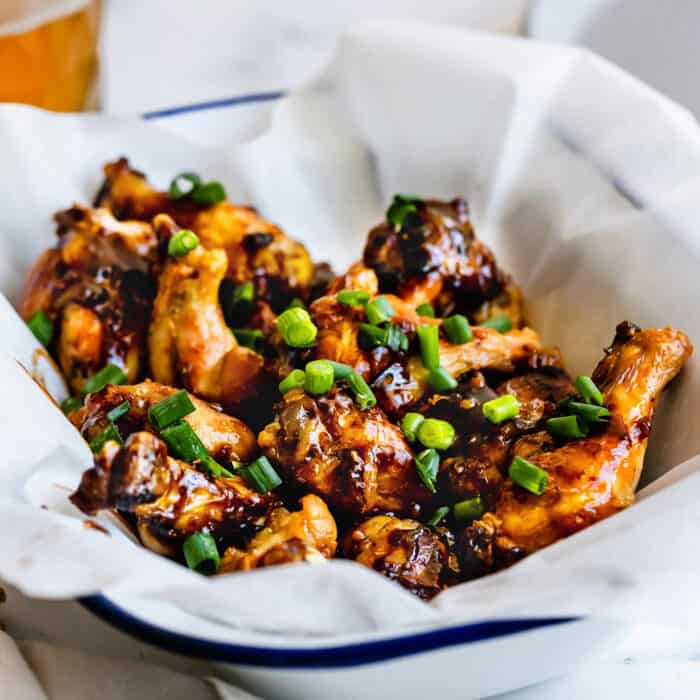 This post was previously published in 2015. Photographs and some of the text were updated in 2021.