This easy Grilled Leeks recipe is a great way to make a healthy side dish that pairs well with so many foods. They can be made on the grill or stovetop and have a great extra flavor from the lemon and parmesan.
Leeks are a pretty under-utilised vegetable. Which is a shame as they're quite versatile. In soups, stews or in place of onion, they add a different taste and texture.
Reading: how to cook leeks on the grill
Leeks have a subtle, mild onion flavor so they're delicious on their own, too.
Grilled leeks soften and collapse slightly with a smokey char when they hit the grill. Plus, they get those pretty dark lines.
You could serve them as they are, straight from the grill. But they're incredible brightened with the squeeze of lemon juice and given a salty rich flavor from the parmesan.
The perfect side dish to so many dishes.
Most of the time when you see leeks in a recipe, they are used to make soup. But they also make a great side dish.
Leeks are wonderfully delicious on their own especially when they are grilled up to perfection.
They get a slight char on the outside and tender on the inside.
Why You'll Love This Recipe
Leeks and the ingredients in this recipe are a great budget friendly option.
You can cook them on a grill or stovetop.
The seasonings can be changed up to your personal liking.
They pair well with other foods such as rice, veggies or any type of protein.
They have a unique flavor being subtly sweet and salty.
Ingredients
Large Leeks – You can find these at most grocery stores or farmers markets. They tend to look like a giant green onion that is green on the top and white on the bottom.
Olive Oil – This will help give the leeks a nice char look and flavor.
Read more: how to grill zucchini in foil | Family Cuisine
Lemon Juice – Adds a hint of acidity that pairs well with green vegetables. It also brightens up the flavor.
Parmesan Cheese – Sprinkling your grilled leeks with parmesan cheese will add a nice salty layer of flavor and a bit of texture.
Salt & Pepper – These classic seasonings will help bring out the natural flavors of the leeks.
How to make grilled leeks
Follow this step by step photo tutorial, then scroll down to the recipe card for the full ingredients list and method.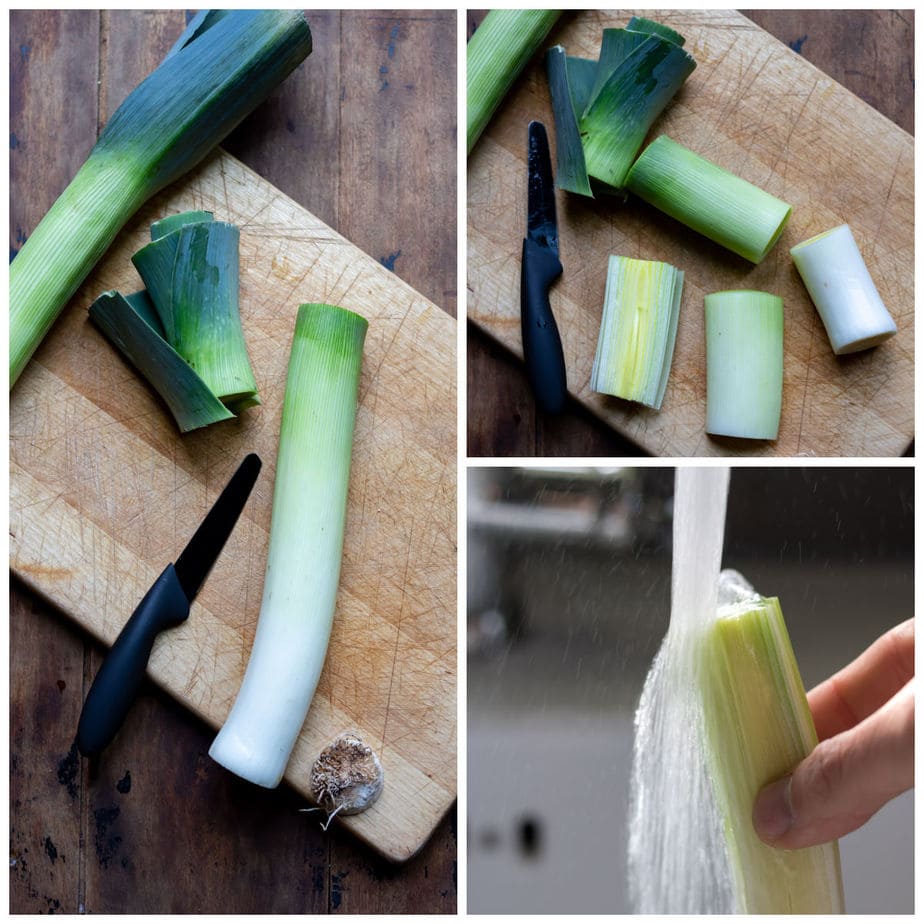 Trim and discard the tough top green part of the leeks and cut the rest into 4inch (approx) sticks, then cut each stick in half lengthways.
Run them under cold water vertically so any dirt is flushed out.
Heat a griddle pan or bbq grill over medium high heat until hot.
Brush the leeks with olive oil oil. Place into the hot griddle pan cut side down and cook for a few minutes on each side or until they begin to char and soften.
Upon serving, drizzle with lemon juice, sprinkling of parmesan and season to taste with salt and pepper.
How To Wash & Clean Leeks
Since leeks are grown in the ground and their leaves are tightly woven together, a lot of dirt gets trapped inside.
It's almost impossible to clean a leek fully without cutting it open which means they must be cleaned after you purchase them.
Remove the tough top dark green parts of the leek with a sharp knife. Discard the greens or save them for vegetable stock.
Slice the leek from top to bottom exposing all of the layers while keeping them all together at the root.
Rinse the leek fully under cold water to remove all grit and sand. Dry and then use for your recipe.
Tips
Make sure your leeks are fully washed as per the instructions above as if there is any dirt left behind, it still sticks around when you cook them.
When buying leeks, make sure you buy the ones that have the richest green color as those are the ones that have the most flavor.
The greens that are chopped off from the top of the leaves can be used in vegetable stock, so do not throw them away!
Serving Suggestions
If you'd like to make vegan grilled leeks, use this Vegan Parmesan Cheese in place of the dairy version.
Chop up any leftovers and add on top of this Carrot Sweet Potato Soup.
Perfect to make alongside these Grilled Vegetable Tofu Skewers on the grill. Plus some Grilled Nectarines for dessert!
Enjoy as a veg-packed dinner as a side dish to these easy, tasty grilled Portobello Mushroom Steaks.
Variations
Read more: Steven Raichlen's BARBECUE BIBLE | Family Cuisine
Top the leeks with a mixture of fresh herbs for even more bright flavor.
Add a pinch of cayenne on top for slightly spicy grilled leeks.
Use butter or vegan butter in place of the olive oil for a rich buttery taste.
Feel free to mix up the spice combination when seasoning your grilled leeks. For instance, drizzle with lime juice and Mexican seasoning for a twist on the flavor!
Special diets
To Make it Gluten-Free: The ingredients in this recipe are naturally gluten free, however, it's important to check all labels when using spices or seasonings as they may contain gluten containing ingredients.
To Make It Vegan: Replace the parmesan cheese with a delicious Vegan Parmesan Cheese to make this recipe completely vegan.
Storage
Storing: Grilled leeks can be stored in an airtight container for up to 5 days in the fridge. Reheat them in the microwave or on the stovetop over medium heat until warmed through.
Freezing: Since leeks are a delicate vegetable that has a high water content, they will not hold up well during freezing. If you are using greens for vegetable stock, they can be frozen along with other vegetable scraps as they would not need to retain their shape.
FAQs
What do leeks taste like? Leeks taste like a very mild onion that is slightly sweet with a soft texture when cooked.
Do you have to boil leeks before cooking? This depends on what you are using them for. For this recipe, you do not need to pre boil your leeks, but if you want super-soft grilled leeks you can gently boil or steam them until just softening.
What part of leeks do you eat? The edible part of the plant is the white and light green part. The darker green leaves at the top are very tough and have a bitter flavor.
You'll Also Love These Vegetable Side Dishes
Roasted Swede
Maple Roasted Carrots
Frozen Roasted Brussels Sprouts
Mini Baked Potatoes
Cauliflower Cheese
Read more: how to grill frozen burgers on gas grill | Family Cuisine