These creamy garlic pork chops are smothered in a garlic cream sauce with whole garlic cloves! This recipe is quick and easy to make in about 30 minutes.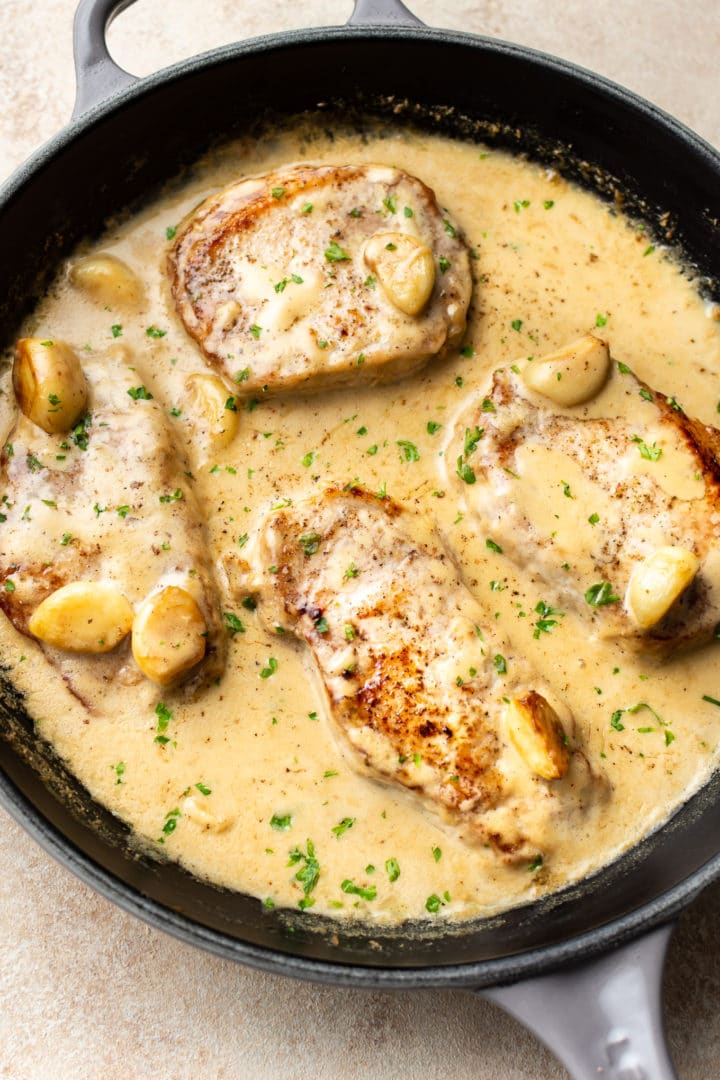 Reading: how to cook pork chops in sauce
If you're fan of my popular Creamy Garlic Chicken recipe and also like pork, you may want to try this recipe. I tweaked the sauce a bit to make it work with pork chops. Garlicky goodness.
Read more: how to make shrimp in tomato sauce | Family Cuisine
Yes, there's a whole head of garlic in here as well as garlic powder. The garlic cloves mellow out (you can eat them and they're not overly garlicky… they taste kinda like roasted garlic). I like building layers of garlic flavor!
Love creamy recipes? You may also like my Creamy Pork Tenderloin Medallions.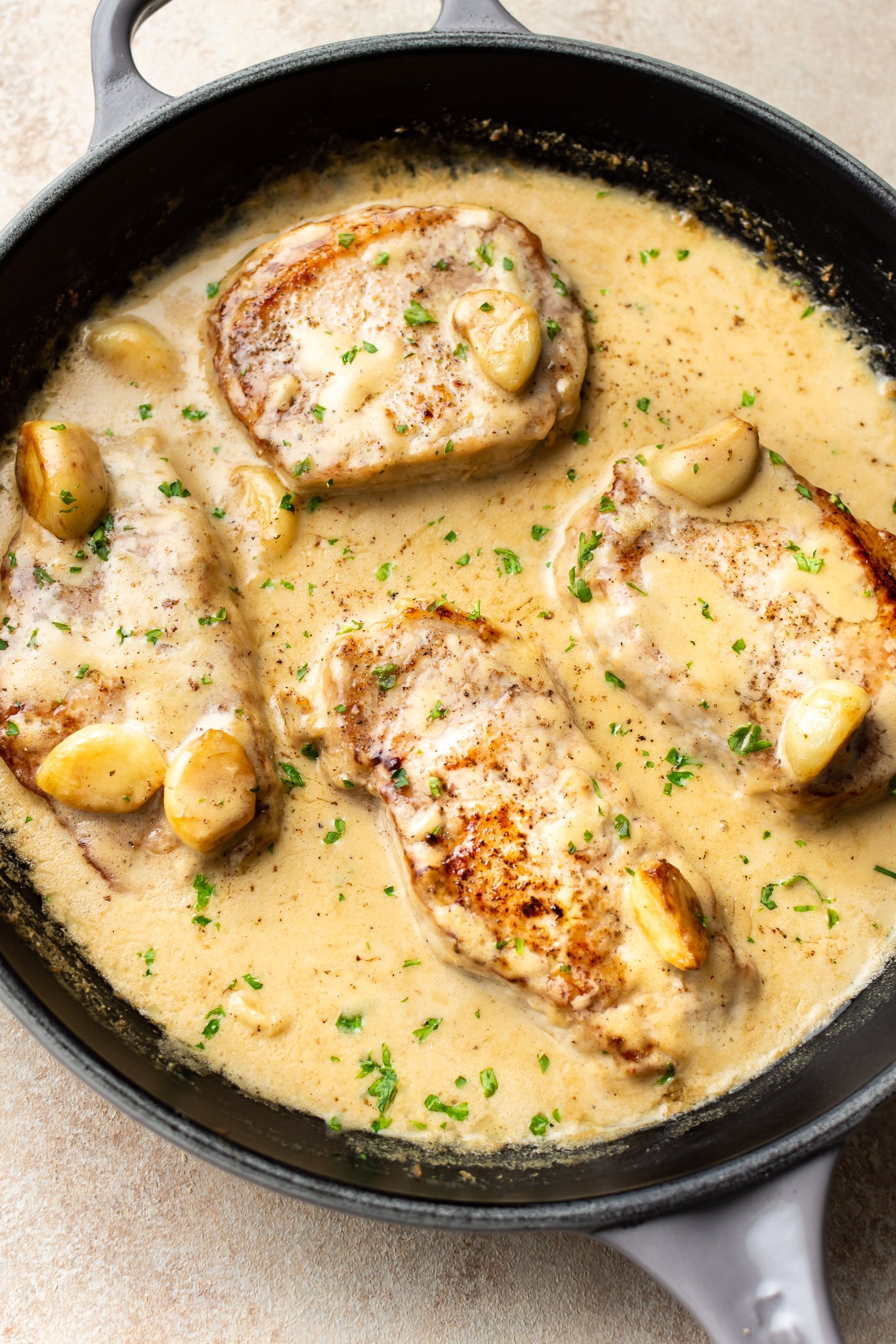 Recipe notes & tips:
Pork chops can easily dry out (especially boneless ones), so I highly recommend getting an instant read meat thermometer so you can check the temperature and not overcook them. Pork is safe to eat at 145F (and don't forget the temperature continues to climb for a few minutes after you finish cooking it). It's ok if pork is a bit pink in the middle.
You can use either boneless or bone-in pork chops. For larger bone-in chops, you may need to sear them in two batches. If your pan goes dry, I'd add up to 1 tablespoon extra olive oil for the second batch.
I recommend taking the pork chops out of the fridge at least 15-30 minutes prior to starting the recipe. They will cook better this way!
I don't recommend subbing the cream for a lower fat alternative as it may curdle and the sauce won't be as thick.
What to serve with creamy pork chops?
They're delicious with mashed potatoes, roasted potatoes, rice, or even pasta.
More delicious pork chop recipes to try:
Smothered Pork Chops and Gravy
Ranch Pork Chops
Easy Pan Seared Pork Chops
Creamy Spinach Mushroom Pork Chops
Easy Pork Chops and Apples
Read more: how to make cream of mushroom sauce | Family Cuisine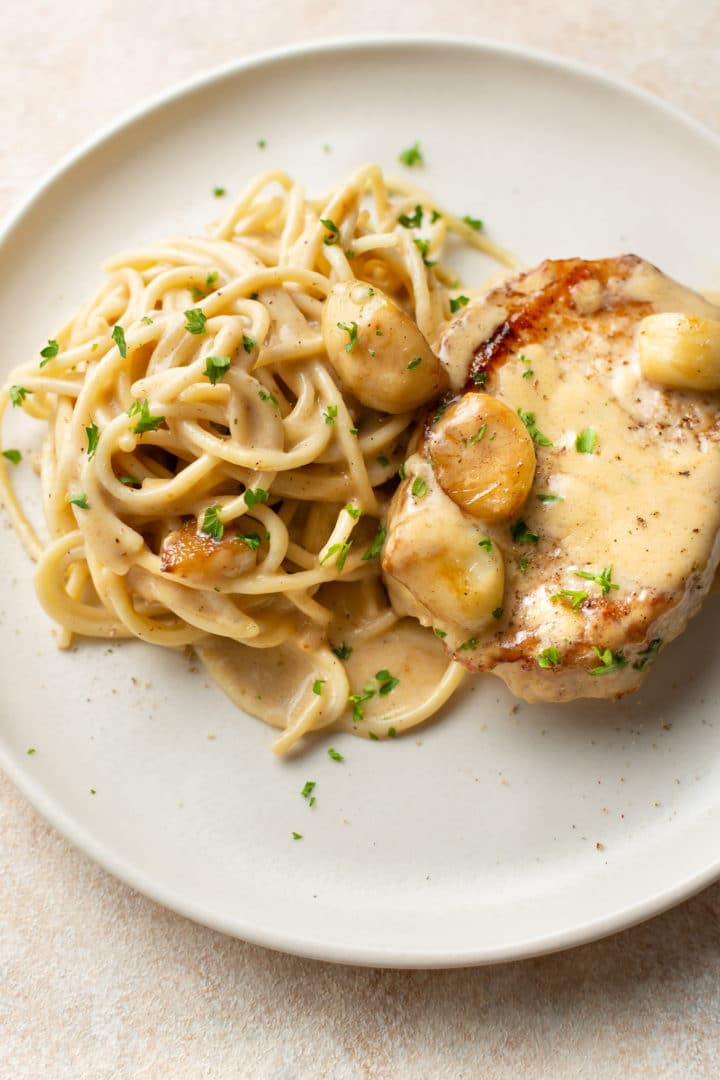 Questions about this creamy garlic pork chop recipe? Made it? Talk to me in the comments below!
Read more: Taco Sauce | Family Cuisine