I love Italian food and especially linguine with spaghetti sauce and sweet sausage! Pasta is the ultimate comfort food and tomato sauce simmered for 4-5 hours building that rich delicious sauce that Italian grandmothers love to make. Of course, the added love they put into the pot makes it even better!
Making spaghetti sauce like Nonna or your favorite Italian restaurant isn't difficult. As in most cases, it's about the ingredients and the cooking technique. In this case, the ingredients are minimal and the cooking technique easy to follow. What makes this sauce exceptional is letting it simmer and build the rich flavors that we love. And that my friends is the real secret to good tomato sauce.
Reading: how to cook sausage for spaghetti sauce
What do I need to make restaurant-style spaghetti sauce?
Let's start by gathering the ingredients we need to make our sauce. In chef speak this is called a mise en place (everything in its place).
Start by browning the sausage in a large pot with olive oil. My favorite pot to use for this sauce is a Rondeau. It's been an essential piece of cooking equipment throughout my career as a chef at the restaurants I've worked at and in my home.
If you do big batch cooking at home this 16 qt All-Clad Rondeau would make a great addition to your kitchen. In commercial kitchens, the Rondeau is the most versatile pot we have.
Read more: how to make sweet soy sauce | Family Cuisine
After the sausage has been browned add the diced onions and garlic and saute until the onions are translucent. Don't let the onions or garlic burn!
When that step has been completed add the tomatoes and seasonings to the pan.
I only use San Marzano tomatoes in my sauce. San Marzano tomatoes are prized for their balanced and distinct tomato flavor. I also find them to be less acidic. My wife has problems with most tomato sauces unless they're made with San Marzano plum tomatoes.
Where can I buy San Marzano Tomatoes?
You can find San Marzano tomatoes at just about every grocery store. In the larger chains, you'll even find different brands including organic varieties. But all San Marzano tomatoes are not created equally. You'll find some brands contain less tomato and more juice and some may actually be from other regions.
The volcanic soil and the microclimate of the Campagna region account for their balanced rich tomato flavor. In Italy, tomatoes labeled as "San Marzano" must adhere to strict DOP (the Italian protected designation of origin) guidelines, which governs where they're grown and how they're processed.
Read more: Angel Hair Pasta With Blush Sauce | Family Cuisine
Using the same plant or the same seeds in another region of Italy or other countries will not make San Marzano tomatoes.
How do I tell if the tomatoes are really San Marzano?
The easiest way to tell if the tomatoes are fake is if they contain crushed or diced tomatoes. San Marzanos are only certified whole or in fillets, peeled, and canned.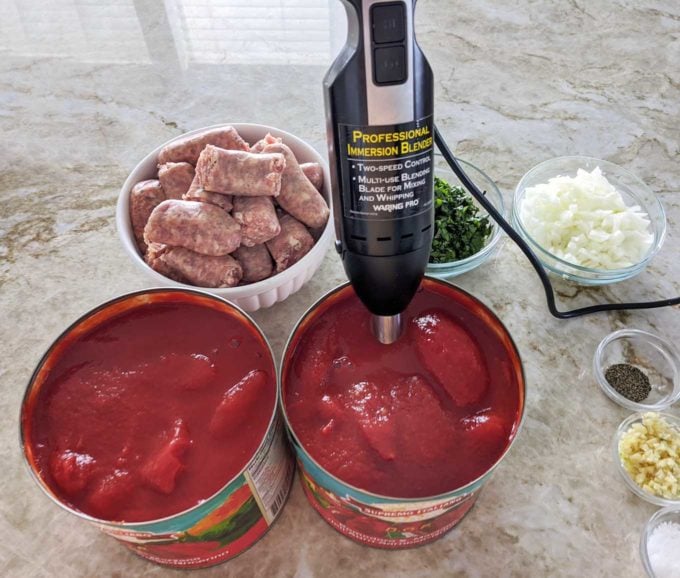 And since you're buying tomatoes whole, you need to crush them for the sauce. I love using an immersion blender for this task.
I absolutely love my Waring Professional Immersion Blender. I have had 2 less powerful household units that both burned out. This immersion blender has been going strong for 5 years already and shows no signs of slowing up.
I love that I can use the immersion blender right in the can, it makes clean up easy and puree's tomatoes, soups and sauces perfectly.
What Else can I make with this Spaghetti Sauce Recipe?
Leave the sausage out and you've got the recipe I've used for 40 years over my cooking career.
Add ground meat and you've got a meat sauce
Add meatballs instead of sausage or in addition to the sausage
Make a Rosa Sauce from this recipe (after it's done cooking) by adding heavy cream and romano cheese.
Use this sauce to make lasagna or chicken parm.
If you love Italian food you may also like these recipes:
Read more: Best Worcestershire Sauce Substitute | Family Cuisine
Spaghetti and Meatballs
Restaurant-Style Clams and Spaghetti
Fettuccine Alfredo
Chicken and Shrimp Pepperoni
Bucatini with Blackened Salmon and Gorgonzola