A few weeks ago, I shared my super simple and delicious Chinese-style 10-minute vegetarian fried rice. Now, it's time to switch up the flavours and add in some protein. 10-minute seafood fried rice is on the menu tonight. It's a one-pan, quick and easy, better than takeout meal that can be made at home tastier and with healthier ingredients. It's the easiest weeknight meal.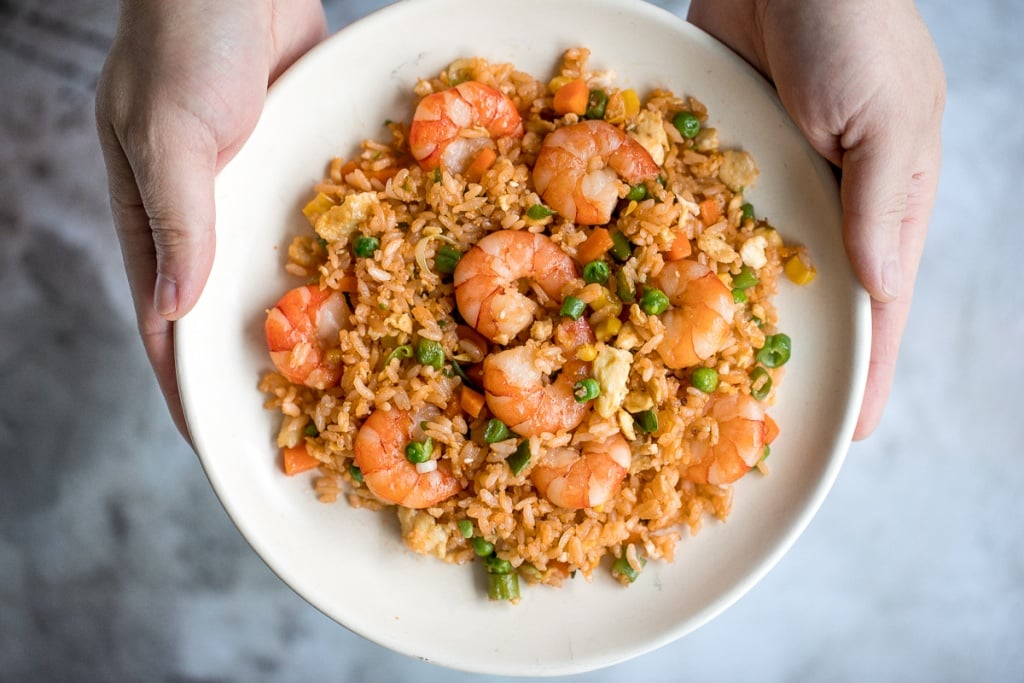 Seafood is one of my favourite ingredients to add to fried rice. We have added tiger prawns and a sprinkle of fish roe on top (optional), and paired it with satay sauce for optimal flavouring. Satay sauce has a very unique sour and slightly spicy taste. This combination of flavours is a very common in seafood fried rice all over Malaysia, Thailand and other parts of Asia as well.
Reading: how to cook seafood fried rice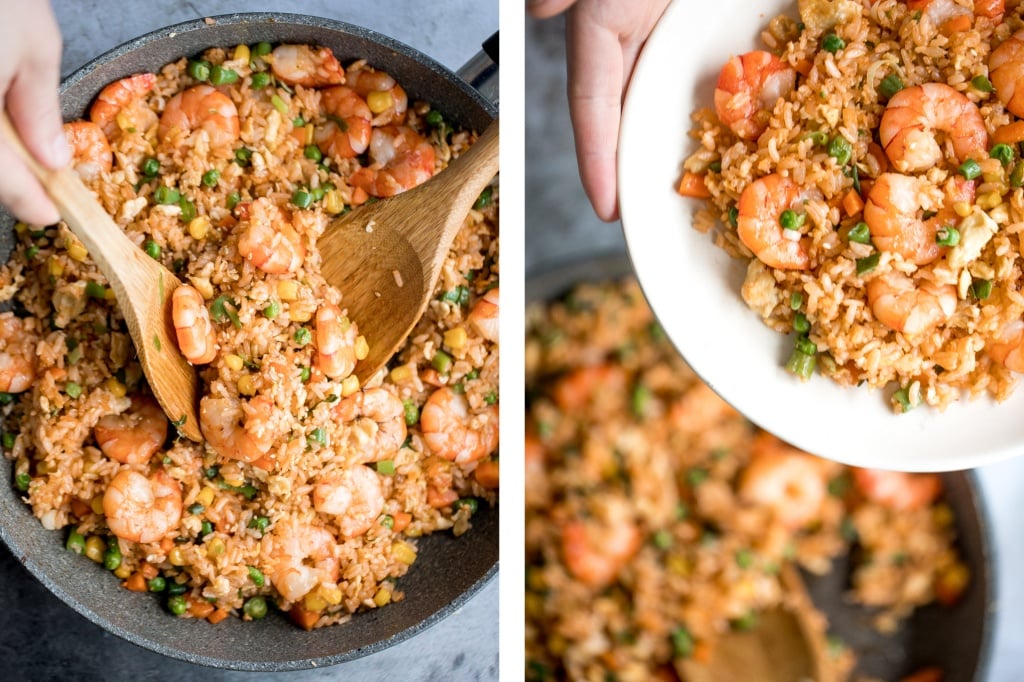 Ingredients in Seafood Fried Rice
To make this seafood fried rice with shrimp, you will need the following ingredients:
vegetable oil – necessary for stir-frying.
tiger prawns – I love fresh tiger prawns in this dish, but this can be substituted easily with any kind of shrimp.
eggs – fried rice staple.
white rice – freshly cooked is best, but you can use leftover rice. You will just need to add some water to soften the rice.
vegetables – fresh or frozen carrots, green peas, and sweet corn. You can get creative and add in whatever vegetables you have on hand. Green beans would go really well in this.
seasonings – sesame oil, maggi sauce, salt. Maggi sauce can be substituted with soy sauce.
satay sauce – has a unique sour and slightly spicy taste.
green onions – can be substituted with cilantro (but if using cilantro, it must be added at the end as a topping, as it will wilt under the heat).
roasted white sesame seeds (optional) – for topping.
masago caviar (optional) – similar to sushi roe.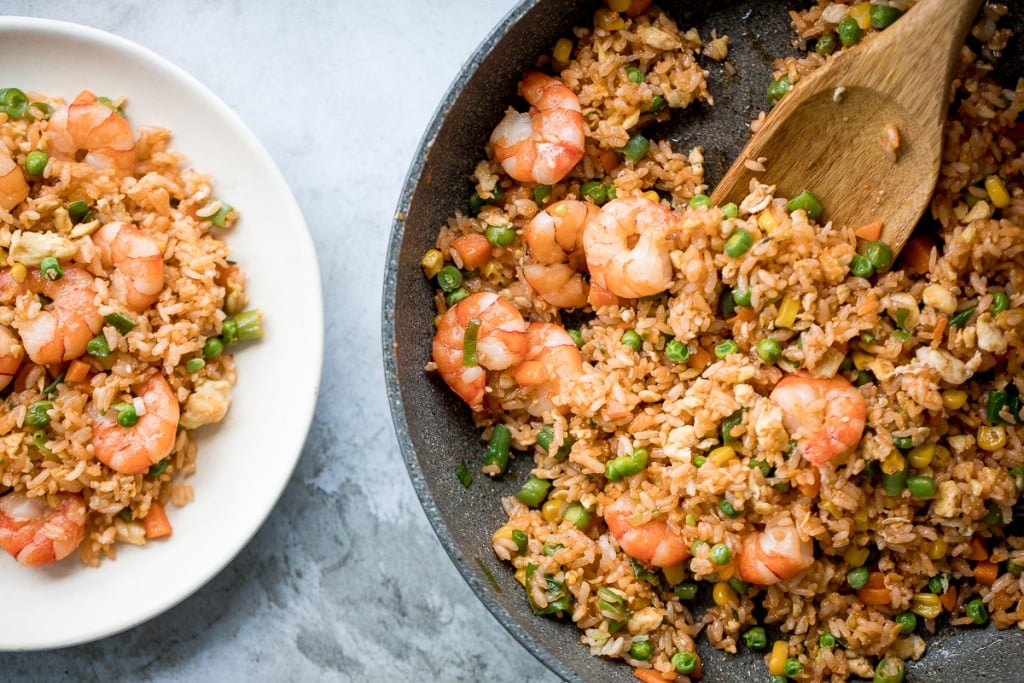 How to Cook Fried Rice with Prawns or Shrimp
Read more: how to make stir fry vegetables taste good | Family Cuisine
Making seafood fried rice is so easy. It takes about 10 minutes of prep (you do need to peel and devein the shrimp), and 10 minutes to cook.
First, cook the prawns over medium-high heat with ginger. Then, make some space and add in the eggs with a pinch of green onions, and scramble. Stir in carrots, sweet corn and peas (and any other vegetables if using). Then, stir in rice. Continuously stir to cook evenly and distribute. Add in seasoning (satay sauce, sesame oil and salt) and continuously stir. Add maggi sauce and green onions and stir to combine. Top with a sprinkle of sesame seeds and masago caviar (roe) on top, and serve.
Read more: how to make vegan fried chicken | Family Cuisine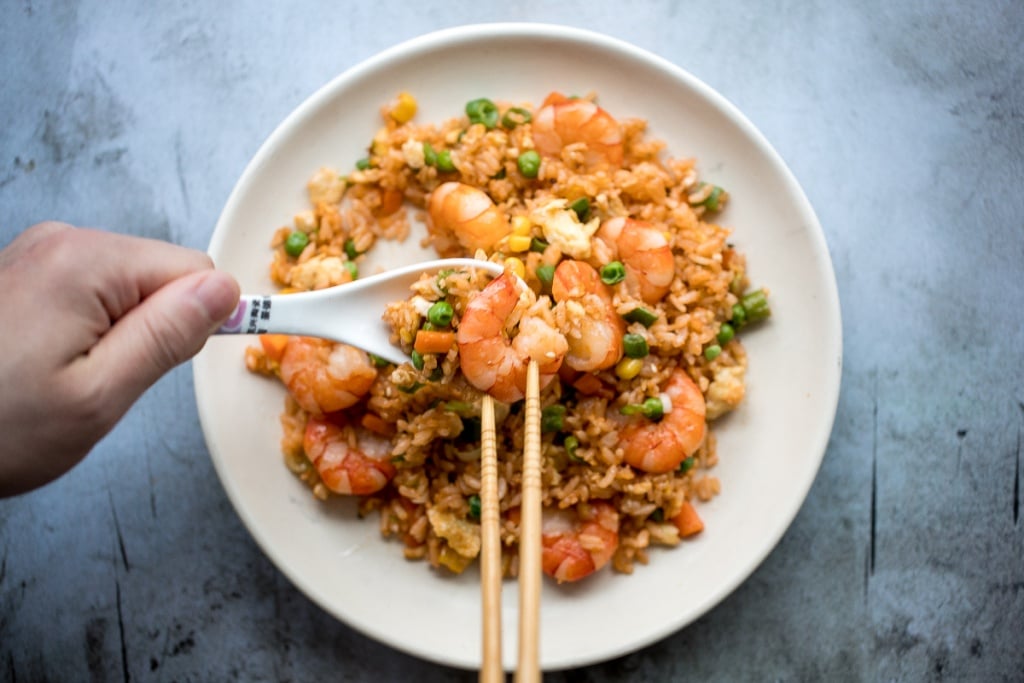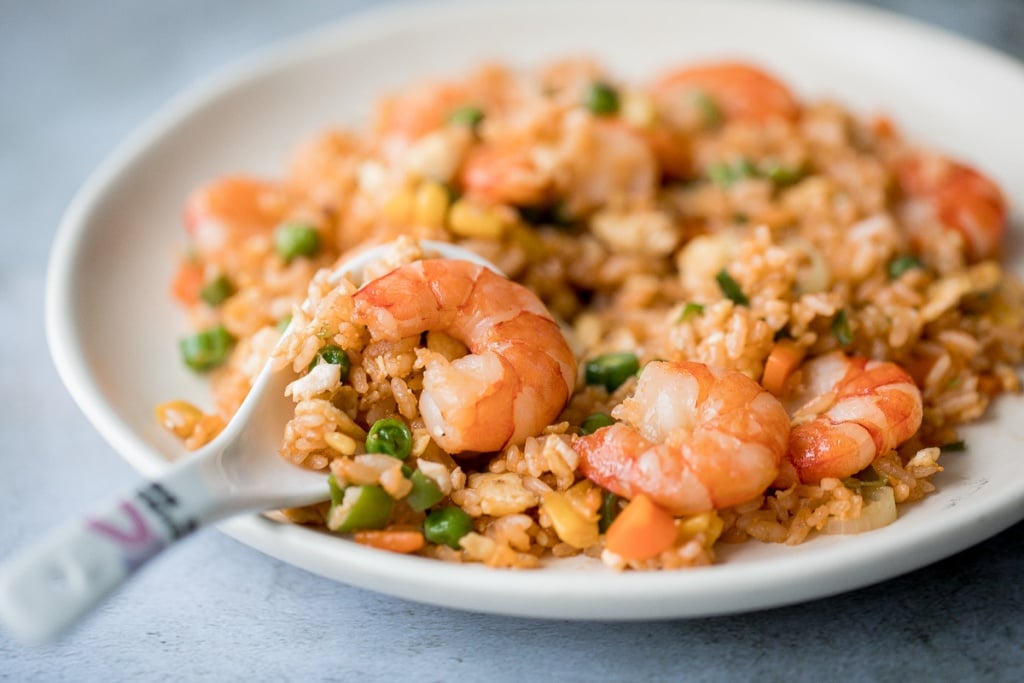 More Stir Fry Recipes
10-Minute Vegetarian Fried Rice
Stir-Fried Rice Cakes with Shrimp
10-Minute Chicken Pad Thai
Shanghai Style Fried Noodles
Spicy Cumin Lamb Noodles
Print