A light lemon and garlic sauce really enhances this shrimp and vegetable stir fry, along with crisp asparagus, zucchini, and red bell pepper. You'll have it made in under 30 minutes!
Tender pink shrimp, bright green asparagus and zucchini, crimson bell pepper, snowy white rice — doesn't that just make your mouth water? With a hint of lemon and garlic, this lightly seasoned stir fry is perfect for warmer months.
Reading: how to cook shrimp and vegetable stir fry
Don't you just love a good stir fry? Ready in just minutes, with crisp vegetables and a zesty sauce, it always hits the spot. We often make this Chicken Stir-Fry with ginger and basil, or this easy Beef and Vegetable Stir-Fry. Another favorite with my family is Sweet and Sour Chicken Stir Fry.
At less than five hundred calories per serving (including the rice!), you can really feel good about eating this entree. We all know that vegetables are good for you, and most of us don't eat nearly enough of them every day. Shrimp is a good source of protein and contains zinc and antioxidants that your body needs. See this article by Healthline to learn more .
About this recipe
There are three parts to this recipe:
Fluffy cooked rice
Meat and veggies
Sauce
As always, look for the complete printable recipe at the end of this post.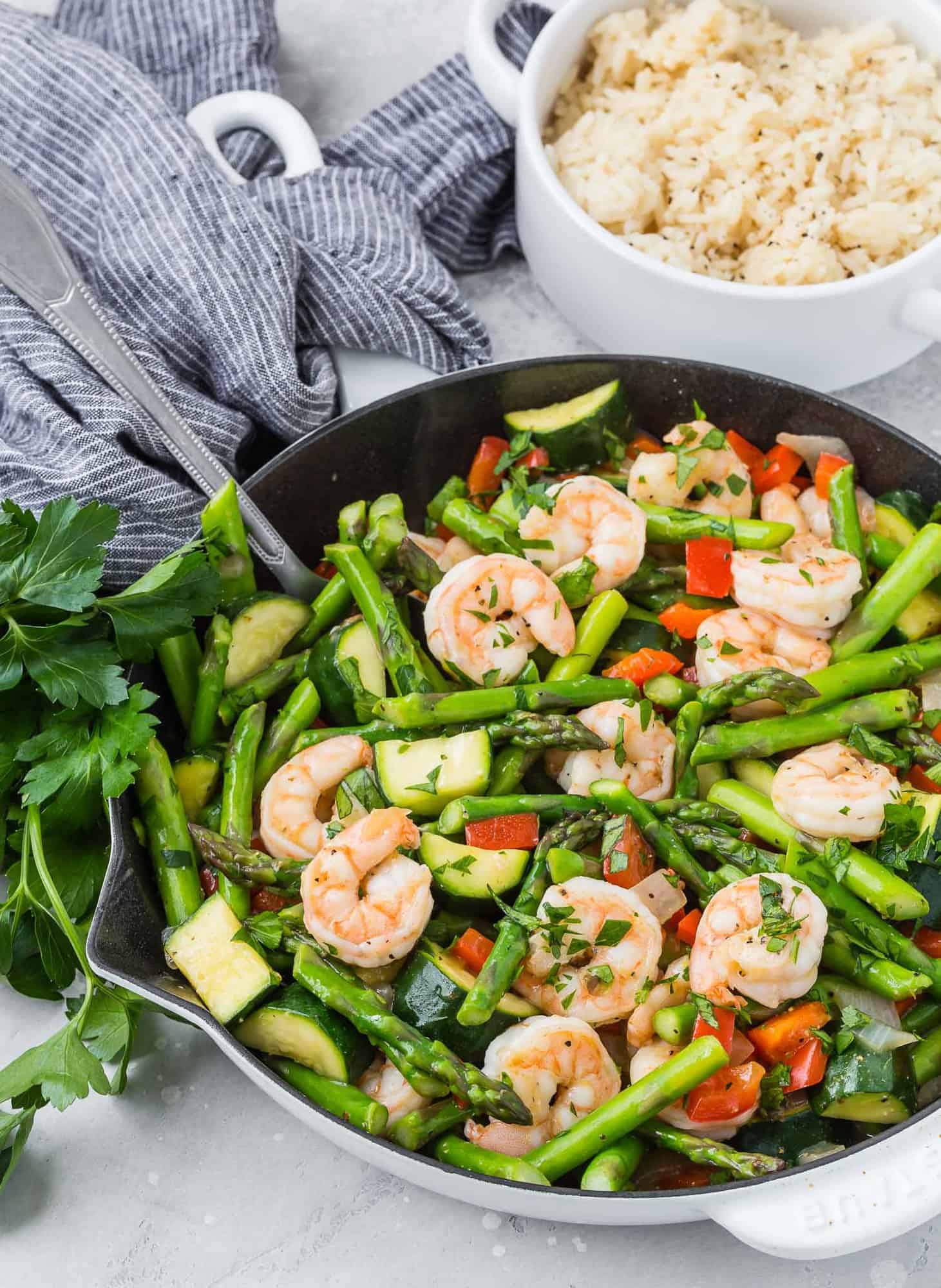 What you need
Shrimp: Frozen or fresh, you'll need one pound of raw peeled and deveined shrimp, with tails off. Shrimp is a healthy protein that is low in calories.
Easy Sauce: With just chicken broth and lemon juice, the sauce is simple, letting the shrimp and vegetables shine. A bit of cornstarch is added to thicken the sauce.
Lots of Good-For-You Vegetables: Stir fries are a fantastic way to eat lots of veggies. This stir fry boasts asparagus, zucchini, red bell pepper, and onion. Feel free to exchange other vegetables that you may like better.
Flavor: Lemon zest and garlic, salt and pepper, and fresh parsley are light and bright, perfectly enhancing the shrimp.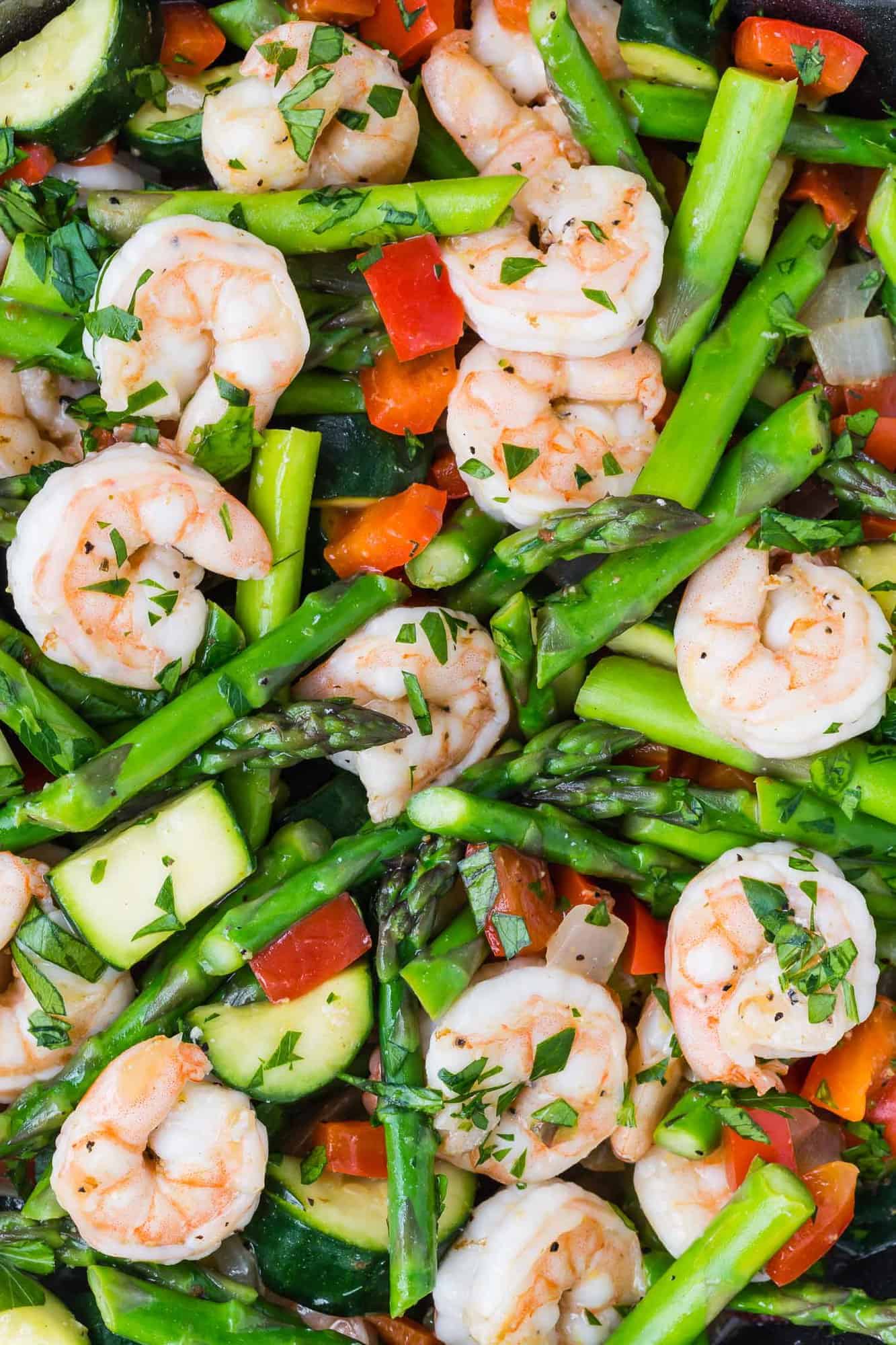 How to make it
Read more: how to stir fry yakisoba noodles | Family Cuisine
One of the most important things to do for a successful stir fry is … have everything ready before you get cooking. Once the pan is hot, things move really quickly and you won't have time to stir up the sauce or chop veggies.
Hopefully you have the rice cooking already. Get out your wok or a nice big skillet. Chop the veggies, season the shrimp with salt and pepper, and stir up the sauce.
Ready? Here we go:
Heat your pan and add a bit of oil. Throw the shrimp in and watch them sizzle. Are they turning pink and curling up? Flip them over, and when they're done, take them out of the pan and put them on a plate. That should take less than five minutes.
We're on a roll now. If your pan seems dry, add a little more oil. Is your pan still nice and hot? Good! Add the onion, bell pepper, asparagus, and zucchini, in that order. Give them a vigorous stir, and throw in the garlic and lemon zest. Stir, stir, stir. Season with a little salt and pepper.
If you're timing things, your veggies should achieve crisp tender status in about five to six minutes.
Read more: how to fry sweet potatoes in a pan | Family Cuisine
Give your sauce a quick little whisk in case the cornstarch settled, and pour it into the pan. Stir and watch the sauce begin to thicken and coat the veggies. Is your stir fry smelling really good? I hope so!
Stir the shrimp back into the pan, with a sprinkle of fresh parsley. Are you hungry? Because dinner is READY!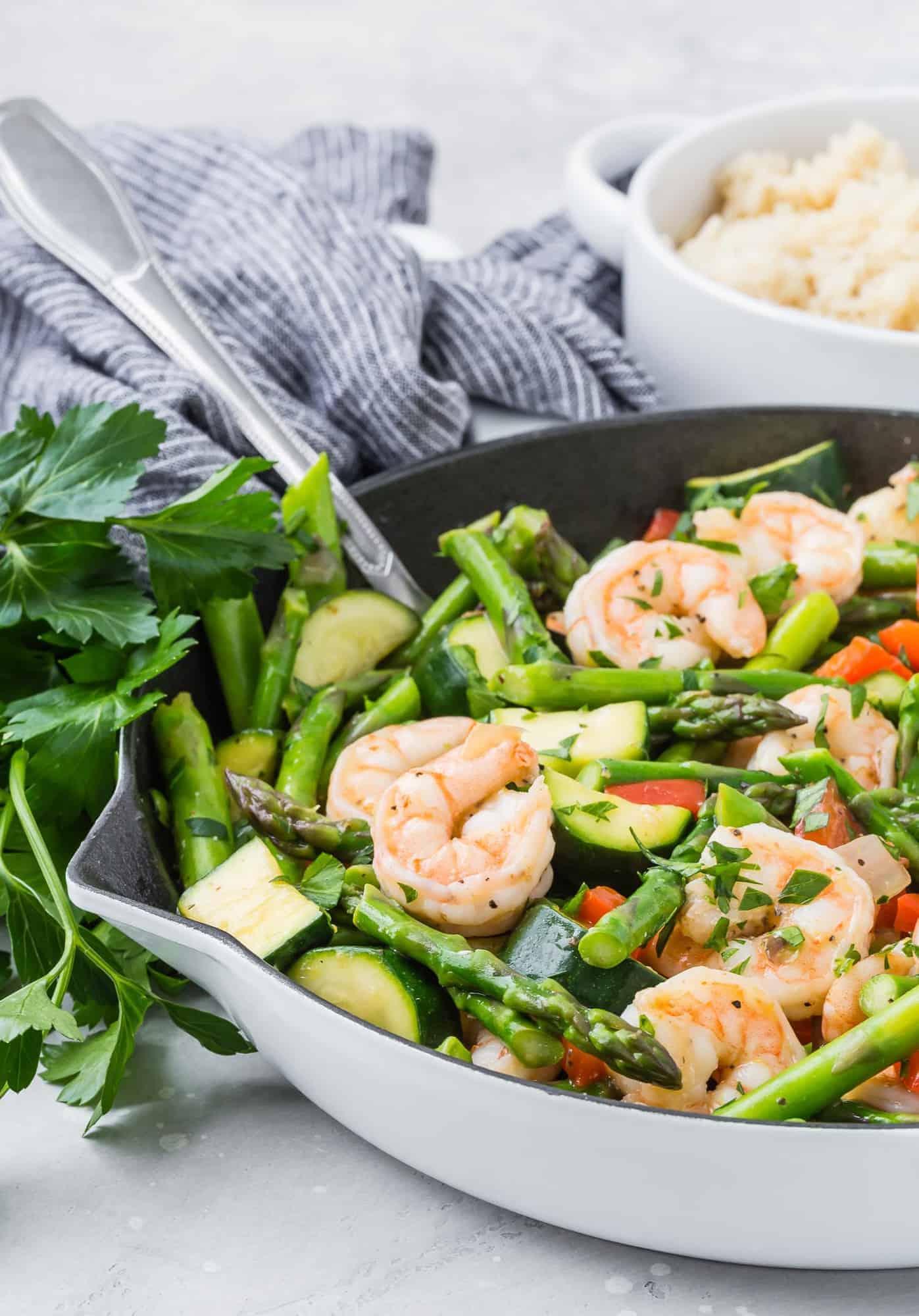 FAQs
How to make this stir fry your own
Replace the suggested vegetables with broccoli, pea pods, mushrooms, carrots, celery, green bell peppers, etc.
Only have frozen vegetables? Stir fries can successfully be made with frozen vegetables. Don't thaw the vegetables and make sure your wok or skillet is very hot before adding them.
Add a pinch of red pepper flakes to add a little zing.
Try this stir fry with noodles, or zoodles (zucchini noodles), for a fun twist, instead of steamed rice.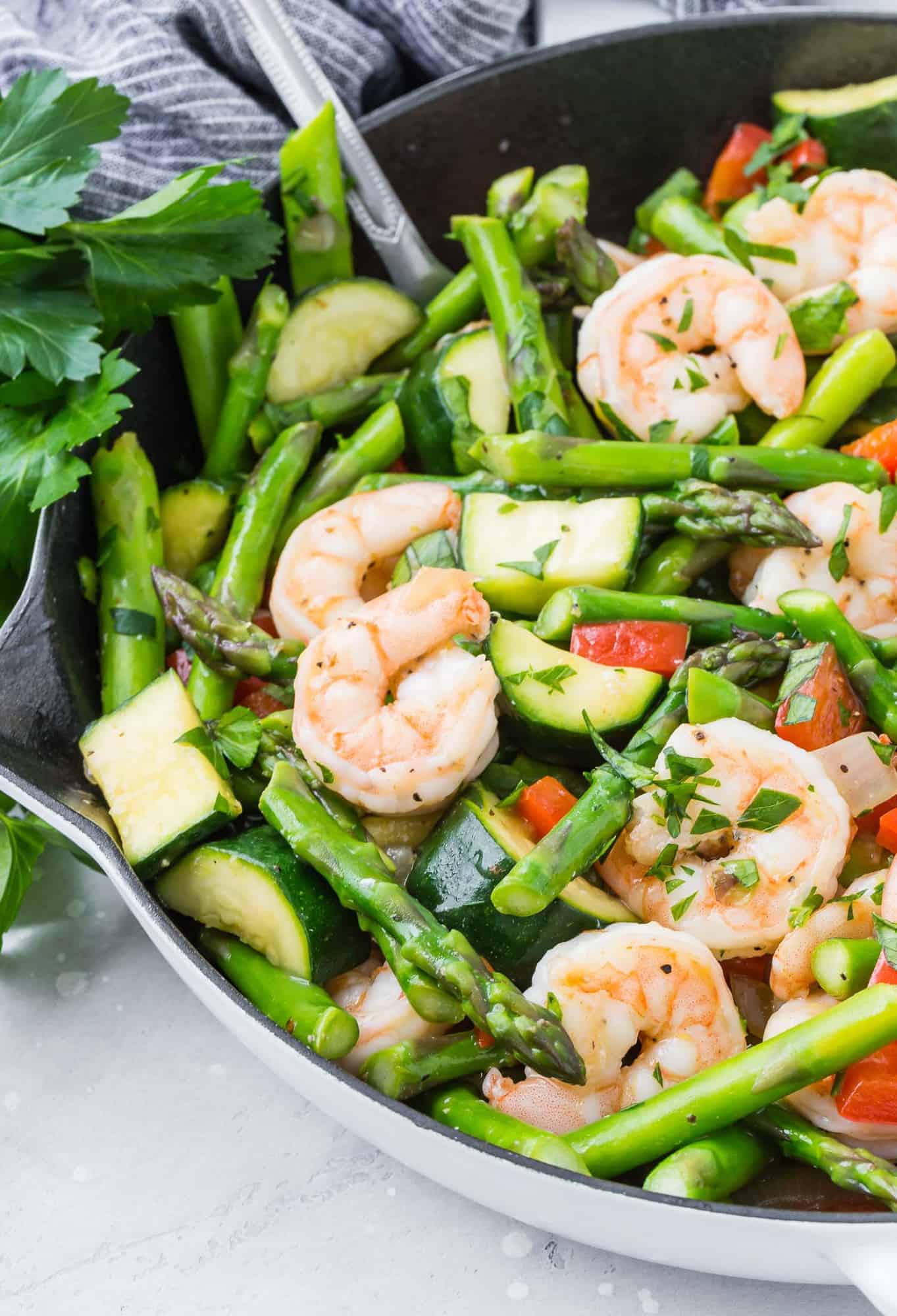 Make Ahead Ideas
While cooking stir fries is fast, prepping the vegetables can take a bit of time. The good news is that you can wash, trim, and cut the veggies up to a day ahead. Store them in a zip top bag or tightly wrapped bowl.
In addition, if you remember to put the bag of frozen shrimp in the fridge the night before, they'll pretty much be ready to use when it comes to dinner time. Give them a quick rinse, pat them dry, season with salt and pepper, and you're good to go.
Storage & Reheating Suggestions
This dinner is best eaten immediately but leftovers aren't bad either. Store them in the fridge for up to two days, and heat in a skillet briefly to rewarm. If you're in a hurry, reheat in the microwave on medium power for 1-2 minutes or until warmed through.
More shrimp recipes
Shrimp is perfect for last minute meal preparation. Don't have any meat thawed? Frozen shrimp is ready to use in just minutes. Try:
Read more: how to make deep fried tacos | Family Cuisine
Grilled Shrimp Kabobs with Pineapple with a yummy teriyaki marinade.
Air Fryer Coconut Shrimp
Pasta with Shrimp, Brussels Sprouts, & Wine Sauce
Lemon Pepper Shrimp – super easy recipe!
Shrimp Salad with Mango and Avocado
Sheet Pan Shrimp Fajitas
Shrimp Tacos with Avocado, Mango and Pineapple Salsa
Grilled Shrimp Salad with Garlic Parmesan Italian Vinaigrette