Learn about how to cut bok choy, bok choy nutrition, and how to cook this leafy green vegetable. This post includes step-by-step photos, a short video, and my favorite bok choy recipes!
This post may contain affiliate links. For more information, see my affiliate disclosure.
Bok choy, also known as pak choi, is a leafy green vegetable in the cabbage family that's commonly used in Asian cuisine. It has a crunchy texture and mildly bitter, delicious taste.
Also read: how to stir fry dongguan rice vermicelli | Family Cuisine
Some of the best ways to use bok choy include stir fries, soups, and salads. You can also roast it in the oven for a yummy vegetable side dish.
If you are wondering how to cut bok choy and prepare it for cooking, you're in the right place. Scroll through this post to learn about cutting bok choy into halves, quarters, and strips. Be sure to check out the photos and watch the short video, too!
Bok Choy Nutrition
The delicious taste of bok choy is just one reason to eat more of it. In addition, this veggie is highly nutritious. It provides fiber, vitamin C, and beneficial plant compounds known as glucosinolates.
Here are the nutrition facts for 2 cups of chopped bok choy:
Calories: 18
Protein: 2 grams
Fat: <1 gram
Carbohydrates: 3 grams
Fiber: 1.4 grams
Calcium: 14% of the Daily Value (DV)
Vitamin A: 124% of the DV
Vitamin C: 104% of the DV
Vitamin K: 53% of the DV
How to Clean Bok Choy
Also read: how to fry mushrooms in a pan | Family Cuisine
Dirt can hide in between the leaves of bok choy. To clean bok choy and remove dirt, swish the heads in a container filled with cold water, gently opening the leaves as needed to get all of the dirt. Drain, rinse, and pat dry before cutting and cooking.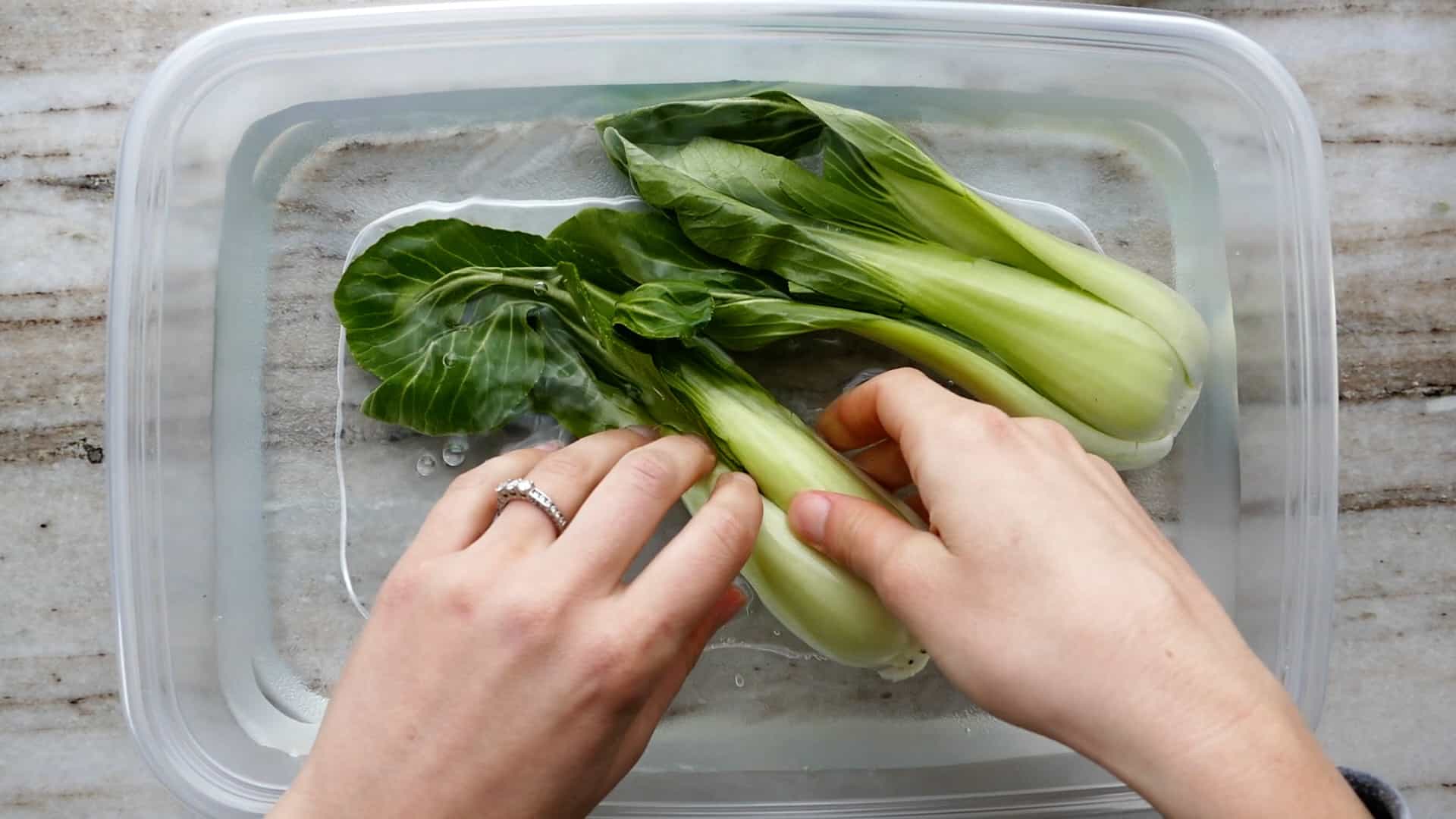 How to Cut Bok Choy into Halves or Quarters
Some recipes may call for halved baby bok choy. To prepare bok choy in this way:
Slice baby bok choy in half lengthwise.
Trim the root, but keep it intact so that the leaves don't fall apart.
If you are using large bok choy, cut it into quarters instead of halves by following these steps:
Slice the large head of bok choy in half lengthwise.
Cut each half in half again to yield quarters. Trim the root, but keep it intact.
How to Cut Bok Choy into Leaves
Cut off the root end.
Pull apart the leaves.
How to Chop Bok Choy
Cut off the root and pull apart the leaves.
Stack leaves on top of each other and slice in half lengthwise.
Chop across the leaves.
If you want to cut bok choy into strips, just cut the leaves crosswise without slicing them in half first.
How to Cut Bok Choy for Soup
Also read: how to make filipino stir fry | Family Cuisine
Bok choy soup recipes may call for it halved, chopped, or separated into leaves. Follow the relevant set of instructions above to prepare it in the right way for your recipe.
Recommended Equipment
These bamboo cutting boards are the ones I'm using in the photos and video. They have rubber stoppers on the bottom to prevent slipping. If you are interested in my chef's knife, check it out here.
Bok Choy Recipes
Now that you know how to cut bok choy, let's get cooking! Some of my favorite ways to eat bok choy include the Vegetarian Bok Choy Miso Soup, Sesame Ginger Roasted Bok Choy, Vegan Bok Choy Stir Fry with Mango, and the Spaghetti Squash "Ramen."
Watch How to Prepare Bok Choy
Happy cooking! – Lizzie