Whether you are vegan or an omnivore, you will love this fried cauliflower recipe! Lightly battered, crispy, and perfectly tender inside, this will be your new favorite way to eat cauliflower! These cauliflower nuggets give you the taste and satisfaction of chicken nuggets without the meat. They can be used as a vegan substitute for buffalo wings or in your favorite Asian-inspired dishes like orange cauliflower or sweet and sour cauliflower "chicken."
I must confess, fried cauliflower is a little obsession of mine! It may sound a little boring, but once you try it you'll be hooked! When fried, the cauliflower has a moist, surprisingly meaty texture inside with a light crispy texture outside.
Reading: how to deep fry cauliflower
Jump to:
❤️ This recipe is
🧾 Ingredients and substitutions
🔪 Helpful tools
🥄 Instructions
✨ How to deep fry cauliflower
📖 Seasoning Variations
🍲 Serving suggestions
✨ Let's talk about nutrition
🥗 Want a healthier baked alternative?
❓ Can I air fry these nuggets?
🌟 More recipes you will love
❤️ This recipe is
vegan, gluten-free, soy-free, and nut-free so nearly everyone can enjoy it!
fast and easy to make – cooks in less than 3 minutes!
a perfect vegan appetizer.
delicious served over rice with your choice of sauce.
great for dipping and kids love it!
🔪 Helpful tools
Deep Frier – This is not totally necessary, but it makes it much easier because you can control the temperature of the oil and you have a basket to get out all of the nuggets at once when they are done cooking.
Tongs – to allow you to drop the breaded cauliflower into the hot oil without getting too close and accidentally getting splashed with it. (Don't put the breaded cauliflower into the basket before submerging, or the batter may stick to the basket).
🥄 Instructions
Prepare the Cauliflower
Wash the head of cauliflower under running water then shake the water off of it.
Cut the cauliflower florets off the head of cauliflower and into bite-sized pieces removing the large stem in the center of the head. (Try to keep the pieces a similar size, so they cook at the same rate).
Make the batter
Put the dry ingredients in a medium-sized mixing bowl. (Flour, corn starch, salt, onion powder, garlic powder, turmeric, baking soda, and baking powder).
Pour in the water and stir the batter until it becomes a smooth paste.
Put the cauliflower pieces into the batter and toss until well coated.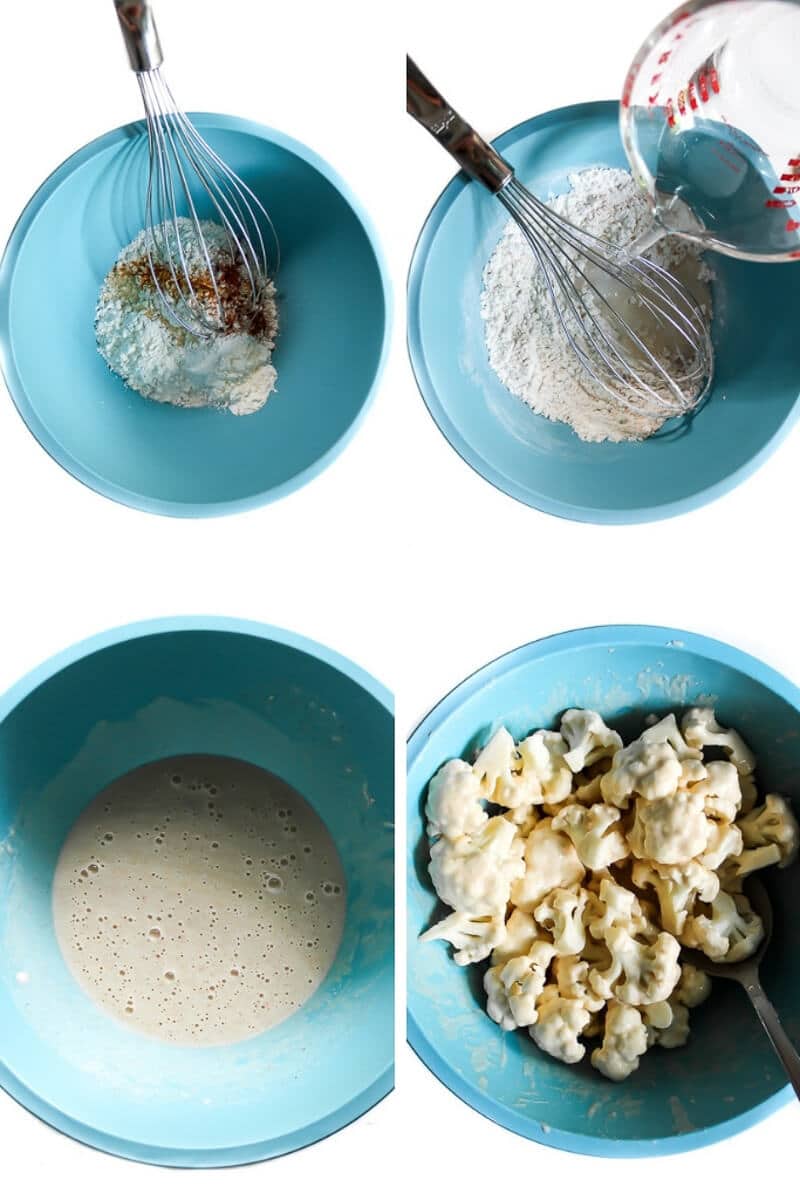 ✨ How to deep fry cauliflower
Heat oil to 334° F.
Use tongs to pick up the pieces of coated cauliflower and place them into the hot oil. (It will bubble and spatter so stand back).
Allow to cook in the oil for 2-3 minutes until the bubbling slows down and the cauliflower nuggets are golden brown.
Immediately remove from oil and place on a paper towel-lined plate.
Serve hot!
If you don't have a deep fryer – you can use a saucepan filled with about 3-4 inches of oil. A thermometer that goes up to 400° F will also be helpful. You can then use a slotted spoon or tongs to remove the cauliflower from the oil.
Frying temperature – I find that 334°F is the perfect temperature to fry cauliflower. I don't fry it quite as hot as some other things like french fries because I want it to cook slow enough to cook the cauliflower all the way through. However, don't cook it lower than 325° F or it will absorb too much oil and get soggy instead of crispy.
Read more: how to make southern fried corn | Family Cuisine
If you don't have a thermometer – you can test the temperature of your oil by cooking one piece first. You know that you have the right frying temperature if it bubbles vigorously when you first put it in and then the bubbling slows way down after about 2-3 minutes and you have a crunchy golden brown cauliflower nugget that is cooked through.
📖 Seasoning Variations
The basic batter recipe is great when eating with a sauce drizzled over them or on the side for dipping. However, they're also delicious (and crispier) eaten with the seasoning cooked into the batter for this simply add the following to the batter mixture.
Cajun – 1-2 tsp of cajun seasoning mix like Tony Chachere's or equivalent. (If the seasoning mix has salt reduce the salt you add)
Extra Spicy – 1/2 tsp paprika plus 1/4-1/2 tsp cayenne pepper
Mexican – 2 tsp taco or fajita seasoning plus 1/4 tsp cumin.
Popcorn Chicken Style – 1 tsp poultry seasoning plus 1/4 cup of cornmeal.
🍲 Serving suggestions
You can eat plain as soon as your done frying or you can dip it in vegan honey mustard, barbeque sauce, or ketchup. You can also put it over rice and drizzle it with Asian-style orange sauce to make orange cauliflower or sweet and sour sauce for a sweet and sour cauliflower.
It's also delicious served with vegan buffalo sauce and vegan blue cheese dressing for authentic tasting vegan buffalo cauliflower wings!
✨ Let's talk about nutrition
Read more: how to make pineapple chicken fried rice | Family Cuisine
This is a recipe for fried cauliflower. It's not meant to be health food, however, the process of deep-frying actually cooks the food with less oil being absorbed than if you were to pan fry it. Cooking your food in hot oil above 325° F makes your food crispy without absorbing as much oil as if you had pan-fried it. You can read more about deep frying in this article by Jessica Gavin.
🥗 Want a healthier baked alternative?
If you want a crispy cauliflower nugget without frying, use my roasted cauliflower nuggets recipe. These nuggets are delicious, yet cooked on a cookie sheet in the oven. You can also use this recipe and place these coated cauliflower pieces on a parchment-lined cookie sheet and bake them at 425°F for about 45 minutes, turning 1/2 way through.
❓ Can I air fry these nuggets?
No, it's not a good idea to put my battered version in your air fryer since the batter is wet and will drip all over the inside. You can use my roasted cauliflower nuggets recipe in the air fryer since it has a drier coating.
🌟 More recipes you will love
Vegan Popcorn Chicken
Crispy Deep-Fried Tofu
Easy Cauliflower Stuffing
Vegan Cauliflower Risotto with Spinach
📌 Be sure to follow me on Pinterest for new vegan recipes!
⭐⭐⭐⭐⭐ Leave a comment and starred review! I would love to hear from you!
Read more: how to make juicy stir fry chicken | Family Cuisine